Many small businesses were affected by the Calgary flood this year. Even once they reopened, many found that business was still down. http://yycisopen.com/ started up to try to help make people more aware of this issue. In support of this project, I decided to feature a few parks and playgrounds in these areas. Baker Park is located just across the river from Bowness Park. The park is open, but did suffer some flood damage. After visiting the park, we went over to Angel's Drive In – a perfect spot to pick up a picnic or grab supper on the way home after visiting Baker Park (or Bowness Park once it reopens). (Check out my review of Angel's Drive In).
Do you have a favorite Bowness small business? Tell me about it in the comments below!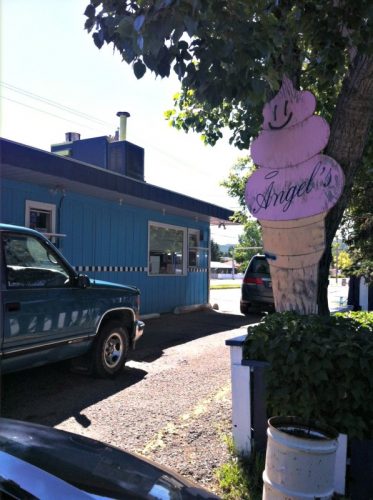 Location     map
Community: Across the River from Bowness – 9333 Scenic Bow Rd. N.W.
Parking: Free lot parking

Gordie's Review (4 years old) – "I liked riding my bike down the hill"
Nicky's Review (16 months old) – "Go!" (she liked running around)
Park Features: Picnic areas, pathways, popular outdoor wedding location, grass amphitheatre, river observation point, gazebos, seasonal washrooms and water fountains, disc-golf course.
Overall:
Baker Park is the site of the former Baker Centre Tuberculosis Institution and later the home of Baker Center, a home for handicapped children and adults.. It is popular for weddings and photography shoots. Although it is right across the river in Bowness Park, the two parks could hardly be more different. Where Bowness Park is busy and full of playgrounds paddleboats and mini-golf – Baker Park is much calmer and full of grassy areas, flowers and pathways.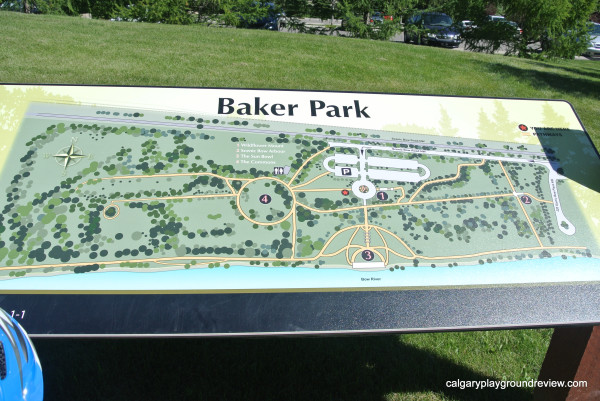 The drop off area off the parking lot.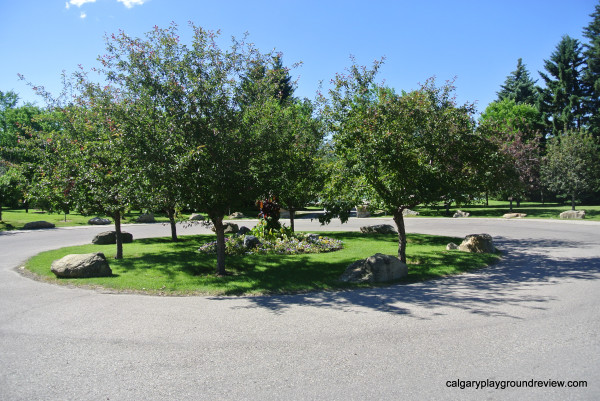 One of the two Gazebo-like archways in the park. This one is smaller and right off the parking lot, up a small hill. The other is to the East. It has a similar style but is a bit larger. We ended up having to go home before we could visit it on this trip.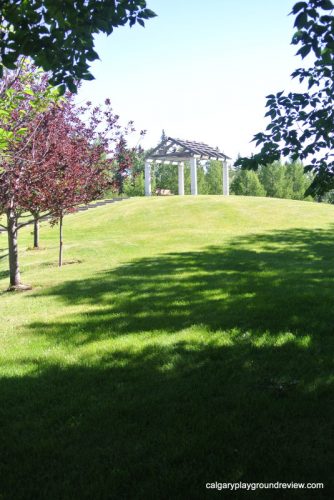 To the South along a pathway are these beautiful picnic spots.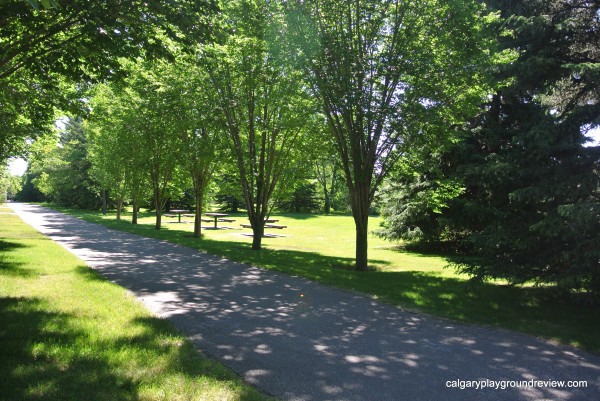 The grass amphitheatre leading towards the river view.
Here is where you could see the effects of the flood. The grass in the fenced circle had all been replaced. The flowers looked a little sadder than you could expect at this time of year. But most of all, in parts of the grass you could still see the mud that had been tracked up.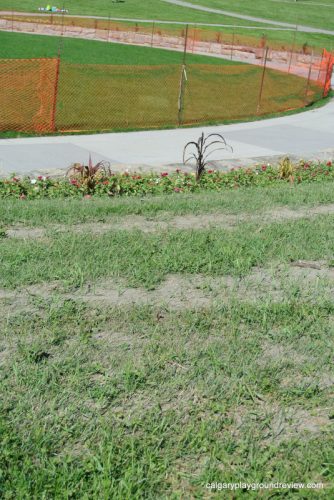 View looking back towards the top of the grass amphitheatre.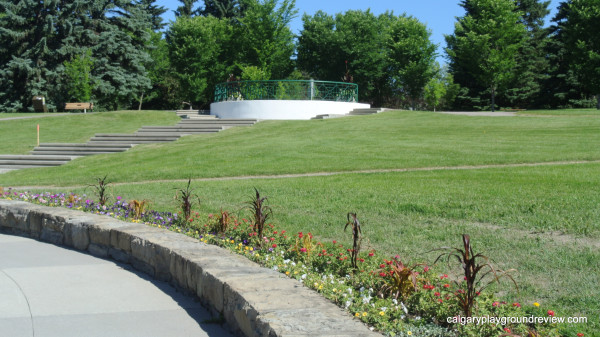 We brought Gordie's balance bike along with us, and it was a perfect for him to practice riding. There are lots of small hills and gentle hills and paved pathways that are not bike paths.  He even learned how to glide down the small hills near the parking lot.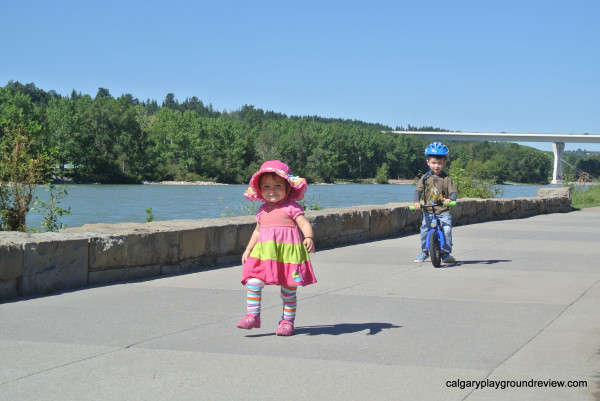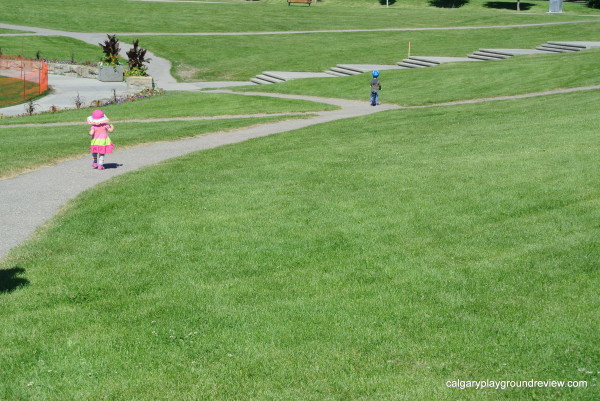 On either side of the river view area you can find a bear sculpture.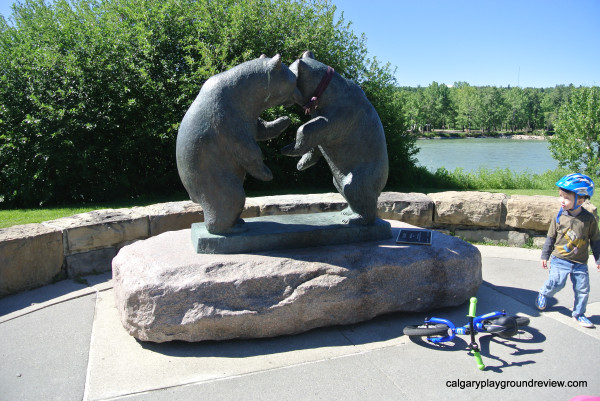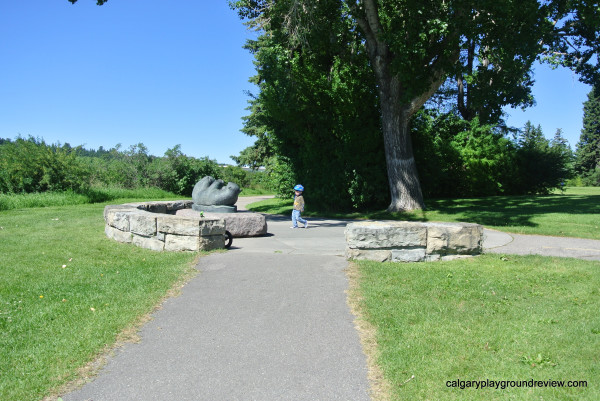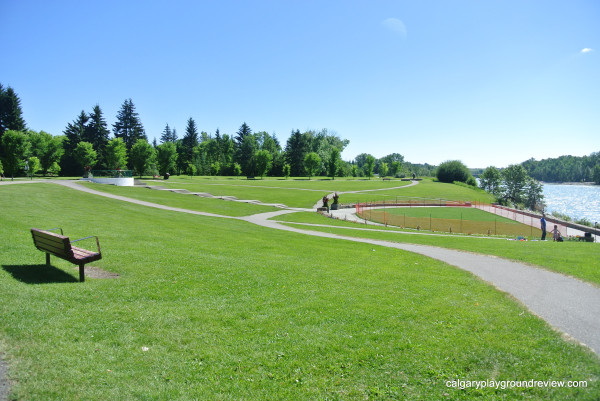 There are more pathways that we didn't get to on this trip much of which is quite shady, including the one to the East that leads to the second archway and the one to the West that has a circle pathway.
Have you been to Baker Park? What did you think?