Note: This is a school playground. You may be asked to leave during school hours.
Location map
Community: Balmoral – 16th avenue and 1 st. NW
Parking: There is free street parking on 1st St NW and 2nd St NW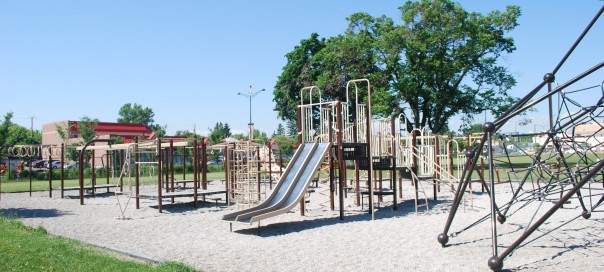 Gordie's Review (2 years old): Sticks! (the kids found some fallen tree branches)
Age Range: 8-14 years
Ground Cover: pea gravel.
Features: Large web climber; double slide; 2 flying foxes; 2 large teeter-totters; 4 stand spinners; moving balance beam; globe spinner; tons of climbing equipment
Surrounding Park Area: This is a school playground. There is also a nice picnic area in front of the school.
Shade: There is not a lot of shade in or around the play area, but this is some nice shade in the picnic area.
Accessibility: None
Seating: a few benches by the playground and several picnic tables in the picnic area behind the playground
Overall assessment: Blue-Imp won actually won an award for innovation in playground design for the series of equipment that is featured at this playground. It is one of only a small number of playgrounds specifically designed for middle school kids (8-14 years).
If you have school aged kids that are looking for a challenge, this will be a perfect playground for them to go to.
I was there with Gordie (2 years) and 3 of his cousins (1, 2.5 and 4). This playground was really too advanced for all of them. Eventually, they did find some things to do and they did have fun, but it didn't really sustain their attention. There was so much they couldn't access because they were too small.
If you had older children as well, your younger children will still find things to amuse them but otherwise I'd recommend looking for a more age appropriate playground. They spent the majority of their time playing with the pea gravel and the tree branches that had fallen off the poplars.
While we were there we saw some school-aged kids playing on it and they definitely seemed to be having a good time. I think it's great that there is equipment available to challenge older kids and this is an excellent example.