Dates: Various dates from May-October
Locations: Moves around to different locations across Calgary
See the City of Calgary website for specific dates and locations
This year the City of Calgary's free mobile adventure playgrounds are back again this year. This is very different from what we typically think of as a playground. One of the things traditional playgrounds lack is the ability to engage in loose parts play. Loose parts play is the central concept of these adventure playgrounds.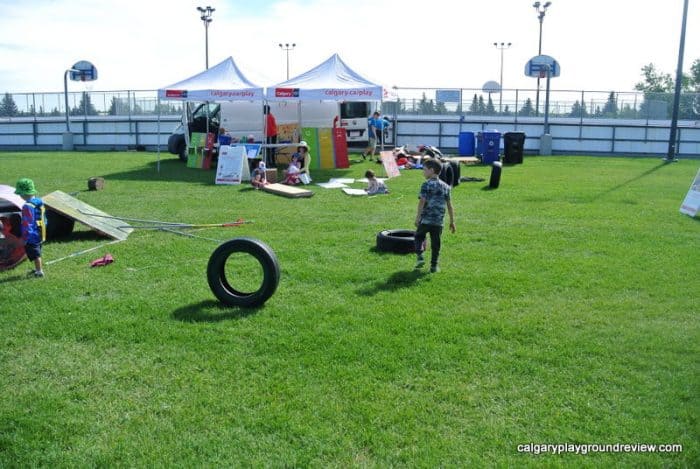 Because this is a pilot project, I expect things will change and evolve as they learn what works and what doesn't. The photos from this post were from early July 2016 when the mobile playground was in Canyon Meadows.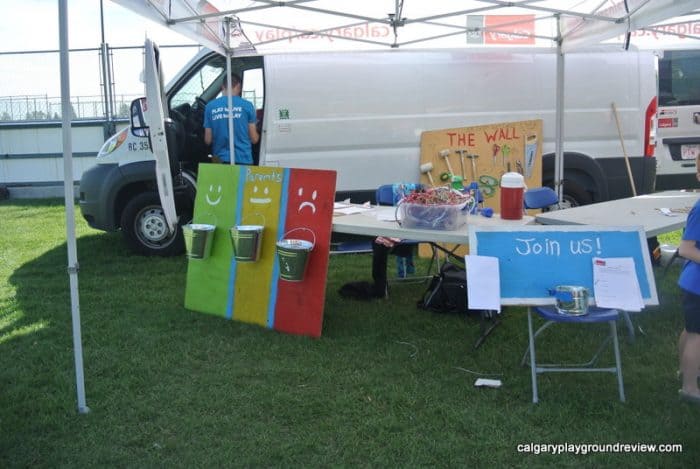 We got to the adventure playground in the morning just as it was setting up for the day. There are a few staff members that are there to help guide the kids, keep them safe and lend out tools (under supervision) like hammers, mallets and safety goggles.
They have a pile of different things for the kids to play with which included things like cardboard boxes, tires, stumps, fabric, twine and more. It's basically a random pile of safe and clean odds and ends  that kids and build and create with.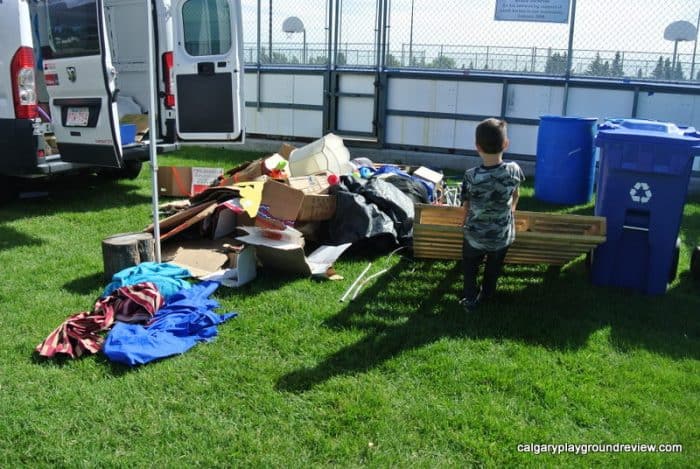 Parents are encouraged to stay back and let the kids play independently.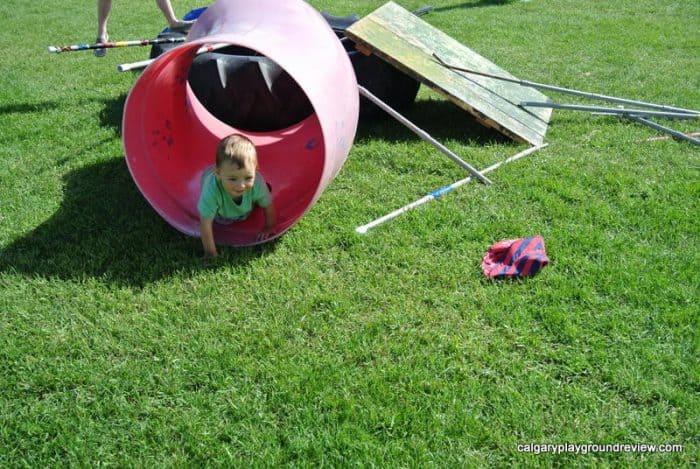 I was there with my three kids aged 7, 4 and 1.5 years old. The experience was a little bit lost on my 18 month old. It was generally okay for him to be there (although he sometimes got in the way) but he didn't really engage with the materials much beyond stepping on and off of things.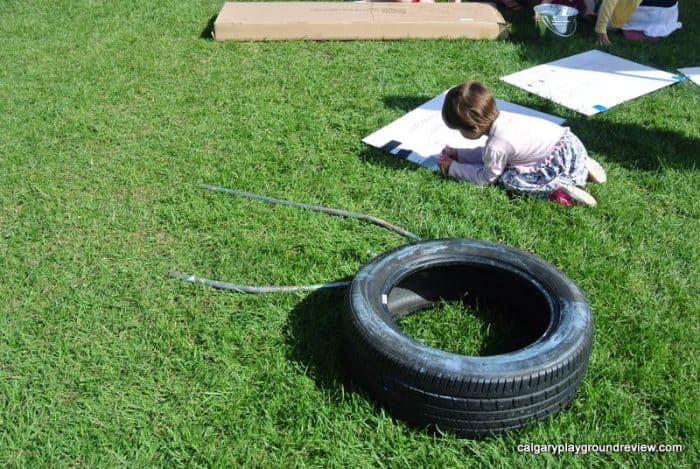 My 4 year old found the experience to be a little overwhelming. She can be slow to warm up to new people and experiences. She enjoyed drawing flowers though and attaching stems to some wooden flowers she found.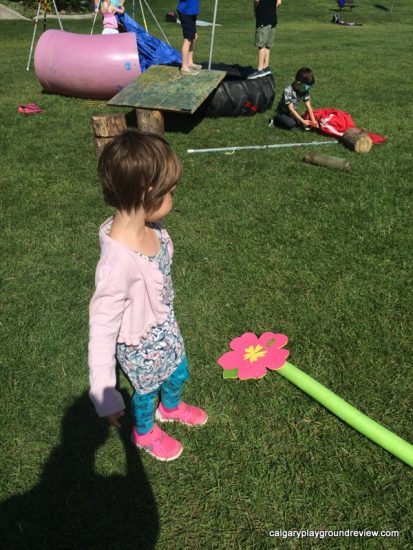 My 7 year old though, thought this was the best playground ever. From the minute we got there he was completely engaged with the materials and what he could do with them.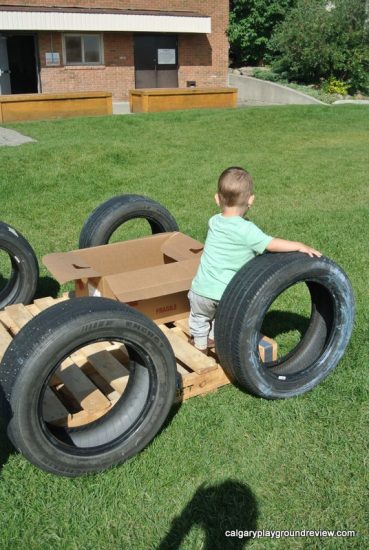 First he tried building a car.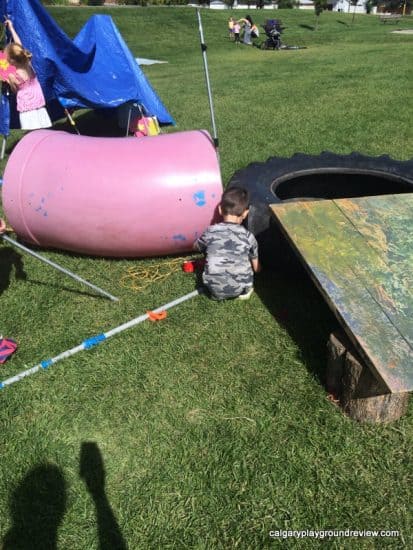 And then he moved on to building cooperatively with other kids.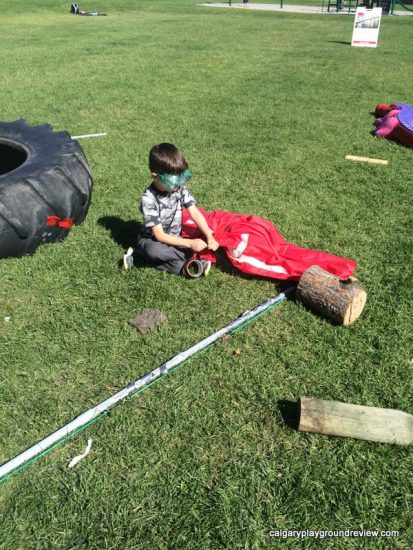 He loved that you could use things like hammers, mallets and safety googles.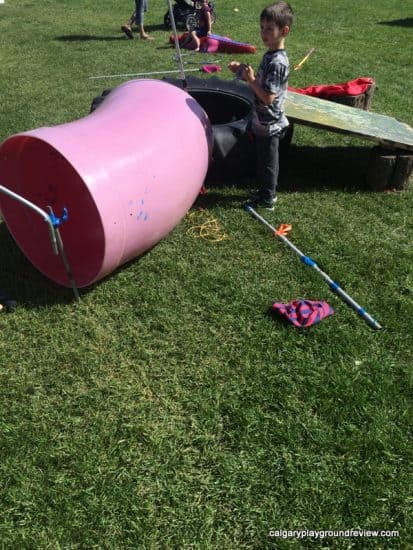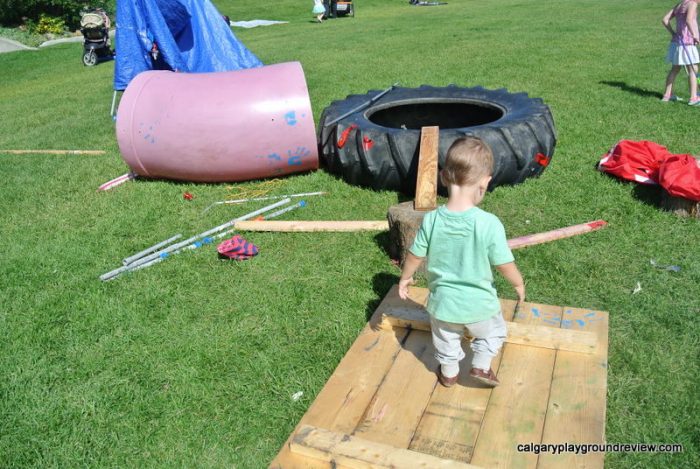 He would have happily stayed for a long time and can't wait to go back again.

Overall, I thought the adventure playground was great. I think it will be a good experience for all kids and it's a playground that kids even older than mine will get a lot out of. We will be going again when the playground is a little closer to home and I'm looking forward to seeing how my daughter does after she is more familiar with the set up.
I'm hoping that with some trial and error they'll be able to find some things that help the littlest ones be able to engage more with the playground as well.
Tips:
Wear clothes you don't mind getting dirty.
You may want to bring shade or a chair/blanket for yourself
Try to hang back as much as you can and let the staff guide the kids if necessary
The playground is looking for donations of things like:
Plywood, tarps, PVC pipe, musical instruments, picture frames, old tents, artwork, nets, buckets, ropes and wires, gardening tools, baskets, pots and pans and balls as well as other things.
Their needs vary from week to week. If you have something that you think they could use please talk to the playground staff.
Please Note: 
We do our best to ensure the information on Calgary Playground Review is accurate, however information and events are subject to change. Please contact the organizations directly to avoid disappointment.
Can you help make this article better?
If you have noticed an error, have additional information or would like to share a comment you can:
E-mail us at calgaryplaygroundreview@gmail.com
Find us on Facebook: CalgaryPlaygroundReview
Find us on Instagram: YYCdana
Tweet us: YYCdana
We are not affiliated with any venues, attractions or organizations. Please message them directly if you have questions or concerns.