When you think of Christmas, what springs to mind? Snow? Skating? Hot chocolate, shopping, visits with Santa? Well, Banff has all of that and more – with incredible scenery to boot. Here are my favourite things to do with kids at Christmastime in Banff.
ACTIVITIES
Skating
Lace up and spend some time on the ice, then grab a hot chocolate afterward. There are a few options for skating in Banff, including:
Banff High School
The town floods the field behind the high school annually. It's usually ready around mid-December, but timing can vary due to weather. It wasn't quite ready when we visited, but I got a few pictures of it. Scenic, right?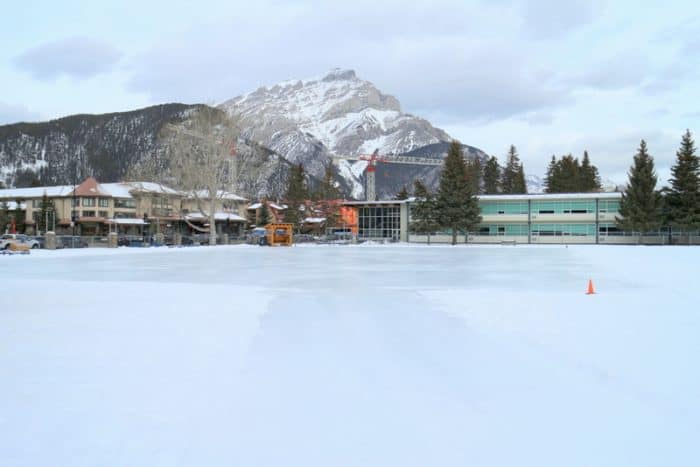 The Fairmont Banff Springs
The hotel creates an outdoor rink every year, which is adjacent to a hill that's great for sledding. This year, they estimate the rink will be ready around the third week of December.
Banff Recreation Centre
The Rec Centre has an indoor rink. Public skate times are pretty limited on weekends, but this could be a good option for extremely cold (or warm) days.
Lakes
You can skate on several lakes in the area, including Lake Louise, Vermilion Lakes, Johnson Lake, Two Jack Lake and Lake Minnewanka. If the conditions are right, the town will also clear an oval on the Bow River. Before you head out, check out these safety tips for skating on natural ice surfaces from the town of Banff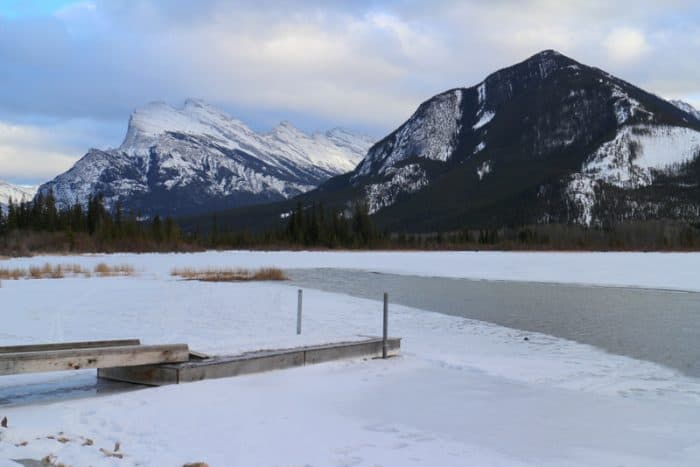 Whyte Museum
The Whyte Museum of the Canadian Rockies had some special Christmas events during Winterfest, but we visited the next day when it was quieter. We arrived around 11 am, and there was only one other family in the museum at the time. Although the museum is indoors, it's still a great winter activity because the focus is on the history of the Rocky Mountains.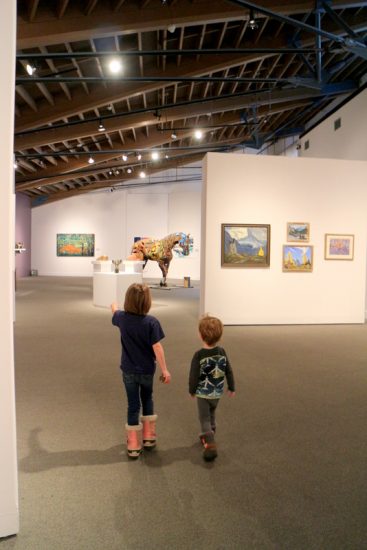 This place was a huge hit with the kids. They loved exploring the fine art, which included a huge display of prayer flags with bears on them. They were also instantly drawn to a full-sized horse sculpture made from found metal.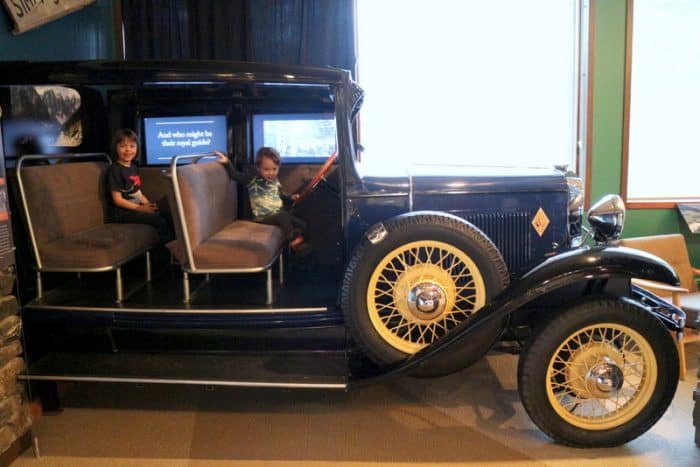 Across the hall, though, is where the kids spent the most time. This wing has many interactive displays, but the kids' favourites were an antique car and a helicopter. They could climb inside and "drive" both vehicles. We literally had to tear my son away from the helicopter when we were leaving.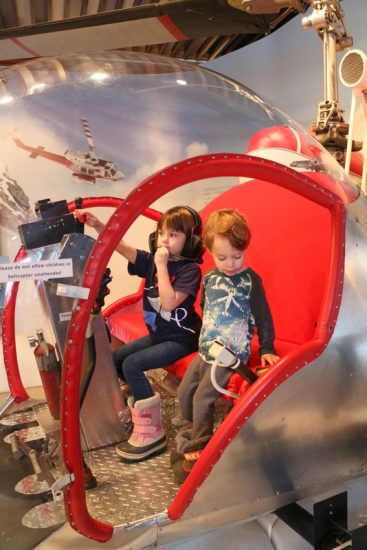 The kids also got a kick out of a vintage "ski slopes and ladders" game, an old-fashioned phone, and a camp display with a grizzled storyteller projected onto a tent.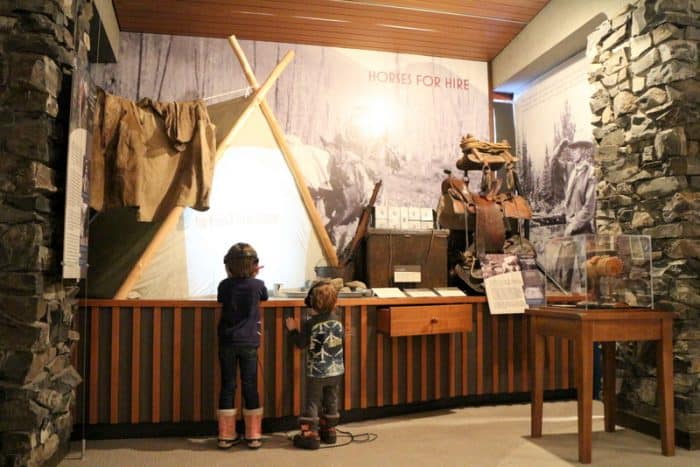 The gift shop at the Museum is also worth some time. It features many products by local artists – you could easily grab a few Christmas gifts from their nicely curated selection.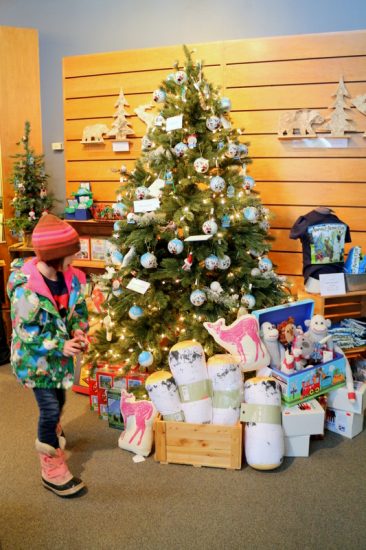 Hiking
When I say that I want to go for a hike with my kids, what I really mean is I want to go on a walk with pretty scenery on a defined, mostly-flat path.
There are a couple of trails that fit this description in the winter. Fenland Trail is a great place to spot deer, and it has well-defined pathways that are great for small children.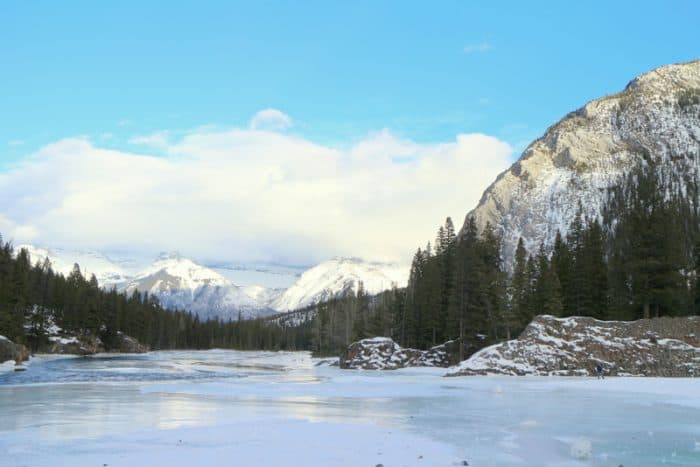 The Bow River Trail is also a good bet – it follows a paved pathway that's usually cleared of snow in the winter. The best place to start this walk is in Central Park, where there's plenty of parking available. If you follow the path to the left, you'll eventually get to the half-frozen Bow Falls (about a 30 minute walk).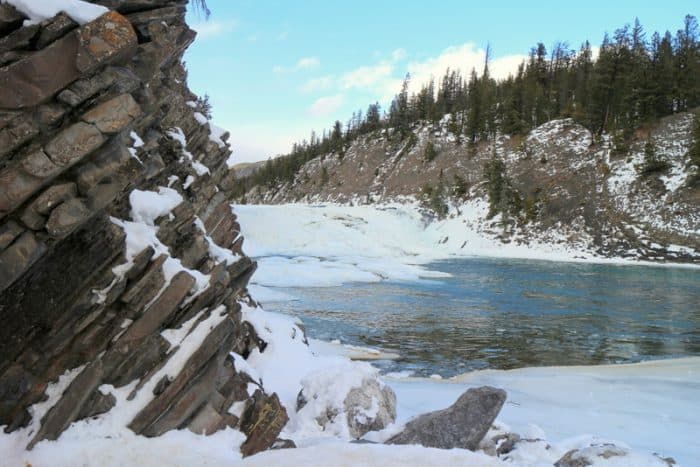 If that walk is too long for your kids (as it was for mine), you can also drive straight to the Bow Falls viewpoint. The scenery there, especially in winter, is spectacular. My kids were excited about the Falls being partially frozen, and it was a beautiful spot for pictures.
WINTERFEST EVENTS
Note: while these specific events are over for 2015, there are lots more coming up this month! You can get information on upcoming Christmas and New Year's events on the Town of Banff website.
Santa Claus Parade
The Santa Claus Parade of Lights runs down Banff Avenue, between Elk and Buffalo Street. For a good spot to watch the parade, be sure to arrive at least 20 minutes early. We got there 15 minutes early, and it was touch-and-go. It tends to be less crowded near the beginning and end of the parade route.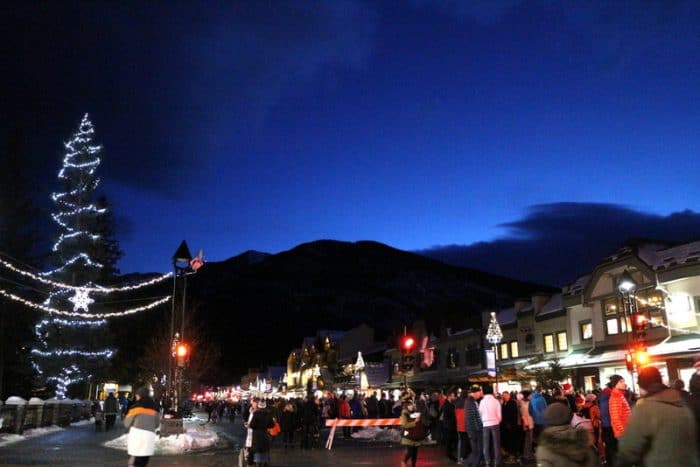 The parade is about 30 minutes long, which was perfect for our small kids. The weather was beautiful, but in colder years, this length of parade would ensure kids don't freeze.
The kids absolutely LOVED this parade. My daughter went to school two days later and drew a huge picture of it.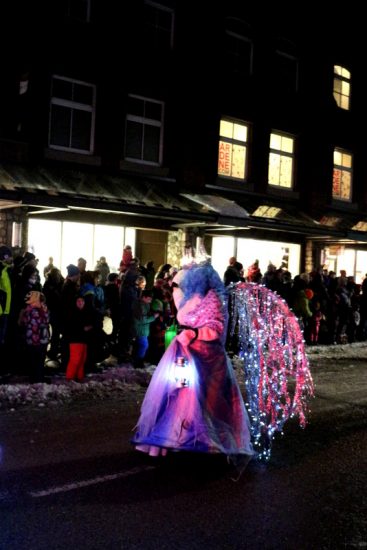 The floats were great – my son loved the fire truck and the CP mini-train. My daughter said the best float was Santa's sleigh, but then changed her mind and couldn't pick a favourite because they were "all awesome."
There were costumed performers as well, including a lady with light-up wings, stilt-walkers, dancers, and women with glowing hula hoops.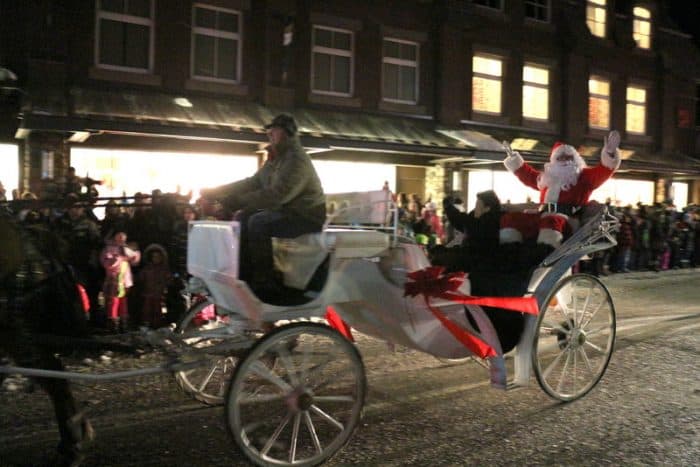 Also, take note – kids get candy and other treats from many of the floats. The kids sitting on the curb definitely got the most treats, so I'd say that's an ideal spot to view the parade from.
The parade also gives you an opportunity to give back: there is a Santa's Anonymous float that includes kids collecting donations in stockings from the audience. I'm going to bring some loonies or toonies next year, as this sounds like a wonderful charity.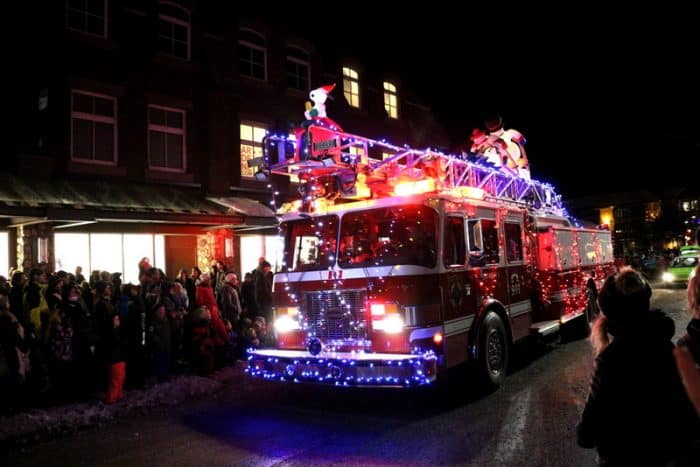 We all had a blast at the parade – it will likely become a Christmas tradition for our family!
Christmas in the Courtyard
The Bison Courtyard is tucked behind some shops on Bear Street. Look for the Wild Flour bakery – the courtyard entrance is to the right.
There were several free outdoor performances happening at specific times in the courtyard. Be sure to arrive early for these, because seating is very limited. If your kids have snowsuits on, you can pop them on a snowbank to watch. Wild Flour Bakery was also on site, selling hot chocolate and gingerbread cookies (bring cash for these).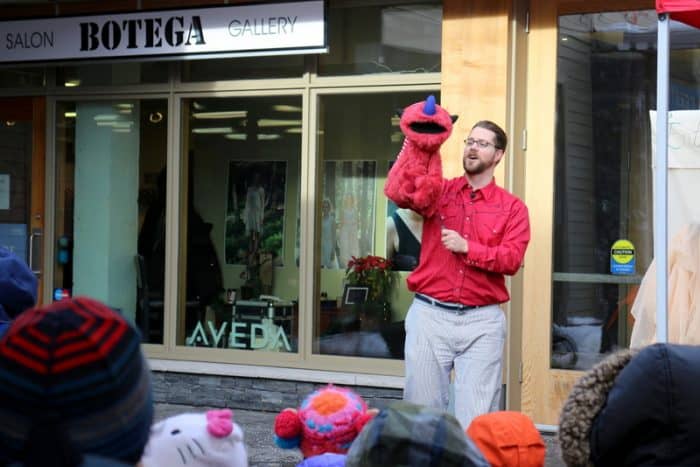 We saw a puppet show by Entangled Puppetry, and the kids were entranced. The show had great storytelling and singing, but the best part was the audience participation. Certain kids in the audience had been supplied with props and basic costumes, and helped act out the stories!
For instance, during "Grandma Got Run Over By a Reindeer," two girls repeatedly got up and chased each other down the aisle – one in a grey grandma wig, and one with reindeer antlers. This was pretty hilarious.
Holiday Magic in the Mall
The Cascade Shops also got in on the Christmas festivities this year. They had face-painting, people making balloon animals, and carolers – all free of charge.
The face-painters and balloon twisters were all on the top level of the shopping centre. There were four face painters, all with separate line-ups, and the lines seemed to be moving fairly quickly. Based on their work, I could tell that the face-painters were clearly skilled artists, and not random volunteers.
My kids really really wanted balloon animals, though. There were two balloon magicians with one line-up, and our timing was unfortunate – we arrived when the line was at its longest, around 2pm. Because making balloon animals is not a quick process, the line moved very slowly – we waited over an hour and a half.
I'd advise getting there a bit before the event begins and lining up early. If you have another adult with you, one of you can take the kids down to the food court to watch carolers while the other waits in line. My husband and kids even saw a flash mob!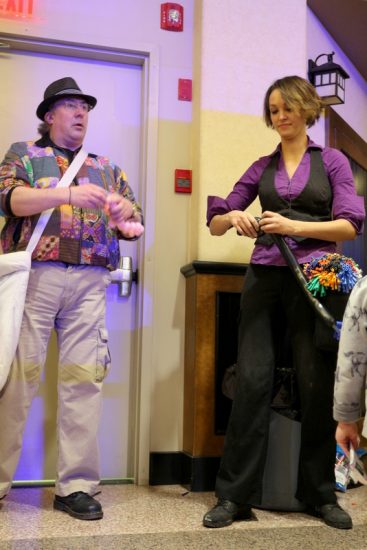 When we finally got to the front of the line, the balloon magicians were great. They were seasoned entertainers, and they had their banter down pat. They got down and spoke to kids on their level, and everyone was walking away happy.
Santa stops by the Train Station
We swung by the Banff train station to visit Santa. They had an ice sculpture outside of Santa and an elf that the kids could put their faces in for photos.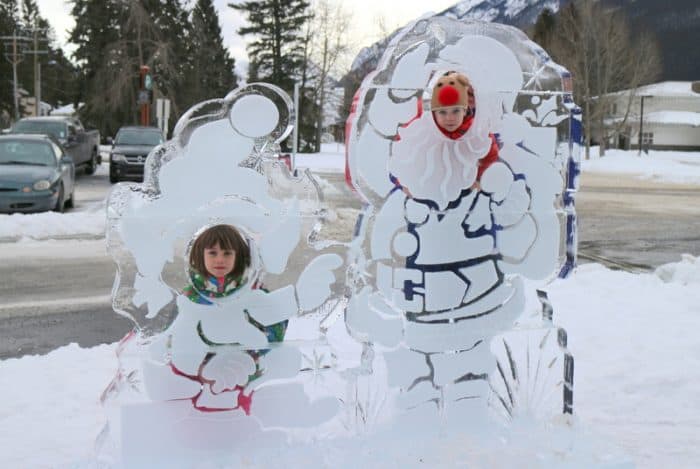 The line for Santa was not too bad. It moved quickly, but I'd advise getting there right when things are starting up to avoid a long wait. We were waiting in line with the kids when an elf came over and invited the kids to make ornaments with my husband while I remained in line. This was a nice touch, and made the wait pretty painless.
The set-up with Santa was really attractive – Santa was in a sleigh padded with lots of white fur. I also noticed that Santa and the elves worked very hard to ensure that every family got a great picture.
They were shaking bells, offering candy canes, and bringing grandmas in to wave at babies. Santa was even hopping in and out of the sleigh for photos, giving kids space if they didn't feel entirely comfortable. I was impressed by the amount of effort that the team put in.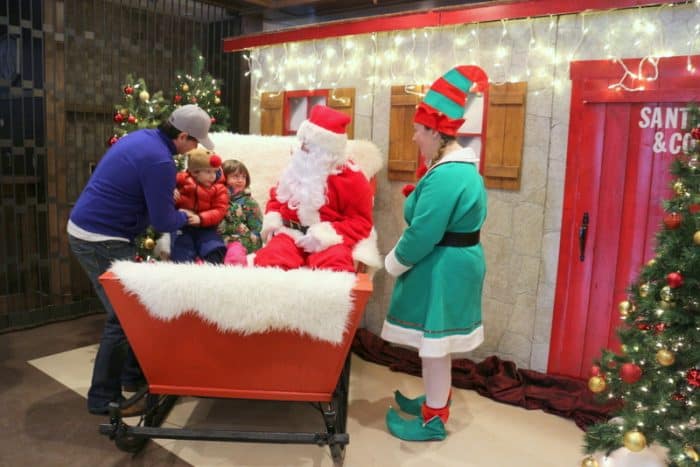 Prints of Santa photos started at $5 – pretty good, since I paid $25 for a similar print in Calgary. Portions of the proceeds went to Santa's Anonymous. Sales were cash only, so be sure to have some on hand.
SHOPPING
The Spirit of Christmas Store
The Spirit of Christmas is a store on Banff Ave. It operates year-round, and sells all the Christmas paraphernalia you need. If your tree is looking a little bare, a stop at this store will solve your problems.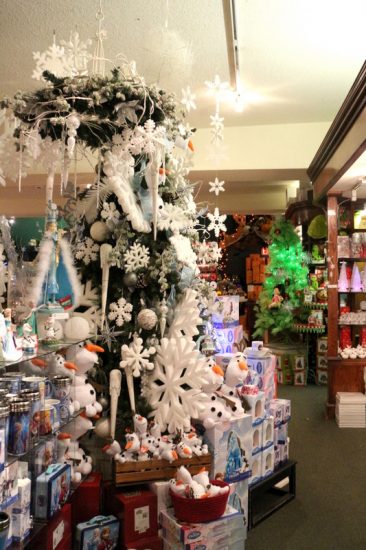 The kids found a section full of ornaments featuring some well-known characters, including Thomas the Train, Dora, and Elmo. This was their favourite part of the store – my son picked a Thomas ornament.
This store is three levels. If you go downstairs to the bottom level and turn left, you'll find a million different "Baby's First Christmas" ornaments. There's also a kids' colouring table and TV tucked away in the corner!
TREATS
It's not truly Christmas until you've gorged yourself on chocolate and candy. Luckily, there are plenty of opportunities for this in Banff.
Mountain Chocolates
There are quite a few candy stores in Banff, but Mountain Chocolates is my favourite. They make caramel corn, chocolates, and caramel apples on site. If you take a peek in the front window, you can see a giant cauldron of caramel bubbling away in the corner!
You really can't go wrong at this store, but I love their bear paws and chocolate tortoises. We also got sponge toffee covered in chocolate, and it was divine.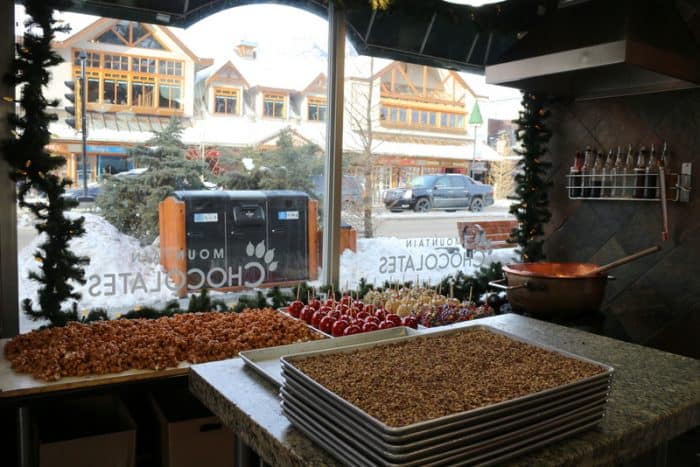 Banff Sweet Shoppe
When I told the kids we were going to a candy store, handmade chocolates were not what they had in mind. We remedied this by heading to the Banff Sweet Shoppe next. If you're trying to spot it, look for the pink bicycle outside.
This adorable candy store has bulk candy displayed in apothecary jars, and a wide range of packaged candy – some familiar, and some imported. There's definitely something here for everyone.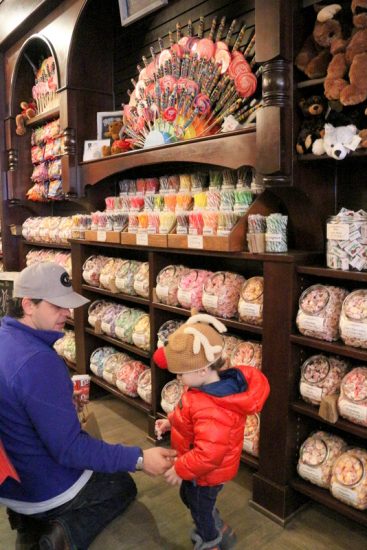 Beaver Tails
A beaver tail is a flat, oval-shaped pastry. I'm assuming it's deep-fried because it's delicious. You can get a wide range of toppings: we tried Nutella (delicious, obviously) and cinnamon sugar (tastes like a giant flat mini donut).
There are some tables outside the shop where you can sit if it's warm enough. However, if it's cold out, make this your last stop on the way home because the pastries are a bit awkward to carry.
Evelyn's Coffee Bar
I wrote about Evelyn's after our last trip to Banff, and when I saw their special Christmas drinks, I was drawn back in. Their seasonal offerings include Gingerbread Lattes, Peppermint Mochas, Egg Nog Lattes, and Candy Cane Hot Chocolate.
We tried the Gingerbread Latte and Candy Cane Hot Chocolate. I'm not a coffee drinker, but the Gingerbread Latte almost converted me. It's that good. The Candy Cane Hot Chocolate was creamy and delicious.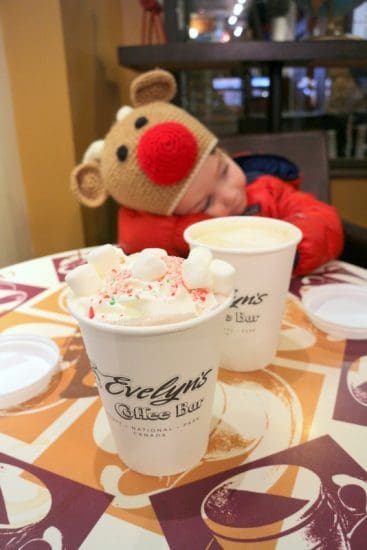 Wild Flour Bakery
We stopped at the Wild Flour Bakery for lunch. Their gourmet grilled cheese and tomato soup is amazing, but not something my kids would eat. The kids did, however, LOVE the gingerbread cookies.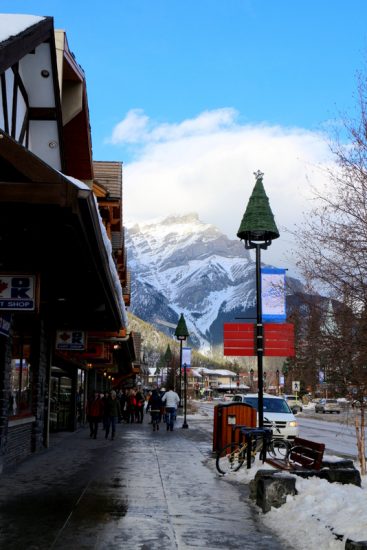 The Fudgery
If you're looking for treats that are specifically for Christmas, swing by The Fudgery. Their treats are made daily on-site, and their Christmas offerings include Candy Cane fudge, Pumpkin Spice fudge, and Christmas-themed chocolate lollipops.
WHERE TO STAY
We stayed at the Banff Caribou Lodge and Spa for this trip. It was perfect for the Christmas season, for several reasons.
First, the lobby is amazing. It's got a cabin feel all year, but right now, it's decked out in wreaths, lights, and garlands galore. It is impossible to stand there and not feel festive.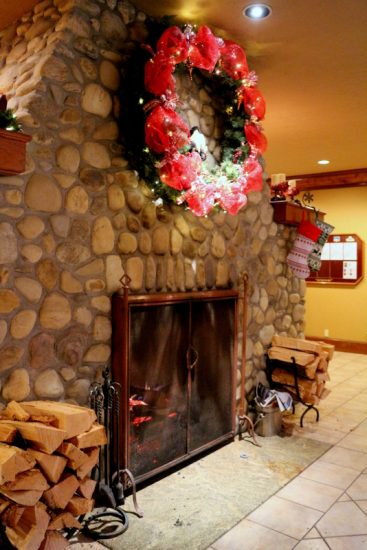 My kids also thought our room was perfect for a Christmastime stay, because of all the "reindeer." My daughter was delighted to see that the beds had reindeer antlers, and there was a plaster "reindeer" bust hanging on the wall.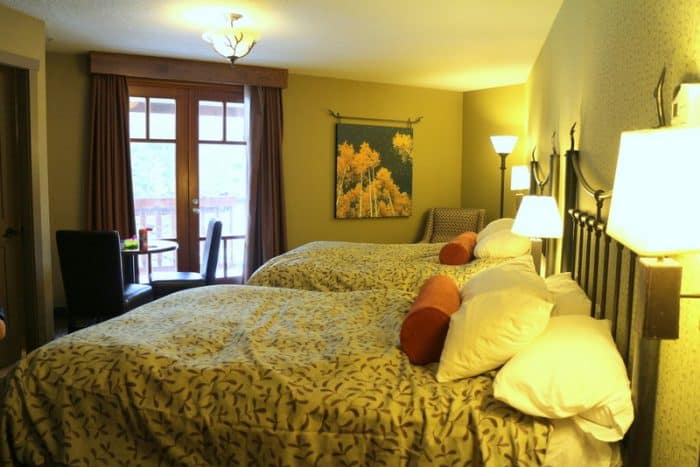 The Lodge also has some lovely local touches: the complimentary in-room coffee is from Evelyn's (see "Treats" above), and the soap is from the Rocky Mountain Soap Company. I love buying local, and it's great to see a hotel doing the same.
The Caribou Lodge also has coin-operated laundry on site (which can be a life-saver when you are travelling with young kids), and a spa (which can also be a life-saver when travelling with young kids).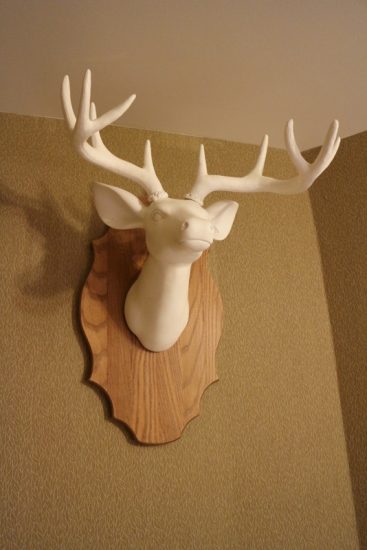 I'd highly recommend a stay at the Banff Caribou Lodge and Spa for families, especially at Christmastime. My kids did not want to leave, and actually told me they wanted to live at this hotel forever. I'd say that's a win.
What are your favourite things to do in Banff during the holidays?
Thank you to the Banff Caribou Lodge and Spa for providing accommodation during our stay – we hope to return soon!
Katie is a librarian and freelance writer based in Calgary.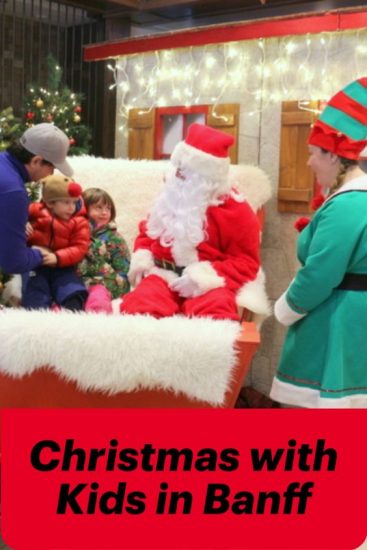 Please Note: 
We do our best to ensure the information on Calgary Playground Review is accurate, however information and events are subject to change. Please contact the organizations directly to avoid disappointment.
Can you help make this article better?
If you have noticed an error, have additional information or would like to share a comment you can:
E-mail us at calgaryplaygroundreview@gmail.com
Find us on Facebook: CalgaryPlaygroundReview
Find us on Instagram: YYCdana
Tweet us: YYCdana
We are not affiliated with any venues, attractions or organizations. Please message them directly if you have questions or concerns.