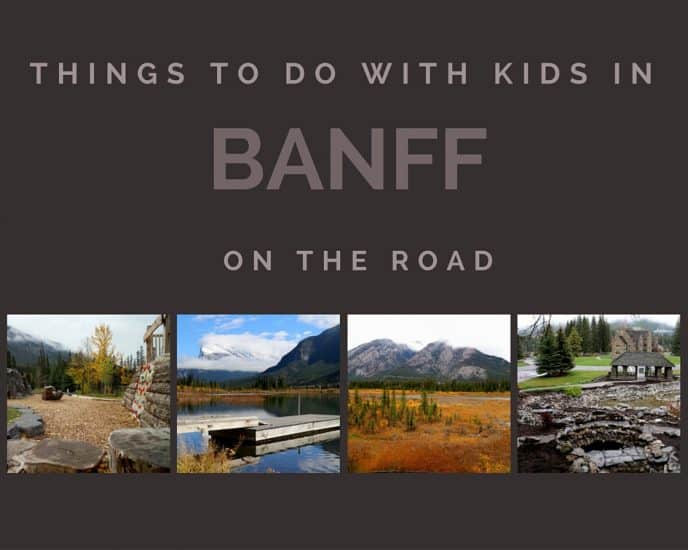 Thanks to Katie and her family for this guest review!
There are very strict rules about who can live in Banff, so true "insiders" are relatively rare. Luckily, I was able to get my hands on a couple of them before our recent trip to the mountain town.
They gave me the low-down on some of Banff's lesser-known attractions, and I checked them out with the kids! If you have been looking for ideas about what to do in Banff with kids, look no further.
Bankhead Ghost Town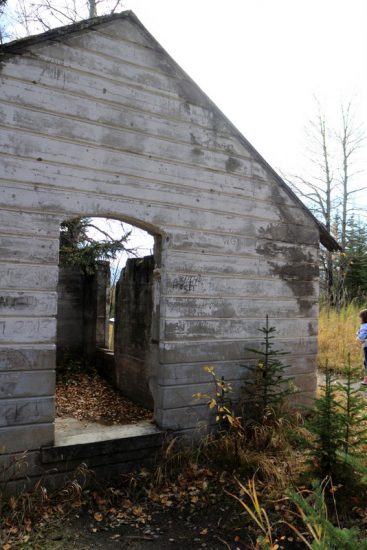 There's a ghost town right outside Banff! In the early 20th century, Bankhead was a small coal mining town. Now it's a great way to entertain the kids.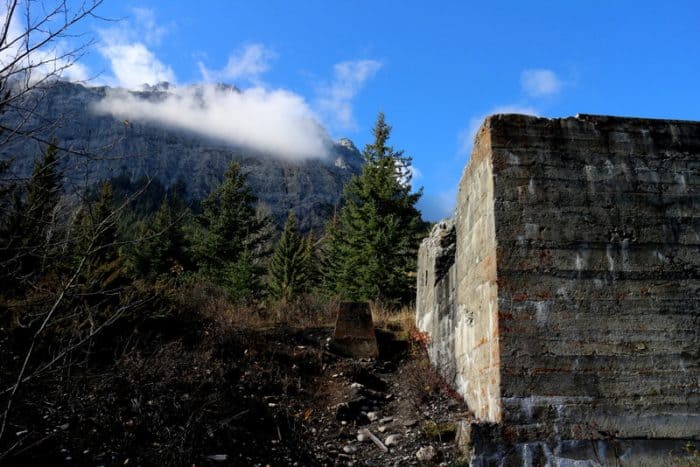 To find Bankhead, take Banff Ave out of town – it turns into Lake Minnewanka Road. Keep going. The turn off is about 4 minutes past the Trans Canada intersection.
Be sure to make sure the road is open before you go. The entrance is NOT marked at the road for some reason, but here's what it looks like: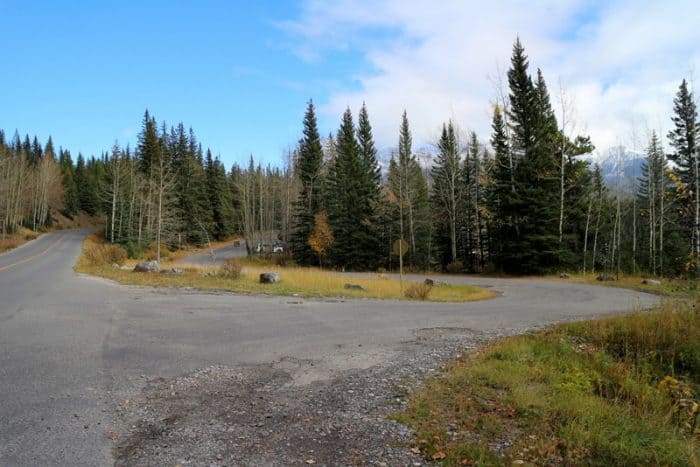 To access the ghost town, you'll need to descend several sets of stairs – so don't bring the stroller. A coal/ gravel pathway winds through the town, giving you a look at the ruins and crumbling foundations that remain. Interpretive signage along the trail provides some insight into the town's history, and there is an old train that kids can climb on.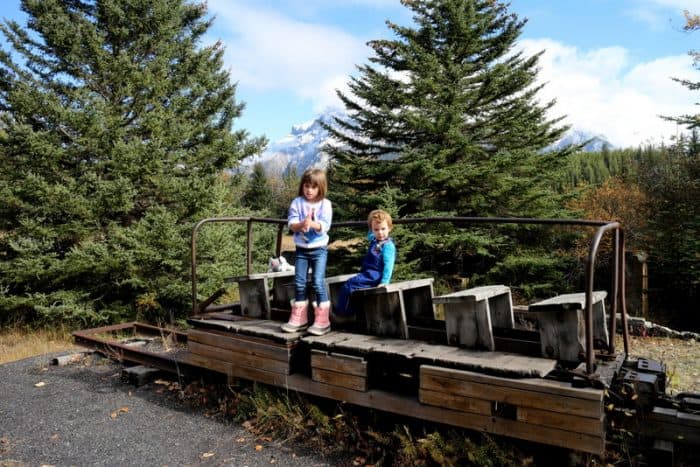 The entire trail is 1.1 km, and it's a flat, easy walk: my toddler had no problems with it. If you can time your trip so you're there near dusk, it adds to the spooky ambiance. But bring flashlights!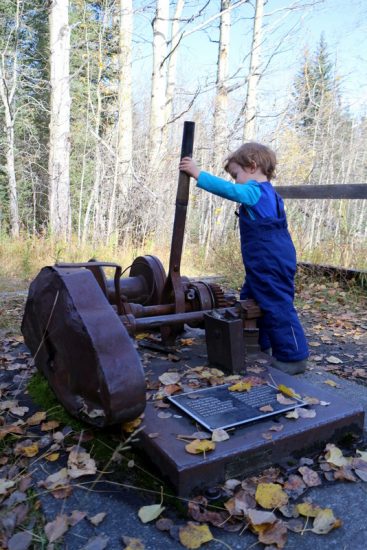 Vermilion Lakes
There's a short (4.3 km) drive along Vermilion Lakes that you absolutely have to do.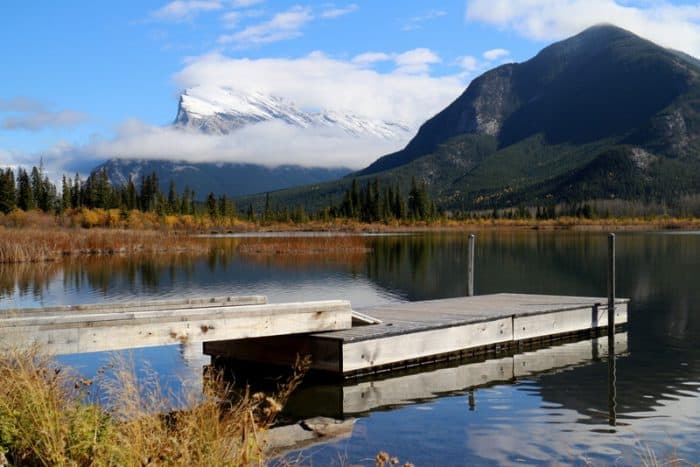 My kids developed a sudden hatred of hiking on this trip, and Vermilion Lakes was the answer to our problems. A short drive takes you to an area with a couple of benches and a couple of docks and a downright breathtaking view. If you're looking to get an iconic shot of Mount Rundle, this is the place.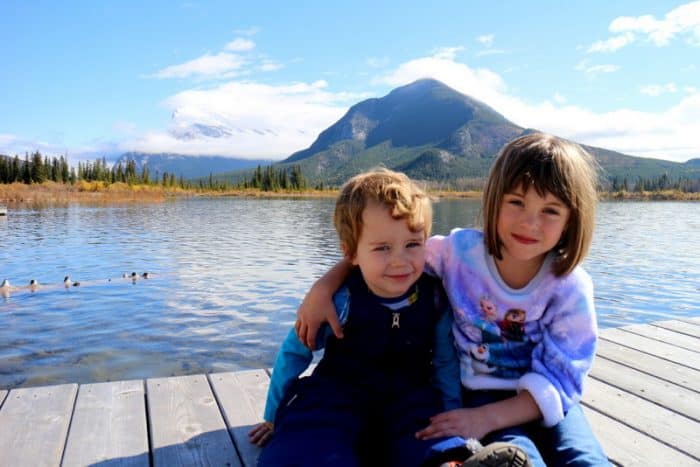 My kids loved walking out onto the docks and looking into the water. I loved not having to drag them up a mountain to get some incredible scenery.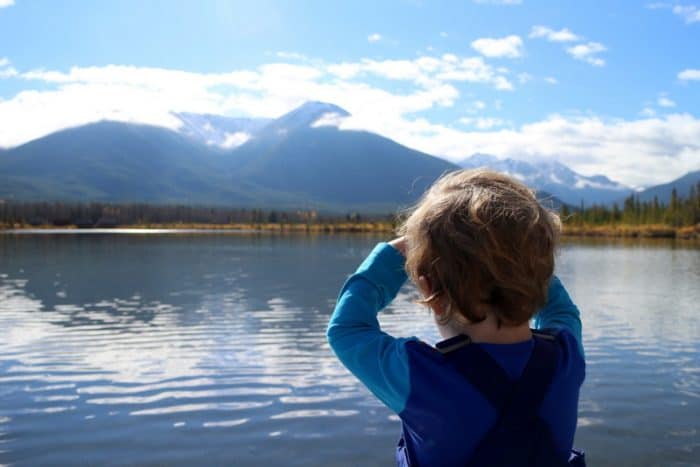 If your kids are more amenable to walking, you can hike along the road and check out some local birds and wildlife.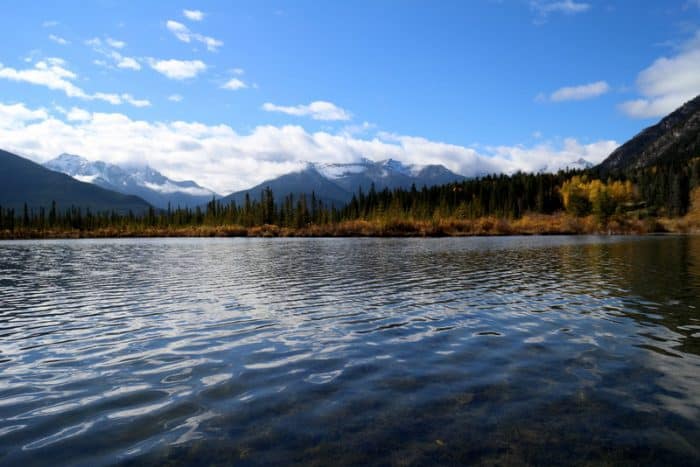 Fenland Trail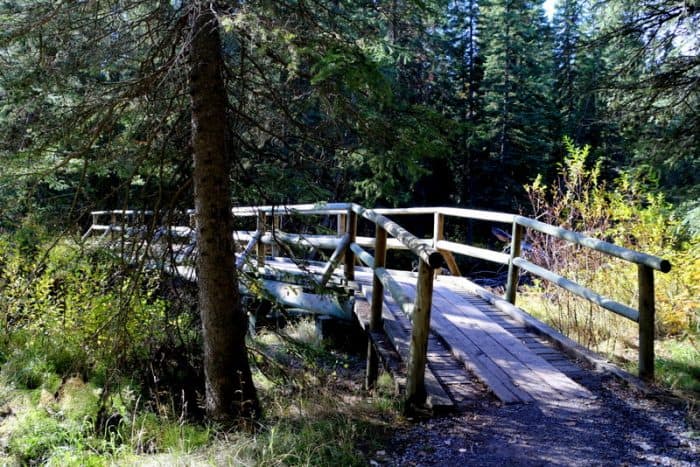 Fenland Trail is very near Vermilion Lakes, and you could easily do both in one morning. Fenland Trail is one of the lesser-known trails in Banff, but it's beautiful. The trail loops through an old growth spruce forest. It's also short (2 km), and an easy walk (no elevation gain).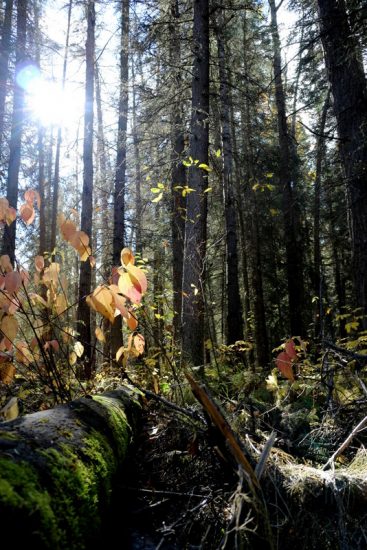 If you're looking for a less-crowded option that's good for kids, this trail is your best bet. There are also picnic tables at the trailhead, so if it's nice out (ie not winter), you can pack a lunch.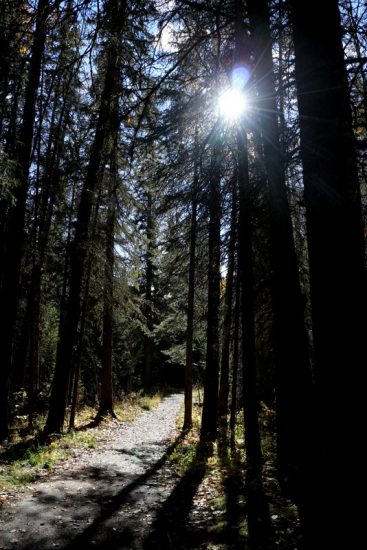 Cave & Basin Marsh Trail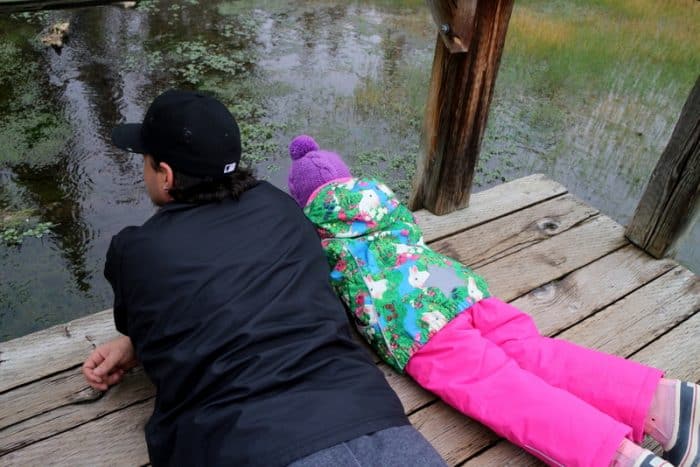 Everyone knows about the Banff Cave & Basin. It's a National Historic Site. BUT did you know there's a trail right beside it where you can explore marshland in the mountains? Go right up to the old building, but instead of going inside, veer to the right.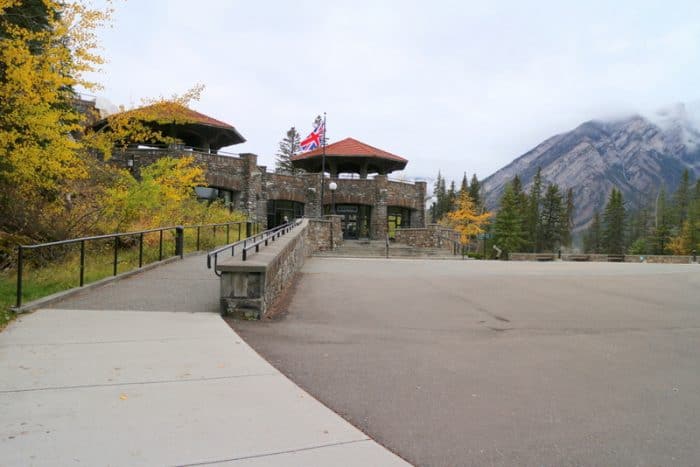 There's a boardwalk trail (0.5 km) that leads down into wetlands created by runoff from the hot springs. There are a couple of flights of stairs, but this is an easy walk.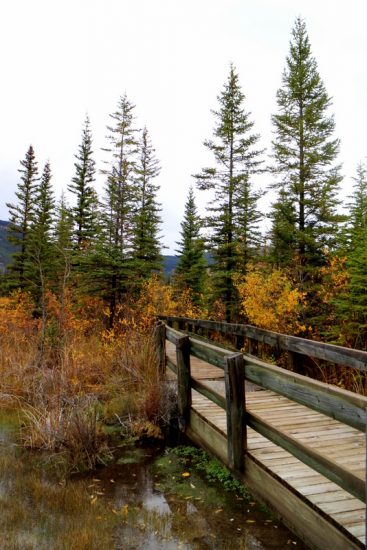 The warm mineral water allows a wide variety of plants and animals to thrive here. Look for endangered snails, harmless garter snakes, birds, and even orchids!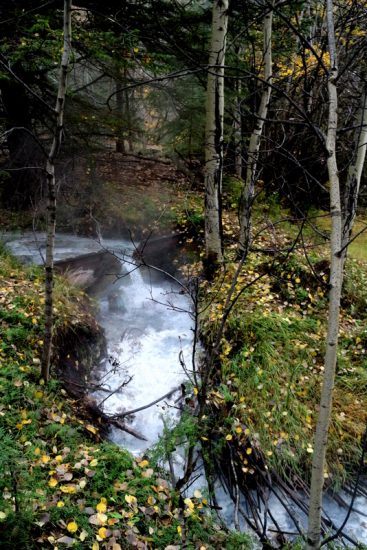 If you haven't been to the hot springs before, here is your warning: they smell. Don't worry, your nose gets used to it quickly, and this is a really lovely walk.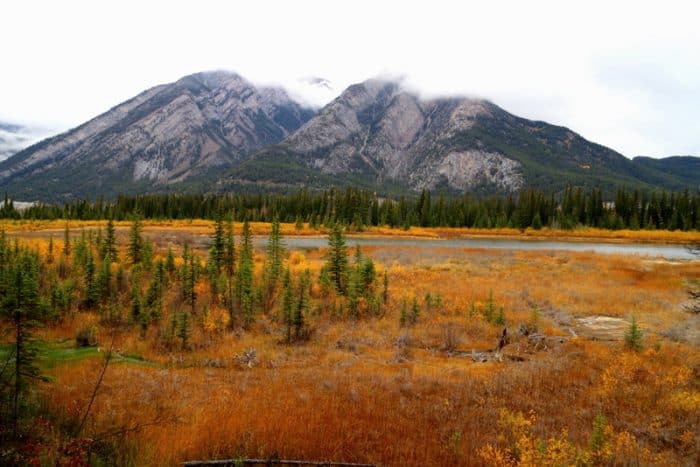 Cascade Gardens at the Parks Canada Building
The Cascade Gardens are gorgeous, but easy to miss. The terraced gardens are built into a hill right behind the gorgeous Parks Canada building at the end of Banff Avenue.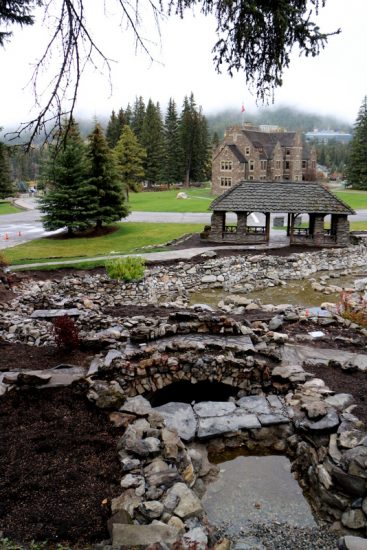 Stone pathways and stairs wind throughout the beautiful gardens, which are a great spot for photos. Peak season for the foliage is from spring to fall, but the gardens are open year-round, and admission is free.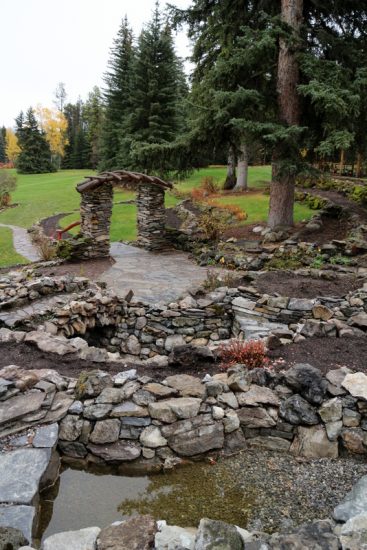 The Parks Canada Administration building shares a parking lot with the gardens, and my kids were entranced with it because it looks like a castle.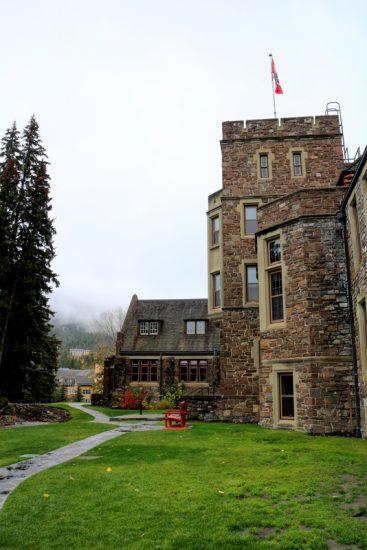 Pedestrian Bridge
From Muskrat Street, you can access a pedestrian bridge that stretches across the river. This is a great place for photos, and my son was very excited about walking across the bridge.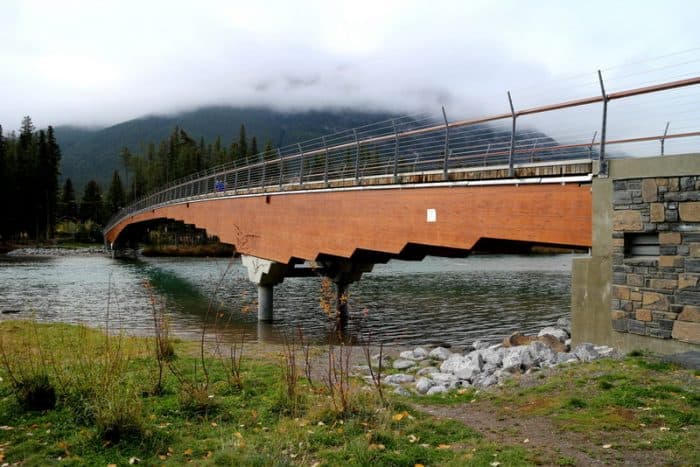 If you cross the bridge heading away from town, turn left at the other side – you can walk to the Bow Falls! Our kids were tired, so we decided to save this hike for next time. However, it is recommended as a great walk for kids.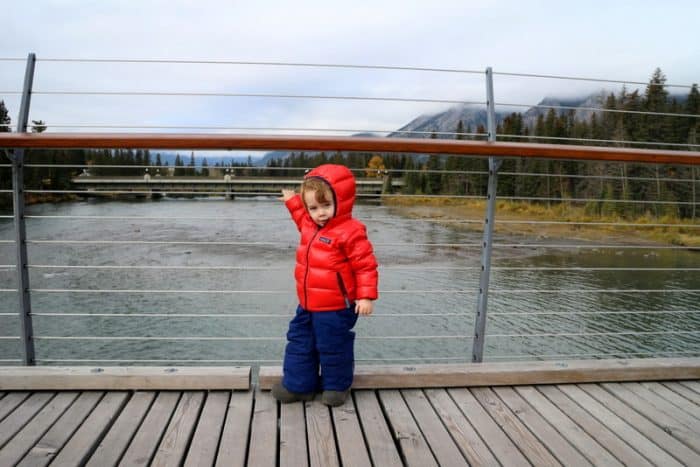 Sally Borden Fitness and Recreation
We ran out of time for this, but there is a pool at the Banff Centre, in the Sally Borden Fitness andRecreation complex. The pool (like practically everything in Banff) has a mountain view. There are public swim times on weekends, sometimes with pool toys! On top of this, my friend Nicole (who grew up in Banff) says that the pool is "usually 100% less crowded than Calgary pools."
Banff Railway Station
One of our kids is going through a train phase at the moment, so we decided to stop at the train station in Banff (327 Railway Avenue).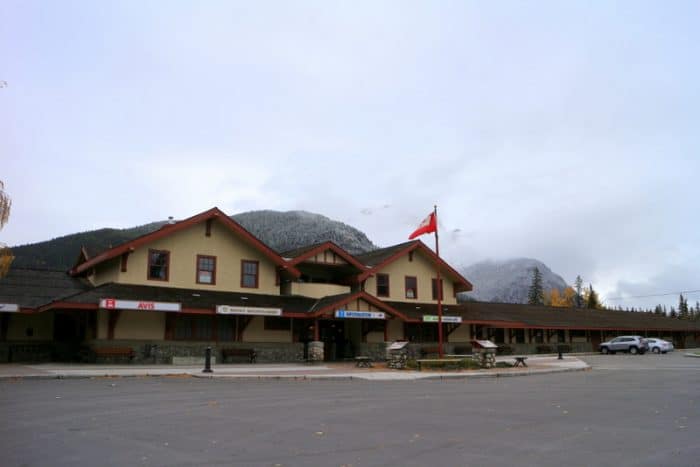 Inside, you'll find a coffee shop and Visitor Information Desk where you can kill some time while you wait for trains to appear.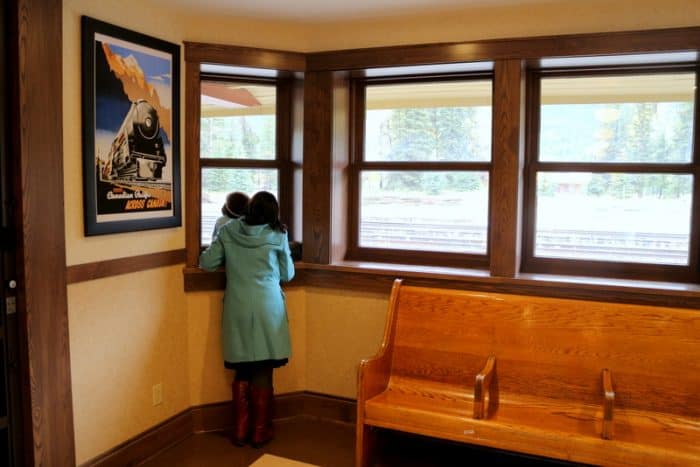 The kids got antsy, so we went back into town, then jumped into the car when we heard a train coming and drove back to the station. We caught the tail end of the train, and it was probably the best moment of my son's life.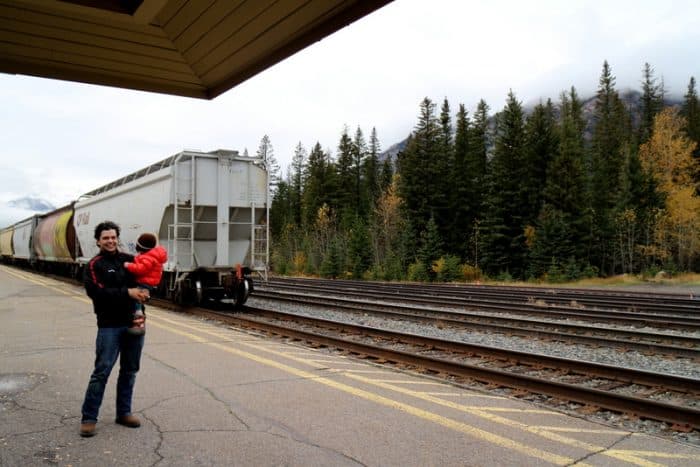 There are some great playgrounds in Banff, and there's a really fantastic one in Canmore. They were my kids' favourite part of the trip. You can read all about them here!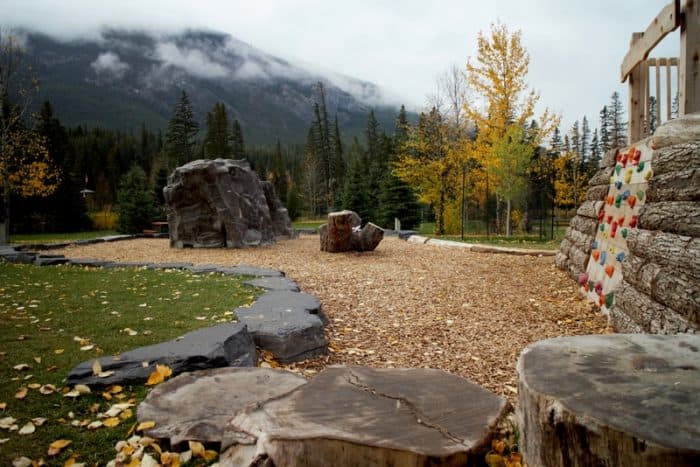 WHERE TO EAT IN BANFF
Pad Thai Restaurant
This amazing Thai restaurant is downstairs in the Clock Tower Village Mall (110 Banff Ave). It's very small, so be sure to call ahead if you're going to be there right at lunch or dinner time. 
Our favourite dishes were the crunchy spring rolls and the mouth-watering Pad Thai that the restaurant is named for. The waitress (who I believe was also the owner) was great with the kids. She even joked with my toddler son about the amount of rice that ended up on the floor.   I would drive all the way back to Banff just to eat here again.
Banff Ave Brewing Company
This casual, kid-friendly restaurant is also in the Clock Tower Village Mall (110 Banff Ave), but it's upstairs. Seat yourself wherever you like, and your server will bring crayons and placemats for the kids to colour. 
My daughter loved the kids' spaghetti and meat sauce, and my son ordered the kids grilled cheese and fries which I helped him finish because they were delicious. We got a couple of different sandwiches for the adults, and they were all fantastic, but my favourite was the turkey club sandwich on naan bread with chipotle mayo. 
The service was fast and friendly, and the noise level in the restaurant was fairly high. This meant no one raised an eyebrow when the kids started whining near the end of the meal.
Evelyn's Coffee Bar
Evelyn's is also on the main drag in Banff, at 215 and 119 Banff Ave. Our hotel had Evelyn's coffee in the rooms, and my coffee-aficionado husband loved it so much he sought out the shop. 
We also got a couple of croissants at Evelyn's, and they were pastry perfection: crispy on the outside and soft in the middle. I may have stolen my husband's and inhaled it.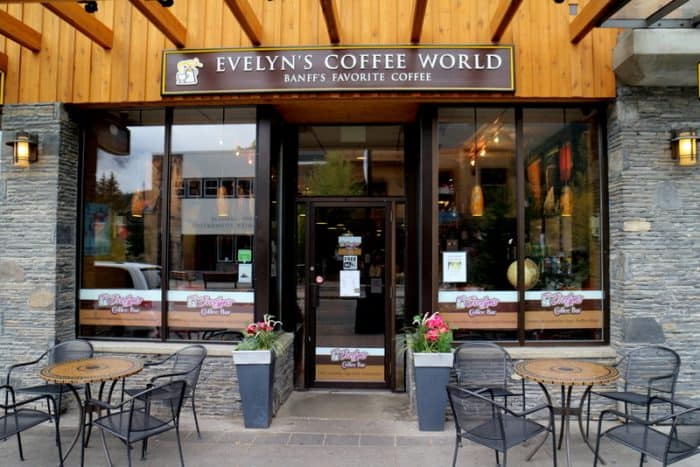 WHERE TO STAY IN BANFF
During our trip, we stayed at the Fox Hotel and Suites. The location is perfect – it's on the main drag in Banff. The hotel is far enough from the centre of town to be quiet, but close enough to be convenient.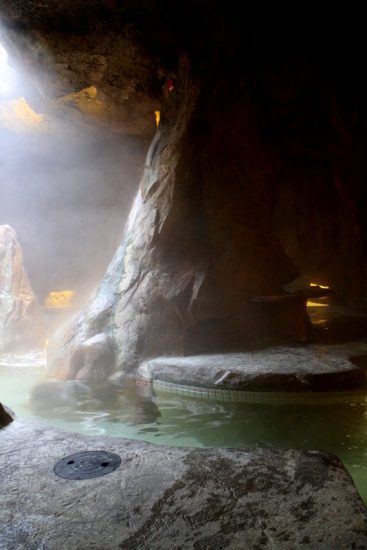 For my kids, the big attraction to this hotel was the pool: it's modelled after the Hot Springs. It's a hot pool in a faux-cave. Needless to say, the kids went bananas for it. The roof of the "cave" is open to the sky, and on a clear night you can probably see the stars. The kids actually spotted the pool on an earlier day-trip to Banff, and begged me to get in there.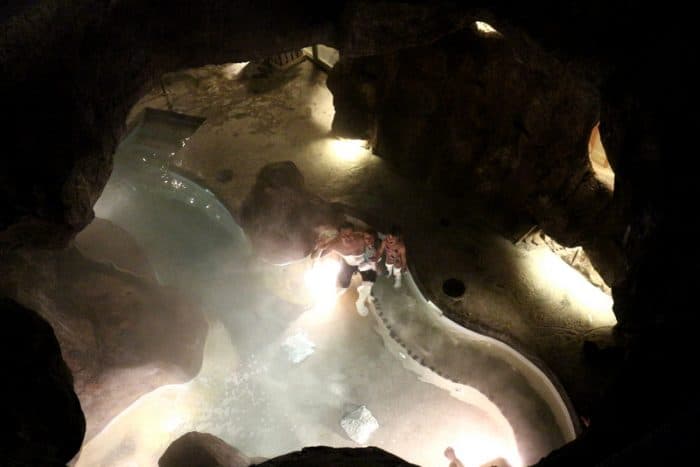 Our room was wonderful, too. It had what's classified as a "micro-kitchenette," but it was more than enough to prepare a few meals in. It includes a mini fridge, toaster, microwave, sink, and dishes. We even had a kitchen table! The Fox also provides a free continental breakfast, which saved us time and money every morning.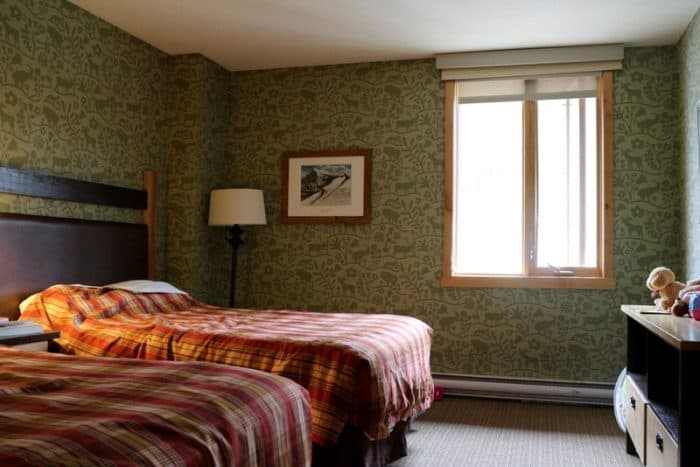 One of my favourite things about the Fox Hotel and Suites is the local touches. The art in the rooms is from the Whyte Museum of the Canadian Rockies. The best pieces in our room were these photos of a woman in a long skirt hanging out on top of a mountain in 1903, seemingly with no climbing equipment.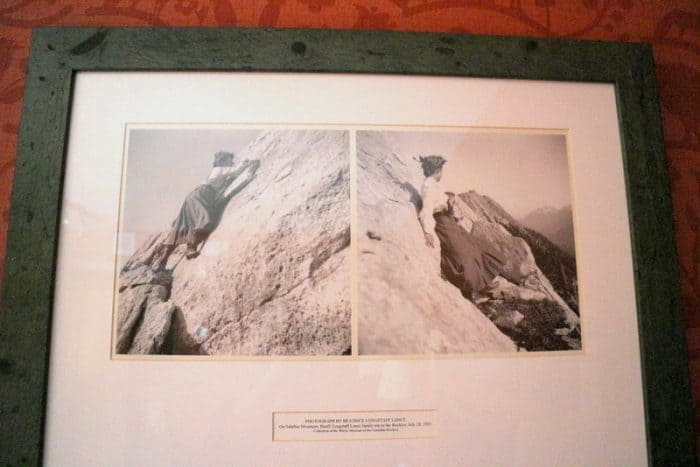 The hotel also provided local coffee from Evelyn's (see "Where to Eat" below), and the soap was from the Rocky Mountain Soap Company! On top of all this, the room smelled like cedar (ie: amazing).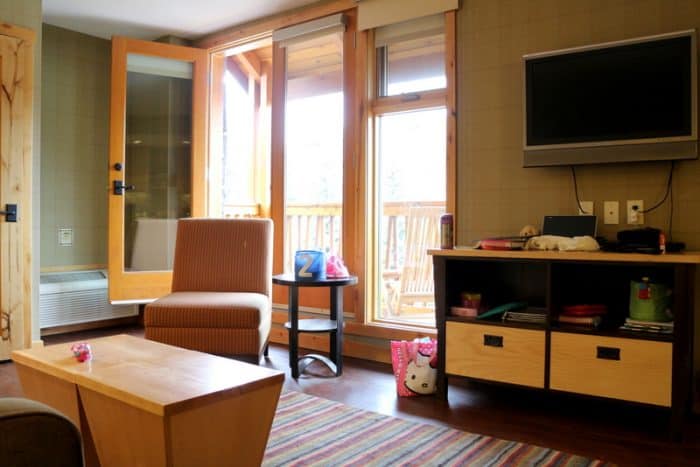 I found the hotel to be really family-friendly, and I'd definitely stay there again!
  Thank you to the Fox Hotel and Suites for providing accommodation during our stay – we hope to return soon!  
Katie is a librarian and freelance writer based in Calgary.
Please Note: 
We do our best to ensure the information on Calgary Playground Review is accurate, however information and events are subject to change. Please contact the organizations directly to avoid disappointment.
Can you help make this article better?
If you have noticed an error, have additional information or would like to share a comment you can:
E-mail us at calgaryplaygroundreview@gmail.com
Find us on Facebook: CalgaryPlaygroundReview
Find us on Instagram: YYCdana
Tweet us: YYCdana
We are not affiliated with any venues, attractions or organizations. Please message them directly if you have questions or concerns.