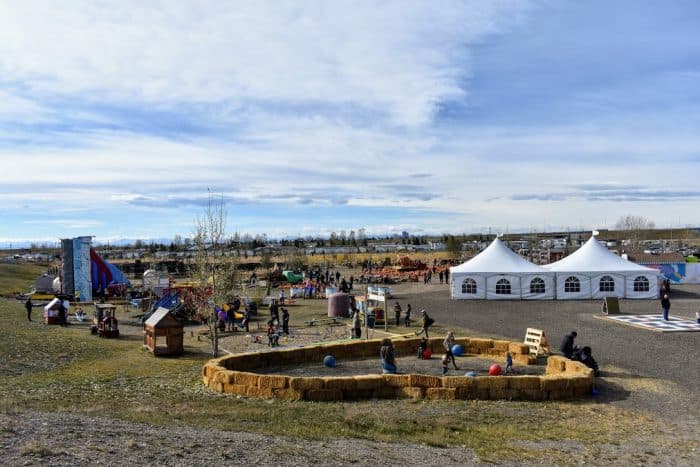 Location:    http://www.cobbsadventurepark.com/
Address: 1500 84 St NE  Calgary
Parking: free gravel parking lot
Cobbs is located on the right hand side of the road from 16th Ave, Hwy 1 East just before Stoney Trail. You turn left on Garden Road.
See website for directions
.
Day Pass Cost: General admission: $13.50  for adults over 17. $12.50  for kids 3 -17 and Under 3 are free. Family Passes (2 regular admission, 2 bought the farm admission) $69.
Bought the Farm Admission: (Includes unlimited premium activities) $26.
Annual Pass Break Even Point: Bought the farm admission seasons's passes break even on the second visit. General admission passes break even on the second visit for kids and the third visit for adults.
Premium Activities: Premium activities are included with the Bought the Farm pass or 'kernels' can be purchased separately. Each premium activity costs 5 kernels which can be purchased at the ticket counter or candy store. You can purchase 5 kernels for $5 with discounts for buying larger quantities.
Premium activities for 2017 include Kangaroos, Black Light Mini Golf, Spider Climb, Climbing Wall, Ropes Course, Euro Bungy, Archery Tag, Funballz, Blaster Balls.
Food Services: Two food buildings side by side include a cookhouse and the Sugar Shack – Hot food such as fries, poutine, mozza sticks, hot dogs is available.  The Sugar Shack has all kinds of candy, popsicles, packaged ice cream and cold drinks. You can also pack a picnic lunch and eat it in the park. There are plenty of picnic tables.
Age Range: All ages.
Stay Length: 2 hours to all day.
Gordie's Review (8 years old):
Nicky's Review (5 years old):
Robbie's Review (2.5 years old): "We go there again? Pumpkin bouncy castle!"
Overall:
Cobbs Corn Maze opened in NE Calgary in mid August of 2013. We visited on a warm Sunday in Mid-October. We opted to get regular admission for everyone and didn't do any of the premium activities on this visit.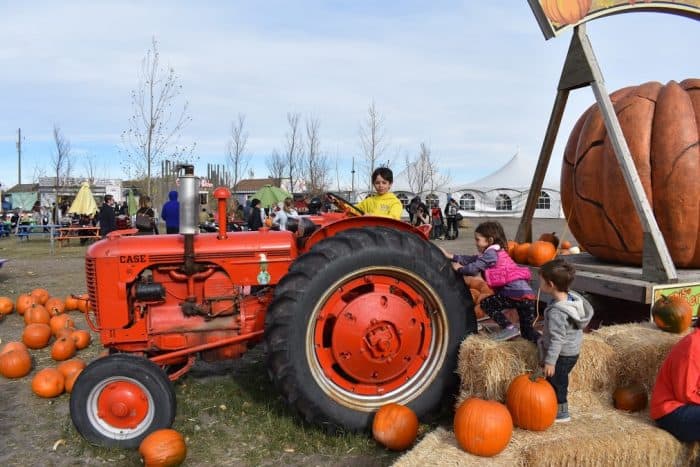 Special Activities
Cobbs sometimes hosts special activities such as character visits. While we were there Moana and Rapunzel were there for photo ops – free with regular admission.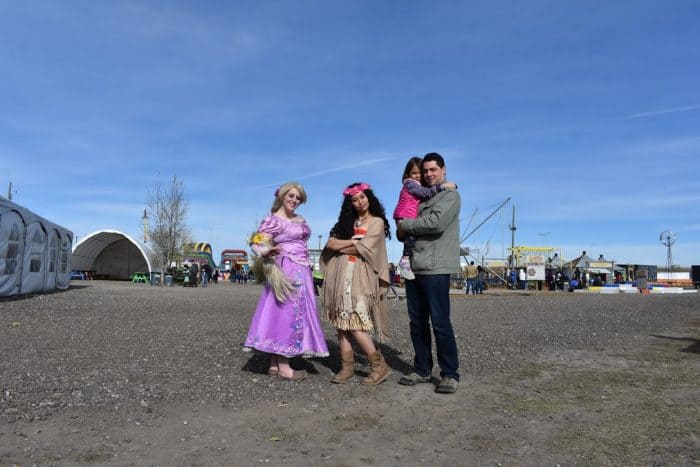 They also had pumpkins available for purchase.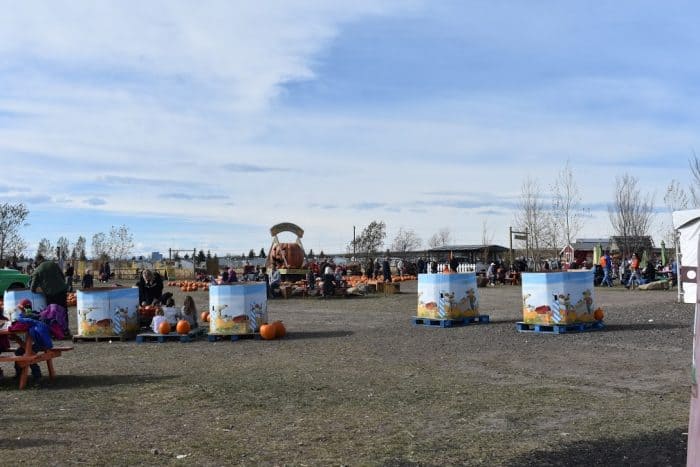 Bouncy Castles:
There were 8 different kinds of inflatable bouncy castles. This area is included with regular admission and one of the highlights for my kids. On particularly windy days this area may be closed.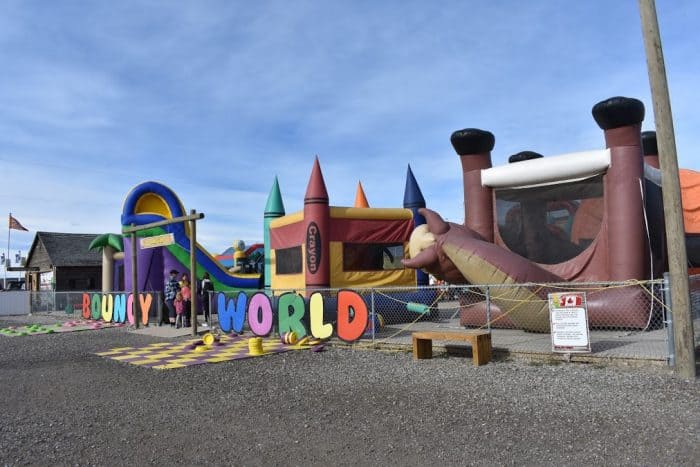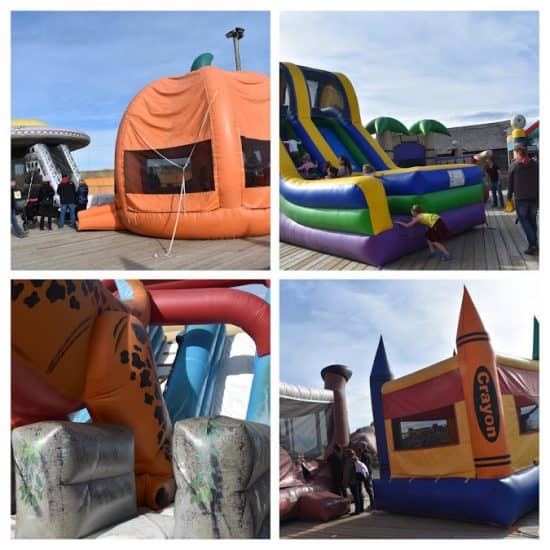 Corn Mazes:
Corn Mazes in Calgary can be a little hit and miss depending on the growing season. This year was a hard year for corn mazes so the maze was a bit short this year. They define the path with coloured tape so you can still find your way around. We had a fun time navigating the corn maze regardless.
There was also a rope maze that we didn't get to that you can access from the mid way point in the tractor ride.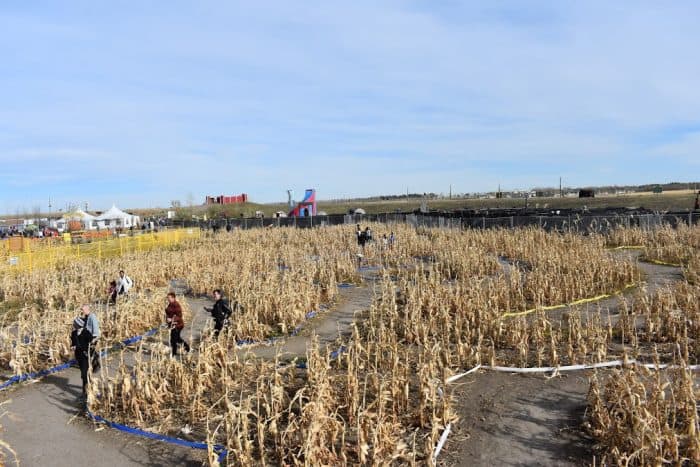 Barnyard Games and Puzzles:
There are a number of different little games, puzzles and mini mazes. They aren't particularly fancy or elaborate, but my kids enjoyed trying them out.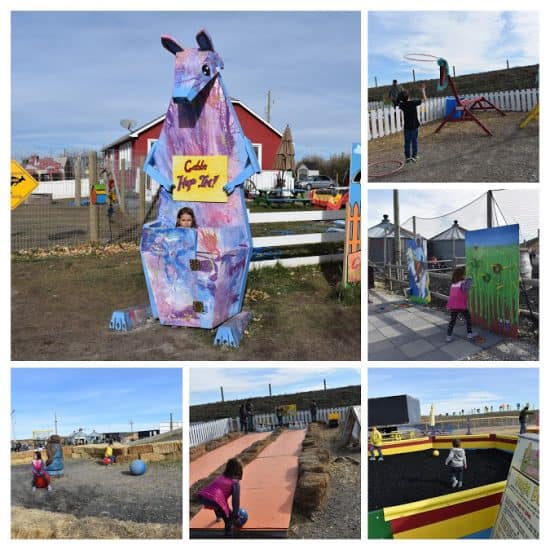 Play Area: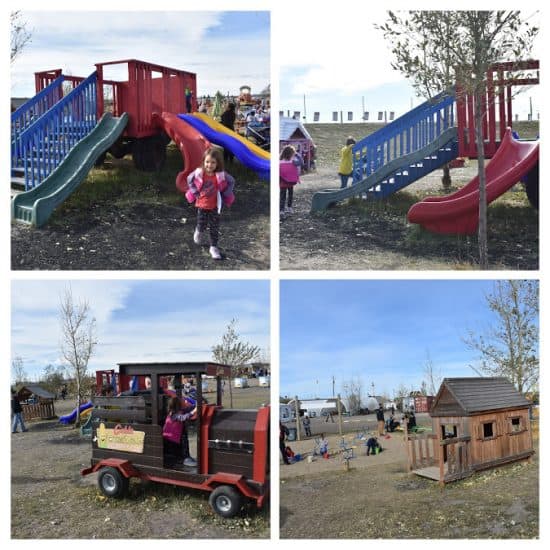 Giant Slides: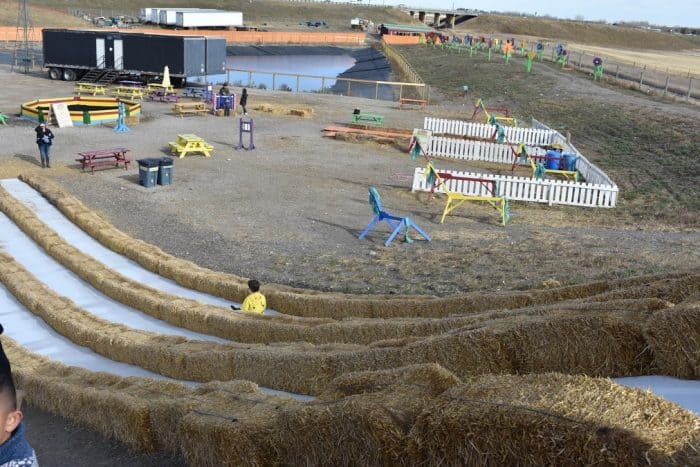 Tractor Ride
The ride is a 15-20 minute ride through the Corn Maze and over to a Rope Maze. You can get off at the halfway point or continue back in the loop. The carts are brand new and the kids absolutely loved the ride.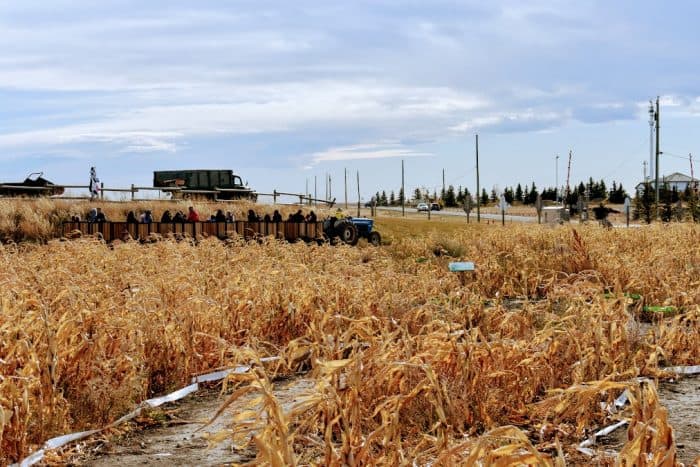 Pedal Carts:
This was one of the favourites for our boys. There were many different carts to chose from, including a 4 seater where only one person needs to pedal. There are a few two seaters and several single riders. There are plenty of staff around the park and a very nice attendant helped us get on our bikes and kept the kids going around the bends.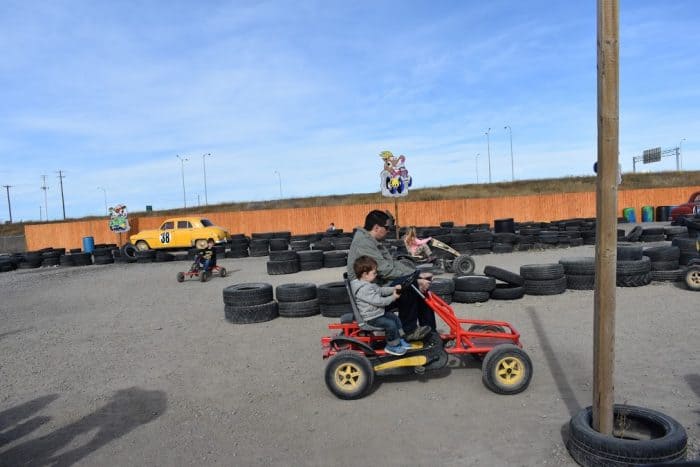 Premium Activities: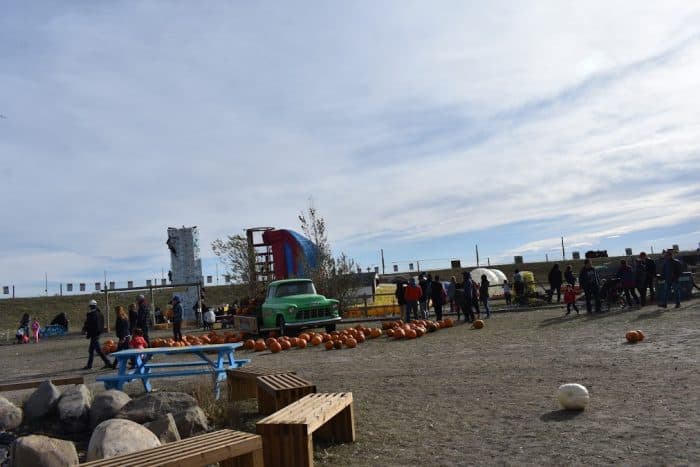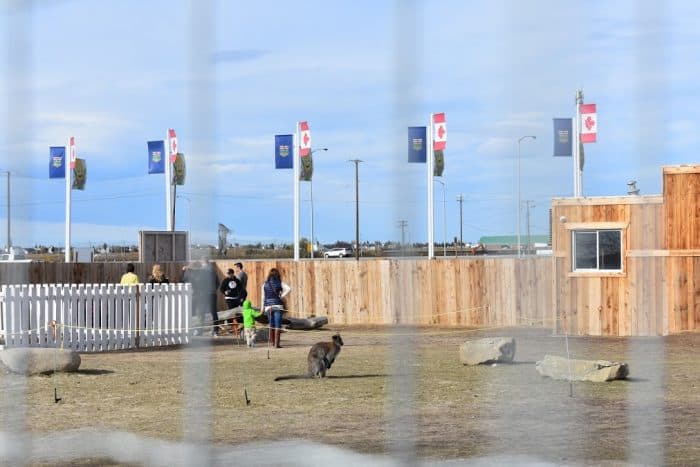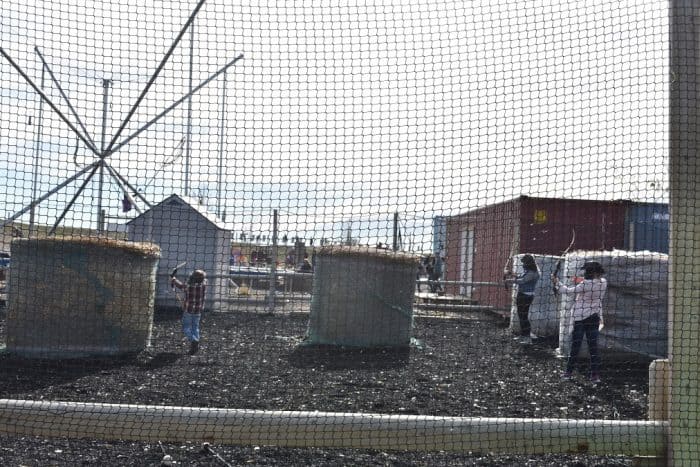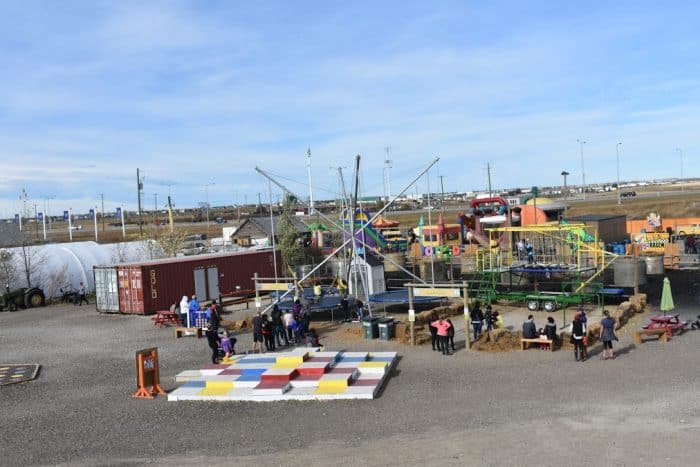 I think your experience at this park will vary based on weather, how busy it is, and what attractions are open. In my opinion, this Corn Maze and fun Farm may not be Calgary's best, however, the staff were very attentive and caring and there were unique activities  (bouncy castles, archery). The food services, picnic area, cleanliness and staff were excellent. I think Cobbs could be improved with some grassier areas, more play grounds, another petting zoo and less complicated pricing for activities. This may become the go-to fun farm for Calgary North. The kids had a great time and it was hard to get them to leave.
Have you been to Cobb's Corn Maze? What did you think?