All you need to know before going to Granary Road Active Learning Park.
Location:    
226034 112th St West MD of Foothills, AB – SW of Calgary (A little further South and West of Spruce Meadows)
Parking: Large free parking lot
Day Pass Cost: 0-2 year Free, 3-14 years: $15, Adults (15+) $15, Seniors (60+) $15. Admission to the market is free.
Annual Pass Break Even Point: Child – 3rd visit, Adults – 4th visit. Family Annual Pass (2 adults, 2 children) – 3rd visit.
Food Services: Concession, Onsite restaurant, cafe and casual upscale market (market is only open for part of the week)
Gordie's Review (8 years old): "It was great. They had a really good set up. I really liked the orchard."
Nicky's Review (5 years old): "I liked everything. There's a lot that I liked the most but I'll pick one of them. I liked the frog trampolines."
Robbie's Review (2.5 years old): "I want to pet the goats again!"
Granary Road Active Learning Park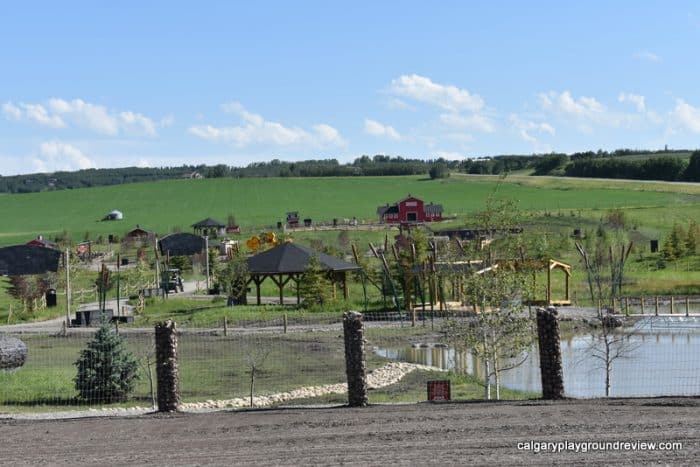 Granary Road's Active Learning Park strives to combine fun and learning with 11 different exhibits each with their own animal, insect or agricultural theme. The themes and information align with the Alberta Curriculum and each exhibit has a learning Kiosk where you can close the curtain that doubles as a screen and watch a grade level appropriate video on the topic.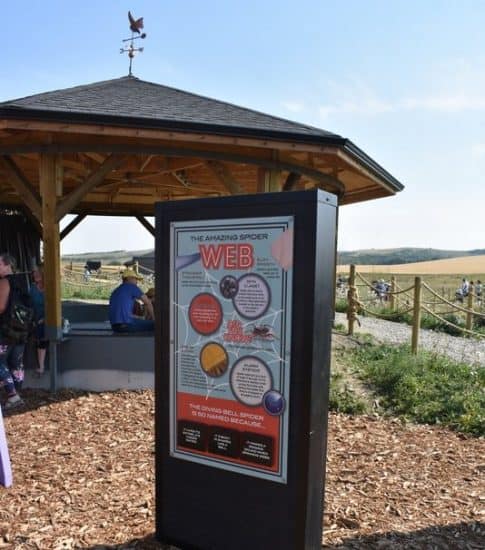 There are informational signs relating to each topic, however not all of them were in place yet at our visit.
Tips for visiting Granary Road Active Learning Park
Wear good walking shoes – The park is huge covering 36 acres and requires a fair bit of walking. The ground cover is primarily wood chips and gravel.
Think about leaving the stroller at home – The park is accessible to wheelchairs and strollers, however you may have difficulty going over the gravel pathways, particularly if you have smaller wheels.
Prepare for sun protection – Shade is available under a gazebo at each of the exhibits, however it may not be where you want it and all the trees are very young.
Consider bringing your own food and water – You can bring in your own food and drinks to the park and picnic areas are available. There is a concession inside the park and when the Market is open (Thursdays-Sundays) there are also other options from the vendors and the Loft Kitchen. In general the market is upscale and aimed more at adults than kids and can be slow particularly at lunchtime.
Take some pictures! – There are lots of great photo ops. Where else can you get a photo of your kid sitting on a giant spider?
Consider a pass – A family season pass breaks even on your third visit
Avoid the crowds – by going during the week particularly when school is in session.
Frog Pond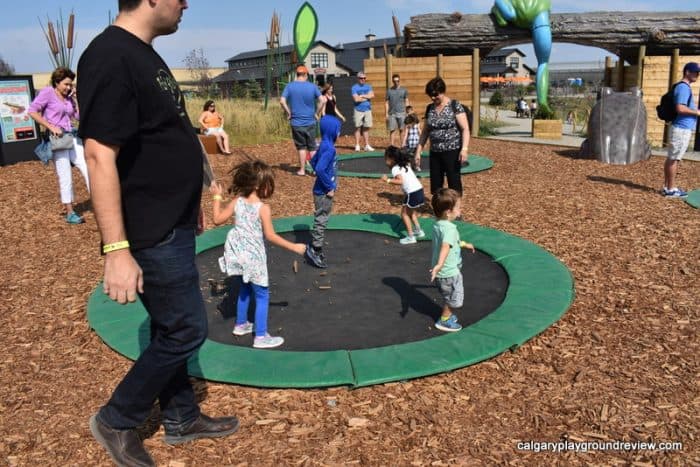 Here you can hop from bubble to bubble, spin on a lily pad, jump on little trampolines, and slide through the mouth of a frog. This is the first exhibit when you go through the gates so it can quickly get busy.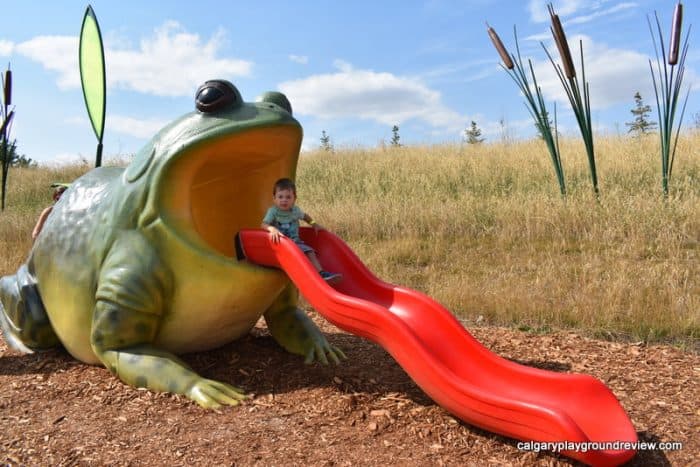 Mushroom Meander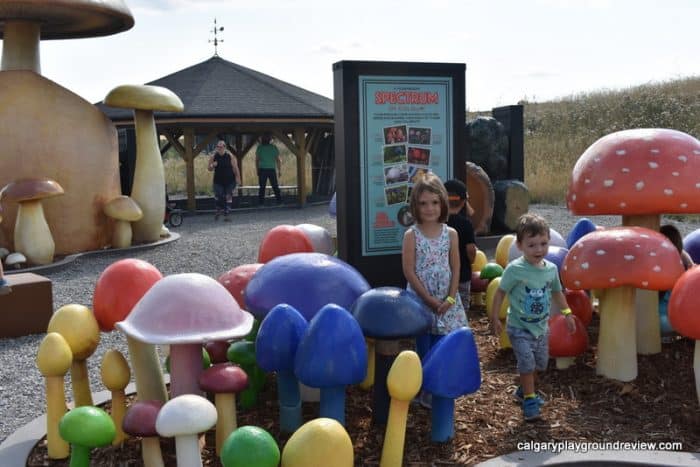 This is one of the most passive exhibits (most of the mushrooms you are not supposed to climb on) that primarily has informational panels and cute photo-ops.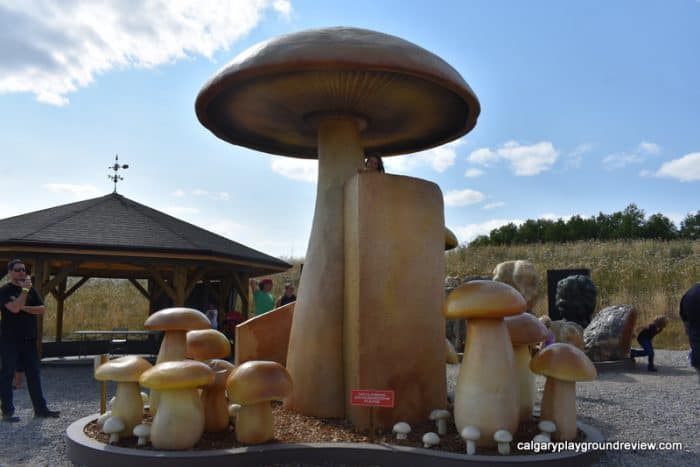 There are a few climbing features too though.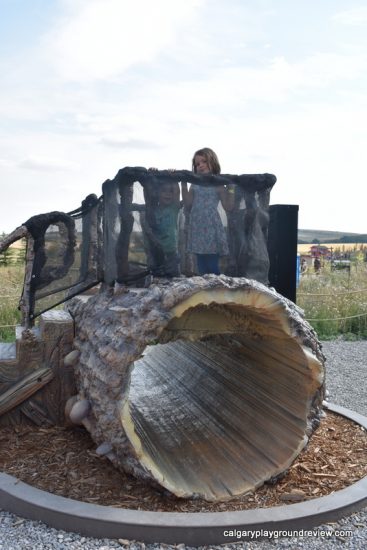 Orchard Tree House
This exhibit is primarily for kids 5 and up although some kids a bit younger may enjoy it too. My 8 year old loved it, my 5 year old liked it but found all the kids a little intimidating inside the tree house. There are climbing tunnels to get up or a set of stairs and slides to get down.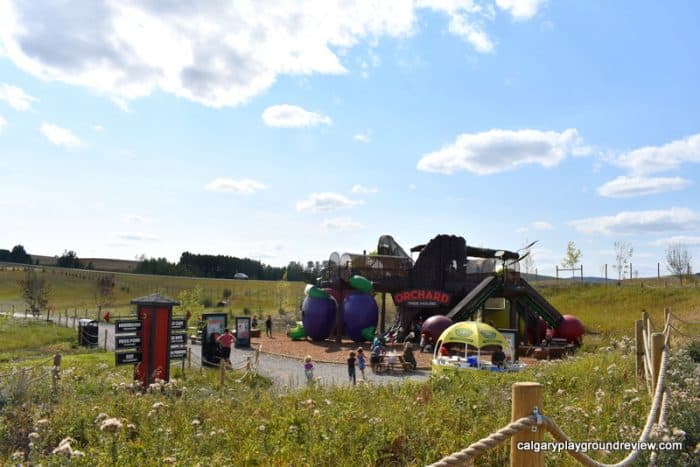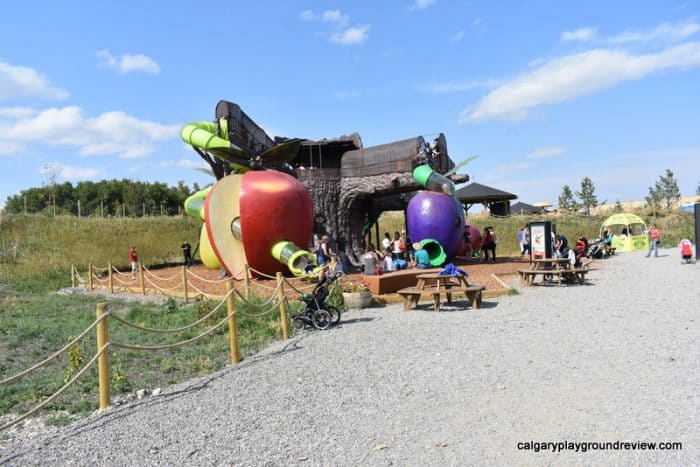 Bat Cave
This area had a couple bat caves you could walk through with animatronic bats on the ceiling (not yet operational) and some real (but not alive) bats in a display case.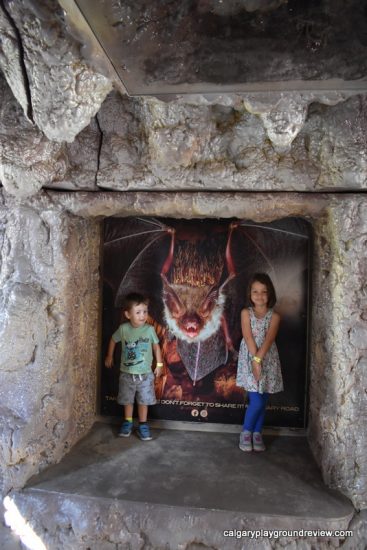 They also have a small climber and a maze designed to be an echolocation maze. The echolocation feature wasn't working on our visit but kids could still try going through the maze 'blind folded'. My kids decided to just walk through the maze and enjoyed it – it's a pretty straightforward maze if you can see.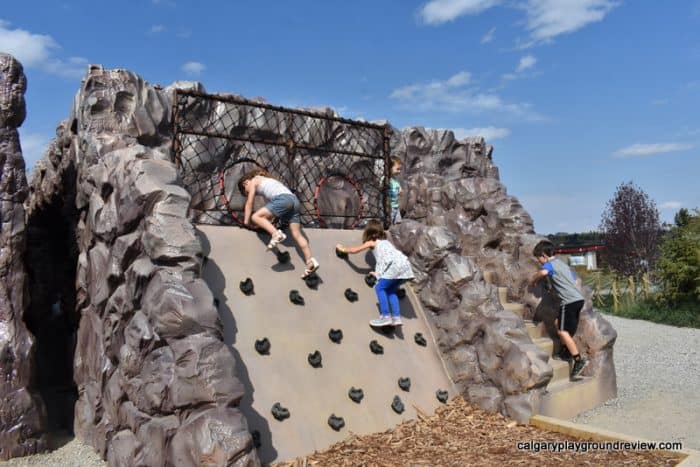 Bee Hive
This area was still a little unfinished while we were there. There was a flower garden bee friendly plants and informational panels.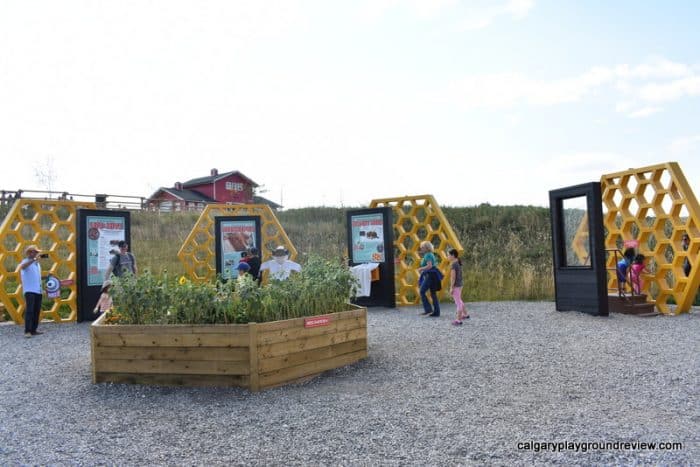 Farm Friends Petting Zoo
The petting zoo component is primarily the goats. My kids loved petting the goats, particularly my 2 year old.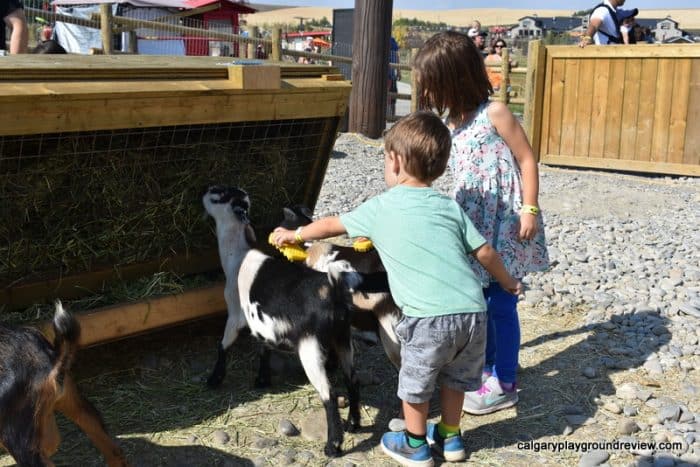 Further up the path you can also see sheep, pigs, rabbits, alpacas, turkeys, peacocks and more.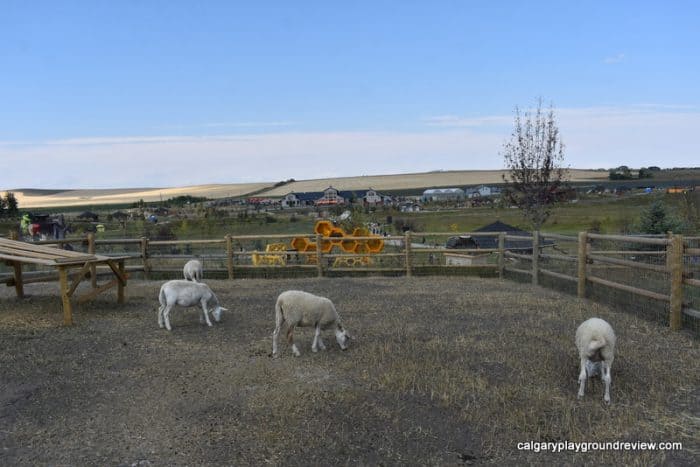 Arachnid Web
This exhibit features a spider web climber, saucer swings with web seats and spider shaped climbers.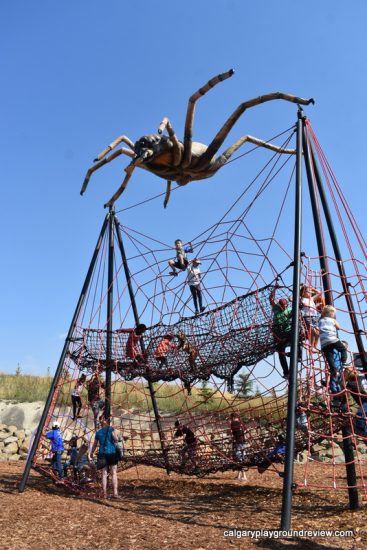 My oldest (8) really liked the web climber.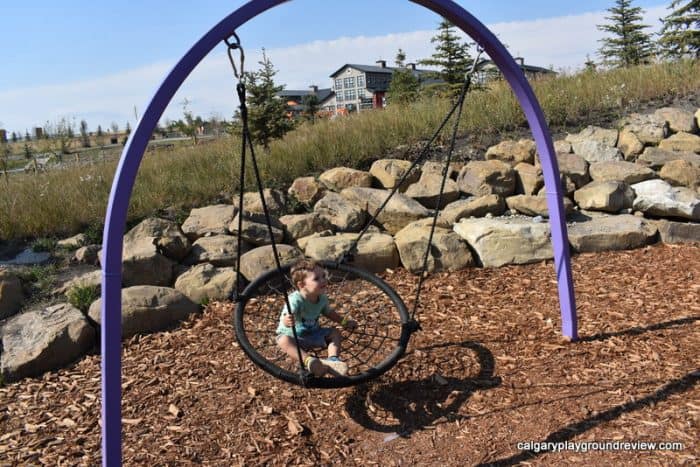 My younger kids weren't sure about the giant spiders at first but eventually decided they were not scary.
Ant Farm Adventure
This huge multi-level ant farm shaped climber was one of the biggest hits with my kids. My littlest spent all of his time pushing around 'ant eggs' on the ground level while my older kids explored the rest of the climber.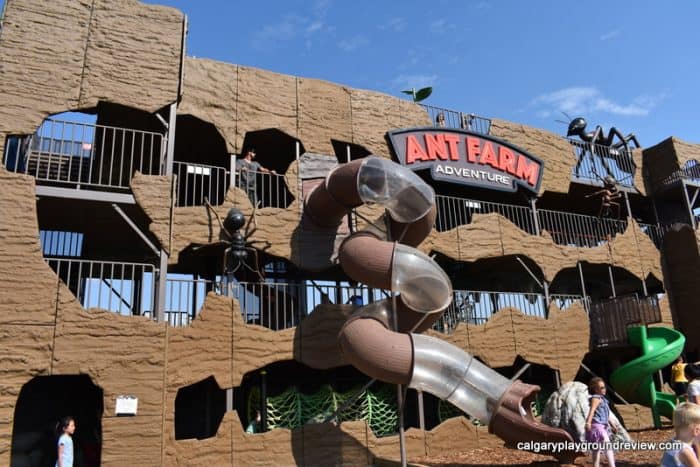 Bottom level of the climber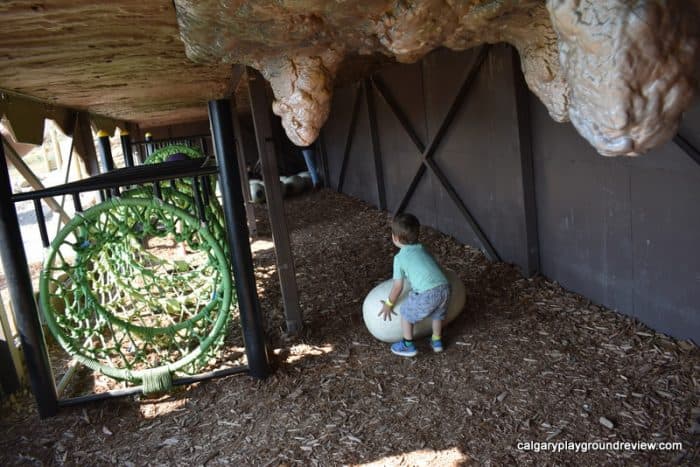 Cropland
Cropland features huge sand pits for the kids to play in while being surrounded by huge sand pits for kids to play while being surrounded by barley, wheat, canola, and rye.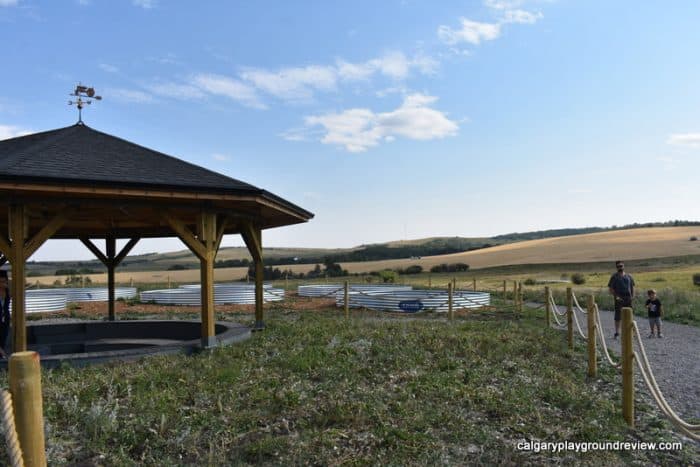 There is also a maze aimed at younger kids.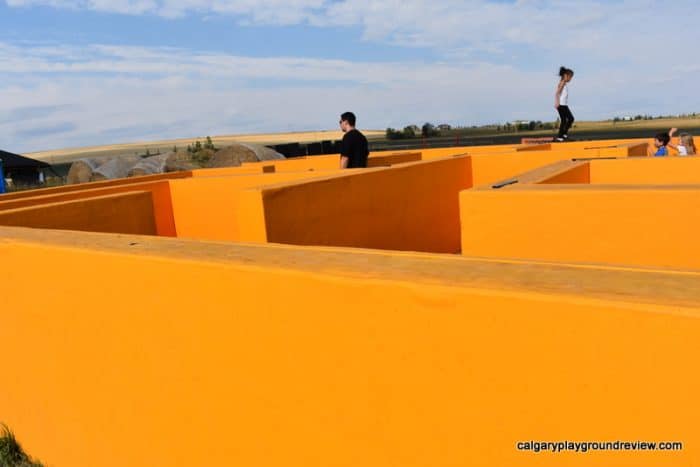 Chicken Coop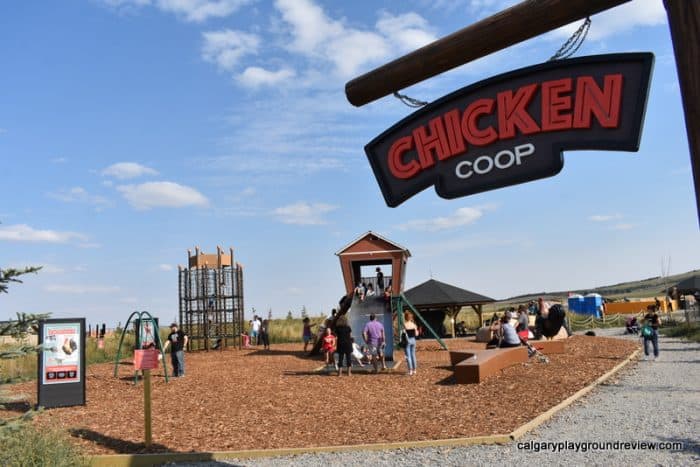 The Chicken Coop features actual chickens, large movable eggs, a chicken coop climber with wide slide and fried egg tower web climber.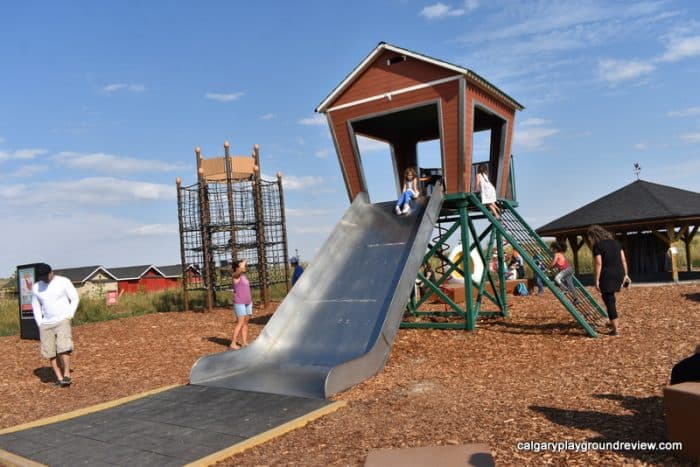 My kids found the wide slide to be a little abrupt at the bottom but really enjoyed the nest with the large eggs.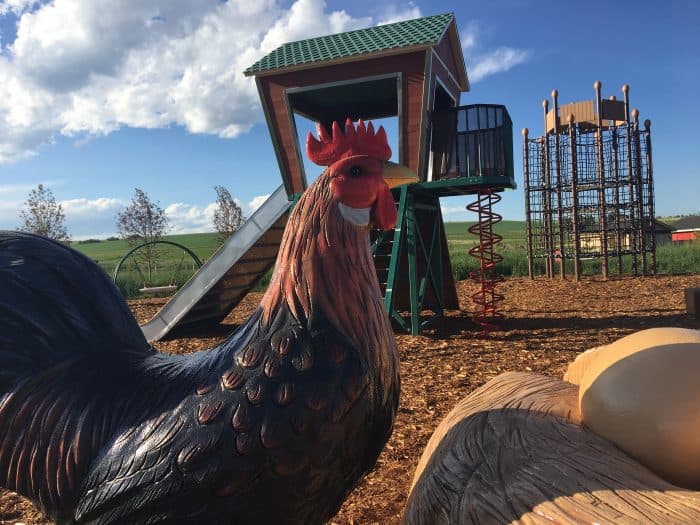 Wetlands Discovery
This area is for observing and learning about the wetlands. It features a large wetland pond as well as a developing open air wetland aquarium/terrarium.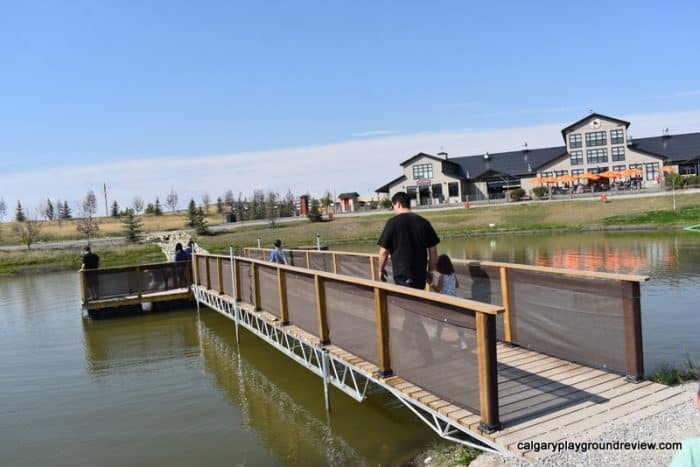 The terrarium is pretty interesting to look at and my kids were able to spot some little snails.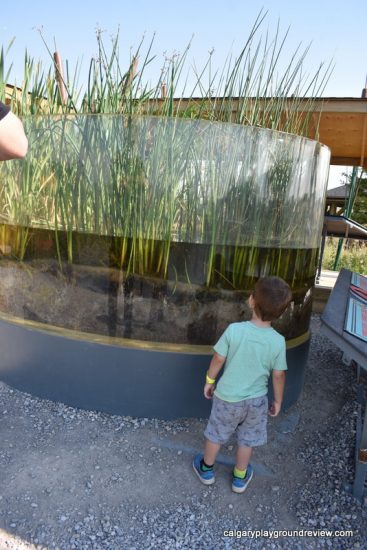 Picnic Areas
The grounds also have a few washroom locations and picnic spots.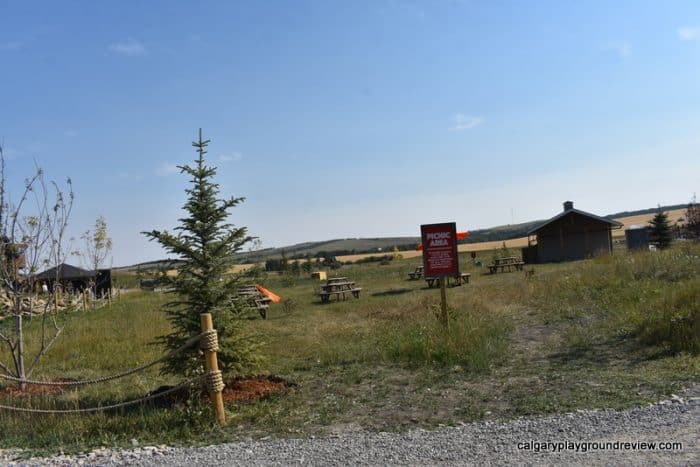 Public Market
The public market is free to enter (unless there is a special event). It's a gorgeous space with indoor and outdoor seating.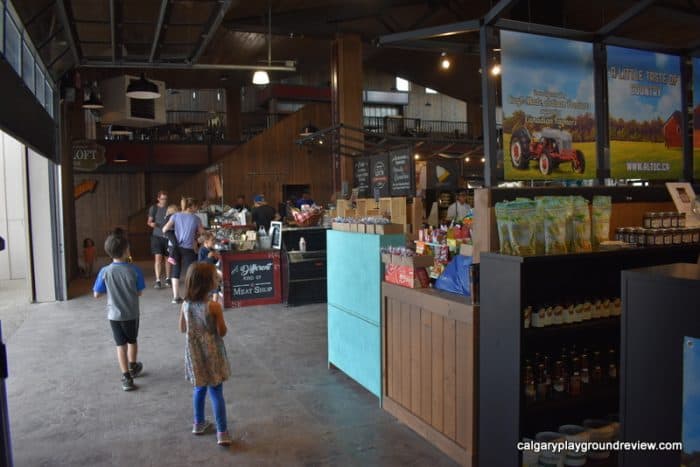 It has multiple vendors and a casual but upscale feel and list of vendors. In general, the vendors and available food are aimed more at adults than kids.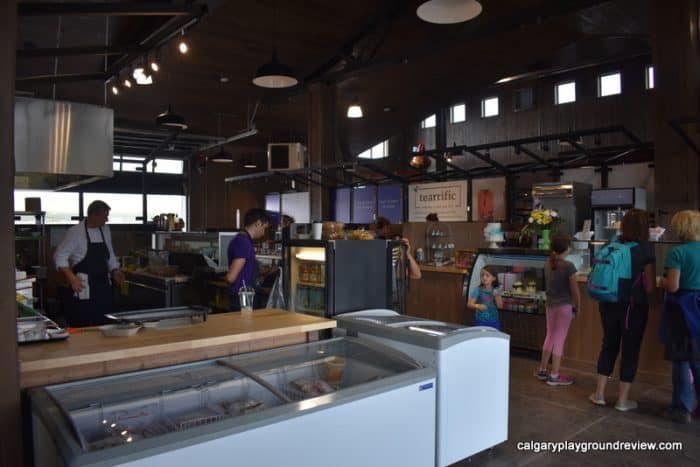 The vendors included provide a mix of things to take home, treats, snacks and meals. In addition, there is a full casual dining menu at The Bistro, an on-site bakery and a full bar at The Loft.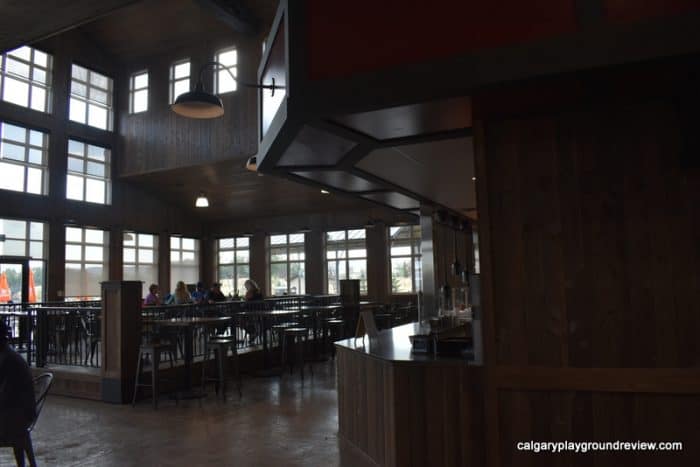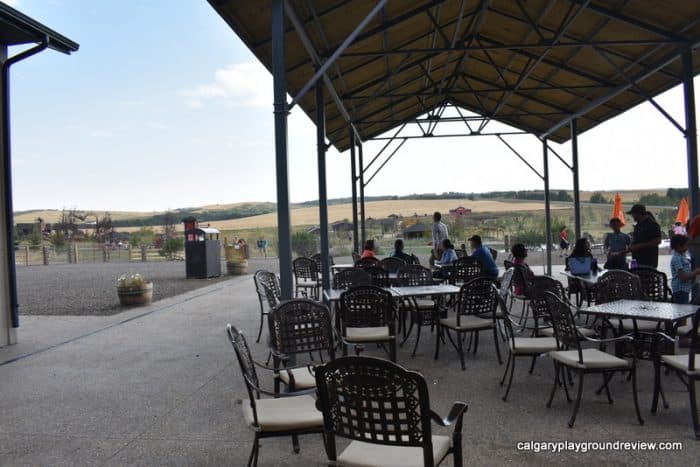 We had a great day at Granary Road and look forward to see how the park develops over time.
You may also be interested in:
Please Note: 
We do our best to ensure the information on Calgary Playground Review is accurate, however information and events are subject to change. Please contact the organizations directly to avoid disappointment.
Can you help make this article better?
If you have noticed an error, have additional information or would like to share a comment you can:
E-mail us at calgaryplaygroundreview@gmail.com
Find us on Facebook: CalgaryPlaygroundReview
Find us on Instagram: YYCdana
Tweet us: YYCdana
We are not affiliated with any venues, attractions or organizations. Please message them directly if you have questions or concerns.