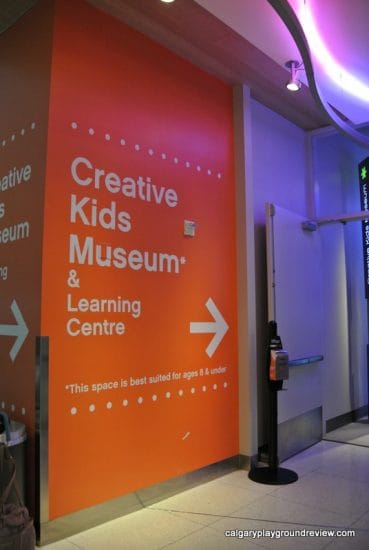 For younger kids, the highlight of the science centre is likely to be the Creative Kids Museum. (It is geared towards kids 8 and under). We have been really impressed by it. We decided to buy our memberships largely due to this area alone. If you have a membership, you can treat this area like an indoor play place and pop in at any time.
The Creative Kids Museum is really more of a Children's Museum than a science centre gallery which can be a little confusing for people who aren't familiar with them. There is lots of opportunity for kids to learn about science (and art) through play rather than directed instruction and explanation.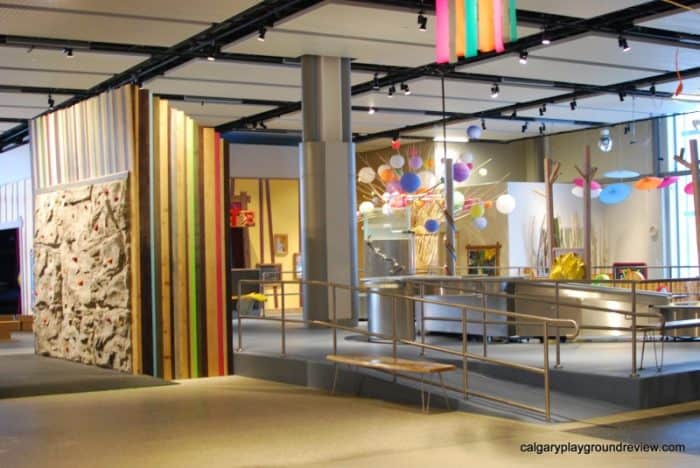 The centre is not afraid to let kids make a mess and from visit to visit you can see small changes in some of the different stations – different things to build with, different objects in the water table and different kinds of art projects.
Water Play Area
This is a large area in the centre of the Creative Kids Museum so be prepared, your kids will probably want to check it out. There are water smocks available for the kids to wear, but depending on your child you may want to pack an extra set of clothes. At 2.5 my son loved this area but one day he needed a new shirt, pants, socks and shoes!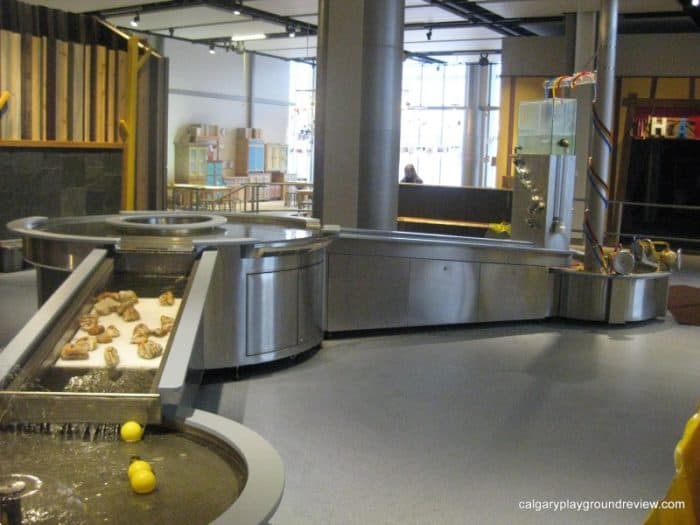 They add different objects to the water for the kids to play with like boats, blocks and balls. There are also stools that shorter kids can use to reach the higher areas.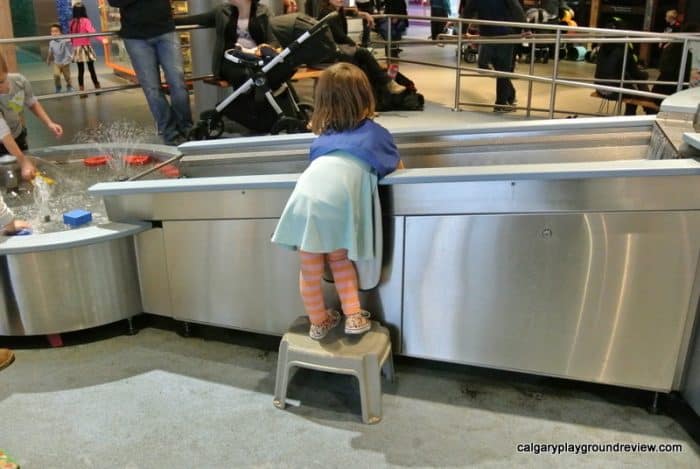 On the other side there are rocks that are fixed in place that you can use to manipulate the water flow.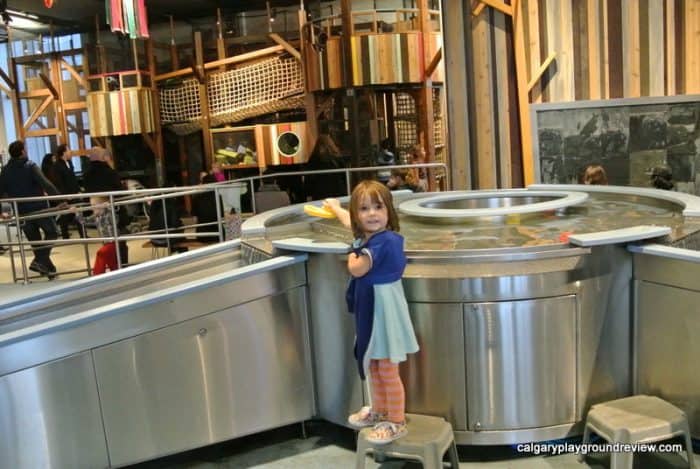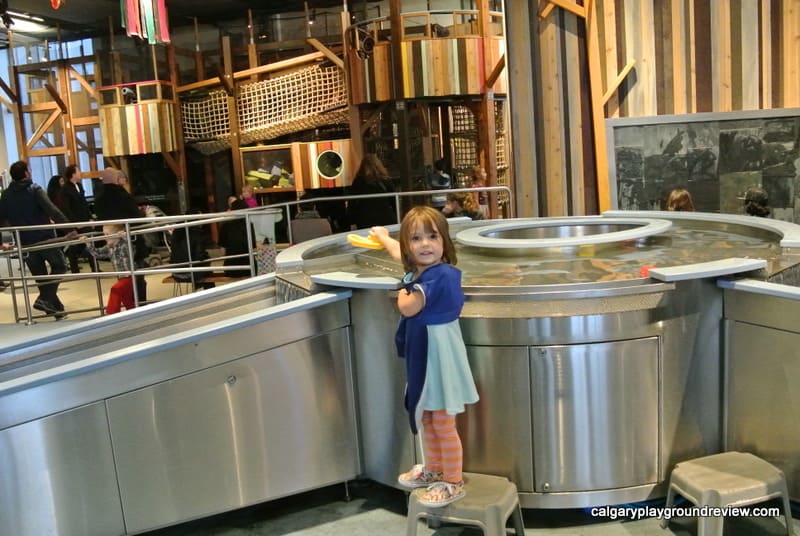 There is another lower level at the bottom of that with little water sprays.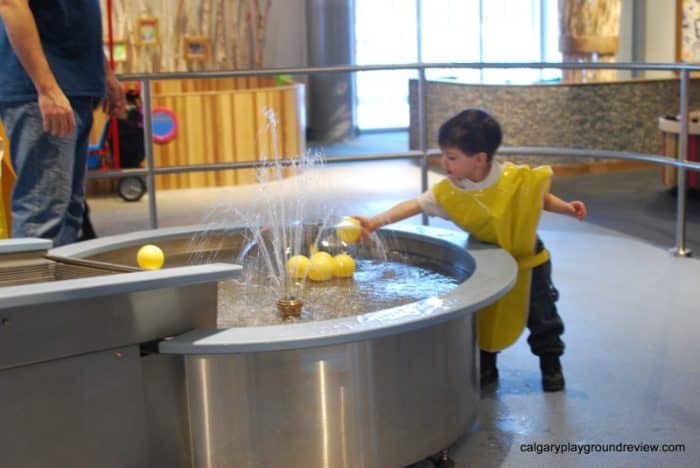 On the other side of the water table is an area with loose objects that can be moved around.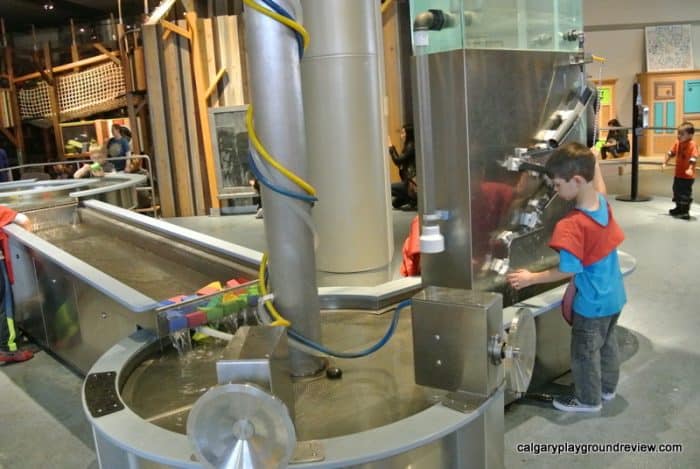 There are also some wheels that move water through tubes, a water drip where you can move around pieces on the side of the water tank to watch the water travel in different ways.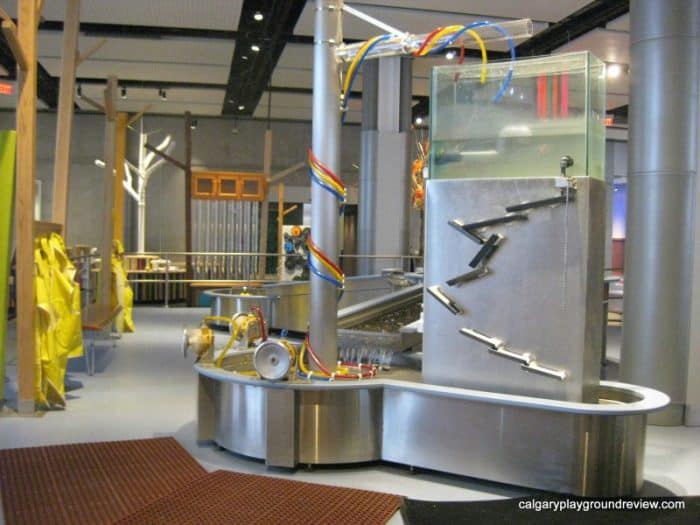 And a chalkboard that can be 'painted' with water.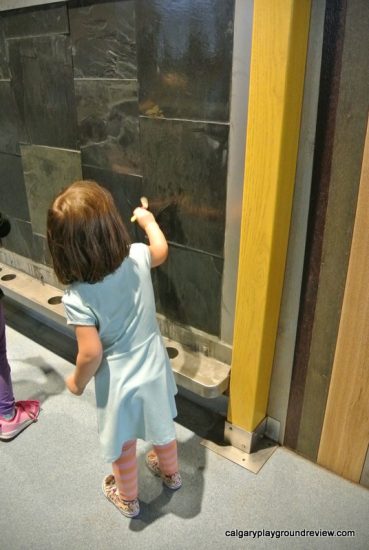 Experimental Stations
There are a number of different experimental stations where kids can play with things like magnets, gears and gravity. There is a small piano that is connected to water tubes with LED lights so when you play it, bubbles go up the tubes and the tubes change color. Gordie really enjoyed sliding the different kinds of 'hockey pucks' down the three different ramps to see what would happen.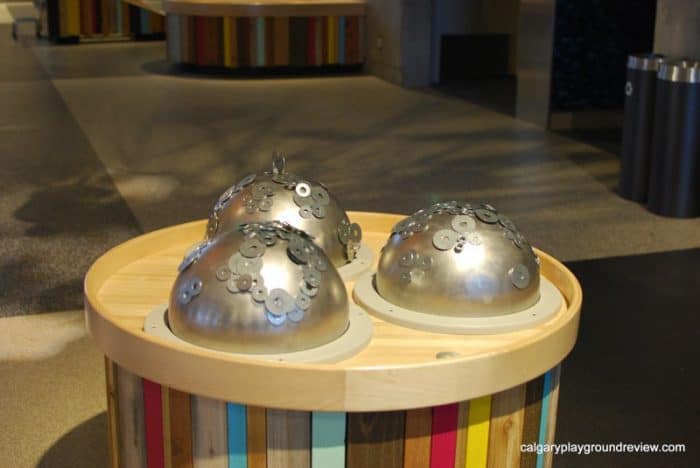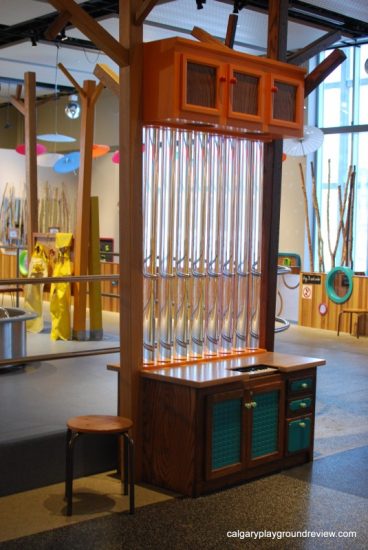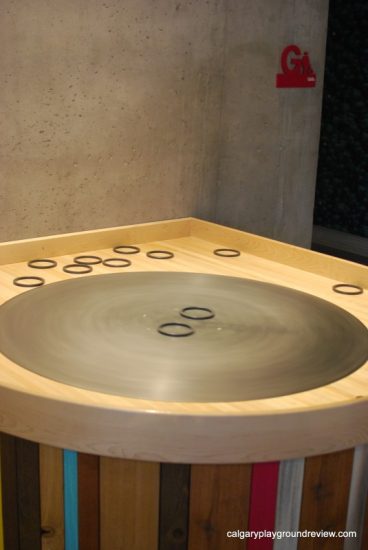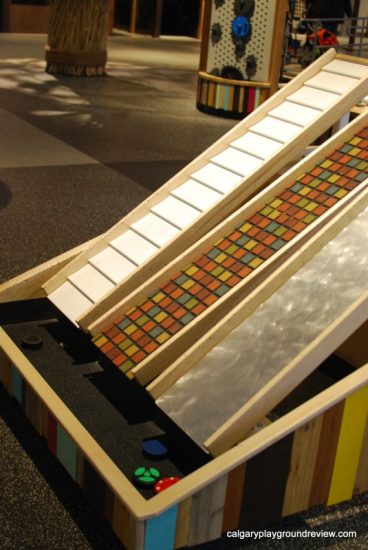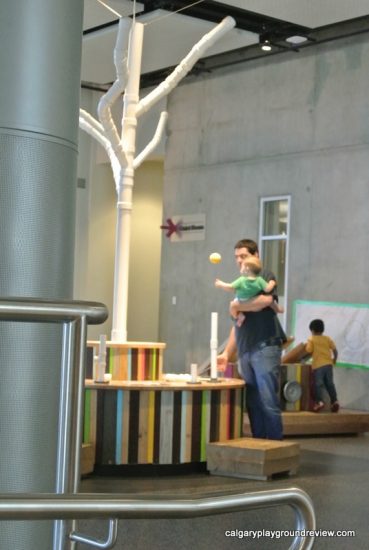 Climbing Structure
This is one of the highlights for my kids most visits. When it first opened I had read that the climber was set up like a maze, so I was a little concerned about letting letting my son (who was then 2.5) loose. The climber is accessible to adults if necessary, but it's really for kids 8 and under and not particularly comfortable for grown-ups.
It isn't actually a maze in that it is difficult for kids to find their way back out, but more of a 'you can't get there from here' kind of maze. So if you want to get to a particular spot, you may have to back track and try another route.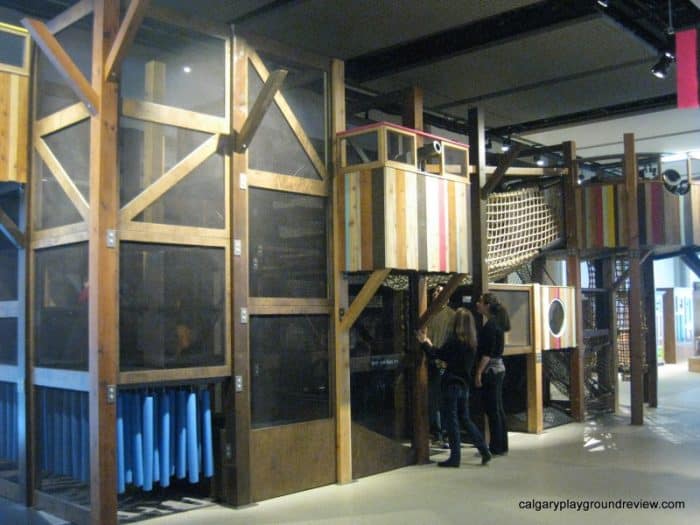 On one side of the climber there is a couple bags on pulleys that kids can use to pull up blocks or balls and a couple of tubes where balls can be dropped down. Some of the tubes pieces are magnetic so the balls can drop down different paths.
Kids at the top of the climber have to co-operate with others at the bottom to move the objects back and forth. This is very popular, particularly with the older kids.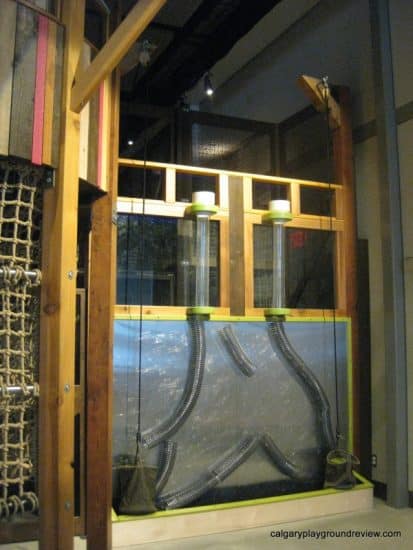 There is also a climbing wall across from the climber for older kids.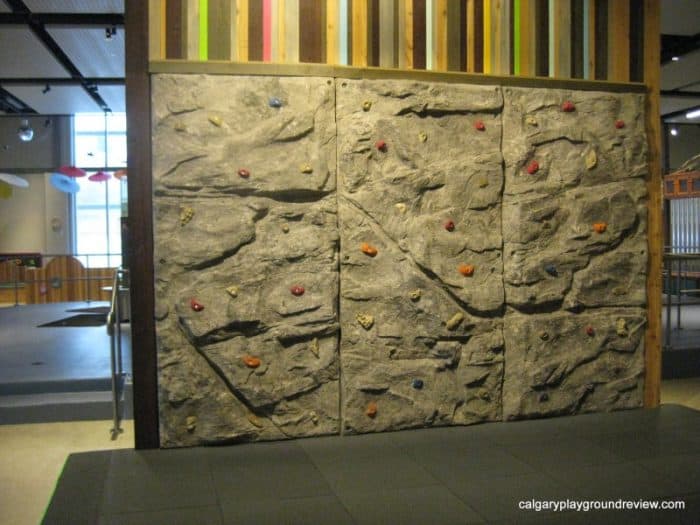 Toddler/Baby Area (ages 3 and under) and Reading Nook
I find a lot of "toddler areas" aren't really very interesting to kids older than a year and a half. This one, however, is not only great for toddlers and babies but my kids have enjoyed spending time where even when they were three. There is a little 'crawling track' area for babies on one side.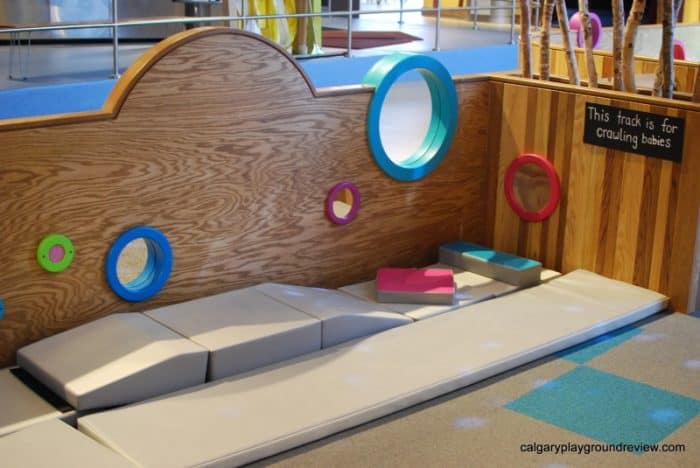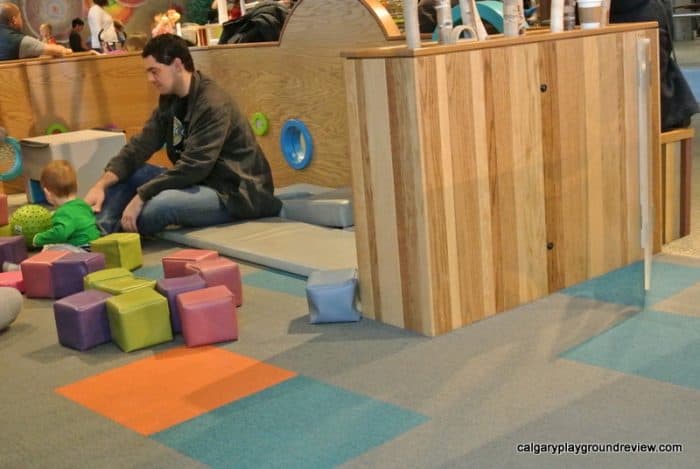 On the other side there are things like a small slide, soft blocks, mirror tunnels, a light table and a ball centre.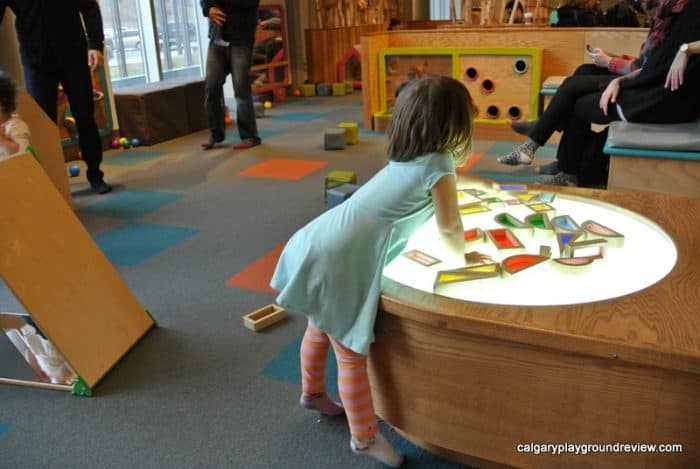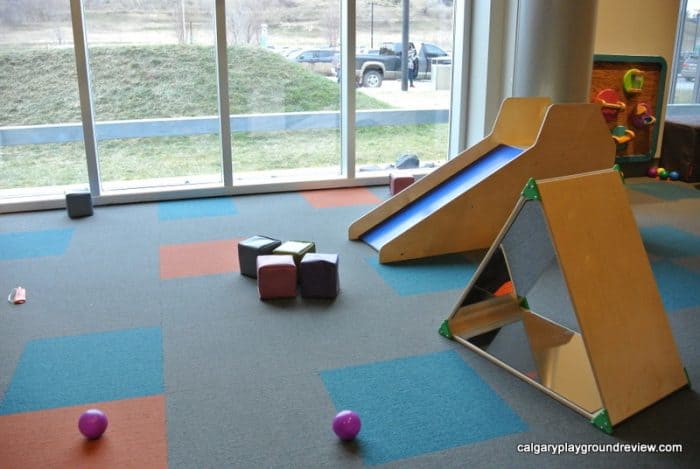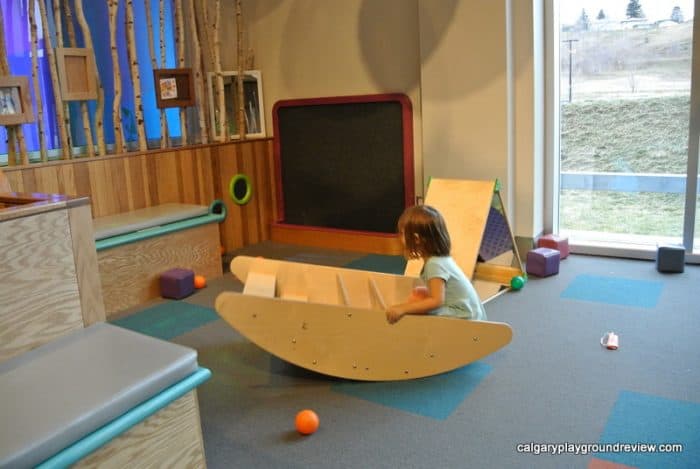 Gordie really enjoyed putting the balls into the holes at the ball centre. On one side it's like a plinko board and on the other the balls come out of a different hole than you would expect them to.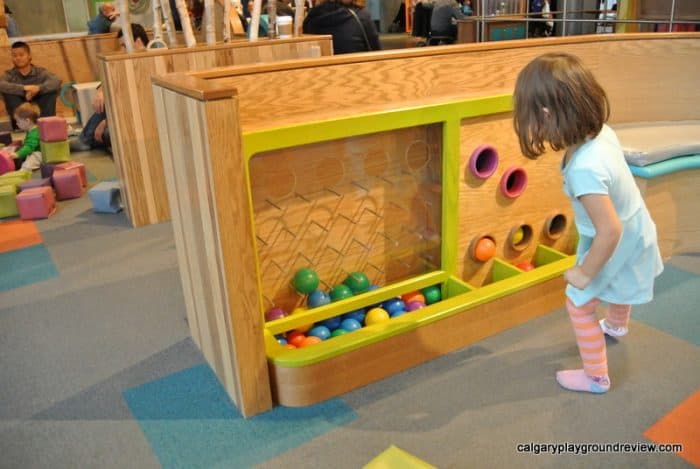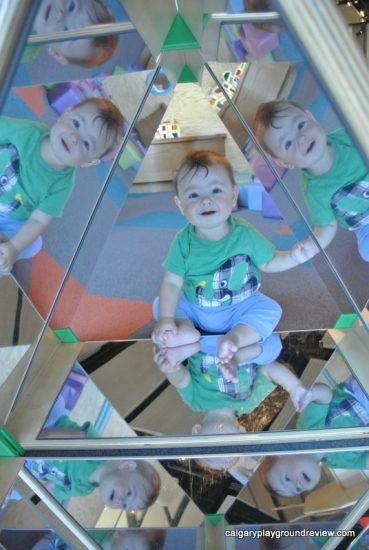 Beside the Toddler area is a reading nook with a puppet theatre, books benches and big cushions.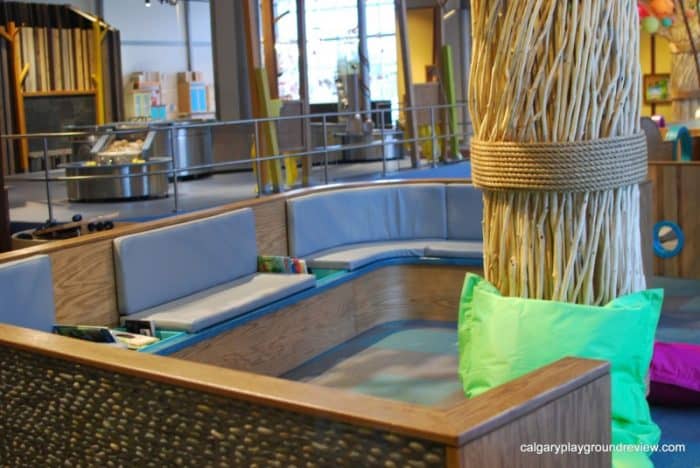 Theatre
The theatre is another free play area. Kids can play up on the stage to a small audience and change the lighting, backdrops and use a spot light. There is also had some kid sized blankets that can be used as props. This is another one of my kids' favorite spots.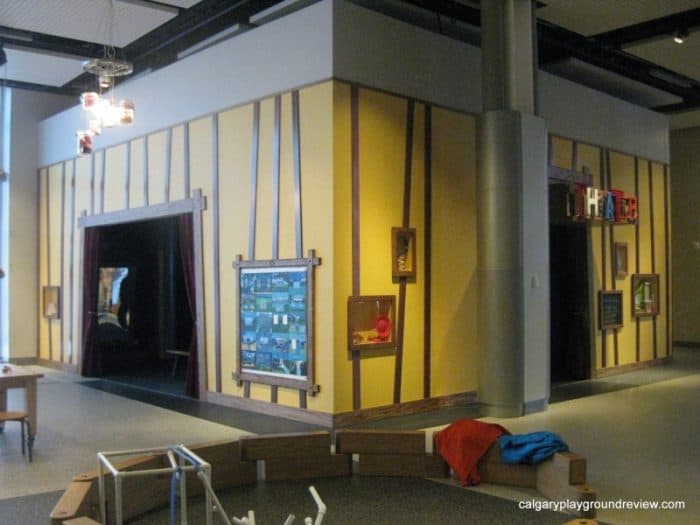 Creative Space
This area is where you are most likely to see change from one visit to the next.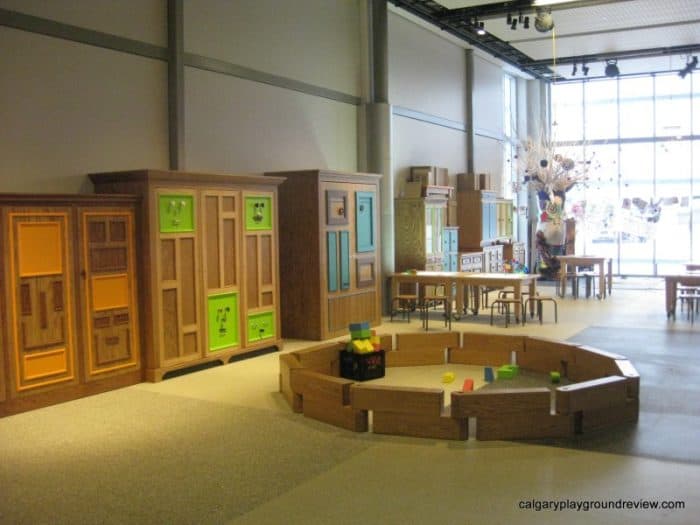 There are two circle spaces that each have a different thing to build with. The circle itself also doubles as seating.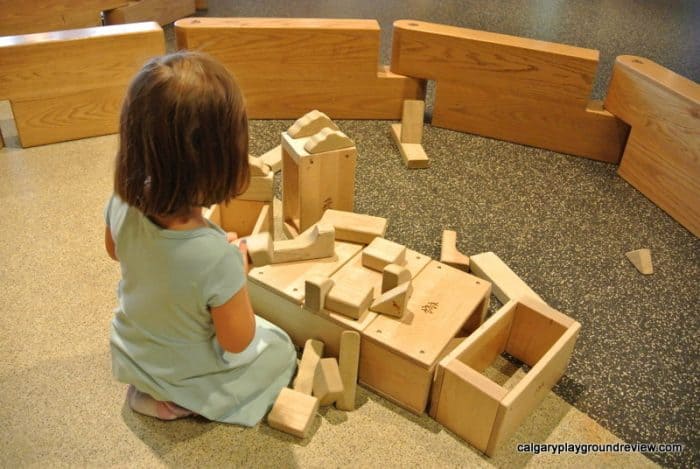 There are also tables smaller objects that you can play and build with. A couple of the tables near the back are typically used for some kind of art project some of which you can see displayed by the window.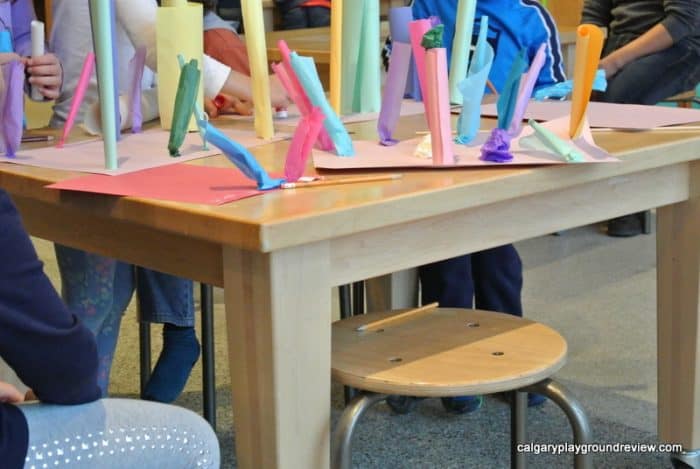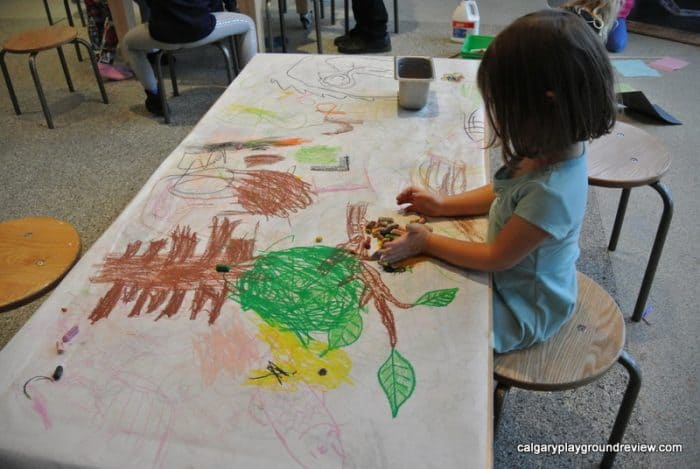 More about the Telus Spark science centre overall, Telus Sparks' three permanent Galleries: Energy and Innovation, Earth and Sky and Being Human, the Brainasium Outdoor Park, and Open Studio.
Please Note: 
We do our best to ensure the information on Calgary Playground Review is accurate, however information and events are subject to change. Please contact the organizations directly to avoid disappointment.
Can you help make this article better?
If you have noticed an error, have additional information or would like to share a comment you can:
E-mail us at calgaryplaygroundreview@gmail.com
Find us on Facebook: CalgaryPlaygroundReview
Find us on Instagram: YYCdana
Tweet us: YYCdana
We are not affiliated with any venues, attractions or organizations. Please message them directly if you have questions or concerns.