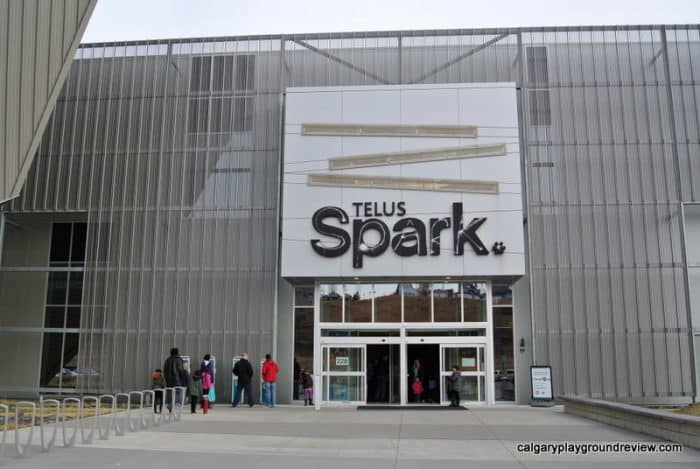 Location http://www.sparkscience.ca
Address: 220 St. George's Drive NE
Gordie's Review (6 years old): What was your favorite part? "I liked the kids area [Creative Kids Museum]. I like the climber a lot."
Nicky's Review (3 year old): What was your favorite part? "I liked making the drums make sense with the ball."
Robbie's Review (12 months old): The baby area in the Creative Kids museum is really great for this age.
Day Pass Cost: General – $19.95; child(3-12) – $12.95; Youth(13-17) – $15.95; ( Senior (60+) – $17.95; infant (2 and under) – free.
Membership Break Even point (basic pass): Child & Youth – if you expect to go more than 3 times, you're better off getting a pass; Adult and Senior – if you expect to go 3 or more times you are better off getting a pass.
Parking: $5 daily parking, free if you have a Gold and Ignite level passes.
Food Services: There is a Cafe on the 2nd floor.
Age Range: All ages.
Stay Length: Expect to spend a minimum of 2 hours. You could easily spend most of a day if your kids were interested in really engaging with the hands on exhibits. (Without seeing any traveling exhibits, movies or theatre presentations)
Overall:
The science centre – Telus Spark – has been at it's current location since 2011. Since then, we have visited many times and had a pass on and off with our kids who have ranged in age from infants to 7 years old.
In addition to their permanent galleries and exhibits, they also host travelling exhibits and events, which sometimes requires an additional fee. There is also a presentation theatre where live theatre programs and science demonstrations can be viewed. The HD Digital Dome Theatre shows live planetarium shows and movies (dome only tickets are available).
Tips for Visiting Telus Spark with Kids
Plan your route – Visit the Being Human, Energy & Innovation and Earth & Sky exhibits first. If you go to the Creative Kids Museum first, you may run out of time to see the rest of the centre.
Consider packing a lunch – You can pack a lunch to eat at the science centre.
Lockers – Lockers are available (but they are $0.25 every time you open them)
Dress for the weather – the Brainasium Outdoor park is an amazing playground – they have tried to make it mitten friendly so it is fun no matter the weather
Pack a change of clothes for younger kids in case they get wet at the water play area
Some things cost extra money like some (but not all) travelling exhibits and shows at the Dome Theatre
Some things are free – check the schedule for activities in the attrium and science demonstrations at the Inspiration Stage
Check the hours – the Creative Kids Museum opens an hour earlier than the rest of Telus Spark. Telus Spark closes fairly early (4-5pm) but will occasionally have late nights that are open to everyone.
Apply your admission to a annual membership – If you are not sure you want to buy an annual membership, you can visit first and apply the admission cost to an annual membership when you leave. The passes pay off quickly and makes it easier to not worry about seeing everything in one day
Atrium
In the centre of the science centre is this wide open area. Sometimes temporary or travelling exhibits are installed in the atrium. Otherwise they usually have something for the kids to play with.
One day while we were there they had this Imagination Playground (pictured below) and another they had hula hoops. You can also pack a picnic lunch and eat it in the Atrium. They have a few tables but you may find yourself eating it on the floor.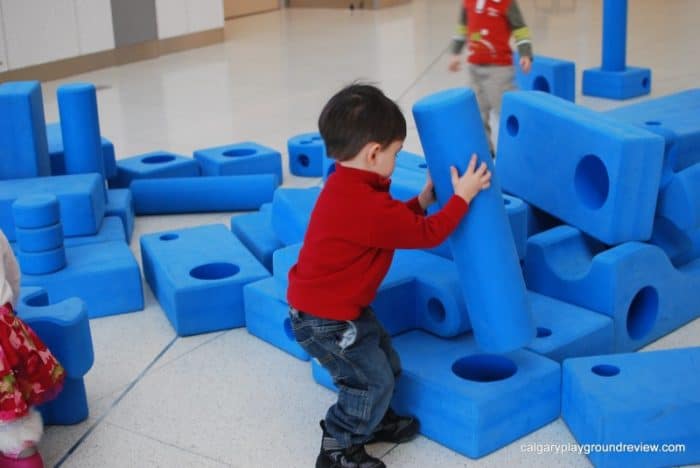 The Cafe
The Cafe is on the 2nd floor of the Science Centre and offers typical cafeteria type food. [renovated in 2017 with a new menu]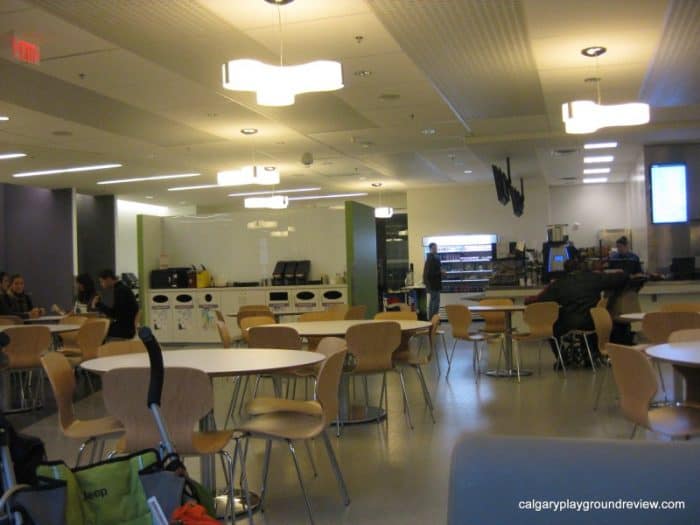 Creative Kids Museum
For younger kids, the highlight of the science centre is likely to be the Creative Kids Museum. (It is geared towards kids 8 and under). We have been really impressed by it. We decided to buy our memberships largely due to this area alone. If you have a membership, you can treat this area like an indoor play place and pop in at any time.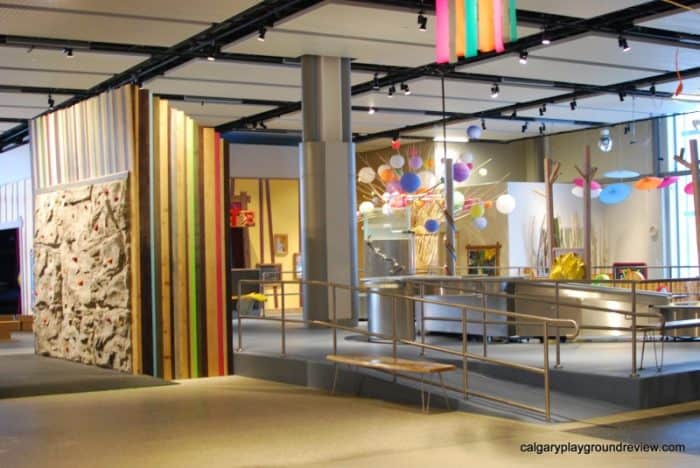 The Creative Kids Museum is really more of a Children's Museum than a science centre gallery which can be a little confusing for people who aren't familiar with them. There is lots of opportunity for kids to learn about science (and art) through play rather than directed instruction and explanation.
The centre is not afraid to let kids make a mess and from visit to visit you can see small changes in some of the different stations – different things to build with, different objects in the water table and different kinds of art projects.
The Creative Kids Museum has a large climbing structure, water play area, toddler area, quiet area, play theatre and opportunities for art, building and experimentation.
More detail about the Creative Kids Museum.
Open Studio
Located on the 2nd floor, Open Studio, is essentially the Creative Kids Museum for older kids. Kids can make build, create, explore and experiment.
My kids are still a bit young to get the most out of this area (my oldest is 6) but they still find something interesting whenever we are there. Activities include things like making toys and clothes out of recycled materials, painting with light and making animations.
They also have a workshop section which runs from 1-3pm. Kids can learn new skills and work with real tools. Recommended for ages 8 and up.
Read more about Open Studio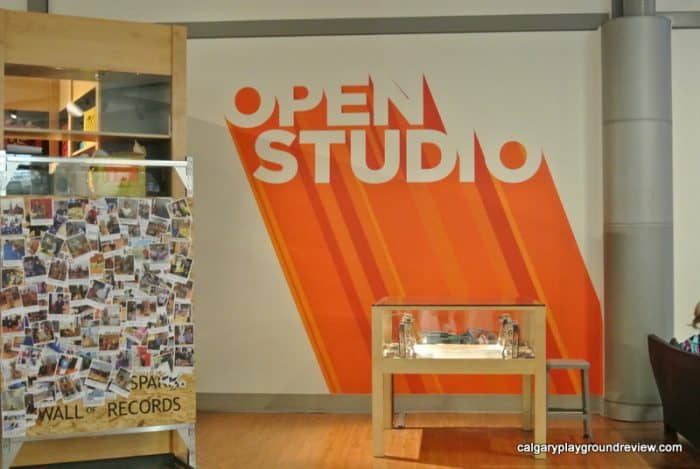 Energy and Innovation
In the Energy and Innovation gallery, there are multiple different centres set up that allow exploration of concepts such as different forms of energy, electrical circuits, potential and kinetic energy, the connections between different forms of energy the role is plays in Alberta and your daily life.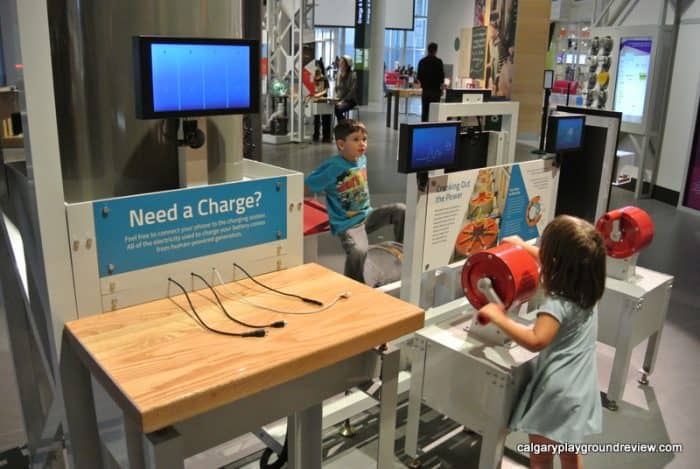 Earth and Sky
The Earth and Sky gallery has different centres that explore concepts such as the weather, erosion, mud slides and avalanches. lot of opportunities to explore geology concepts with their own hands.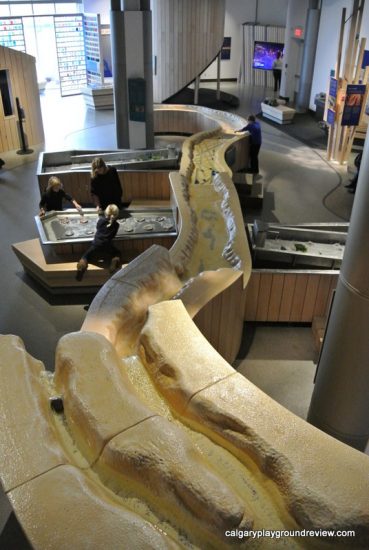 Being Human
The Being Human gallery has the least to offer for young kids. Most of the exhibits require you to read the instructions and play along to get the experiments to work.
There are some neat things, but I wouldn't prioritize it if your kids are young. Here, you can explore concepts such as falling in love, how your body reacts to stress, memories, and emotions.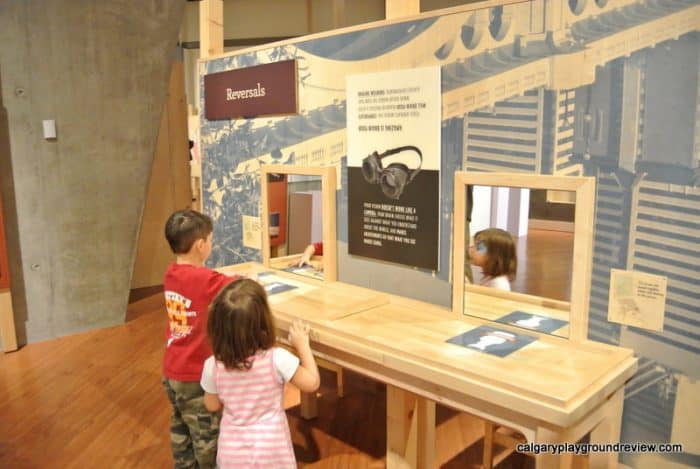 Read more about the Energy and Innovation, Earth and Sky and Being Human exhibits.
Brainasium
Although all playgrounds help kids learn through play and physical activity, this connection could not be more obvious at the Brainasium. The Brainasium is an outdoor park with both playground and classic science centre exhibits for kids to play with and explore.
It is included with your admission to Telus Spark and is hands down one of the best playgrounds in Calgary.
Read more about the Brainasium Outdoor Park
More about Telus Sparks' Permanent exhibits, the Brainasium Outdoor Park, the Creative Kids Museum and Open Studio.
Please Note: 
We do our best to ensure the information on Calgary Playground Review is accurate, however information and events are subject to change. Please contact the organizations directly to avoid disappointment.
Can you help make this article better?
If you have noticed an error, have additional information or would like to share a comment you can:
E-mail us at calgaryplaygroundreview@gmail.com
Find us on Facebook: CalgaryPlaygroundReview
Find us on Instagram: YYCdana
Tweet us: YYCdana
We are not affiliated with any venues, attractions or organizations. Please message them directly if you have questions or concerns.