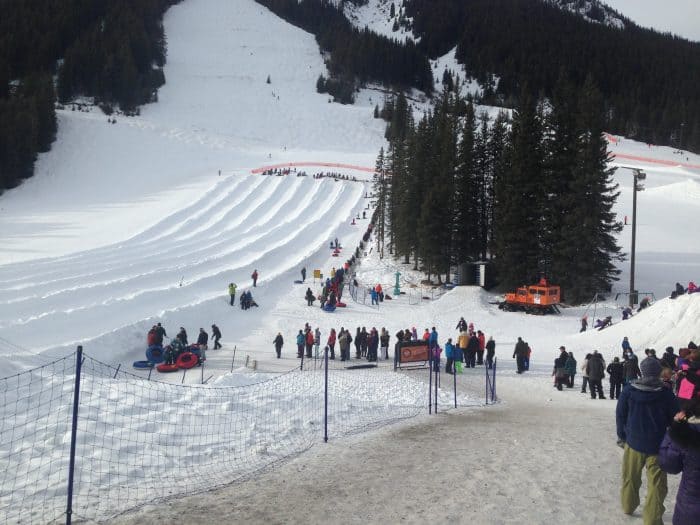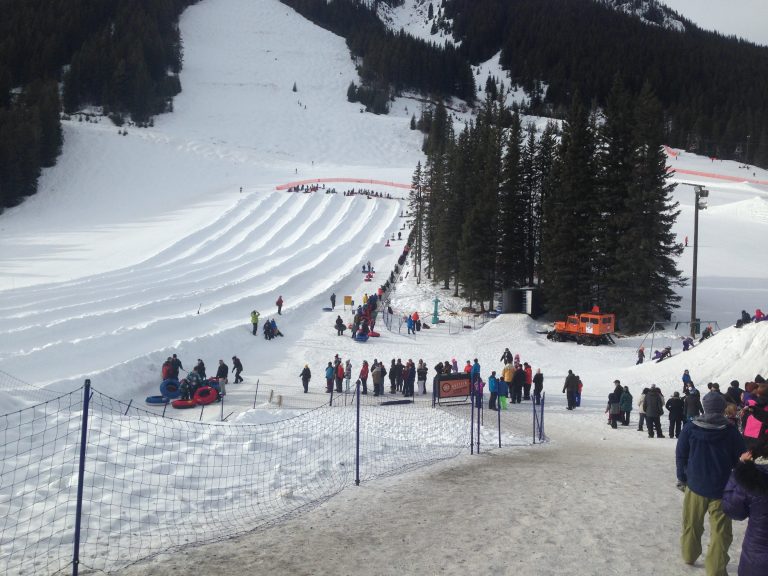 Articles and photos by Sarah Deveau
I'd been promising my kids for two years to take them to the Mount Norquay snow tube park, the first of its kind in the Banff area, and finally lived up to my word. We had no idea what to expect, and really enjoyed our day.
When you reach the parking lots, an attendant will direct you to the P3, up and to the left. You'll park, then walk up a steep but short hill to arrive at the Tube Lodge. If you have strollers or very young children you can drive up to the Tube Lodge and drop off an adult with the gear and children, then drive back down to P3 to park.
At the Tube Lodge you'll pay for tubing – for one adult and three kids we paid $90 + GST (current rates available here). Children must be 42" tall and four years old to tube. You can rent helmets for $5 each, but they're not required and we didn't bother renting them.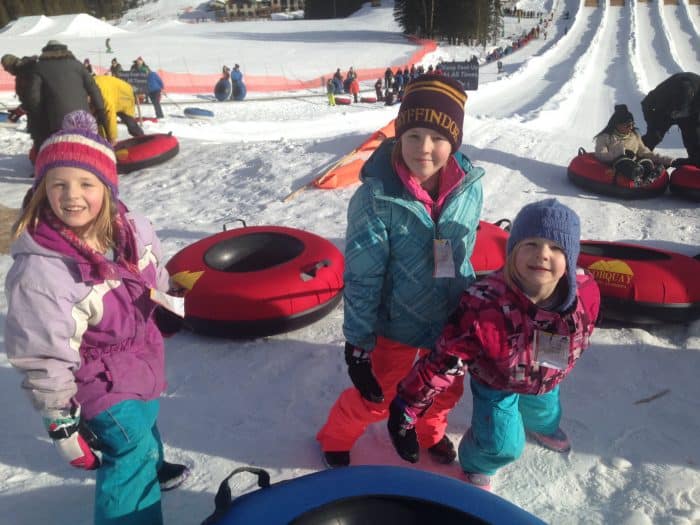 After a short walk from the Tube Lodge to the tubing area you pick up a tube near where the tube lanes end. Tubes are blue or red, and some of the lanes are for red tubes only, so keep that in mind when grabbing your tube, and tubes are single riders only, no kids on laps at all. The tubes are heavier than they look, and they rocket down the pickup hill, so be warned!
We watched dozens of people take the tube in the shins and knock themselves right into it, or over onto the icy ground. The most successful way to stop the tubes was to use another one to bump it to slow it. Once you've grabbed a tube, walk over to the moving sidewalk to take your tube up the hill.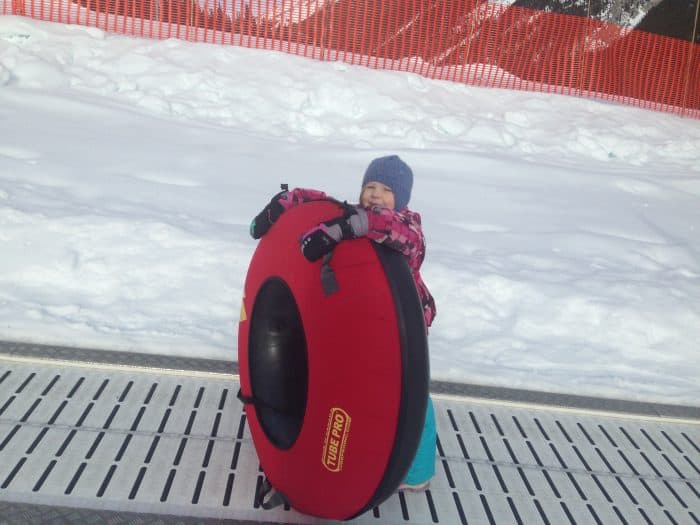 The moving sidewalk takes about 10 minutes to reach the top. You can walk up the hill and save a few minutes, but it's definitely exhausting work. When we arrived at noon many families were walking, but by the time we left at 4pm virtually everyone was taking the moving sidewalk.
At the top you'll select which lane you want. Some lanes are for single tubes, while others can handle up to six tubers linked together. There's a much longer line for the multi-tubing lanes, so we did a few double runs but otherwise stuck to single tube trips.
When you're finished the 20 second trip, you drop your tube down a hill to the line of people waiting for a tube, and walk to the back of that line.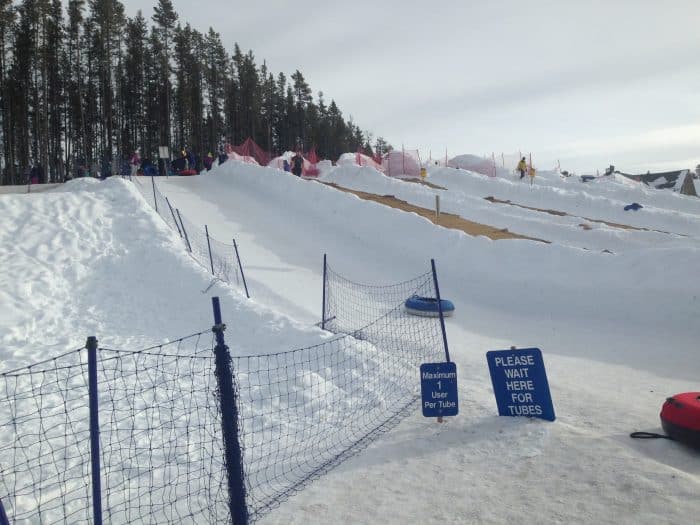 We visited the tube park on a warm, sunny Saturday, and at one point I did a rough headcount – I'd guess there was 450 people tubing. That meant the line to pick up a tube was long, about a 12 – 15 minute wait.
Add the 10 minute ride to the top and the wait at the top and you're only able to ride 2 – 3 times an hour. As the day wore on the line for a tube shortened quite a bit, and by 4pm we would only wait two minutes to grab a tube.
For our first tide, I tubed alongside my eight-year-old. She decided pretty quickly tubing wasn't for her, and she went to play in the children's play area. I expected she'd be begging to go home within an hour, but the play area kept her very content. It consisted of a decent sized snow hill, with slides and a tunnel built in, plus a kiddie ride that rotated with little tubes attached.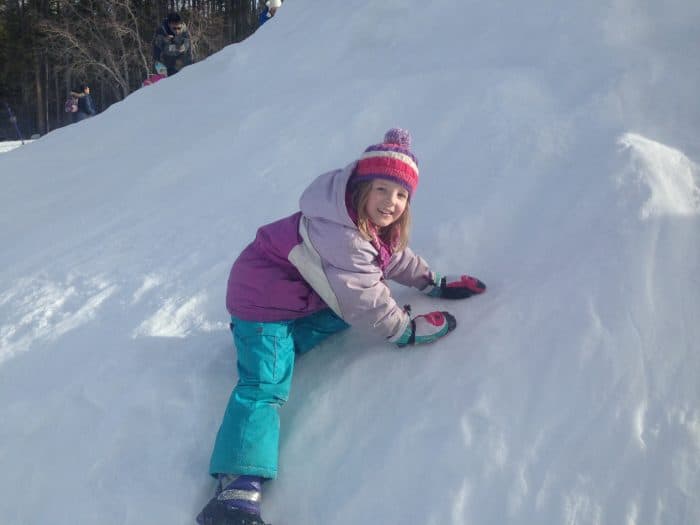 The children's play area is visible from the line to pick up a tube, and we worked out a system where I'd stand in line waiting for tubes while my 10 and six-year-olds rode the sidewalk up, tubed down then met me in line to grab their next tube.
After a few runs my 10-year-old decided to play in the children's play area too, and my six-year-old continued to head up the sidewalk by herself and go down the lane one her own. With me waiting in line to grab her tube, she was able to get through eight extra runs in just over an hour.
After a few hours we made the short walk back to the lodge for hot chocolate and a bathroom break. The Tube Lodge also has pop, chips, chocolate bars, burgers, fries and beer, and plenty of other people had brought their own food as well. There were lots of tables inside and out for taking a break.
Four hours later, the sun had gone behind the clouds and I was getting cold. My kids weren't happy to be leaving, and could probably have stayed playing another hour at least.
The next time we see a chinook in the forecast, we plan to play hooky from school and work and head to the tube park. Without the long lines I imagine my tubers could get 15 to 20 runs in, plus plenty of time in the children's play area.
Despite the long lines, we had a fantastic time and can't wait to visit again.
Sarah Deveau
Please Note: 
We do our best to ensure the information on Calgary Playground Review is accurate, however information and events are subject to change. Please contact the organizations directly to avoid disappointment.
Can you help make this article better?
If you have noticed an error, have additional information or would like to share a comment you can:
E-mail us at calgaryplaygroundreview@gmail.com
Find us on Facebook: CalgaryPlaygroundReview
Find us on Instagram: YYCdana
Tweet us: YYCdana
We are not affiliated with any venues, attractions or organizations. Please message them directly if you have questions or concerns.