Location    http://www.heritagepark.ca/townGasoline.htm
Address: 1900 Heritage Dr. S.W.
Gordie's Review: I liked the trikes and the trains.
Day Pass Cost: Admission to Heritage Park Applies to Gasoline Alley. Heritage Park Historical Village is closed over the Winter but Heritage Town Square and  Gasoline Alley are open all year.
Winter: Day Pass Cost: Adult – $10.75, Child (3-6) – $5.50, Youth (7-14) $6.75, under 3 is free.
Summer:Day Pass Cost: Adult – $26.25, Child (3-6) – $13.50, Youth (7-14) $18.75 more rate options are available.
Parking: Heritage Park has lots of free parking.
Age Range: The museum is for all ages. You must be under 42 inches to ride the trikes along the track. The toys and games run from toddler to school-age.
Stay Length: 1-3 hours depending on your party's interest in cars and the activities at the play area.
Overall: Gasoline Alley Museum is organized into 3 main sections. You can see the Family Gallery area immediately on your right but the entrance is actually towards the back of the museum. The museum features restored classic cars and gas pumps on two floors (don't miss out seeing the cars in the basement!). There is a huge number of them, all but 2 of them are in running condition and the vast majority were all donated by Calgarian Ron Carey.
Museum Main Floor
There are two cars that you can sit in one of which is in the main floor museum area.
There is also a rusty car (one of the two that doesn't run) that looks a bit like Mater from Pixar's Cars and a ton of other cars and gas pumps to look at and a plane right over the entrance.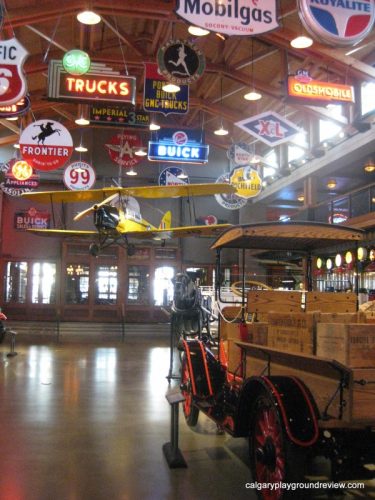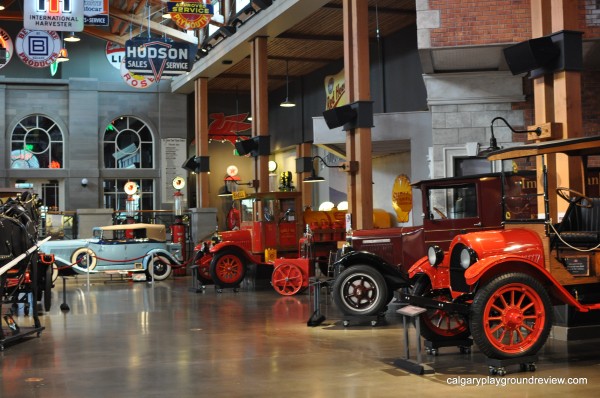 Museum Basement
I would definitely recommend taking the elevator down to the basement floor. The cars are just as impressive as on the main floor and there are cars that looks similar to Doc, Mater and Lizzie from the Cars movie. (It may be obvious by now but Gordie is a huge Cars fan).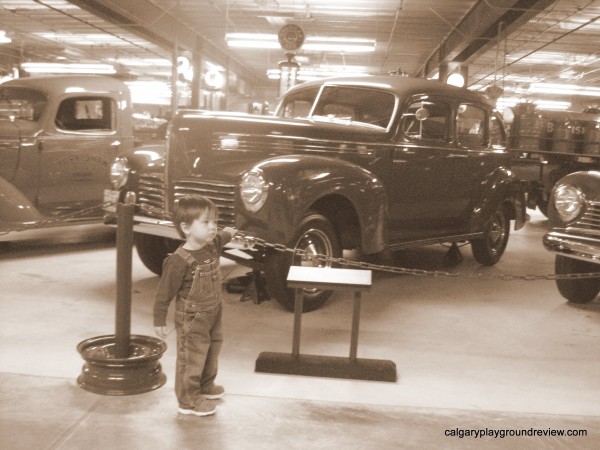 Gordie was really impressed to see a car that looked like Doc. It's not the same model but it is a Hudson.
Family Gallery – Play Area
Although the Family Gallery is primarily aimed at kids, it's worth a look even if you don't have any kids with you. There are a couple of interesting cars, an old camper and a car set up like a drive-in movie theatre.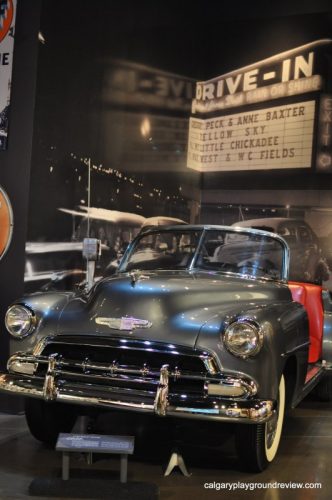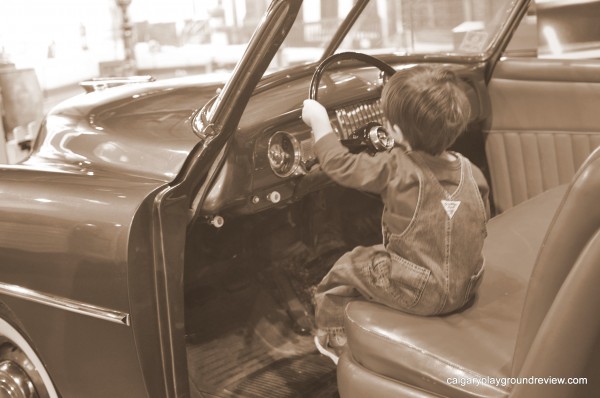 This is the other car that you can sit in at Gasoline Alley and when you do, the speaker turns on so you can listen to the movie (about drive-ins) as well as watch it projected against the far wall.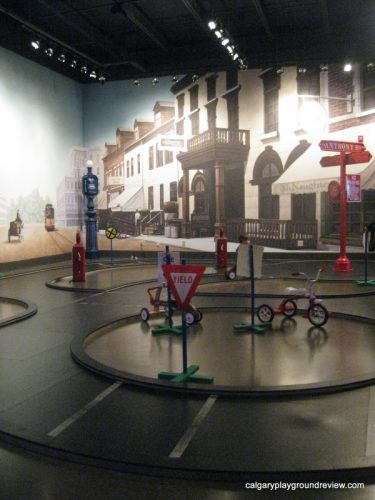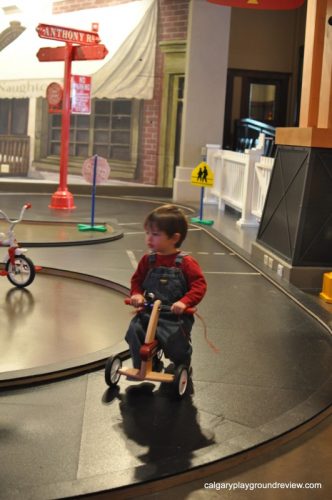 The highlight of the Family Gallery is the road track that kids can drive either trike son. Gordie really enjoyed driving his little trike around the track. This area is gated but the latch would only keep quite little kids inside.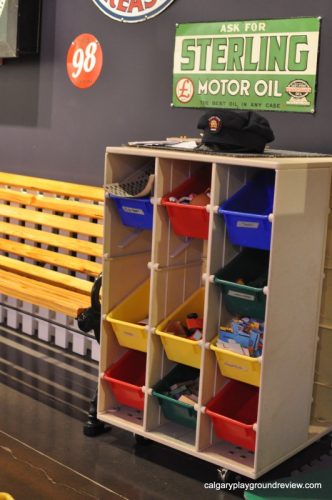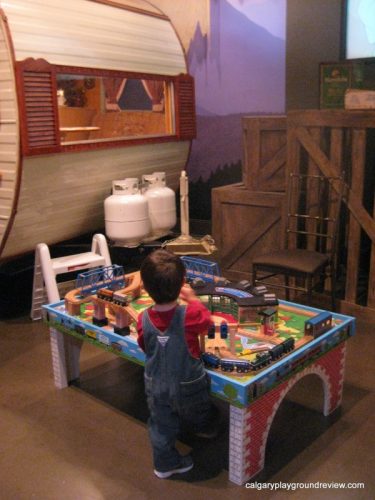 There are a set of toy bins inside the gated area as well with things like puzzles, wooden cars, blocks and a kids tool set. Just outside the gate was a Thomas the Train table which was the most popular activity in the whole area while we were there.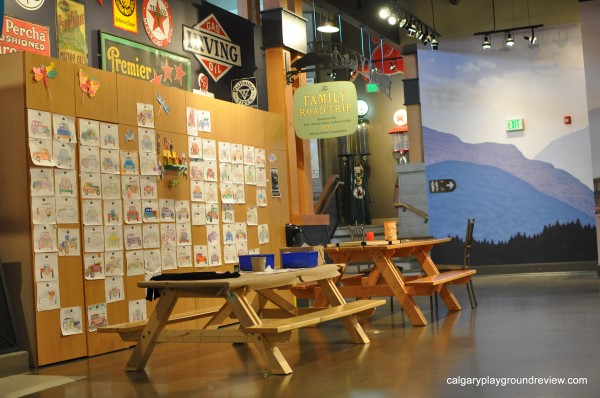 At the other end, there is a table were kids can color pictures and another table where they can play traditional games like checkers. There is a staff member available to help the kids with the games.
If you have a Heritage Park pass, this would be an excellent option for indoor play over the winter. Without it, it is a little more expensive compared to other indoor play options but definitely worth a visit for a change of pace.
Please Note: 
We do our best to ensure the information on Calgary Playground Review is accurate, however information and events are subject to change. Please contact the organizations directly to avoid disappointment.
Can you help make this article better?
If you have noticed an error, have additional information or would like to share a comment you can:
E-mail us at calgaryplaygroundreview@gmail.com
Find us on Facebook: CalgaryPlaygroundReview
Find us on Instagram: YYCdana
Tweet us: YYCdana
We are not affiliated with any venues, attractions or organizations. Please message them directly if you have questions or concerns.