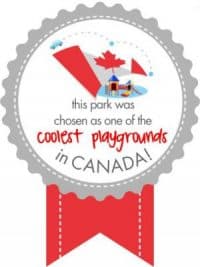 Location   map
Address: 4540 50 Street NW
Parking: Lot parking on site
Surrounding Park Area: picnic sites, pavilion, off-leash site nearby, spray park, climbing wall, small lake, walking trail, fire rings for campfires, washrooms
Accessibility: Pathway accessibility to the different play areas. The spray park is accessible.
Overall assessment:
This huge sprawling playground is really more like 4 separate adjacent playgrounds and a spray park.  Each section is worth a visit on its own merits but put together this playground is fantastic. The sheer size of this playground will make it challenging for parents who have children that require close supervision but aren't content to stay in one area. The park also features a small lake, campfire spots and pathways.