Location       map    http://www.josos.ca/
Unit 100 – 12018 Symons Valley Road, NW
Gordie's Review (3.5 years)– What was the best part? Climbing!
Nicky's Review (10 months) – A little overwhelming
Cost: $6.99 for the first child 12 months and older; $2.99 for first child under 12 months; $4.99 for additional children; additional children under 12 months and adults are free.
Age Range: 8 and under.
Surface: rug with extra mats where needed in the play area; smooth industrial flooring in the eating area.
Footwear: Socks. If you forget they can be purchased at reception.
Safety Features/Concerns: The gate locks and you have to be buzzed out by the person at the counter.
Play Area Features: Large 4 level climber with a ball pit and a double slide; 2 Plasma cars; Baby area with exersaucers; books; large foam blocks; and plastic toys. They have plans for a plasma screen where you can watch yourself dance and a merchandise area as well.
Seating: There is an eating area at the front with 5 tables and a bench goes along one side of the play area.
Additional Services: Small cafe with drinks, snack items and a short lunch menu; preschool; childcare; birthday parties.
Overall Assessment: Not much has changed at Joso's since we were last there 2 years ago. This year we met some friends there on a Friday morning. It wasn't too busy and it was easy to get seats along the side of the play area and in the eating area. During busier times (Toonie Tuesdays, Saturday morning) it can be a little more challenging to find seating.
Gordie and his friends (2 and 4 years old) all really enjoyed running around the climber. Even my friends 12 month old managed to crawl up so she could slide down the slide. The 3 and 4 year old boys also really enjoyed building with the foam blocks and the riding on the Plasma cars.
It was a bit more mixed for baby Nicky and the 5.5 year old in our group. I would say they had a good time but not a great time. Nicky found it a little overwhelming in the baby area when the big kids were running in and out but she didn't hate it and as time went on she got more confident. The 5.5 year old did not have a bad time but was less enthralled than the younger kids.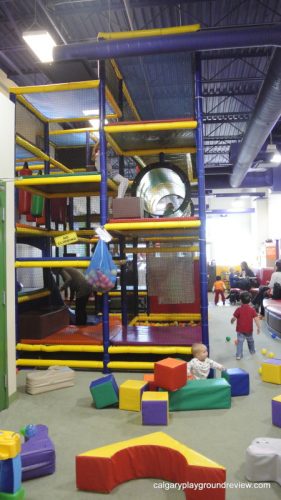 The climber if a short 4 level climber. It is accessible for adults if you need to or want to go up, but it isn't really built with adults in mind. There's a ball pit at bottom and a double slide.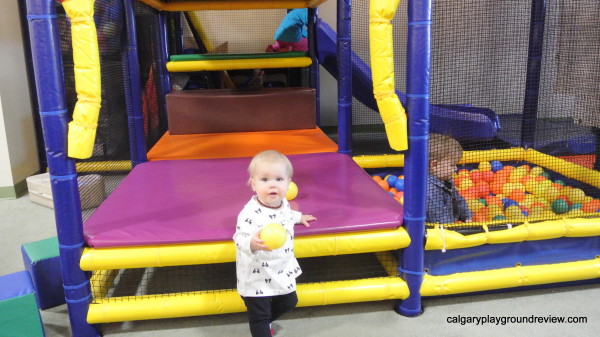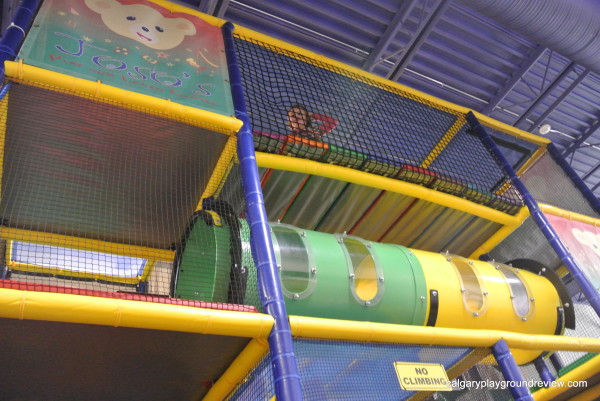 The baby area has a number of toys, books, exersaucers and foam blocks. I found the batteries in a couple of the tables were dead when I tried them but I liked that there were things that were appropriate for Nicky to play with.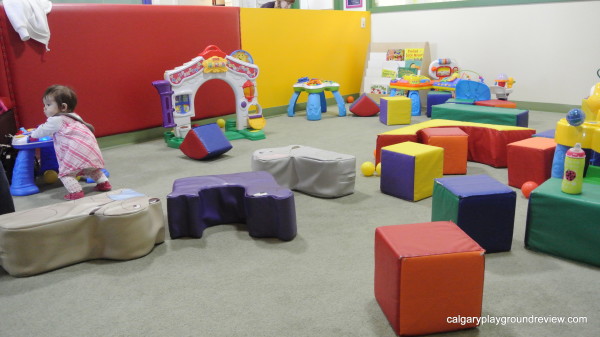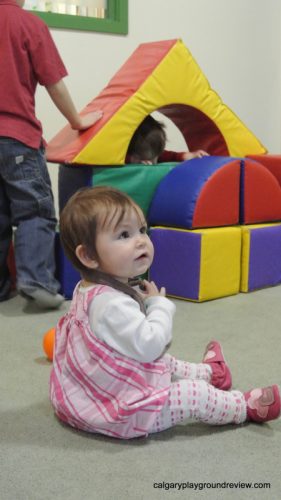 There is a little area near the front where the kids can ride on the plasma cars.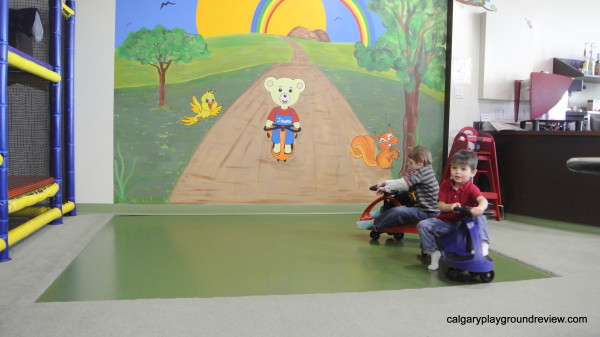 They have a good selection of healthy snacks, but lunch is not a real focus for them. I wouldn't recommend planning to stay for lunch, but if you wanted lunch while you were there they have some fast food style options.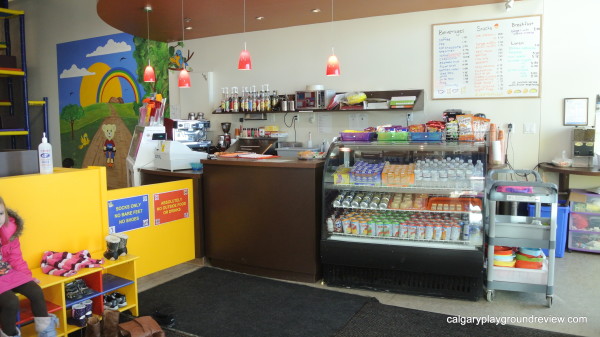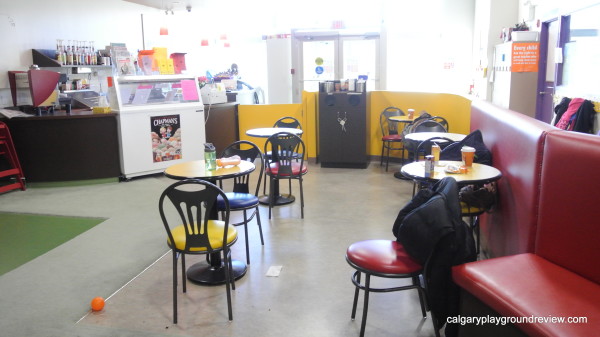 This play place would be particularly good for families who have a mobile baby and a toddler or preschooler. The play place is not so big that it's not easy to keep an eye on the older child while you play with the baby in the other area.
Have you been to this play place? Have a suggestion for a playground review? Would you like to write a guest review? Write your thoughts in the comments.