Location map
Community: Riverbend – 67 Riverview Dr. SE.
Parking: free lot at the park entrance.
Park Features: Two man-made ponds (fishing, canoes, dinghies and paddle boats are allowed). Pathways, picnic areas (some bookable) & bookable picnic shelter, fire pits, BBQ stands, seasonal washroom (at park entrance only – map at the park is not accurate). Cross country skiing and ice fishing in the winter.
Overall: Carburn Park is a beautiful little oasis in the middle of the city. At many points along the pathways, it's hard to imagine you're in the middle of the city. With the largest ponds in the Parks system, this park is unlike any other in Calgary. It's also right by the Bow River. The best place to view the River is on the North West section of the pathways.
Although the map at the park entrance says there are two washrooms, there in fact is only one at the park entrance. It is not a negligible distance (about 5-10 minute walk) from the picnic areas.
The first pond is the smaller of the two, and has an island in the middle. The city website says they allow small boats on the ponds such as canoes and paddle boats, but there weren't any on the water while we were there. It would be a perfect spot to take kids out to learn water safety and paddling skills as the water could not be calmer.
After the first pond, the pathway forks and encircles the second, larger pond.
View down the East side of the pond.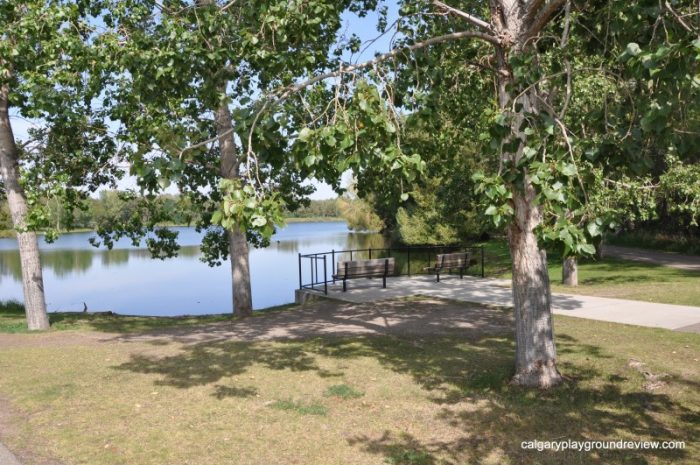 There's a lookout spot right at the fork.
There's a number of spots where you can get close down by the water to throw rocks or look at the pond life.
On the West side of the park you'll find the picnic spots.
For the most part, the smaller spots are set back further from the pond.
There used to be a playground but it has been removed.
This is Picnic Site 1 and the only site with a covering. It's pretty close to the playground and not as close to the water as the others.
Picnic Site 3 has 6 picnic tables and a fire pit and is the furthest picnic site from the main entrance.
Picnic site 4 is the smallest with only 3 picnic tables.
Looking out at the pond.
Picnic Site 2 is right up next to the pond with lots of picnic tables and a fire pit.
We had a great time playing at this park. The biggest attraction by far was tossing rocks into the pond. Some of the park amenities are looking a little tired but if you are looking to get close to nature, this park's perfect.