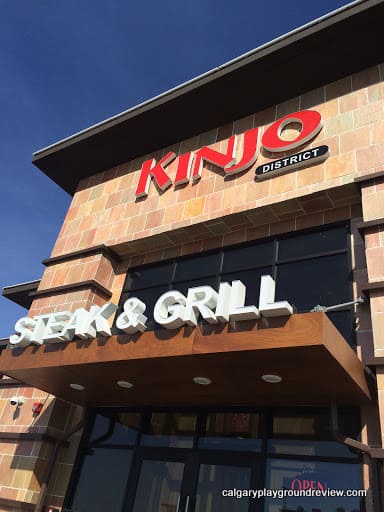 Address: 4 Calgary locations  http://www.kinjosushiandgrill.com/
Restaurant Type: sit down
Food Options: Sushi, Sushi Rolls, Tempura, grilled items
Kid Menu: None.
Seating: lots of seating, tables booths, circular booths. Restaurants easily accommodate big groups.
Kid friendly features: pocky sticks for the kids after the meal, fruit plate before the food comes out, 'kids' chopsticks
Kid comfort level: 8/10 – pretty much as good as it gets for a sit down restaurant. Very welcoming to kids. You usually don't have to wait long for your food.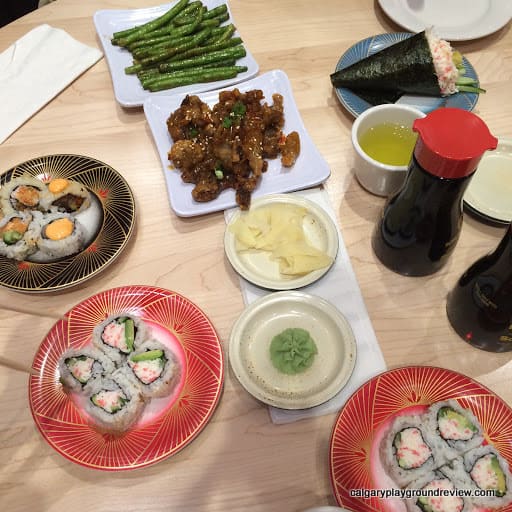 When I asked about great restaurants to take kids to, Kinjo was the most popular sit down restaurant by far. My 7 year old's favorite food is sushi (california rolls) so for his birthday we decided to go to Kinjo and see what all the fuss was about.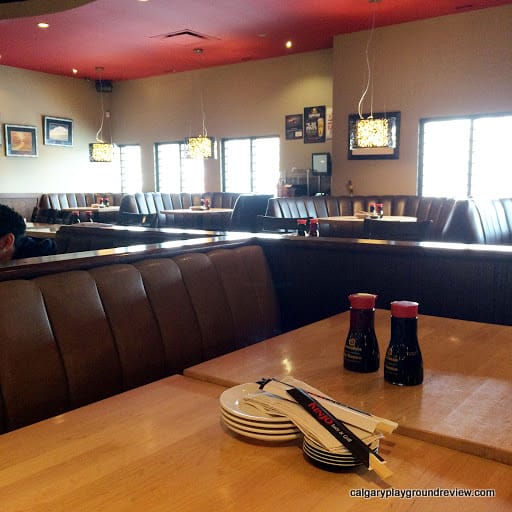 We went to the Dalhousie location with a group of 7 adults and 3 kids. We were on the early side for dinner – the restaurant has lots of seating and were easily able to accommodate our big group without a reservation.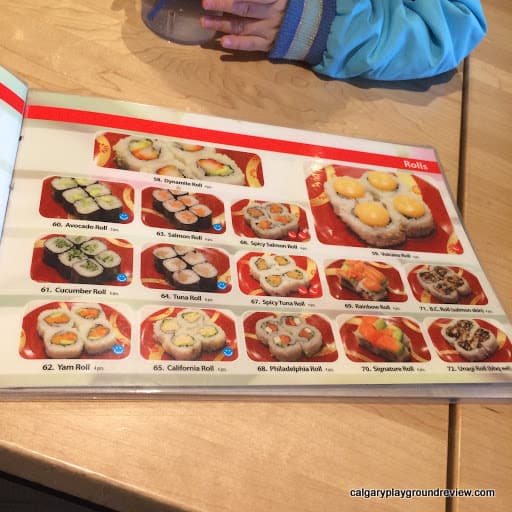 The menu is great for kids and adults a little unfamiliar with sushi restaurants. There are pictures of every single item. If you have someone in your party that is not a fan of raw fish or fish in general, there are lots of alternate options.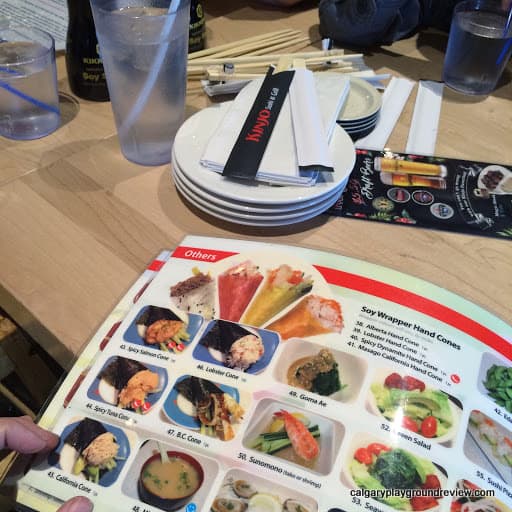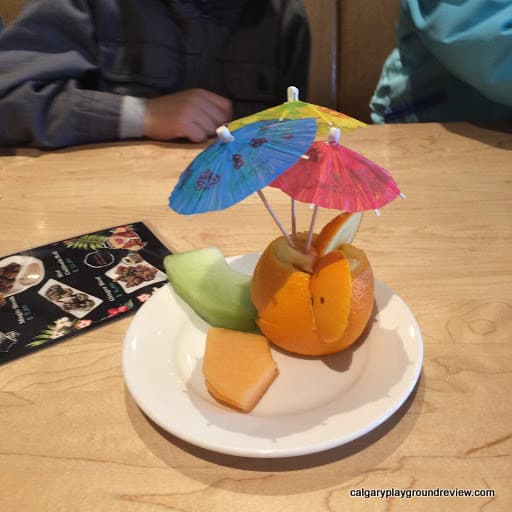 There is a sheet that you use to fill out and your food starts arriving quite quickly which is nice if you have some wiggly children with you.
They also bring a small adorable fruit plate right away for the kids.
In a recent article about Kinjo, I read that the owner was hoping to make sushi as commonplace and familiar to kids are McDonalds. If you are a sushi connoisseur (which I am not), this is probably not going to be your favorite restaurant. But we enjoyed everything we tried and they really do put in an extra effort to keep the kids (and therefore the parents) happy.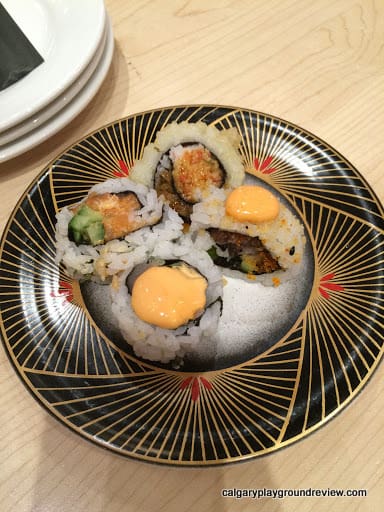 We've now been twice because, we enjoyed ourselves so much the first time, and both times we received a 4 piece sampler plate of different rolls which was fun to try.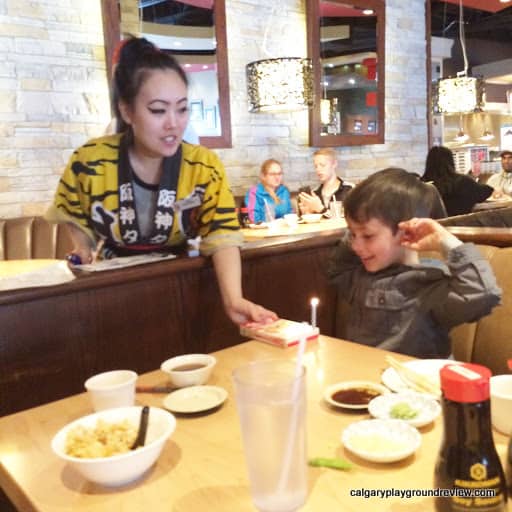 Since we had a big group, they asked if we were celebrating anything special and we told them it was Gordie's birthday. At the end of our meal they came out with a big box of Pocky sticks with a candle in it and made quite a production of singing him happy birthday complete with drums and tambourines.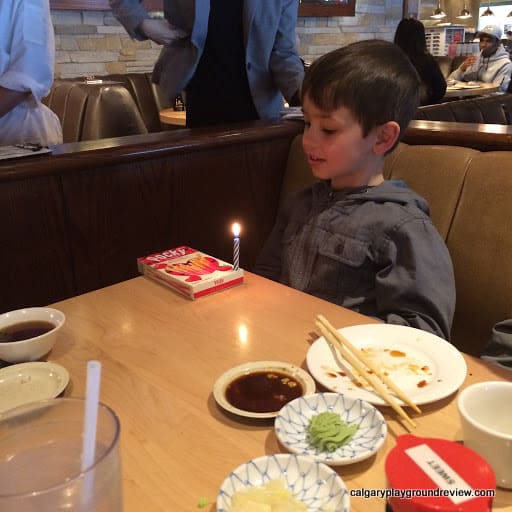 Not only do you get Pocky sticks for your birthday, kids under 18 and women also get a box just before you leave.
This totally made my daughter's visit. She is not the biggest fan of sushi but she was totally looking forward to going back because of the Pocky sticks. She had some chicken that she liked and she enjoyed the Edamame but she is in it for the Pocky sticks.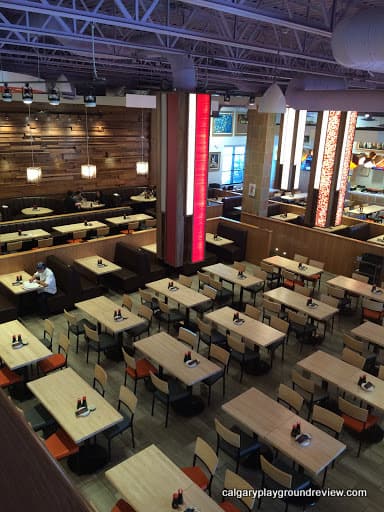 We also went to the new Country Hills location. It's has tall ceilings as it a bit brighter.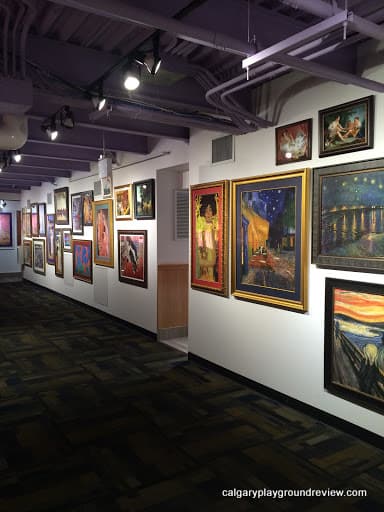 Upstairs outside the bathrooms they have artwork all along the walls which is pretty cool.
Now that we've been to Kinjo a couple times I can see why it is so highly recommended for families. We will definitely be back.
Please Note: 
We do our best to ensure the information on Calgary Playground Review is accurate, however information and events are subject to change. Please contact the organizations directly to avoid disappointment.
Can you help make this article better?
If you have noticed an error, have additional information or would like to share a comment you can:
E-mail us at calgaryplaygroundreview@gmail.com
Find us on Facebook: CalgaryPlaygroundReview
Find us on Instagram: YYCdana
Tweet us: YYCdana
We are not affiliated with any venues, attractions or organizations. Please message them directly if you have questions or concerns.