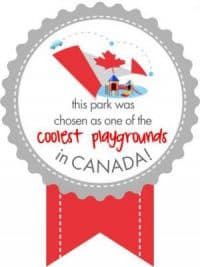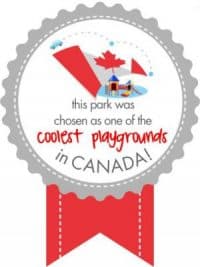 Address: 8 St North of Hammond Dr N, Fox Creek, AB (mid-way between Edmonton and Grande Prairie)   map
Surrounding Park Area: next to a pretty cool looking bike park
Playground Features: Bulldozer climber, Large construction equipment climber, short wide base zip-line, diggers, activity panels, swings, web climber
Review:
One of the most spectacular themed playgrounds we've been to is located in the small community of Fox Creek, Alberta. This playground is a memorial playground in honour of Bill DeCiccio founder of Marnevic Construction based in Fox Creek.
The heavy duty construction equipment theme can be seen throughout the playground from the large pieces all the way down to the activity panels.
The kids (1.5, 4, and 7 years) loved this playground and played for longer than we had expected. This was also my husband's favourite playground of all time.
If you are passing by Fox Creek, you should definitely stop by.