North East Outdoor Fitness Parks
Equipment:
Vault bar
Chin-up bars
Parallel bars
Sit-up station
Horizontal ladder
Push-up station
Permanent slackline posts are available at this location as part of a pilot initiative.
Equipment:
Vertical climbing ladder
Muscle builder climber
Horizontal ladder
Sit-up station
Vault bar
Jump touch
Step up
Parallel bars
Leg lifts
Balance bar
Chin-up bar
Equipment:
Horizontal ladder
Balance beam
Chin up bars
Sit up station
Elevated balance beam
Parallel bars
Push up bars
Equipment:
Ab twister
Balance board
Chin-up station
Elliptical
Leg press
Parallel bars
Rowing machine
Shoulder rotator
Sit-up station
Step-up station
Equipment:
Dual sit/stand waist twister
Double tai chi wheels
Dual bar dip station
Double strider
Warm up & stretch station
This equipment is a located down the pathway from the other Redstone playground. It is in visual distance to the Redstone playground.
Equipment:
Chest press
Dips/back
Double sit-up bench
Elliptical
Leg press
Pilates flexor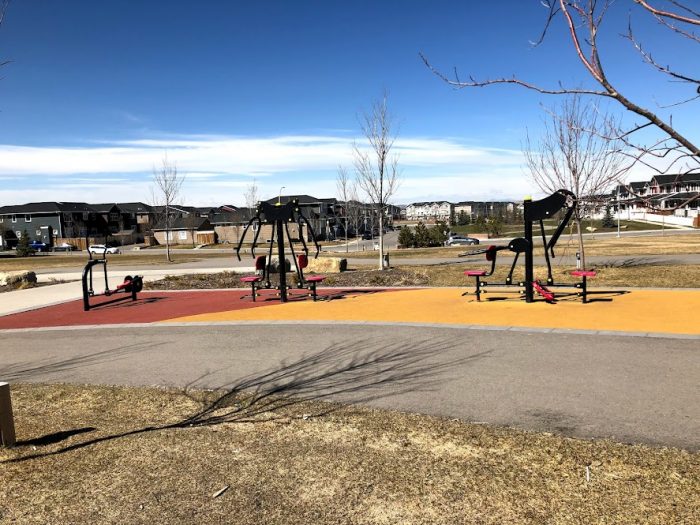 Equipment:
Lower body combo
13 person crossfitness rig
4 person leg press
2 person airwalker
Back extension
Rower
Plyometric steps
Equipment:
Bar
Bench
Leg press
Pull-up bar
Sit-up bar
Stretch bar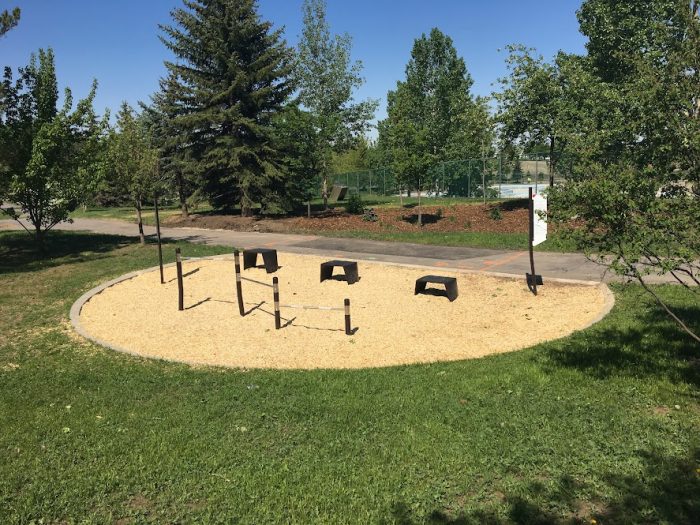 North West Outdoor Fitness Parks
Equipment:
Lateral pull down
Air walker
Vertical press
Seated chest press
Seated leg press
Sit-up station
Elliptical
Cardio walker
Rowing machine
Hip flexor
Equipment:
Sit-up station
Chin-up bar
Horizontal ladder
Rings
East side of river, just off pathway
Equipment:
Bike fix-it station
Sit-up station
Stretch station
Twister
Elliptical
Chest Press
Pull-up bars
Dip bars
Leg press
Lat pull-down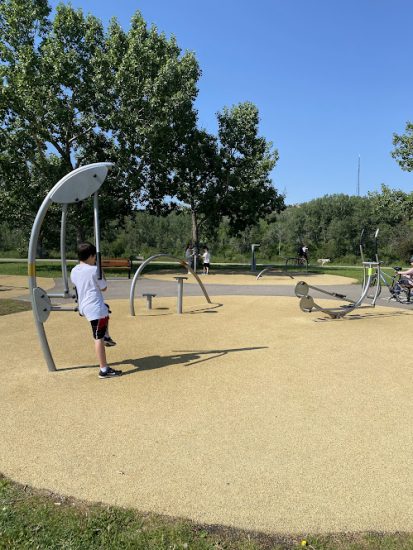 Equipment:
Half knee bends
Bench curl
Log hop
Leg stretch
Sit and reach
Body curl
Vault bar
Achilles stretch
Push-up station
Chin-up bar
Knee lift
Equipment:
Balance beam
Horizontal ladder
Standing jump
Push-up station
Vault bar
Chin-up bar
Parallel bars
Sit-up station
Equipment:
Tai Chi/Arm Wheel
Waist & leg massager
Push chair
Leg stretcher
Step apparatus
Waist trainer
Exercise bars
Air walker
Surfboard
Walking machine
Bonny rider
Pull chair
Varsity (University Research Park), 3725 36 St. N.W.
Set up in a circuit around the park which has a pond in the centre
Equipment:
Chin up bars
Touch jump post
Leg lifts
Parallel bars
Horizontal ladder
Sit up station
Step up station
Vertical climbing ladder
Vault bar

Equipment:
Bench dip station
Chest press
Cross training rack
Lat pull-down
Leg extension
Push-up station
Sit-up/back extension
Step-up station
Wobble board
South East Outdoor Fitness Parks
Equipment:
Double reverse butterfly
Two person extension / curl
Combo lat pull-down / arms press
Three person air walker
Two person side by side cross-country skier
Recumbent stationary bicycle
Elliptical
Rowing machine
Bike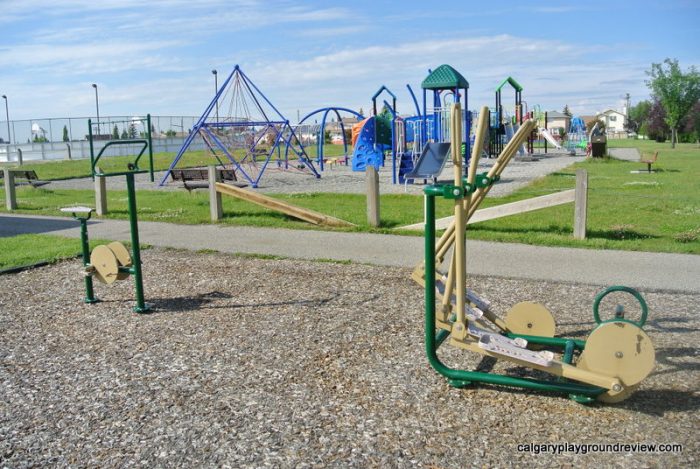 Dover – Greater Forest Lawn Seniors Society, 3425 26 Ave. S.E.
Equipment:
Stair Climber
Pendulum Air Walker
Air Walker
Rowing Machine
Chest Press
Lat Pull-down
Leg Curl/Leg Extension
Leg Press
Butterfly Machine
Roller Fit Pendulum
Dip Station
Horizontal Bars
Tai Chi Spinners
Equipment: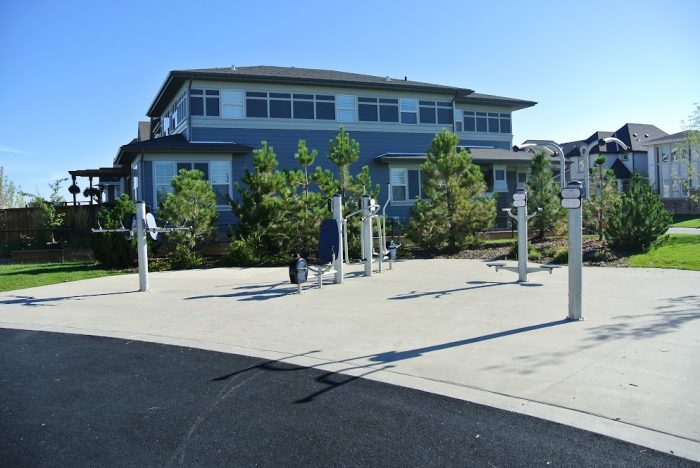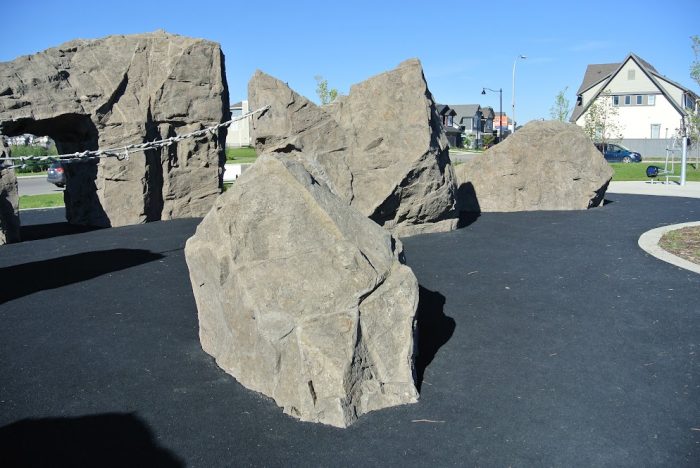 Equipment:
Sit-up board
Parallel bars
Stair climber
Chest press
Lat/pull-down chest press combo
Leg press
Air walker
South West Outdoor Fitness Parks
Equipment:
Exercising bars
Leg stretcher
Pull chair
Push chair
Quad machine
Step apparatus
Equipment:
Tai chi wheels
Chest press
Core station
Lower body combo
Multi-fit
Parallel bars
Push-up/reverse push-up
Squat station
Warm up station
Please Note: 
We do our best to ensure the information on Calgary Playground Review is accurate, however information and events are subject to change. Please contact the organizations directly to avoid disappointment.
Can you help make this article better?
If you have noticed an error, have additional information or would like to share a comment you can:
E-mail us at calgaryplaygroundreview@gmail.com
Find us on Facebook: CalgaryPlaygroundReview
Find us on Instagram: YYCdana
Tweet us: YYCdana
We are not affiliated with any venues, attractions or organizations. Please message them directly if you have questions or concerns.