I love to check out playgrounds in other cities when I travel. Katie from Best Birthdays visited Richmond, BC. Here's what she found!
If you are looking for a travel destination that's family-friendly AND budget-friendly, check out Richmond, BC! It's a suburb of Vancouver, and it's FULL of great stuff to do with your kids.
I planned to drive into Vancouver when the kids got bored – and we never made it out of Richmond. The playgrounds were really varied, and completely unlike anything we have in Calgary.
Here are some of my favourite places to play with the kiddos in Richmond, all of which are free of charge!
Larry Berg Flight Path Park
Location: corner of Russ Baker Way and Airport Road, Richmond BC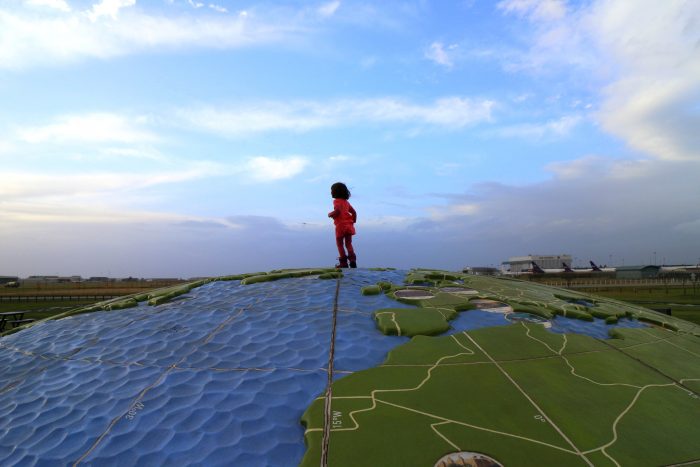 This adorable flight-themed park is right outside the YVR airport, which is actually in Richmond. It includes a giant half-globe that you can climb, although the ocean parts are a little slippery.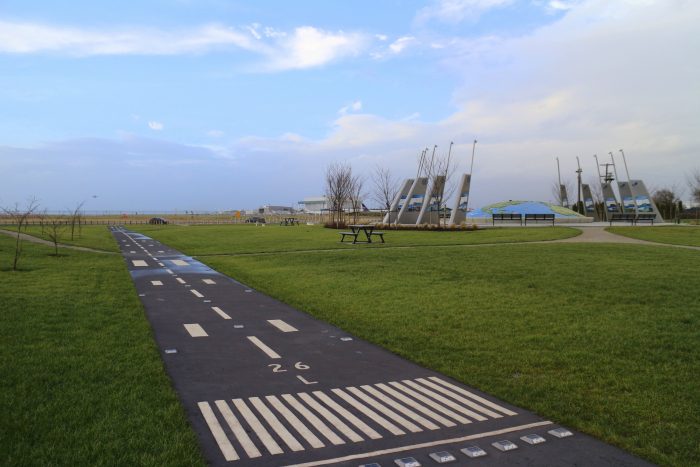 The park also includes several miniature runways, and is located right at the end of the south runway at the REAL airport. This means that while your kids are speeding down the runway at the park, planes will frequently fly right over their heads.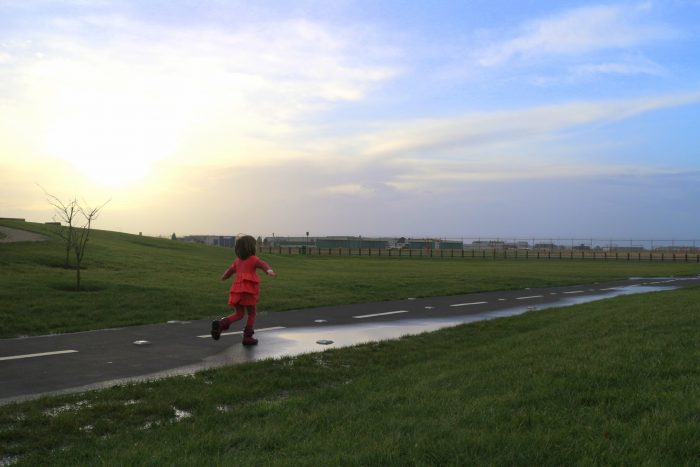 Kids who love planes (ie, all kids) will get a HUGE kick out of this. But there's more! My favourite thing about this park is that the tiny runways LIGHT UP AT NIGHT. Just like the real runways!!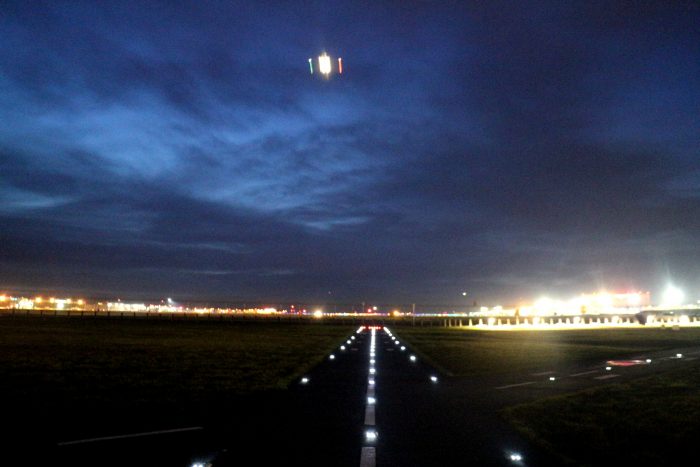 I don't usually take my kids to the playground after dark, so this was a totally unique experience for them.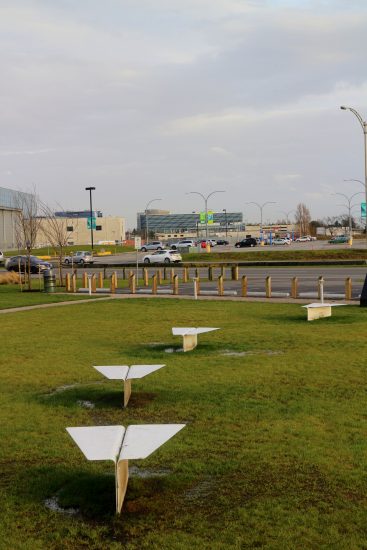 The park also has these adorable benches that look like folded paper airplanes. So, so cute.
Larry Berg also has lots of seating: there are a couple of picnic tables and lots of benches. The runways criss-cross the entire park, which makes it fairly accessible, but the main ground cover is grass. There is a small, free parking lot adjacent to the park.
Garden City Community Park and Arboretum
Location: 6620 Garden City Road, Richmond BC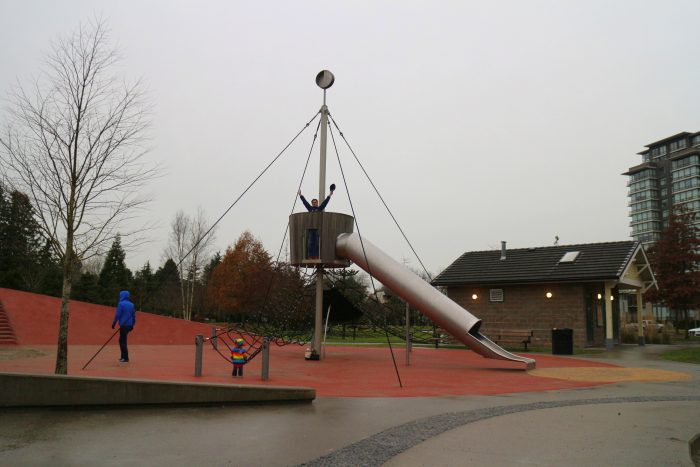 The Garden City Community Park is awesome. Children from ages 5 to 16 helped design it, and it shows in the unusual play structures. The crow's nest and slide (above) are great for imaginative play.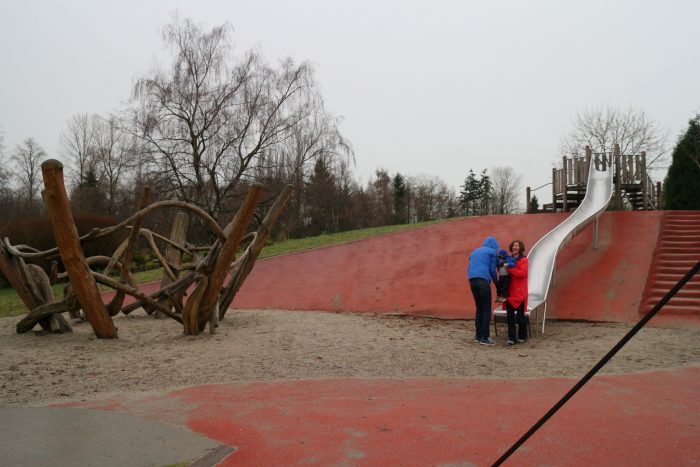 There is also a nice big slide (which is actually very slow), and a really cool climber that looked like it was made from driftwood. Many of the playgrounds in Richmond incorporate natural elements like this, and it's really beautiful. This would be a great spot to snap some family photos, so bring your camera!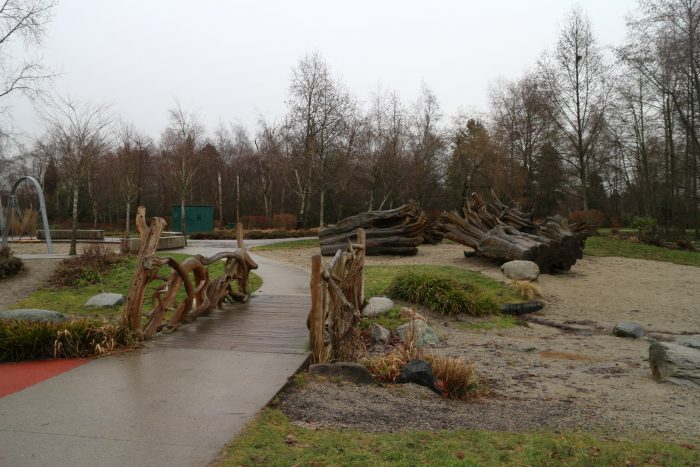 There is also a bridge over an imaginary stream, and some large logs for climbing.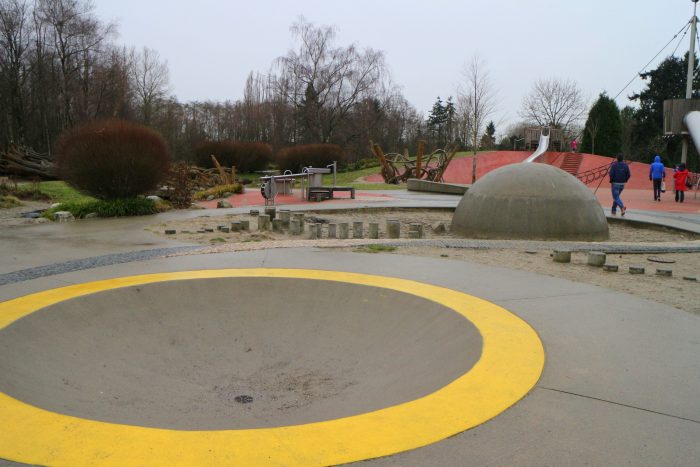 I think this giant hole is meant for skateboards, but my kids loved climbing in and out of it anyhow.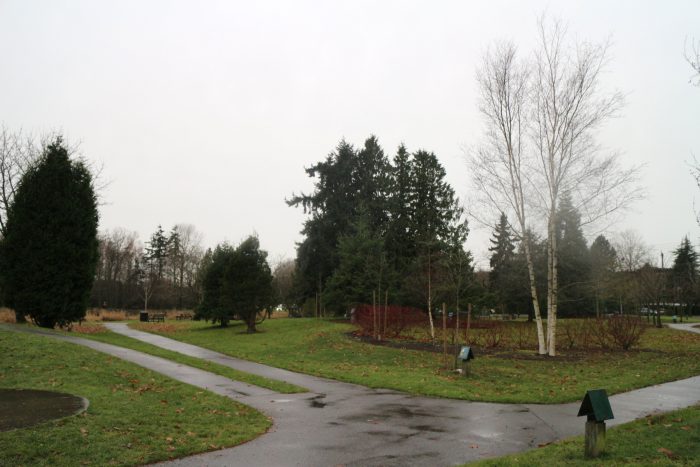 On the other side of a small hill, there is a pretty little arboretum. It includes almost 100 different species of tree from around the Pacific Rim, and there are lots of signs identifying them.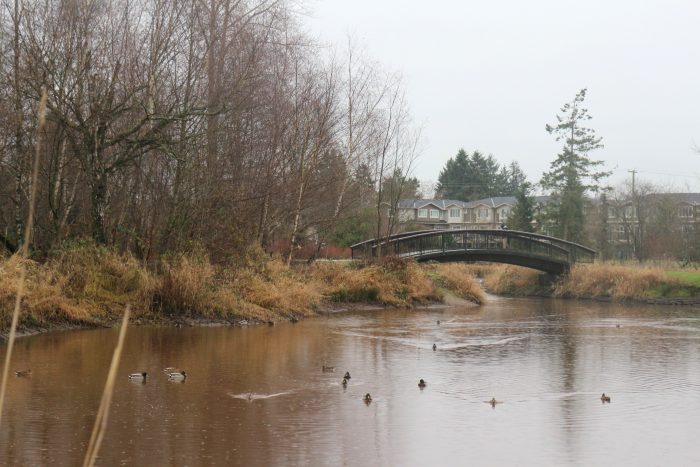 On the other side of the arboretum, there's some open grassy space and a lake. I liked that this park included spaces for both active play and quiet reflection.
I have young kids, so I also loved the fact that this park is equipped with washrooms and a water fountain. The ground cover includes pavement, grass, paved pathways, sand / gravel, and some textured rubberish stuff that is a tiny bit springy. Street parking is free and was plentiful when we visited.
Richmond Nature Park
Location: 11851 Westminster Highway, Richmond BC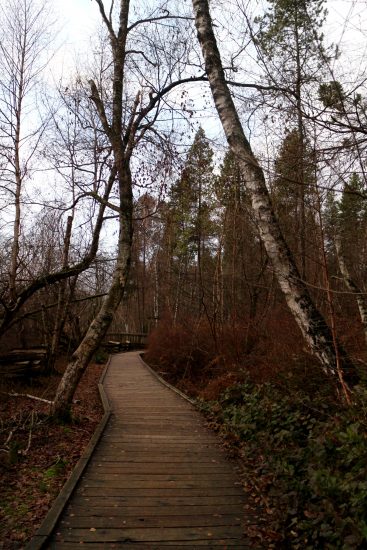 The Richmond Nature Park contains 200 acres of raised peat bog habitat. Admission is free, but donations are accepted.
There are 4 trails – we did the boardwalk around the pond, which is accessible for wheelchairs and strollers. The other trails are covered with wood chips, and you could likely bring a stroller on them too.
Pop into the Nature House before you venture down a trail – they have maps and scavenger hunts for the kids!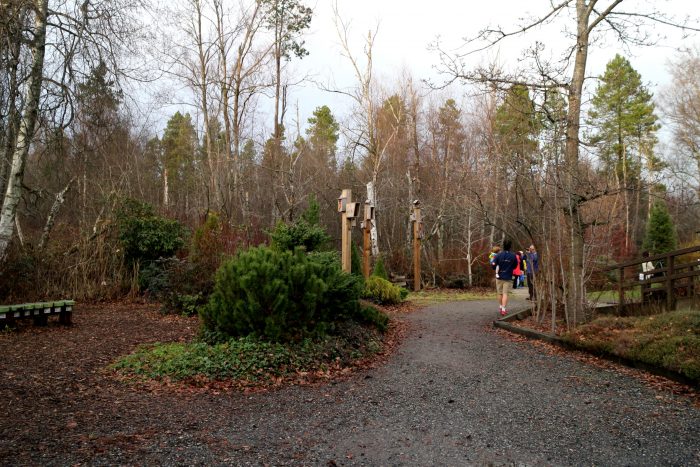 When you enter the park, turn right after the Nature House. You'll find a small clearing full of bird feeders, where you can see many local birds and a few local squirrels. There are bird-shaped benches where you can sit and enjoy the show.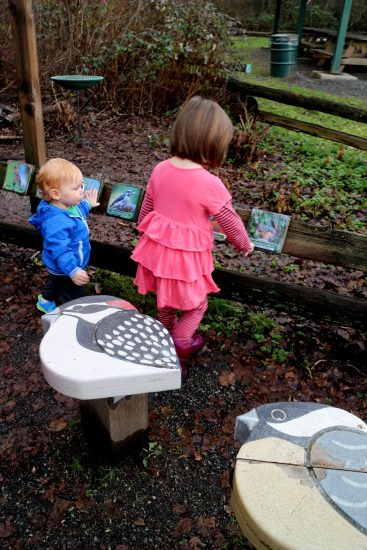 If the kids get tired or cold, you can run back into the Nature House. There's a friendly volunteer available to answer all your questions, and there are lots of activities for the kids, including a real bee hive that they can peek inside!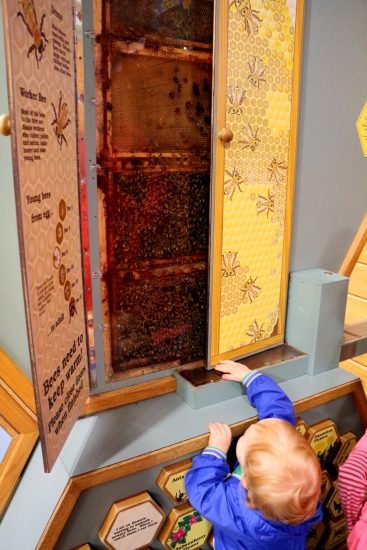 There are also lots of taxidermied animals, so you may want to be prepared for questions about those. My kids were really interested in examining them closely. Kids can also examine various specimens (such as bugs and minerals) with a kid-sized microscope.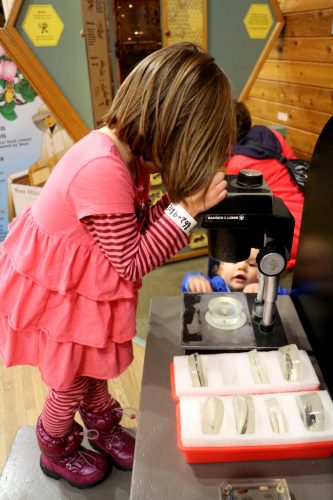 My daughter also loved this stamping activity, where you stamp an animal's prints inside the appropriate box.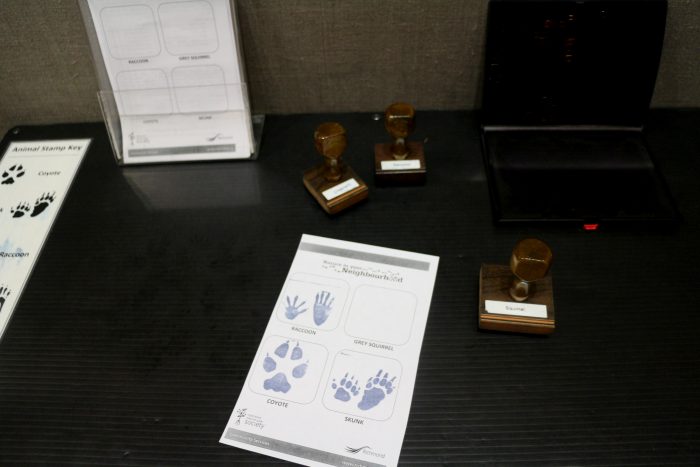 Location: 2340 River Road, Richmond BC
The name may seem strange at first, but this place is SO much more than a playground. The Terra Nova park alone is worth a trip to Richmond. It opened in fall 2014, and cost the city $1 million.
This caused some controversy, but having seen it, I can tell you it was worth EVERY penny. I also have a great deal of respect for a city that will invest in children in this way.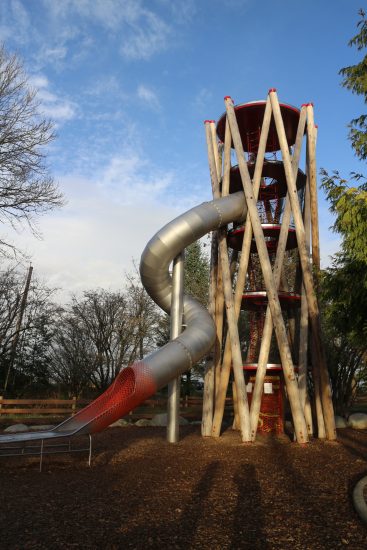 The Terra Nova park is so amazing, I had to write a complete post about it. You can read more about it here!
Other Attractions
I have to stop posting photos eventually, but here are some of my other favourite places to visit in Richmond:
Daiso – the first North American location of this Japanese dollar store is in the Aberdeen Centre (4151 Hazelbridge Way). Nearly everything is $2, and there is SO MUCH good stuff! While you're at the Aberdeen Centre, pop up to the food court and get some of the Beard Papa cream puffs. You won't regret it.
Steveston Village – this oceanside community is incredibly picturesque. If you or your kids are fans of the show Once Upon a Time, you can seek out familiar sights – the show is filmed here. There are also lots of small shops where you can buy souvenirs from local artists. The Gulf of Georgia Cannery and Britannia Heritage Shipyards National Historic Sites are also popular with kids. It's also the departure point for many whale-watching tours (dress warmly)!
Finally, take advantage of the local markets and produce stands – everything is so fresh and delicious!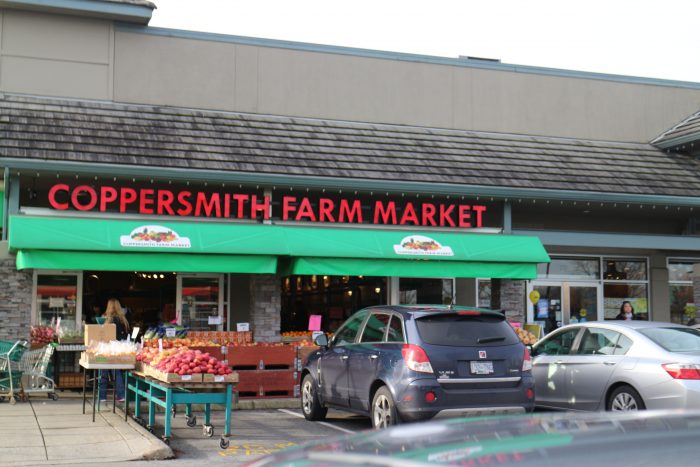 Weather
We were in Richmond in December. The weather was generally pretty warm (in fact, we were very tempted to move). There was no snow, but the parks did get very wet and soggy when it rained.
If you are visiting Richmond in the winter, be sure to pack rainsuits or rain pants and jackets, as well as rain boots. I just brought my winter boots, and they were not sufficient.
Did I miss anything? What's your favourite thing to do in BC?
Please Note: 
We do our best to ensure the information on Calgary Playground Review is accurate, however information and events are subject to change. Please contact the organizations directly to avoid disappointment.
Can you help make this article better?
If you have noticed an error, have additional information or would like to share a comment you can:
E-mail us at calgaryplaygroundreview@gmail.com
Find us on Facebook: CalgaryPlaygroundReview
Find us on Instagram: YYCdana
Tweet us: YYCdana
We are not affiliated with any venues, attractions or organizations. Please message them directly if you have questions or concerns.