I love to check out playgrounds in other cities when I travel. Katie from Best Birthdays visited Richmond, BC. She found a lot of great stuff, but her favourite playground was the Terra Nova Adventure Play Environment.
Location: 2340 River Road
There are a lot of great playgrounds in Richmond, but the brand-new Terra Nova Adventure Play Environment is unbeatable. It opened in fall 2014, and cost the city $1 million. And it was worth every penny.
Parking is free and plentiful in a lot connected to the park. First you walk through some scenic grassland and over a stream: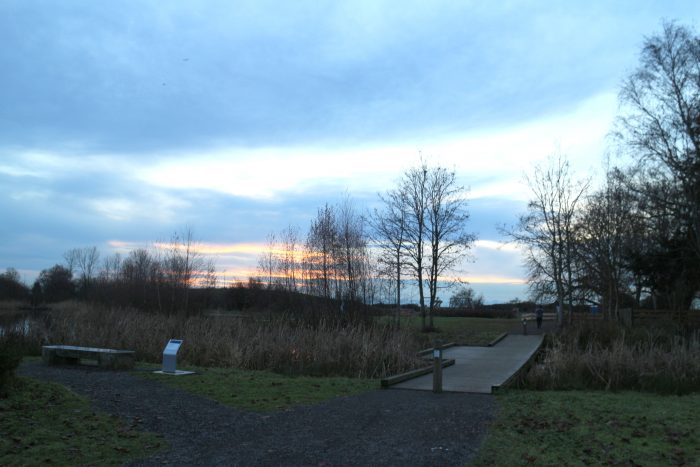 When you reach the playground, you  can see immediately that it uses mostly natural wood. The materials were sourced within BC, consciously chosen instead of plastic and metal.
One of the goals of the park is to help city-dwelling kids feel more connected to nature. The result is cool climbing structures like the one below, which resembles a pile of driftwood.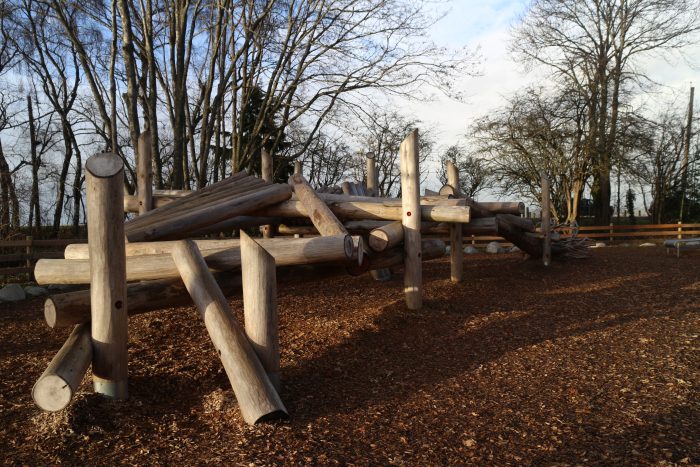 The park also has ZIPLINES.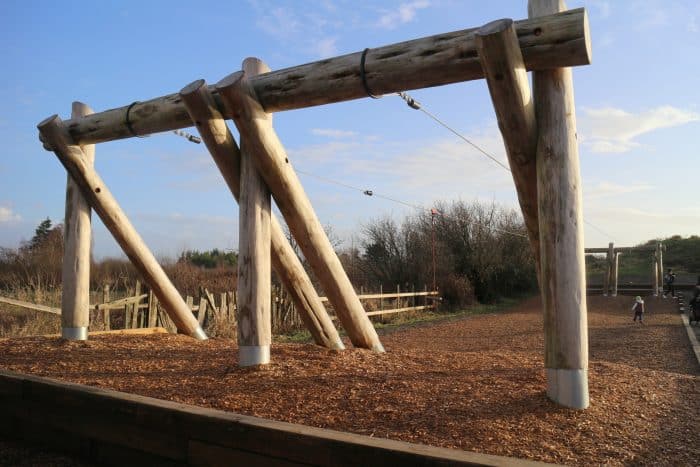 These are recommended for kids who are 8 and up, but parents can easily place younger children on the seat and run along beside them.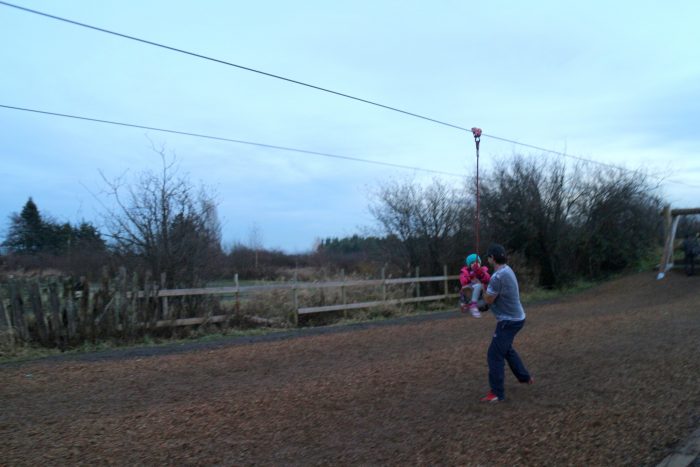 My husband sent my daughter down the line a little too quickly, which resulted in this bit of action at the end: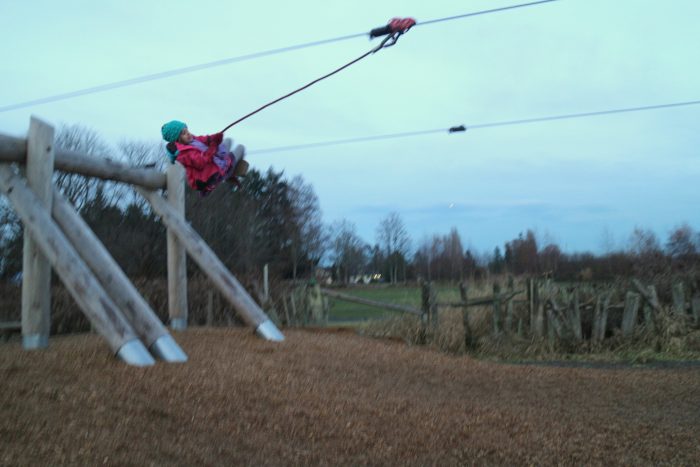 Luckily, she was hanging on tight.
We visited the park around 4pm, when the sun was setting and most kids were heading home. This is also when the adults decided to try the ziplines. They were AWESOME.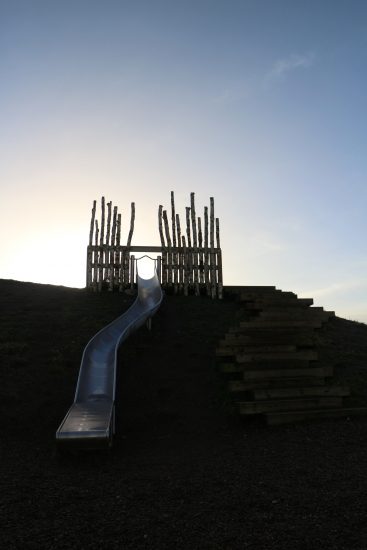 This slide was very long, but not very fast. My daughter is 4, and she was fine on it. This slide caps one end of a large hill that's perfect for running and rolling down.
The other slide begins at the top of a 10-meter "treehouse," which looks incredible, but was unfortunately closed when we visited. A sign indicated that this was due to vandalism.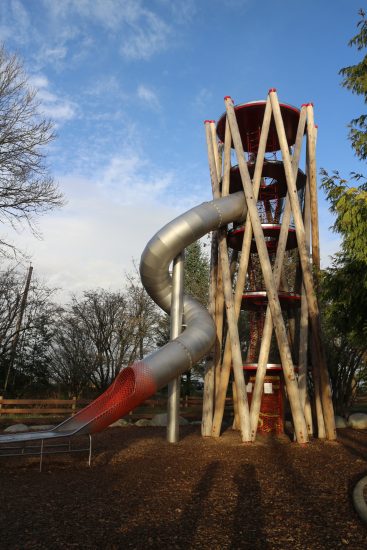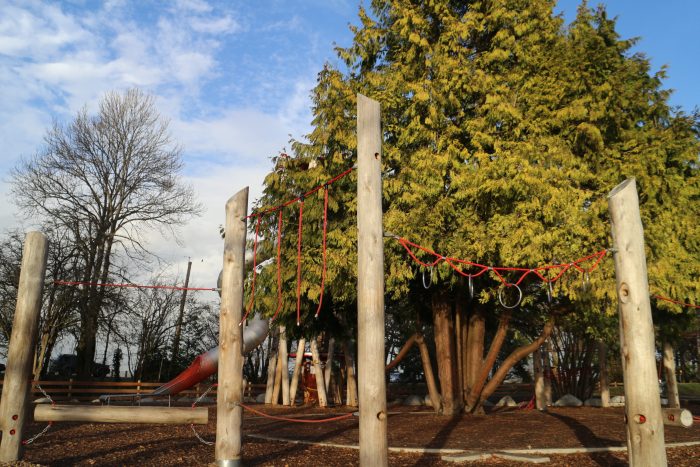 There were also plenty of climbing and balance structures, such as this rope walkway:
The "spider web" was also a hit with my small Spider-Man fans.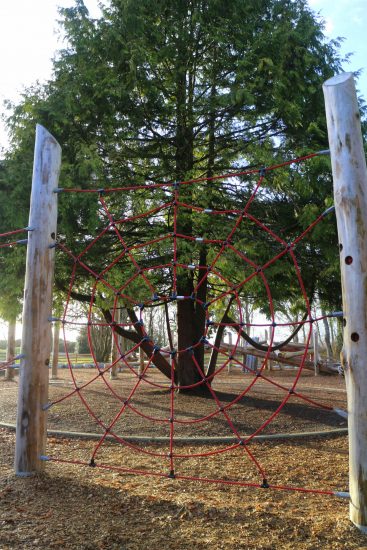 There is also a series of logs that have been arranged like stepping stones.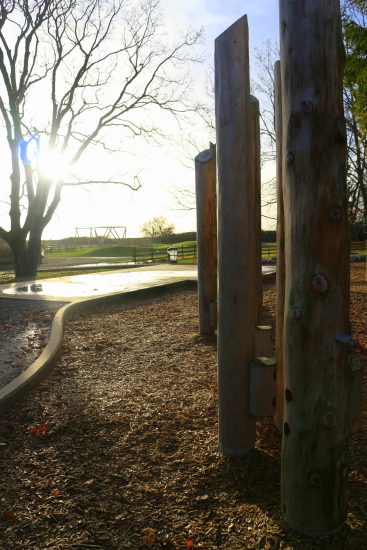 Calgary has no playgrounds with sand, so I was excited to see this sand-and-water play area: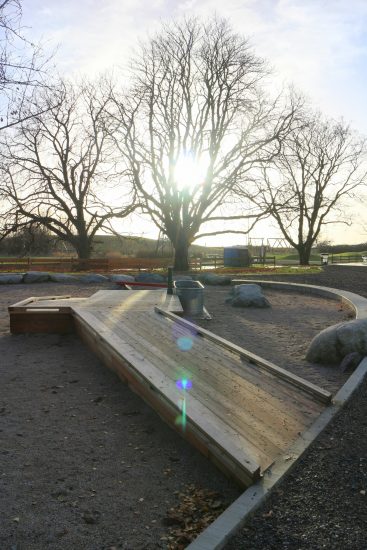 There are also a variety of swings scattered around the park, including this disc-swing that has a view of the nearby dike if you swing high enough.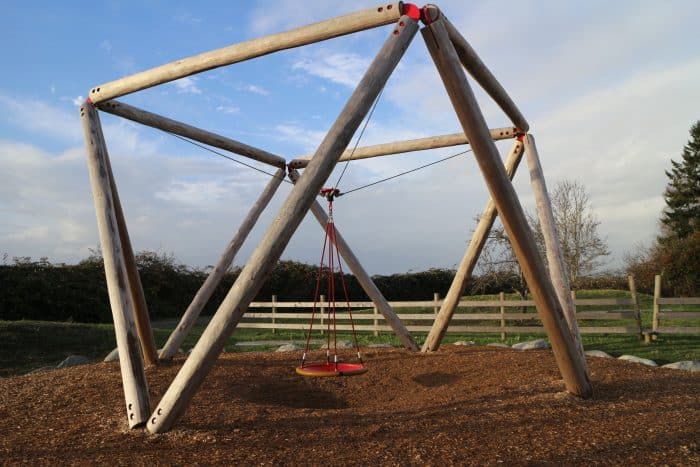 The "Paddock" area of the park is built where there used to be a real paddock full of livestock. There are wooden fences with stairs on both sides for climbing, and a gravel "maze" for kids to navigate.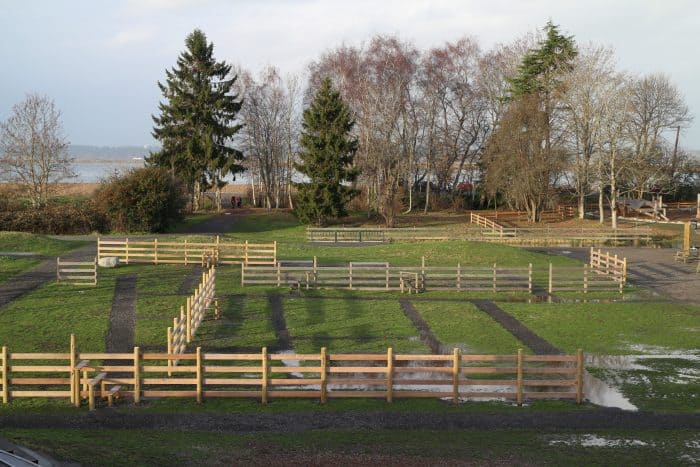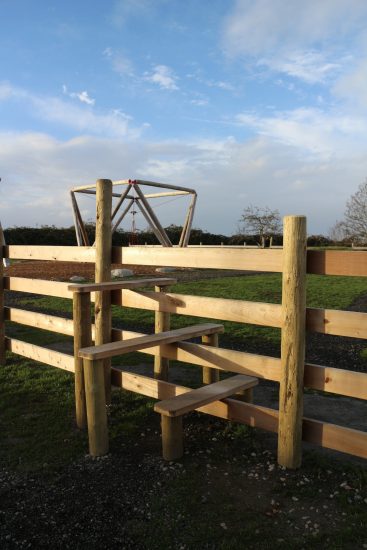 The "paddock" area has tons of space for kids to run. And, if it's been raining, there are also lots of puddles to splash in!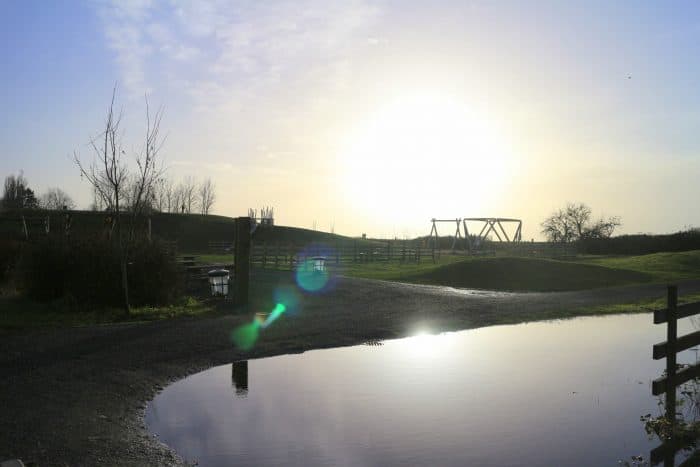 In this shot from the top of the hill, you can see swings on the left, the top of the slide in the middle, the ziplines on the right, and water in the distance. This gives you an idea of the massive size of the Terra Nova Adventure Play Environment.
If you're lucky, you'll also run into some friendly City of Richmond employees, who will promise to read your blog post and tell you what a great idea it is.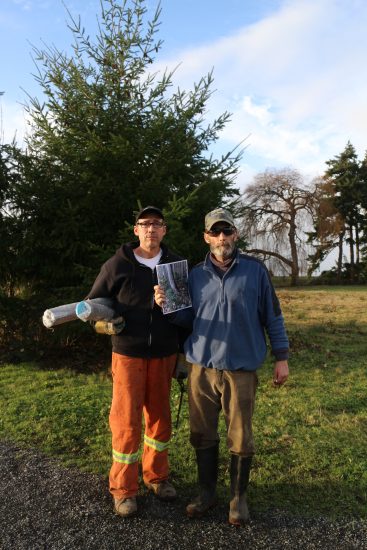 The Terra Nova Adventure Play Environment is absolutely amazing. The size of the park means it's not crowded even if loads of kids are there. The design is both creative and beautiful. The play equipment is great for kids from 2 – 12. We could have spent two whole days here without my kids getting bored.
If you want more suggestions about places in Richmond to visit with your kids, check out my post about family-friendly attractions in Richmond!

Please Note: 
We do our best to ensure the information on Calgary Playground Review is accurate, however information and events are subject to change. Please contact the organizations directly to avoid disappointment.
Can you help make this article better?
If you have noticed an error, have additional information or would like to share a comment you can:
E-mail us at calgaryplaygroundreview@gmail.com
Find us on Facebook: CalgaryPlaygroundReview
Find us on Instagram: YYCdana
Tweet us: YYCdana
We are not affiliated with any venues, attractions or organizations. Please message them directly if you have questions or concerns.