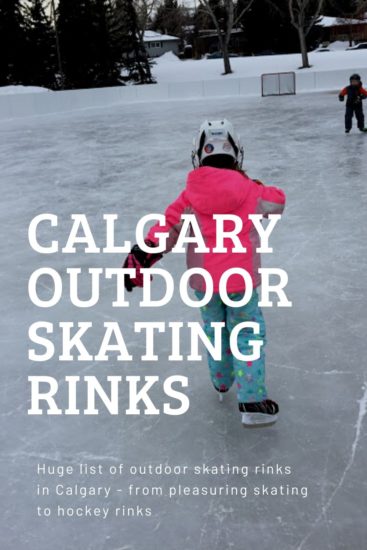 Calgary has a huge number of outdoor rinks most of which are run by volunteers and all of which are free to use. Some of these rinks are strictly for pleasure skating (no pucks or sticks) others are full on hockey rinks.
City of Calgary Outdoor Rinks
The city of Calgary also maintains 7 outdoor rinks – 3 regular pleasure skating rinks, 3 pond/lagoon skating rinks and one with a refrigerated ice surface as well as a pilot project ice trail. Hockey sticks are not permitted on the city run outdoor rinks. These rinks are also free of charge. You can check on their website to see if they are currently open or closed. Rinks typically begin opening mid-late December.
Regular Outdoor Skating Rinks
Big Marlborough Park (Large rink by the dry pond) – 6033 Madigan Dr NE
Prairie Winds Park – (two rinks) – 223 Castleridge Blvd. N.E.
– North rink, pleasure skating only
– South rink (in tennis court), shinny hockey and pleasure skating
Thomson Family Park – 1236 16 Ave. S.W.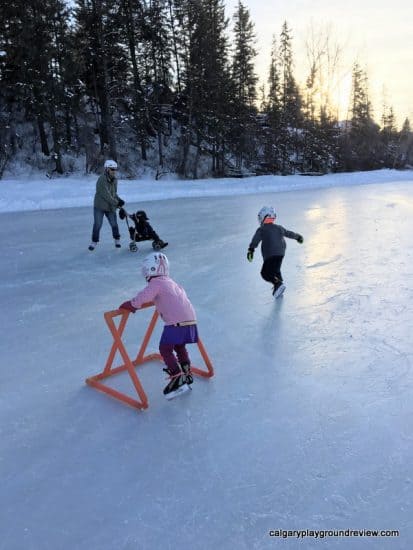 Pond/Lagoon Skating Rinks
Carburn Park (pond rink) – 67 Riverview Dr. SE ) – music, a fire for keeping fingers and toes warm and lights after dark.
Bowness Park (Lagoon rink) – 8900 48 Ave. N.W. – skate rentals, skate sharpening and stabilization bar rentals are available at the Park Side Cafe.
Prince's Island Park (Lagoon rink) – 4 St. and 1 Ave. S.W.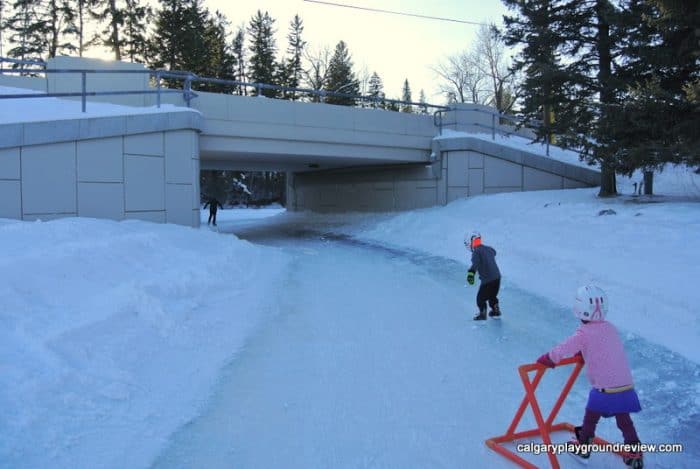 Ice Trail
Glenmore Ice Trail – new Ice Trail pilot project.
7305 Crowchild Tr. S.W. (11 AM – 10 PM daily)
Over 730 metres of connected track, through North Glenmore park, with an attached skating rink located in the centre. Benches, picnic sites and portable washrooms available on site.
Rink with Refrigerated Ice Surface
Olympic Plaza – 228 8 Ave. S.E. (10 a. – 9 pm) – this is the only refrigerated outdoor ice surface in the city. Due to this, the rink opens earlier than the other rinks (late November) and closes later (mid March). Washrooms are on site and they now have skate rentals too. Hockey sticks, toboggans, sleds & strollers are not permitted on the ice.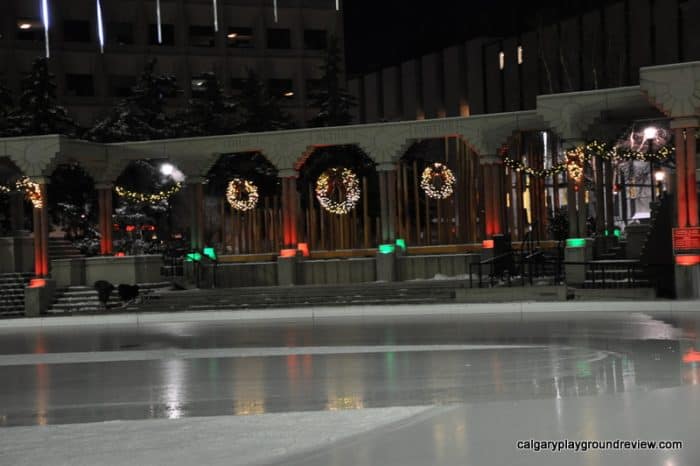 Community Outdoor Rinks
There are more than 35 outdoor hockey arenas and many communities also maintain an outdoor rink. Many communities have two rinks, one with boards (to use with stick and pucks) and one without (for pleasure skating). Some are run through the city's adopt a rink program (pleasure skating only) and others are run by the communities themselves.
About Adopt-a-rink locations
Adopt-a-Rink locations are subject to change due to volunteer participation.
Adopt-a-Rinks are for pleasure skating only. Hockey equipment and games are not permitted on these rinks.They are typically smaller rinks without boards
Outdoor skating rinks in Calgary are (obviously) weather dependent, but typically open in mid-December and continue through February. Helmets are recommended particularly for kids.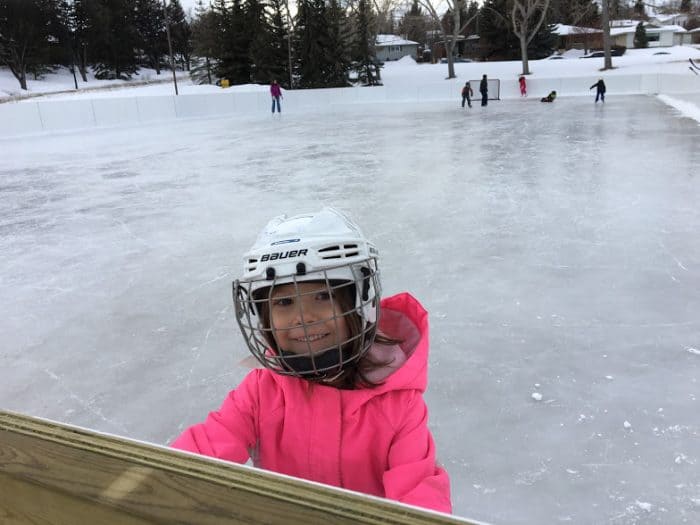 About Community Run Rinks
Community run rinks are volunteer run by the community that they are located in. They are free to use but if you would like to support the outdoor rink you can buy a membership for that community even if you don't live there. Many communities are also looking for volunteers to help set up and maintain the rinks – it's a great way to give back.
Some features such as indoor changing rooms may not be accessible at all times or to non-community members. Please check ahead before you go.
Community Rinks List
Please help me keep this list as accurate as possible!
Due to the nature of outdoor rinks, rinks may change or come and go from year to year.
Please let me know of an outdoor rink that no longer exists or one that is missing from this list. If you had any additional information to add about the rinks listed please share that as well.
North West Rinks
Crescent Heights Community Association outdoor rink – 1101 2 St NW
Edgemont Outdoor Rink – 6911 Edgemont Dr NW –
Evanston – 221 Evanston Drive N.W. – Adopt-a-rink
Hamptons Community Association Outdoor Rink -110377 Hamptons Blvd NW – two rinks – zamboni for the hockey rink, pleasure skating rink with no boards.
Hawkwood – 56 Hawkhill Rd NW – rink with no boards
Hidden Valley – 10504 Hidden Valley Drive NW,- Hidden Hut Outdoor Rink – two ice surfaces – a pleasure skating only rink that is best for young children and beginner skaters. Second ice surface with boards and nets. Sticks and pucks are allowed aside from during family skate times.
Panorama – 400 Panamount Blvd. N.W. – Adopt-a-rink
Ranchlands Community Association outdoor rink – 7713 Ranchview Dr NW – two rinks, one with boards and hockey nets. Benches at both rinks.
Rocky Ridge Royal Oak Community Association outdoor rink – 9764 Royal Oak Way NW – rink with boards
Rosedale Outdoor Rink – 901 11 Ave NW – non-permanent, mix use rink with high boards.
Sage Hill – 235 Sage Valley Drive N.W. – Adopt-a-rink
Sandstone – 332 Sandarac Dr NW – hockey rink with boards as well as a pleasure skating rink (two different locations in Sandstone)
North East Rinks
Bridgeland – 917 Centre Ave. N.E. – Adopt-a-rink
Falconridge Castleridge Community Association outdoor rink – 86 Falshire Dr NE – rink with boards.
Martindale Community Rink – 500 Martindale Blvd NE – rink with boards and hockey nets. Enclosed change shack with seating area to put on skates and watch others
Pineridge Community Association outdoor rink – 5 Pinehill Rd NE – no boards, lit at night.
Rundle Community Association outdoor rink – 2510 50 St NE – rink with boards and lights.
South West Rinks
Canyon Meadows – 848 Cantabrian Dr SW – two with boards and a more "pond" style one outside the community association/canyon meadows school. lots of lighting and is on top of a nice big toboggan hill. Three playground structures in sight, and concession/change room open weekends
Cedarbrae – 475 Cedarille Cr. S.W. – Adopt-a-rink
Chinook Park – 91 Colleen Cr. S.W. – Adopt-a-rink
Killarney – 2828 28 St SW – small rink near the community centre. Perfect for little ones learning
Lakeview Community Association outdoor rinks – 6110 34 St SW – Hockey rink with boards and adjacent rink with no boards. Ice Shack – comfortable shelter for those using the outdoor rinks
Mayfair – 160 Malibou Rd. S.W. – Adopt-a-rink
Meadowlark – 623 58 Ave. S.W. – Adopt-a-rink
Millrise Outdoor Rinks – 14808 Millrise Hill SW – leisure rink and zamboni cleared hockey rink
Oakridge Community Association Outdoor Rink – 9504 Oakfield Dr SW – two outdoor ice surfaces each winter—a shinny rink with boards and lighting, as well as non-hockey pleasure ice surface.
Rutland Park Ice Rink – 3130 40 Ave SW – rink with boards
Shaganappi Outdoor Rink – 2516 14 Ave SW – skating loop, hockey rink and a small practise area, fire pitand flood lights.
Shawnessy Outdoor Rink – 302 Shawinigan Dr SW – Figure-8 shaped pleasure skating rink. Fenced hockey rink .Little undercover building with benches for getting your skates on.
Signal Hill Outdoor Rinks – 489 Sienna Park Green SW- hockey rink and leisure ice with bathrooms available for public use.
Silverado – 131 Silverado Blvd. S.W. – Adopt-a-rink
Southview Community Association outdoor rink – 2020 33 St SE – Hockey rink and skating pond
Wildwood Community Association Rink – 4411 Spruce Dr SW – hockey rink with boards, pleasuring skating rink and an ice trail around the soccer field. Heated changeroom area with soft walkway. Outdoor fire pit.
Woodbine – 257 Woodbriar Cir. S.W. – Adopt-a-rink
Woodcreek Community Centre Rinks – 1991 Woodview Dr SW – One rink open for skating and a hockey rink with lights.
South East Rinks
Acadia – 8523 Addison Dr. S.E. – Adopt-a-rink
Applewood Community Association outdoor rink – a full sized ice rink complete with boards
Chaparral – 135 Chaparral Valley Square S.E​. – Adopt-a-rink
Copperfield Community rink – 6 Copperstone Way SE, Calgary – hockey rink and tot rink
Deer Ridge Outdoor Rinks – 155 Deermont Way SE – hockey and leisure skate rinks
Deer Run Community Association Rinks – 2223 146 Ave SE – two leisure skating rinks one with nets that can be used for hockey
Dover Community Association Rink – 3133 30 Ave SE – mixed use rink with boards
Fairview – 45 Flavelle Rd. S.E. – Adopt-a-rink
Map – still in progress
Please Note: 
We do our best to ensure the information on Calgary Playground Review is accurate, however information and events are subject to change. Please contact the organizations directly to avoid disappointment.
Can you help make this article better?
If you have noticed an error, have additional information or would like to share a comment you can:
E-mail us at calgaryplaygroundreview@gmail.com
Find us on Facebook: CalgaryPlaygroundReview
Find us on Instagram: YYCdana
Tweet us: YYCdana
We are not affiliated with any venues, attractions or organizations. Please message them directly if you have questions or concerns.