When I was looking for great places to Toboggan in Calgary, I was surprised to find out that downhill tobogganing and sledding in Calgary parks are only allowed on 22 designated toboggan hills. (This does not cover private, provincial or federal land – they are free to make their own rules regarding sledding.)
It's not as bad as it seems at first. At one point there were only 4 approved hills! Also, the city says the bylaw is only enforced on a complaint-driven basis. To date, no complaints have been filed and no fines have been levied.
So, it is highly unlikely that you will have an issue taking your kids tobogganing on your neighbourhood hill. The designation means that the city has the power to deal with unsafe sledding if it does occur and that the hills on the list are safe and maintained. You can also put in a request for a hill to be considered for tobogganing by calling 311.
So make sure the hill you are tobogganing on is clear of obstacles, has a long run off at the bottom and sled on!
There are 22 designated hills this year (4 new hills were designated in 2015) located throughout Calgary. The hill on St. Patrick's Island is also available for sledding but they would like you to know that you sled at your own risk. (It is not yet under the city's jurisdiction so may not appear on the city's list yet).
These hills are large enough to be tons of fun, but are in safe locations free of trees and other obstacles. My kids are still little so we're just starting to go to some of the toboggan hills around the city and I've started writing up profiles on the hills which you can find at the bottom of this post.
Below I have listed all the official Calgary toboggan hills and have created a map so you can easily see which hills are close to you.
Official City of Calgary Toboggan Hills:
North West Parks
Confederation Park – 2800, 10 Street NW (north side of park immediately west of Rosemont Community Centre).
Hidden Valley 10504 – Hidden Valley Dr. N.W.
Royal Oak – 50 Royal Birkdale Drive NW (north side of hill)
St. Andrew's Heights – 2504, 13 Avenue NW
North East Parks
Big Marlborough Park – dry pond – 6021 Madigan Drive NE
Deerfoot Athletic Park – 14 Avenue and 16A Street NE
Marlborough Community Association – 636 Marlborough Way NE
Monterey Park – Catalina Boulevard and California Boulevard NE (NE corner only)
Prairie Winds Park – 223 Castleridge Boulevard (north side hill).
Rundle Dry Pond – 4120 Rundlethorn Drive NE (behind Rundle Elementary School)
St. Patrick's Island Hill – 1300 Zoo Rd. N.E. (not yet under the city's jurisdiction – sledding is at your own risk)
Thorncliffe/Greenview – 5600 Centre St. N.E.
South West/South East Parks
Bridlewood – 20 Bridleglen Park S.W.
Glendale Park – 25 Avenue and 45 Street SW (west side).
Kingsland – dry pond – Heritage Drive SW (behind the RoseKohn/Jimmy Condon Arenas)
Maple Ridge – dry pond – Mapleglade Close SE
McKenzie Towne – 160 McKenzie Towne Dr. S.E.
Richmond Green – 33 Avenue and 25 Street SW
Sacramento – dry pond – Sacramento Drive and 104 Avenue SW
Scarboro – 15 Avenue and 16 Street SW
Signal Hill – Sirocco Drive and Signal Hill Heights SW
Stanely Park – 4011, 1A Street SW
Not sure if you are in the right spot? Look for this sign: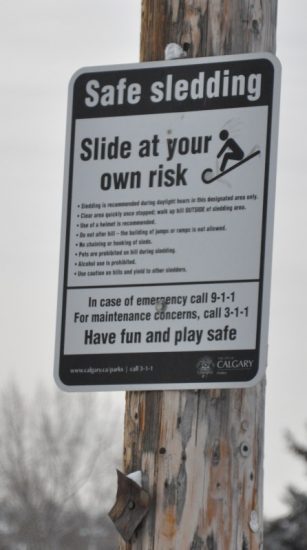 Here is a map of Calgary's official toboggan hills. Please keep in mind that some of the markers are approximate.

View Official Calgary Toboggan Hills in a larger map
Toboggan Hill Reviews
It is really hard to show depth in pictures of snow. Assume all the hills you see below are steeper than they look.
Glendale Toboggan Hill – ( 25 Avenue and 45 Street SW – west side)
This hill is steep but U-shaped, making it both safe and fun. There is a small hill on the East side of the road that is often used by smaller kids, but it is not considered part of the official toboggan hill. This was my husband's favorite toboggan hill when he was a kid (and a University student!)
Kingsland Dry Pond Toboggan Hill (Heritage Drive SW – behind the RoseKohn/Jimmy Condon Arenas)
The Kingsland toboggan hill is in a dry pond area like a number of the other official toboggan hills. There is a big hill directly behind the arenas (there is parking there too) where you can slide down two sides.
The North side of the hill is a little shallower than the East side. The edges of the hill are a little less steep so if you had little kids you may want to try to use those if the hill isn't too busy. It was a perfect hill for Gordie (3) to ride down with a parent. It would also be a great hill for kids just starting to go down faster hills by themselves.
This style of hill is a really good community hill because everyone congregates together at the top making it easy to talk with the other people out that day or to meet up with friends.
Signal Hill Toboggan Hill (Sirocco Drive and Signal Hill Heights SW)
This hill is located in the centre of the park area at the back of one of the baseball diamonds. There is no fence at the bototm of the hill but there is a long straight slope at the bottom. (It is also a really difficult hill to photograph!)
Confederation Park (2800, 10 Street NW – north side of park immediately west of Rosemont Community Centre)
In many ways what makes the hill at Confederation Park so great is the park itself. It's one of Calgary's best Winter parks with an outdoor rink and maintained pathways for walking, running or cross country skiing.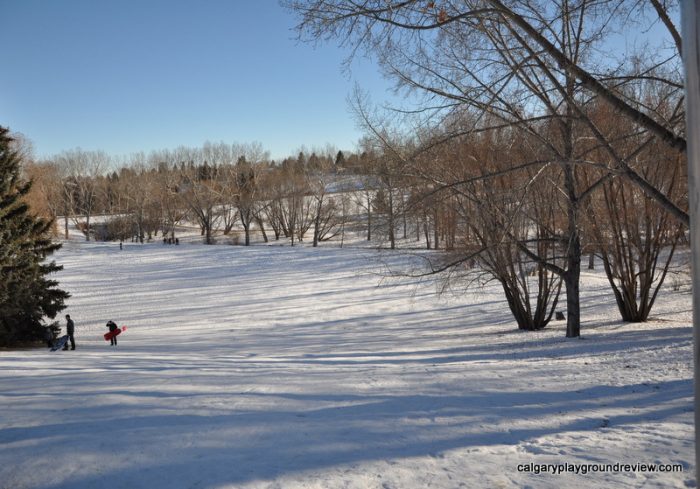 The hill itself is a bit of a walk past the community centre from the parking lot to the West. It's not the most varied in the city but it'll provide enough of a thrill to satisfy most casual tobogganers.

St. Andrew's Heights Toboggan Hill (2504, 13 Avenue NW)
This is generally considered to be Calgary's best Toboggan Hill. The hill is long and steep. There's a long flat stretch at the bottom as well as a fence at the far end, just in case.
A bit closer to the community centre there is a ledge that younger or less adventurous kids will enjoy as well. This is a great place to go if you have kids with different ability and thrill seeking levels.
View down the smaller slope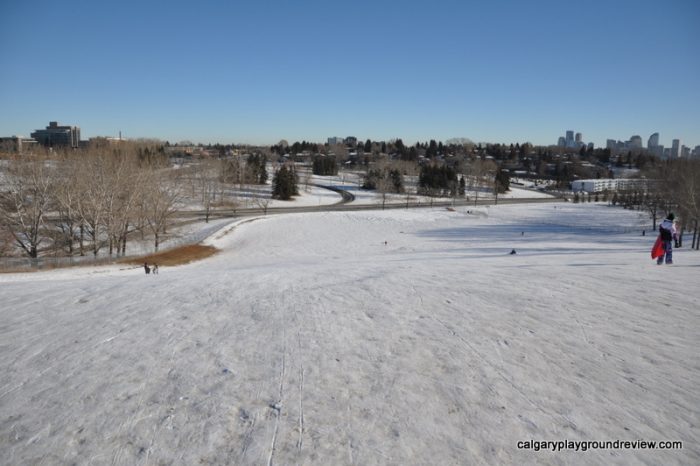 View down the big hill from the top
Prairie Winds Park Toboggan Hill (223 Castleridge Boulevard – north side hill)
Prairie winds has one of the biggest most popular toboggan hills in the city. I was surprised to see how varied it is.
This hill will be perfect for older more adventurous tobogganers but also has some smaller slopes on the western edge. It's also well set up for parents supervise from the bottom of the hill.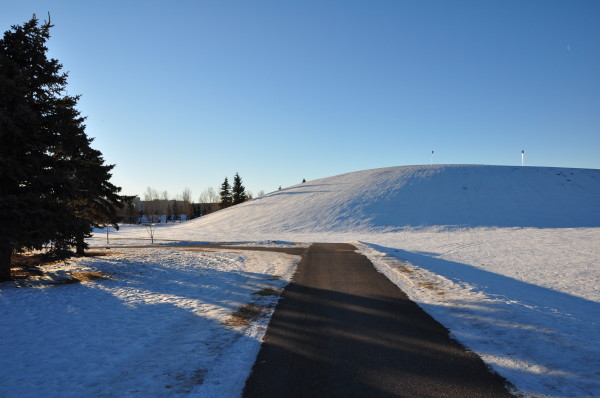 This is a really big hill – the sign at the top is 6 feet tall.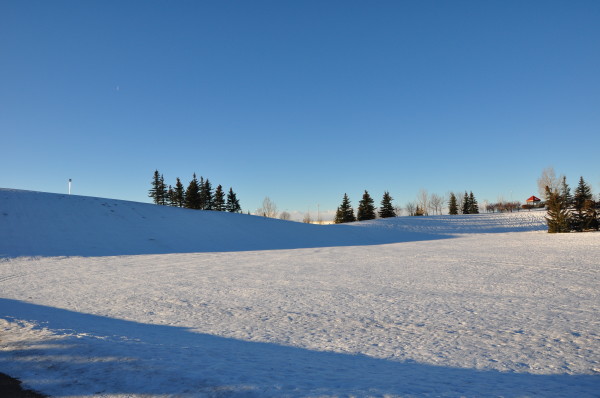 You can see the shorter slopes on the right