Although we had been to Village Square Leisure Centre many times, we had never been to Southland Leisure Centre. Both Leisure Centres are run by the City of Calgary and your admission gives you access to the whole facility for the entire day.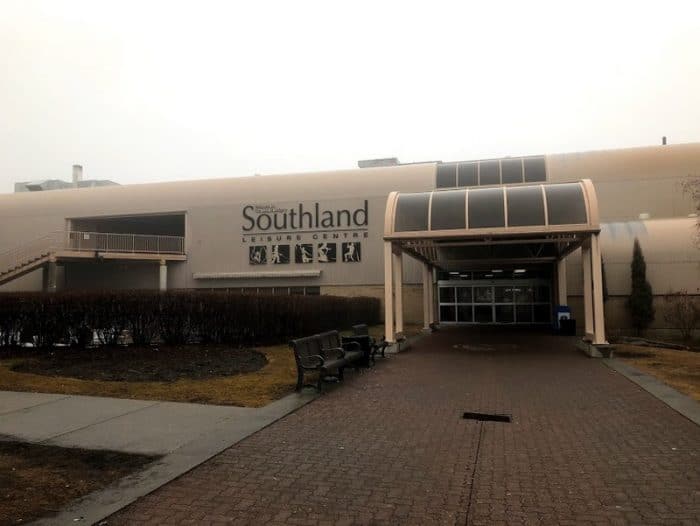 Address: Palliser – 2000 Southland Drive S.W.
http://www.calgary.ca/Southland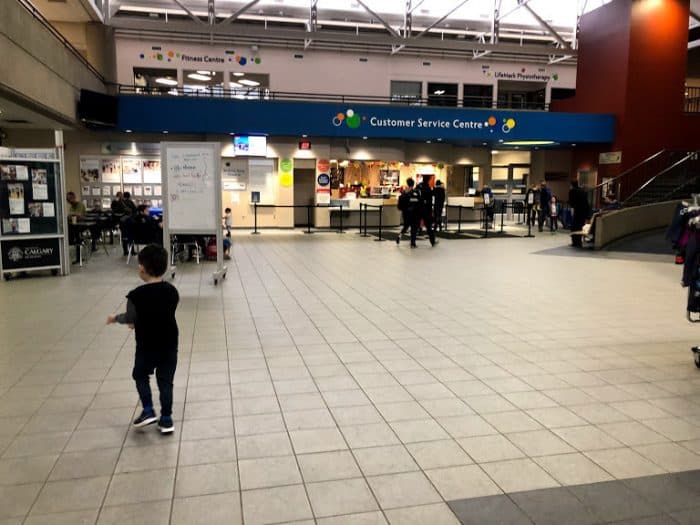 Cost:
Day pass – Family $29.35, Adult $13.35, Child (7-17) $6. 70, Preschooler $3.30, Under 2 is free. More pricing options are available.
Rec Centre Activities: Many drop-in options including a waterpark, public skating, climbing wall, gymnastics, basketball, badminton, pickleball as well as other indoor sports.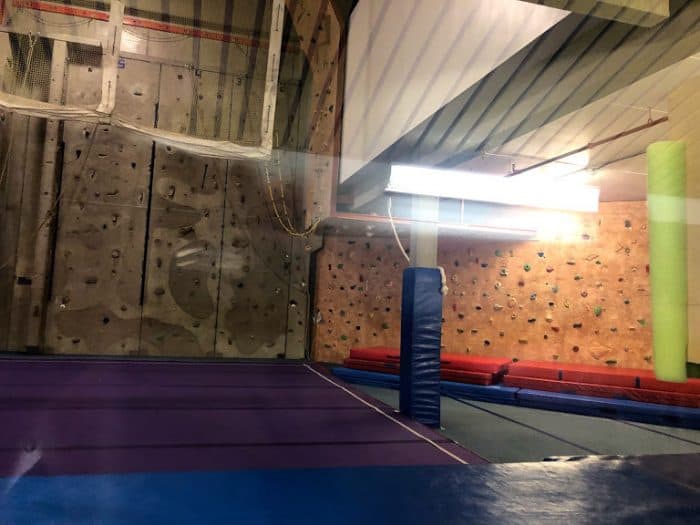 Other Features: Southland Leisure Centre also has a Kinderoom indoor play space which is bookable for birthday parties.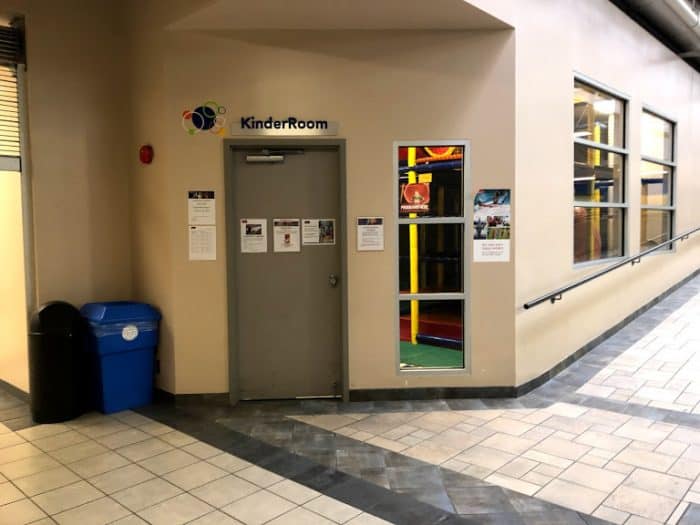 Concession
There is a concession serving snacks and meals on the ground floor just inside the main doors. You can also access the concession from inside the pool area – the food must stay within the eating area.
Aquatic Centre Features
The water park has a wave pool, waterslides, splash zone, tot pool and hot tub. On Thursday nights they offer 'Toys in the Waterpark' – you can walk on water inside a big ball, test your skills on a floating obstacles course and more!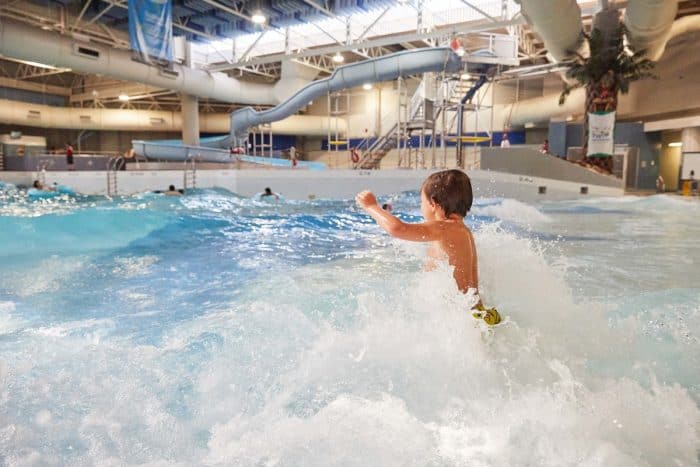 Our review:
Leisure Pool
The main pool is a wave pool with a wide zero depth entry. The waves only run during specific swim times.
The waves are a ton of fun but some kids can find them scary, particularly if they are not strong swimmers. There is a warning bell before the waves start, so you should always have time to move to a shallower area or a different part of the aquatic centre before the waves start.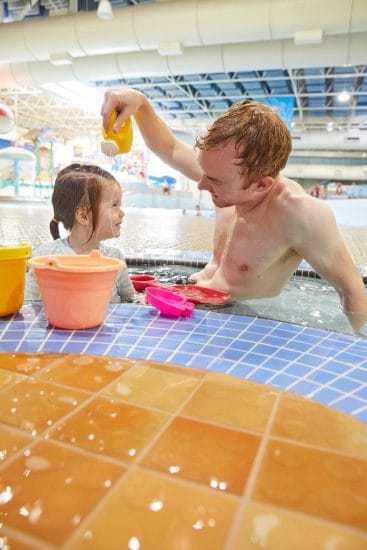 Tot Pool
The toddler pool is set back from the main pool. It's a lovely space with some small toys and gentle waterfalls.
Water Slides
There are two big water slides. The blue water slide drops you into the deep water tank. It looks fairly gentle but my husband found it to be more intense than you would expect looking at it.
The orange water slide drops you into the side of the leisure pool. It's not super deep but it will be over the head of smaller kids.
To ride the water slides alone you need to be 8 years old. Kids under 8 must be accompanied to ride. My husband took our 4 year old and our 7 year old down the orange water slide and they all loved it.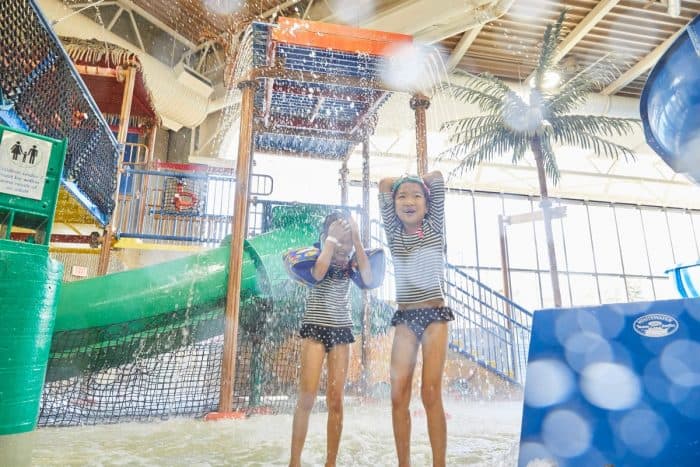 AquaPlay Structure
The AquaPlay Structure has spray features and small water slides. There is a small green water slide and a larger blue slide. My kids (4-10) really enjoyed these water slides.
There is a big bucket dump feature that my daughter found intimidating but there is a bell that rings before it dumps which gives you time to get out of the way.
Tips
There are assisted needs rooms available but (as of March 2019) for single parents/guardians with children of the opposite sex between 6-9 years old and customers with caregivers or aids. Children 5 and under are permitted in opposite sex change rooms.
Kids 7 and under are required to be within arms reach in the pool
Lockers are available and take quarters (March 2019)
Some people find the water temperature a bit chilly
There is a Sunday morning family swim that is typically not super busy
You may also be interested in: