All the best Calgary Christmas Light Displays
1. Lions Festival of Lights
http://www.lionsfestivaloflights.ca/
Location: Confederation Park: 14th Street and 24th Avenue NW
Cost: Free
Parking: Street parking
Start Time: 5pm-midnight
2016/2017 dates: November 26 – January 8
The Lions Festival of Lights display, not just drive by display – you can also walk through it too. It's perfect for taking the kids in a sled and many people toboggan down the hill on the west side. You can cross a bridge (behind the shed), and see some more of the lights closer to 14th St. We've gone to see the lights here for the past 3 years, the lights are lovely, it's free, and it doesn't take up a lot of time. The one downside is that there is nothing in the way of amenities and the parking is really just neighborhood street parking.  The last time we went we met up with a friend of mine who has a three year old boy. Although Gordie preferred to ride in the sled, my friend's son walked the whole way. We took Gordie down the toboggan hill and he loved it. He went way faster than when I take the kids to the little hill up the street.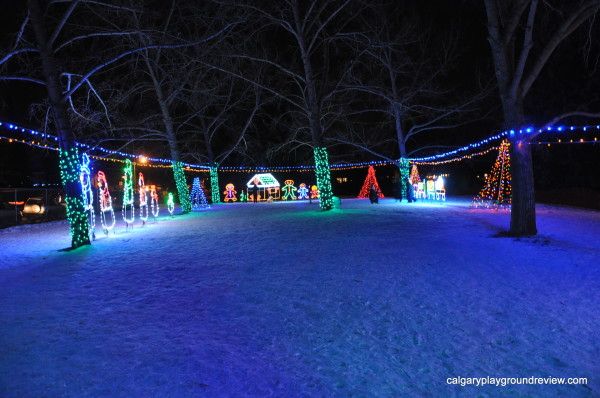 This is the area right by the entrance. It is a good spot to meet up with people.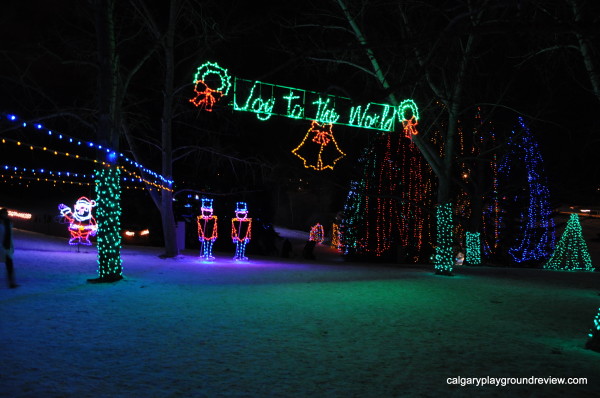 If you go under this sign you'll find yourself walking past the toboggan hill. If you look to the east (right) you'll see a shallower slope.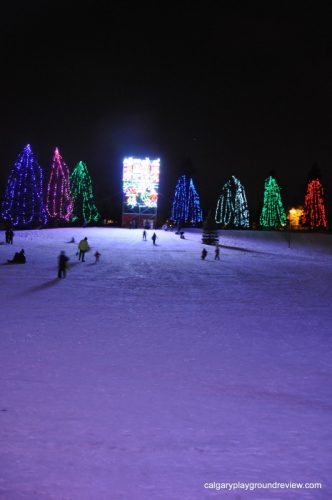 View of the toboggan hill.
The lights to our right are the ones you can see from 14th St. The toboggan hill is to our left.
2. Spruce Meadows
http://www.sprucemeadows.com/
Location: Spruce Meadows – 18011 Spruce Meadows Way SW, West Entrance
Cost: Free
Parking: There is parking inside the facility if you want to walk around the central area
Time: 5pm-10pm
2016/2017 dates: December 10-January 8
Spruce Meadows is primarily set up as a driving tour but there are places to park if you would like to walk around the centre area. You can enjoy a hot chocolate or coffee and a pastry in the warm comfort of the Founders Plaza from 5-8pm. The lights here are less varied, than some of the other spots on this list, but they are plentiful and you can drive right though. If you live in the area I would put it on your must do Christmas list.
3. Airdrie Festival of Lights
http://airdriefestivaloflights.com/
Location: Airdrie – Nose Creek Park
Cost: Free – donations are accepted ($10 per family suggested), train rides are $2 (cash only)
Parking: Free Parking lot
Time: 6pm-9pm
2016 dates: Dec 1-31
The Airdrie Festival of Lights is a real community event. The walk through light festival features two bonfires, a miniature train the whole family can ride and a concession serving hot chocolate for $2 (cash only). They also have special nights including things like crafts, visits with Santa and free hot chocolate. Check out their events calendar for specifics. The pond is also used for skating. We went last year just before it closed for the season. The lights are plentiful and in lots of different shapes. There are lots of pathways to walk around and strollers or sleds will probably work most days.
One of the two trains running while we were there.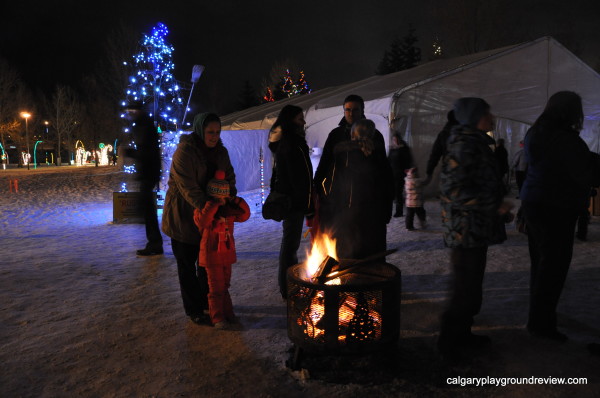 Bonfire.
They also have some photo-ops set up like this sleigh and a number of those cut-outs where you stick your head through. I would absolutely recommend making the trip up. It has become my favorite of the ones on this list.
4. Zoolights
http://www.calgaryzoo.com/zoolights/
Location: Calgary Zoo – North gate entrance only
Cost: Adults(16+) – $14.99 +gst (ticket includes free parking), kids(3-15) – $11.99+gst
Parking: Parking $7
Time: 6pm-9pm (gates close at 8:30)
2016/2017 dates:  Nov 25-January 8. (excluding Christmas Day and New Year's Eve)
Zoolights is back again this year and if you like Christmas lights, zoolights really is something to see. Not only does it have a lot of lights, they are shaped into amazing (often animal themed) decorations. In addition, they have four fun activity zones, skating rink, free visit with Santa and more Here's some pictures I took a few years ago. This is only a small portion of what you'd see there. Note: the animals are not on display during zoolights and their buildings are closed.
Location:The Community of Legacy – Legacy Circle SE
Cost: Free
Time: 7pm-10pm
2016/2017 dates: Dec 1- Dec 31
The community of Legacy in will be hosting their 2nd annual Christmas light parade this year. You can drive through the community to experience the tunnel of lights, Christmas light displays and an outdoor skating rink. The 22 show homes have all been decked out in lights as well. Toy Mountain donations are also being collected.
6. Do a residential house tour
Many people put a lot of work and effort into making amazing Christmas displays at their own homes. You can also find where they are at http://www.lightenupcalgary.com/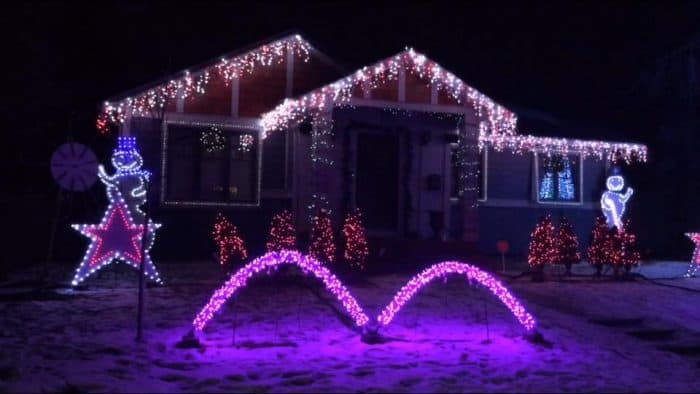 7. Go Downtown
I've seen downtown suggested a lot as a place to see Christmas lights. I've got to be honest, there are some beautiful displays but after checking it out, I don't know if I would personally recommend making the trip unless you are already in the area. If you do decide to go or are heading downtown for another reason here are some suggestions for places to check out. [photos are from 2016]
The Core – Bankers Hall
Inside The Core shopping centre you can find 100 lit Christmas trees. They will be on display from the tree lighting on Nov 24 (4-8pm) until Dec 22.
East Village – 7th Ave and 5th St. SE
If you are near the East Village, they have a really cute display with trees and presents. You can also see the skyline with the Calgary tower as well as the decorations on the Telus building from here.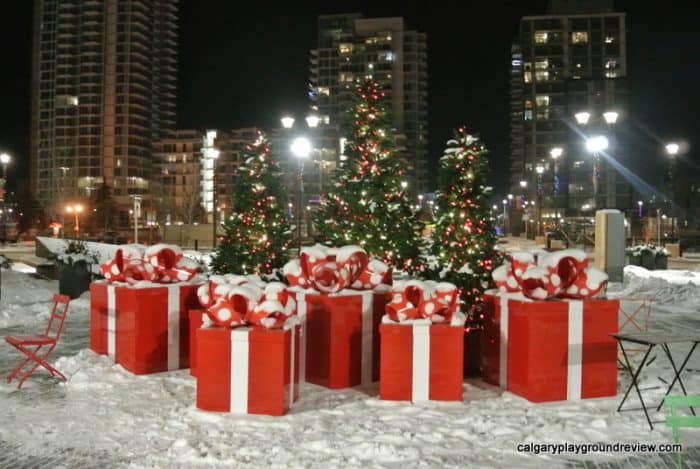 The Calgary Tower
While you are downtown, be sure to take a look at the Calgary Tower. You can get a great view from all kinds of places – it's not necessary to go right to the tower.
Eau Claire Bridge
The bridge from Eau Claire to Prince's Island is beautifully lit. There's also some nice lights on Prince's Island too.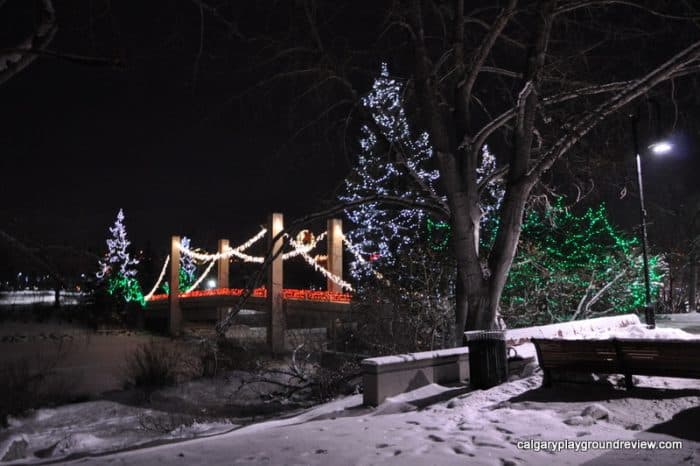 McDougall Centre – 4th Ave and 6th St.
Both sides of the McDougall Centre look beautiful.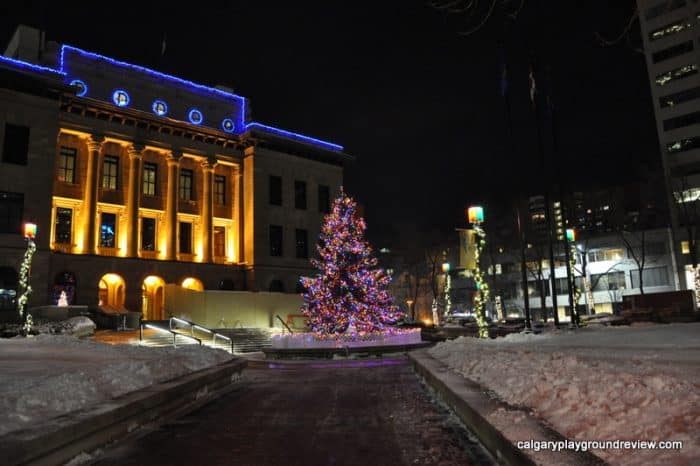 City Hall – 800 Mcleod Trail
City Hall is my favorite spot downtown, it's right by Olympic Plaza so if you are over there skating make sure to walk over.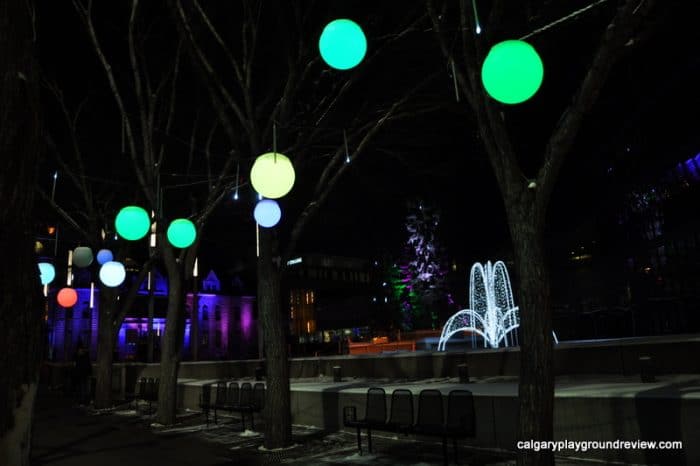 Olympic Plaza – 228 8 Ave SE
Olympic Plaza has some beautiful wreaths, a lit tree and free public skating too.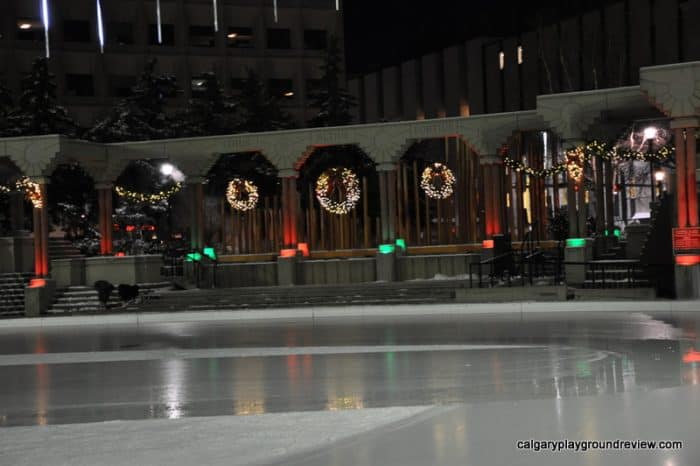 8th Avenue
Driving or walking West along 8th avenue from Olympic Plaza is lovely with light strung across the street.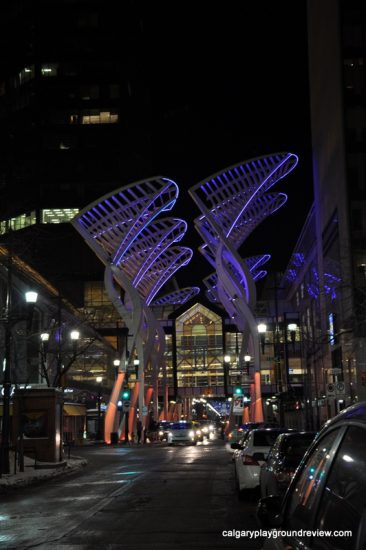 Crescent Road
From Crescent Road you can get a pretty view of downtown and a great view of the Telus building decorations.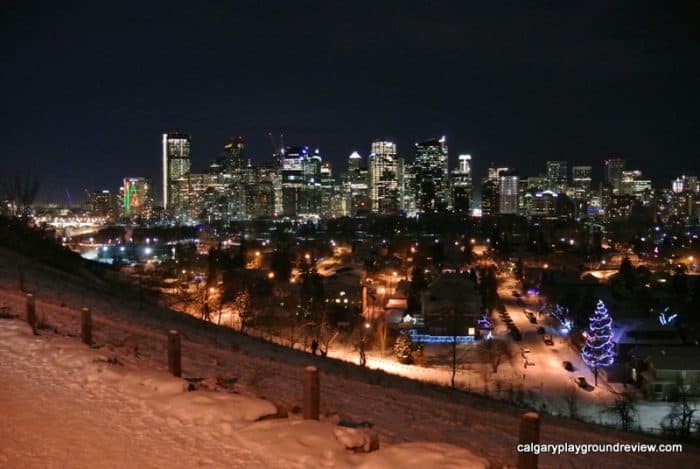 On the Road
Driving up to Edmonton this Christmas? Check out Leduc Country Lights.
Where is your favorite place to see Calgary Christmas Light Displays?