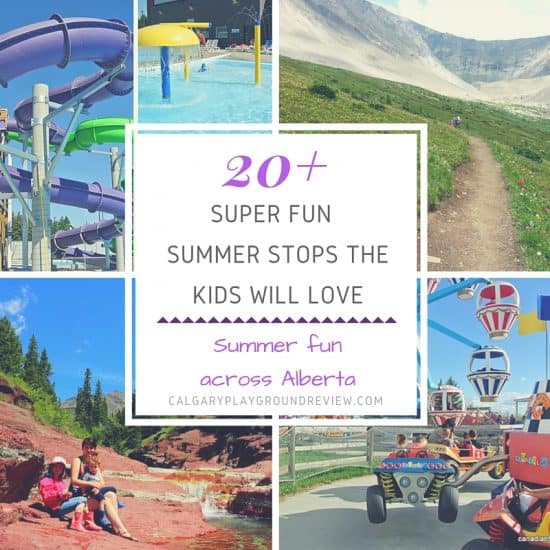 You don't have to go far to find fun things to do with the kids. We've spent a lot of time exploring Alberta to check out the family friendly attractions that are right in our own backyard.
Here are some of our Alberta summer favourites as well as some that are still on our bucket list.
Abbey Centre – 4500 Womacks Road – Blackfalds, Alberta (15 minutes North of Red Deer)
With a spray park, toddler pool, play pool with slope entry and spray features, a hot tub, jr olympic pool with diving board and 2 big waterslides, you can play at the Aquatic Centre for ages.
The Aquatic Centre typically runs from Mid-May to early September. A family pass is only $20 (2022) and you get access to the entire Abbey Centre including the indoor play place (socks required).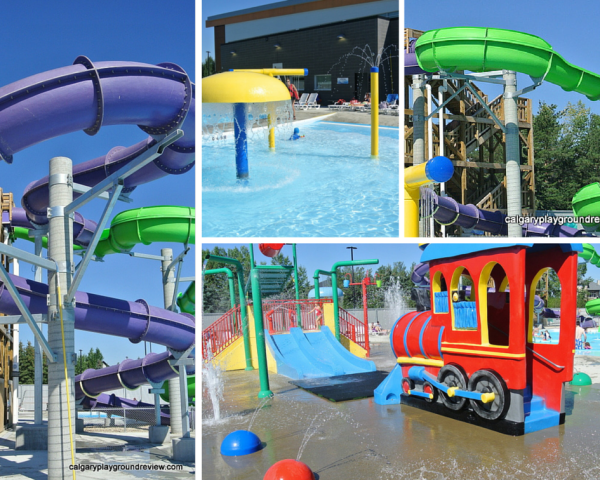 End of 51 Street heading North – Whitecourt, AB (2 hours NW of Edmonton)
Whitecourt's Rotary Park is one of the best summer recreation parks for families in Alberta.
Not only does it have a huge playground, it also has a splash park, fishing pond and Whitecourt River Tube Slides (no rentals) with a shallow basin beach at the bottom and it is free to access!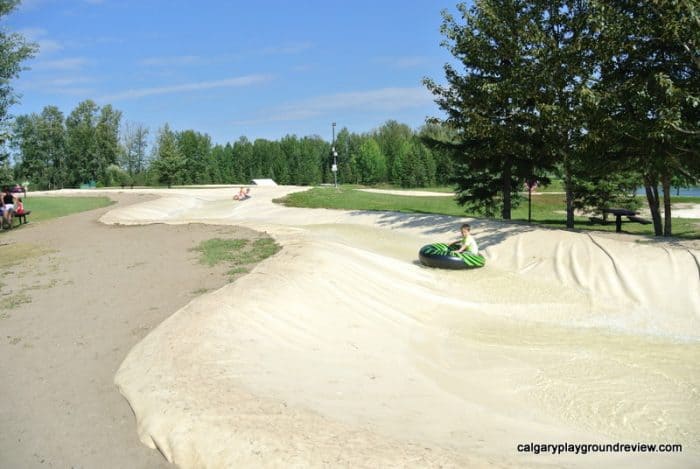 3. Echodale Regional Park – Medicine Hat
Located east on the Holsom Road Echodale Regional Park Website (3 hours SE of Calgary)
Located just a few minutes outside of Medicine Hat is a beautiful park that seems to come out of nowhere. It includes a historic farm, picnic areas, walking paths, a boat lake, where you can go fishing, and a swim lake.
The swim lake is free to access, open seasonally and has a sandy beach, concession, lifeguard and a ship themed playground.
Read more Things to do with kids in Medicine Hat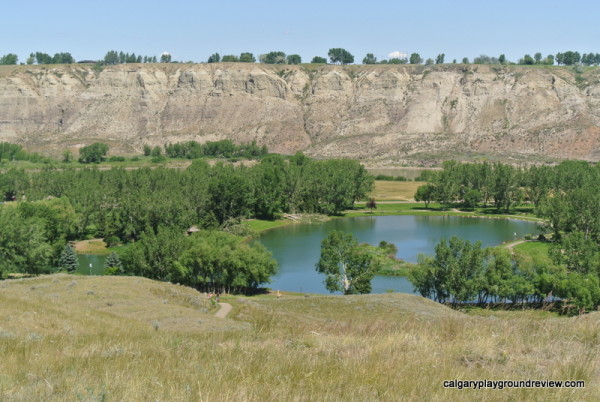 4. Milk River Beach – Writing on Stone Provincial Park
3.5 hours South of Calgary
At the East side of the campground you can access a natural sand beach along the Milk River. You can go swimming or go tubing along the beach, carry your tube back to the beginning and do it all over again. Day use is free in Alberta Provincial Parks.
Find out more about Writing on Stone Provincial Park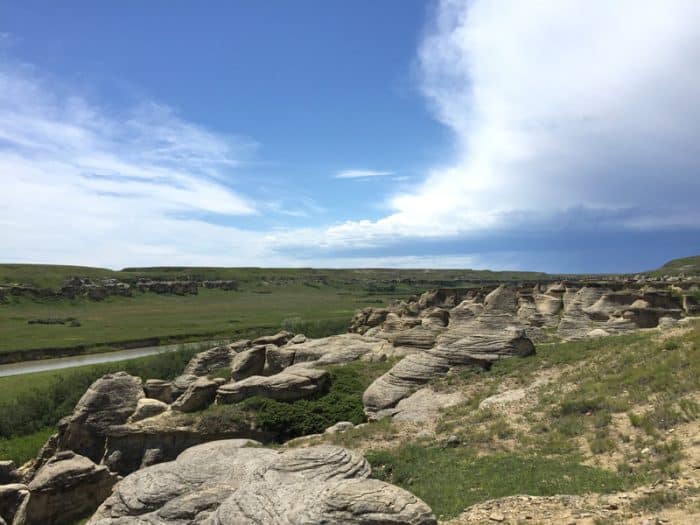 5. Red Rock Canyon – Waterton
2.5 hours South of Calgary There is a short 0.7 km loop that allows you to hike around the canyon. It's an easy path, even for small children. There are fences along the edge, so you don't have to worry about falls. Red Rock Canyon is an ideal hike for toddlers or kids. There is a entry fee to visit the park.
Read more about things to do with kids in Waterton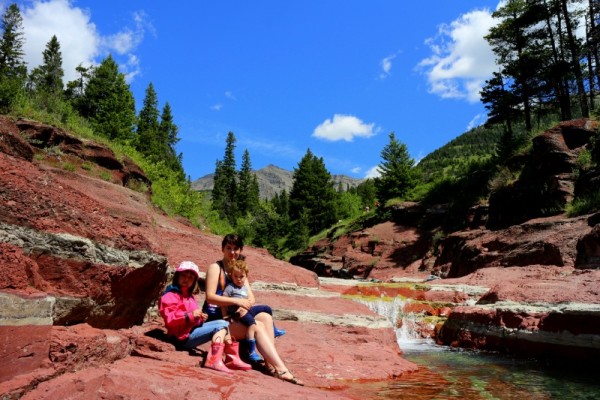 6. Heritage Park – Calgary
Address: 1900 Heritage Drive S.W.
Heritage Park is a living history museum. The historical village is open from Mid-May until early October.
You can take a ride on a steam train, go on old fashioned carnival rides, ride on a steamboat, take a horse drawn wagon ride, explore a prairie railway town and much more! Admission required.
Read more about Heritage Park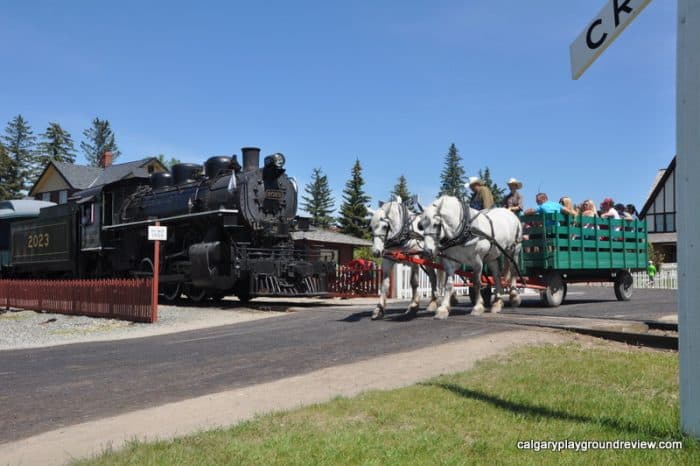 7. Millarville Farmer's Market – Millarville
45 minutes South West of Calgary
Saturdays from Mid-June to Early October your family can enjoy one of Alberta's biggest farmer's markets. You will find growers, farmers, makers, bakers, and artists.
They are an Alberta Approved Farmers' Market; which means they have a minimum of 80% "Make It, Bake It, Grow It in Alberta Market". Entry is $3 per car.
Read more about the Millarville Farmer's Market
8. Iron Horse Park – Airdire
820 Railway Gate SW, Airdrie (30 minutes North of Calgary)
Iron Horse Park in Airdrie offers rides on miniature (1/8 scale) trains, Sundays only from May long weekend until Thanksgiving.
The ride is a few minutes long and takes you through different kinds of terrain features. The ride is supposed to represent a ride from the Prairies to the West coast and only cost $3 a ride.
See more about Iron Horse Park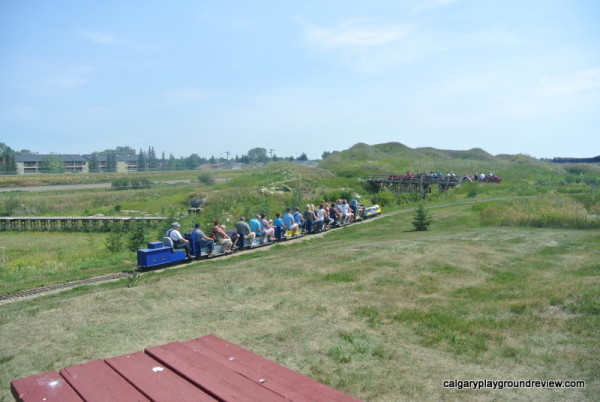 4407 – 47 Avenue, Camrose (75 minutes south of Edmonton)
Tour the Camrose Railway Station, outbuildings and 12 heritage gardens. Favorites for kids are the Morgan Garden Railway with G-Scale train and historic model buildings and the Children's Secret Garden with a large play train and dress up clothes. Admission by donation.
10. High Level Bridge Streetcar – Edmonton
Beginning on the North or South side of the river, you can ride a restored streetcar across the High Level Bridge – the highest streetcar river crossing in the world. At the Strathcona terminal you can also visit the museum on Saturdays between 1030am and 230pm.
The Streetcar and museum runs from Victoria Day to Labour Day. If you have a train fan in your family, this will be a sure fire hit. Tickets can be bought from the conductor.
Read more about the High Level Bridge Streetcar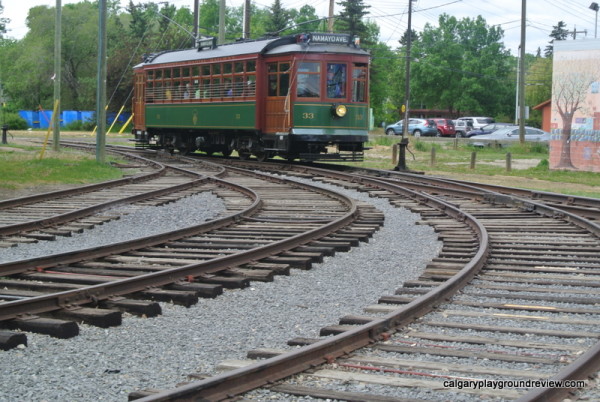 Near Gibbons (40 minutes north of Edmonton)
Set in an old growth forest, at Jurassic Forest, you can learn about dinosaurs while viewing animatronic dinosaurs on the dinosaur trails, uncover fossils on a dinosaur dig, ride a triceratops and play in the adventure play area.
12. Nikka Yuko Japanese Garden – Lethbridge
Mayor Magrath Dr S, Lethbridge (2 hours south of Calgary)
The garden was built as a symbol of international friendship with Japan, and has been visited twice by Japanese royalty. If you have time, take a tour of the garden, because there are so many cool things you will miss without a guide.
Nikka Yuko uses a "hide and reveal" design, which means every time you turn around, you see a new focal point that was previously hidden. Check the website, because you may get to see a tea ceremony or drum performance, or even get chopstick lessons! Admission rates apply.
Read more about Things to do with Kids in Lethbridge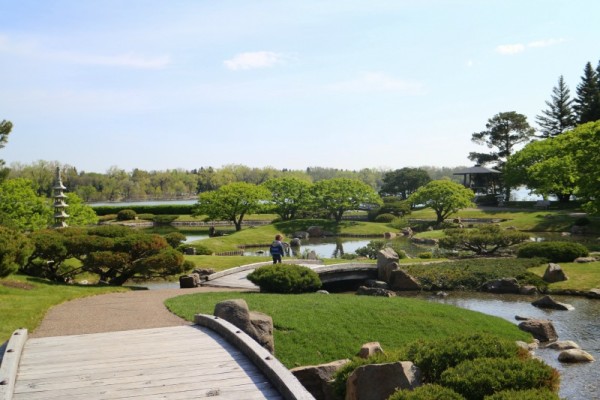 60 N 100 W, Raymond, AB (15 minutes south of Lethbridge)
Featuring a in pool spray park, toddler pool, zero depth pool entry, diving pool and water slides, your family can have fun all day at this outdoor aquatic centre.
The Aquatic Centre typically runs from Mid-May to early September. A family pass is only $25.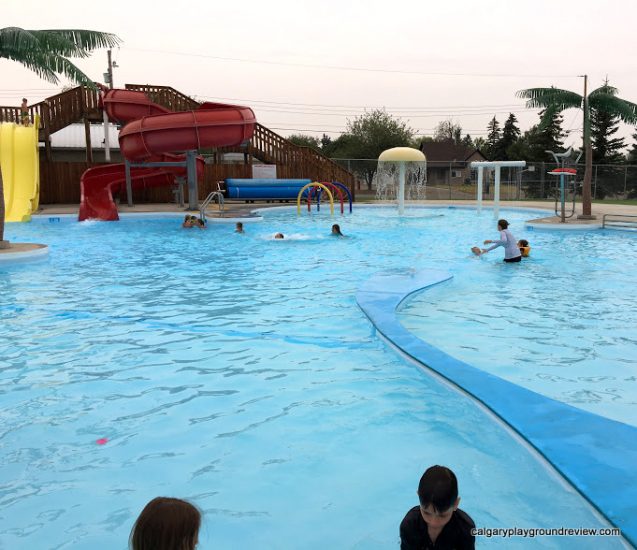 14. Fenland Trail – Banff
80 minutes East of Calgary – Fenland Trail parking area, off Mount Norquay Road
Fenland Trail is one of the lesser-known trails in Banff, but it's beautiful. The trail loops through an old growth spruce forest. It's also short (2 km), and an easy walk (no elevation gain).
If you're looking for a less-crowded option that's good for kids, this trail is your best bet. There are also picnic tables at the trailhead, so if it's nice out (ie not winter), you can pack a lunch. There is a entry fee to visit the park.
See more of Banff's hidden gems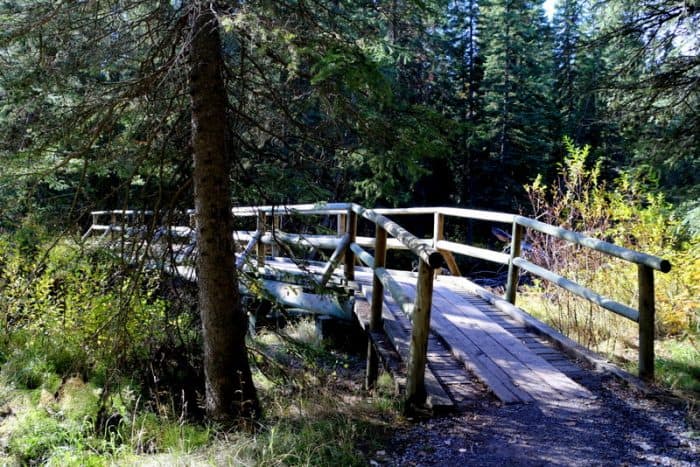 15. Chestermere Family Bike Park
333 West Creek Drive, Chestermere, AB. (25 minutes East of Calgary)
Designed to appeal to all ages and abilities, the Chestermere Family Bike Park is a great destination for practicing bike skills. There is a large pump track with large rolling dirt hills perfect for even beginner riders as well as a skills loop for developing skills for the flow trails.
The flow trails are one-way downhill trails that have hills, jumps and drops. They trails have different difficulty levels from beginner to expert. Free to access.
16. Blue Grass Sod Farm Central Spray and Play – Red Deer
Northwest corner of Rotary Recreation Park (47A Avenue and 48 Street), Red Deer, AB
Red Deer's newest spray park is large and attractive. There is tons of room for many many kids to run around There is also lots of places to set up a blanket in the shade or in the sun and picnic tables too.
The train tunnel and big rocks are especially cute touches.
Typically runs from the beginning of June until the September long weekend.
See more about water play in the Red Deer area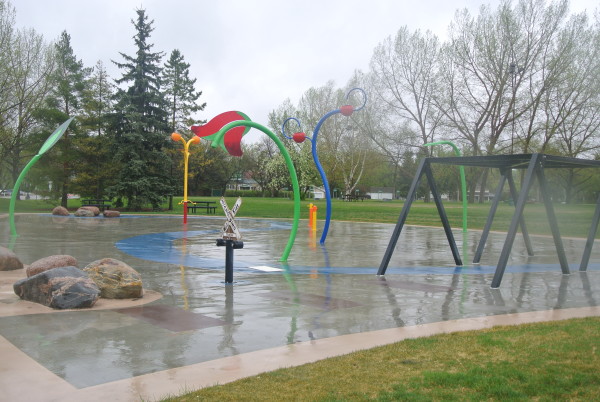 17. Devonshire Beach – Lesser Slave Lake Provincial Park
3 hours North of Edmonton at Lesser Slave Lake
Devonshire Beach boasts a natural beach that is great for kids with a sandy bottom and long shallow area. There are also trails near the beach if you feel like exploring.
See more about Devonshire Beach – Slave Lake
River Bend Recreation Area – Located along the river 3.5 km north of 30 Avenue from 67 Street
In the summer months, Discovery Canyon has a inner tube run that kids can ride down. The water is never very deep.
Water is pumped up from the lake below and you can ride along until you get to the pool at the bottom of the canyon. At the bottom is a lovely beachy area with sand, rocks and shallow water.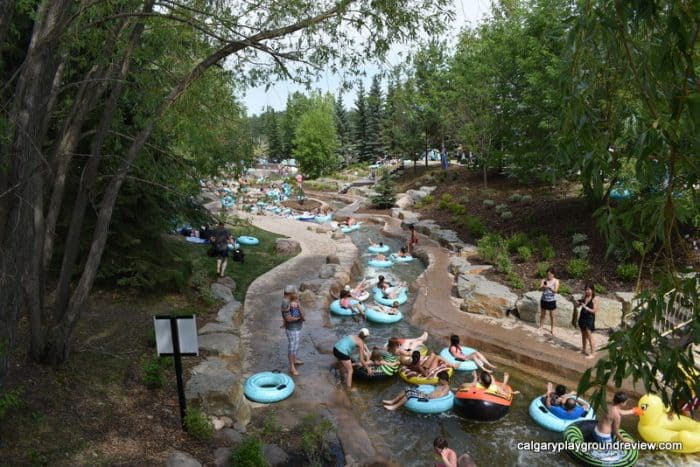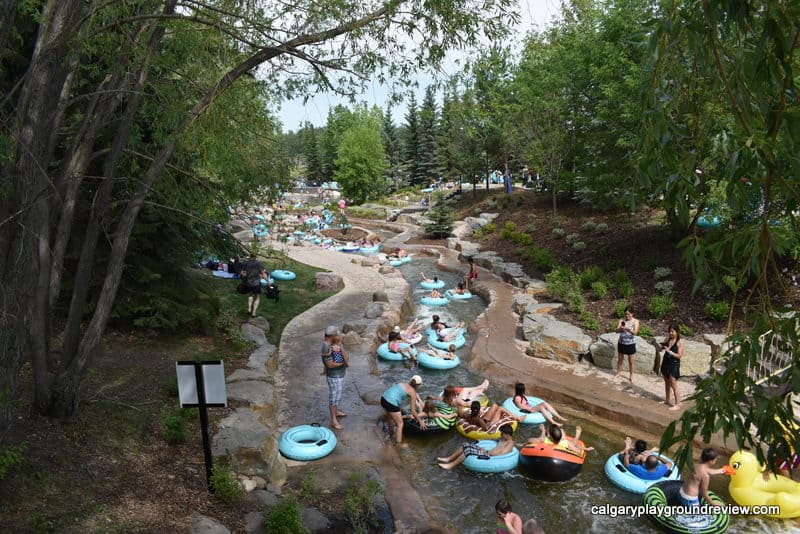 19. Calaway Park – Calgary
245033 Range Road 33, Calgary, Alberta
Calaway Park is Western Canada's largest outdoor family amusement park. It offers rides for big kids and little kids as well as entertainment and games. Admission rates apply.
See more about visiting Calaway Park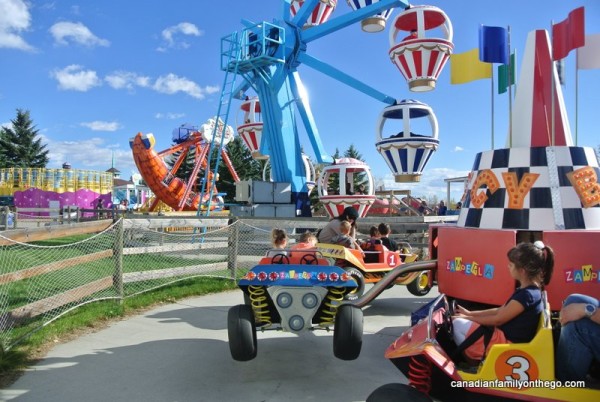 7000 143 Street, Edmonton, AB
Edmonton's living history museum is open from the May long weekend until Labour Day. You can explore four different historical periods, ride a steam train, ride a streetacar, play midway games and period amusement park rides and more!
You can even stay at the 1920s style Hotel Selkirk. Admission rates apply.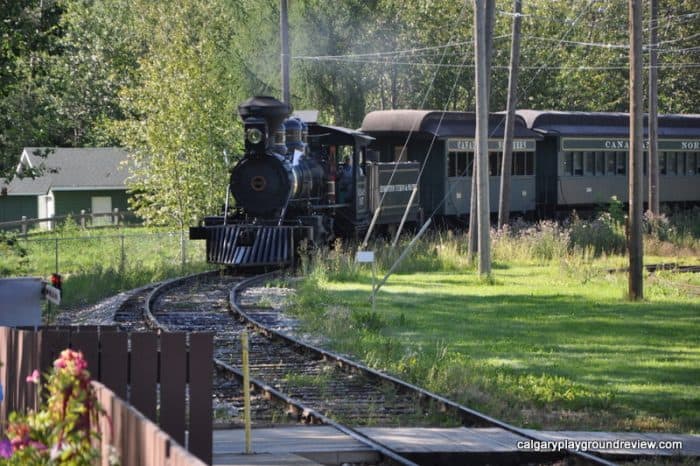 21. Columbia Ice Fields – Jasper National Park
Columbia Icefields Discovery Centre – along Icefields Parkway (5 hours SW of Edmonton, 4 hours NW of Calgary)
Take a ride on a big ice crawler to get right up onto the Athabasca Glacier. You can then walk along the Glacier before heading back. Athabasca is the most visited glacier in the world as it is one of the most accessible.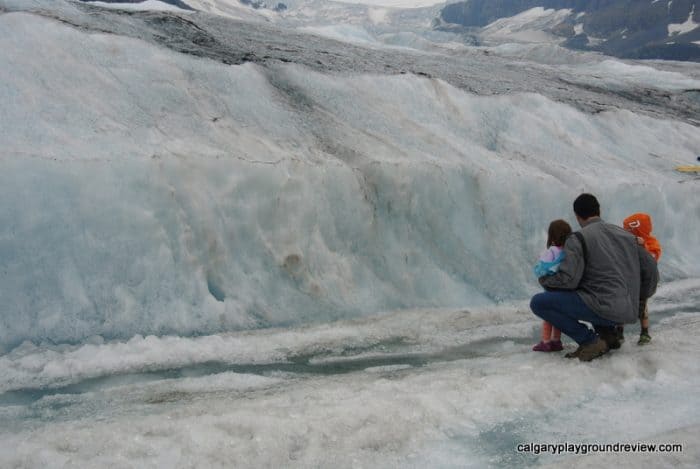 22. Lake Newell Beach – Kinbrook Island Provincial Park
Just two hours East of Calgary , you'll find Kinbrook Island Provincial Park. The beach is beautiful, warm, sandy and well kept.
They also have large campsires that are just a quick walk to the beach but they fill up quickly so book in advance. Alberta Provincial Parks are free to access.
See more about Kinbrook Island Provincial Park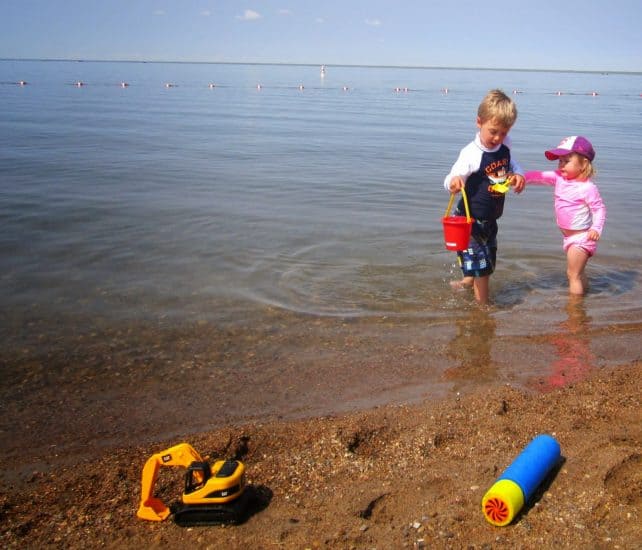 605 50 St, Edson, AB
Two hours East of Edmonton, this spray park is really different. Kinsmen Spray Park offers more than just water play, it provides opportunities for imaginative play with a train, giant flower, water tower, a jeep and more! Free to access.
Follow in the footsteps of Indigenous Peoples, fur traders, and legendary explorer David Thompson. Experience the archaeological remains of four fur trade posts and seven kilometers of nature trails.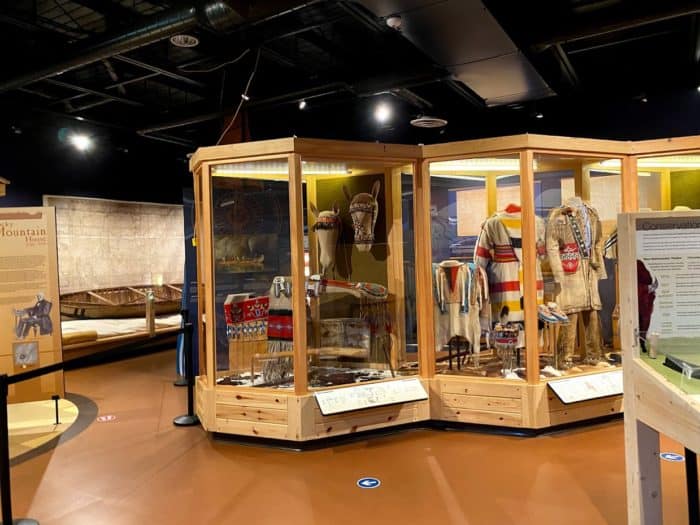 (90 minutes from Calgary and Edmonton)
The beach here is wide and really shallow for a long time. A great place for a young family to play in the water and the sand.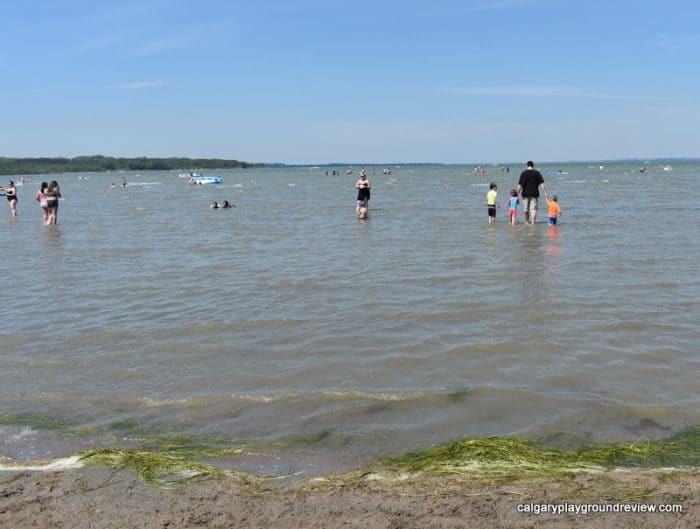 26. Take your bikes to one of Alberta's pump tracks or bike parks
If your kids love riding their bikes they will love challenging themselves on pump tracks and bike tracks. Find out more about your options over at Family Adventures in the Canadian Rockies.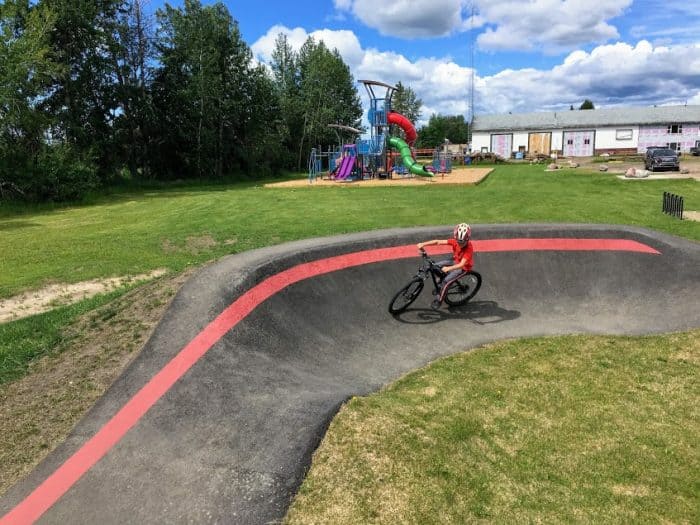 27. Go swimming at Henderson Outdoor Pool – Lethbridge
One of the best outdoor pools in the province is located in Lethbridge. You can enjoy two big waterslides, a spray park and a fun leisure pool.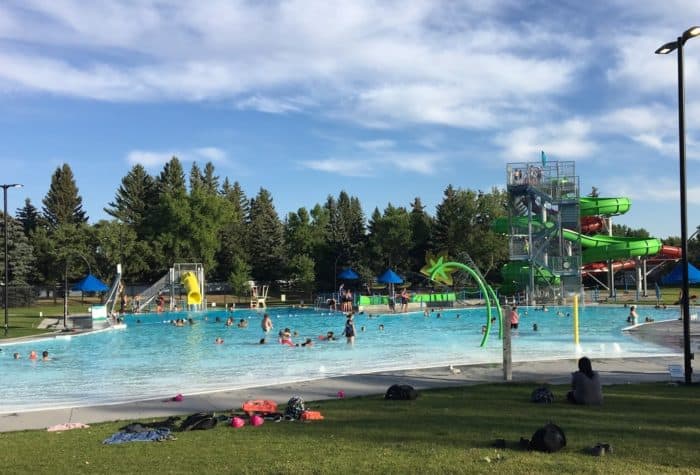 28. Play in the water at one of Jasper's beaches
Beaches and lakes may not immediately come to mind when you think of Jasper, but it is actually a great spot for playing at the Lake. Jasper Lake just North of Jasper is a a wide and shallow lake (some people even walk all the way across it) along the Athabasca river. It is right off the highway so it makes and easy stop.
Other great options include Pyramid Lake, Edith Lake and Lake Annette. Pyramid Lake has a main beach and 3 smaller beaches as well as a place you can rent boats from the Pyramid Lake resort. Lake Edith is at its best for family water play at the end of the summer when the water level is lower. It is located right nearby Lake Annette which has picnic areas and a playground.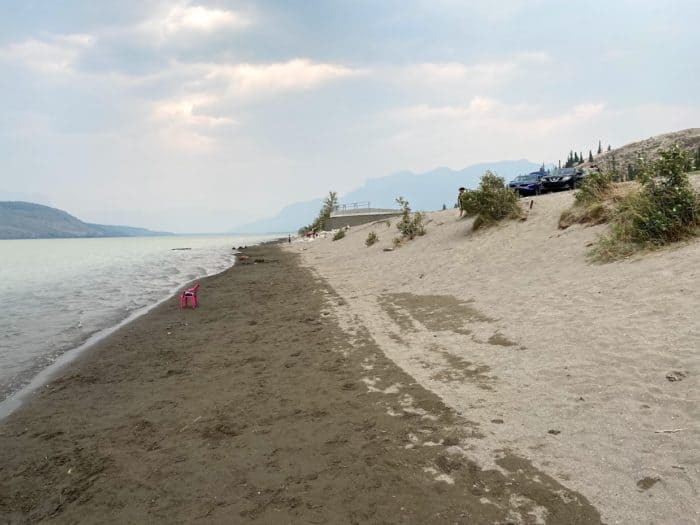 29. Walk the Labyrinth in Grande Cache
If you are driving through Grande Cache, Labyrinth Park by Lions Park playground makes a great stop. When you get to the centre of the labyrinth, there is a natural echo when you face north-east.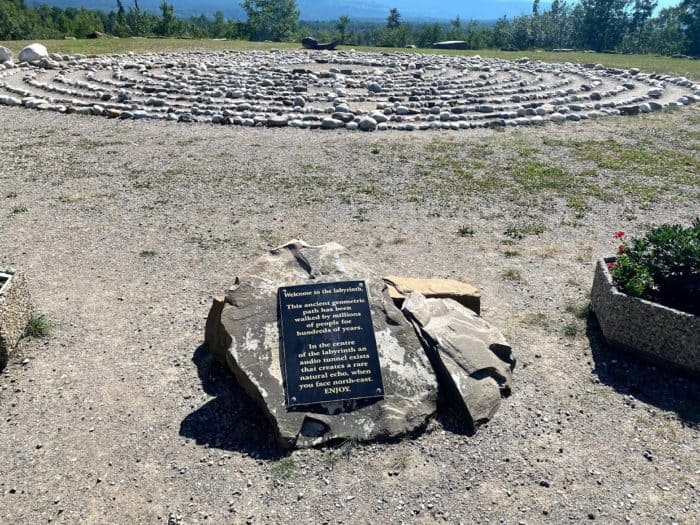 30. Androssan Spray Park
20 minutes East of Edmonton
Androssan Regional Park has a cute agricultural themed spray park that uses recirculating water. There is also an fun playground with accessible flooring. Be sure to look for the 10 hidden mosquitoes hiding in the park. You can also find the rec centre, walking trails and an off leash park right nearby.
Please Note: 
We do our best to ensure the information on Calgary Playground Review is accurate, however information and events are subject to change. Please contact the organizations directly to avoid disappointment.
Can you help make this article better?
If you have noticed an error, have additional information or would like to share a comment you can:
E-mail us at calgaryplaygroundreview@gmail.com
Find us on Facebook: CalgaryPlaygroundReview
Find us on Instagram: YYCdana
Tweet us: YYCdana
We are not affiliated with any venues, attractions or organizations. Please message them directly if you have questions or concerns.