Waterton National Park is less than three hours away from Calgary, and it's AMAZING. I'll be honest – a small part of me thought, "What is there to do when my kids get bored of Nature?" I had no idea what do with kids in Waterton. You will NOT get bored. Here are my favourite parts of Waterton!
What to Do with Kids in Waterton
Accomodations & Food
We stayed at the Waterton Lakes Lodge Resort, and it is perfect for families with children. Many of the rooms have kitchenettes, which really helps keep the cost of food down (although groceries are expensive in Waterton, so bring basics with you). The Waterton Lakes Lodge Resort also has pet-friendly rooms!  
The rooms of the resort are spread throughout several buildings along one of the main streets in town, and their location is ideal. They are directly across from many of our favourite places to eat, such as Wieners of Waterton and Waffleton. 
Our room was right on top of a fantastic Mexican restaurant called the Taco Bar, but none of the noise or smells penetrated the room. When I'm travelling with kids, I appreciate good sound-proofing.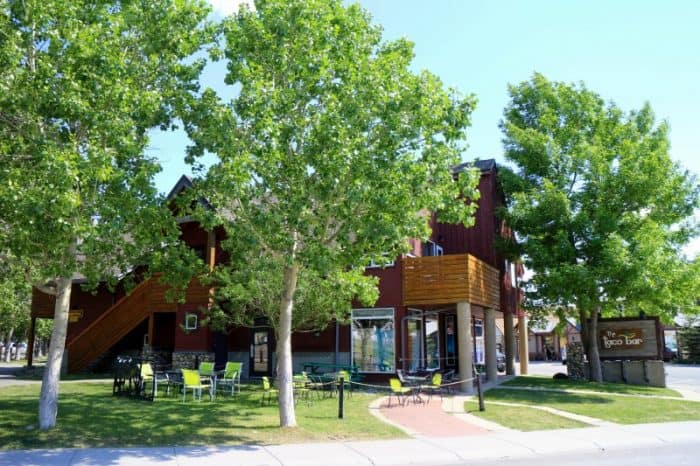 Our room was also DIRECTLY across the street from the playground & spray park. This was a HUGE benefit, as we didn't have to worry about packing snacks, a change of clothes, etc. We just sauntered across the street! This was the view from our balcony: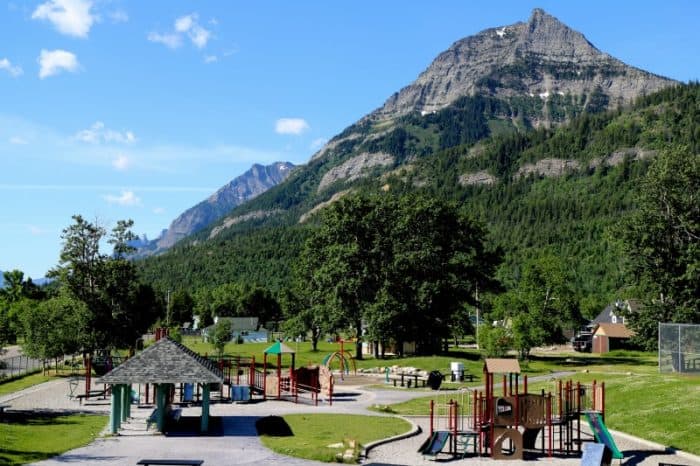 The hotel room itself was amazing. We were travelling with two kids, two parents, and a grandma. We had a three-bedroom suite, and it came with a kitchenette and living room, as well as two bathrooms. Everything was very clean, and felt really new. I will definitely stay there again when we return to Waterton!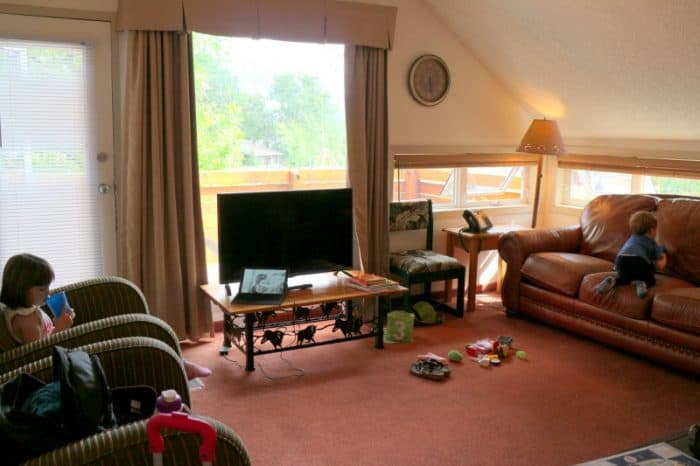 Playground & Spray Park
After a long drive or a long hike, the playground is a great place to unwind with kids. There are plenty of picnic tables and benches where you can rest while the kids play – even some that are shaded! There are washrooms on site as well.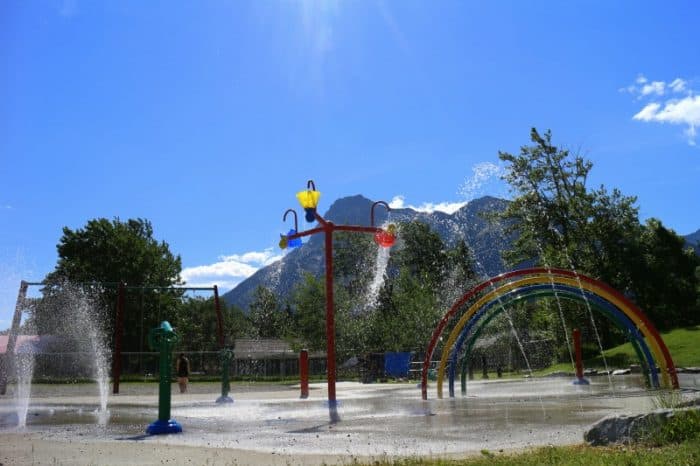 You can read my full review (and see tons of pictures) of the Waterton playground and spray park here.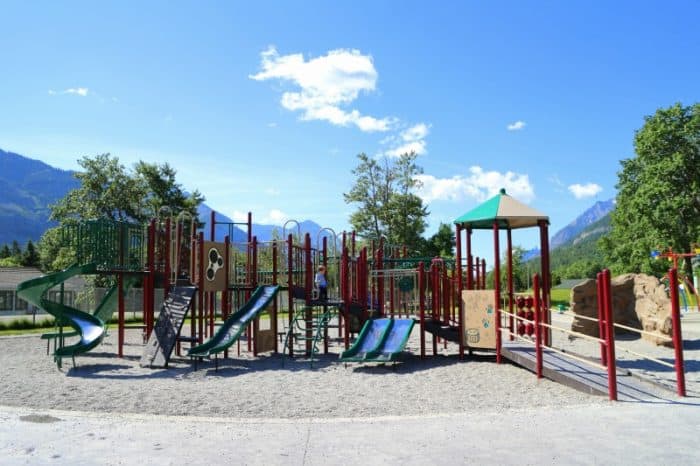 Red Rock Canyon
Red Rock Canyon was my kids' favourite place in Waterton. There is a short 0.7 km loop that allows you to hike around the canyon. It's an easy path, even for small children – my daughter is 4, and she had no problem. There are fences along the edge, so you don't have to worry about falls. Red Rock Canyon is an ideal hike for toddlers or kids.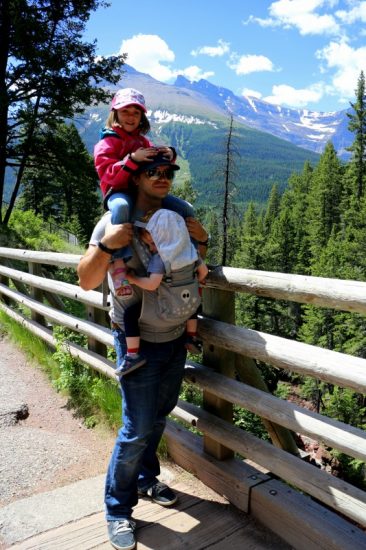 The best part of Red Rock Canyon is that you can actually climb down into it! The steps are fairly steep – the kids' grandma didn't think she could make it. My husband carried the kids down the few steps with no problem.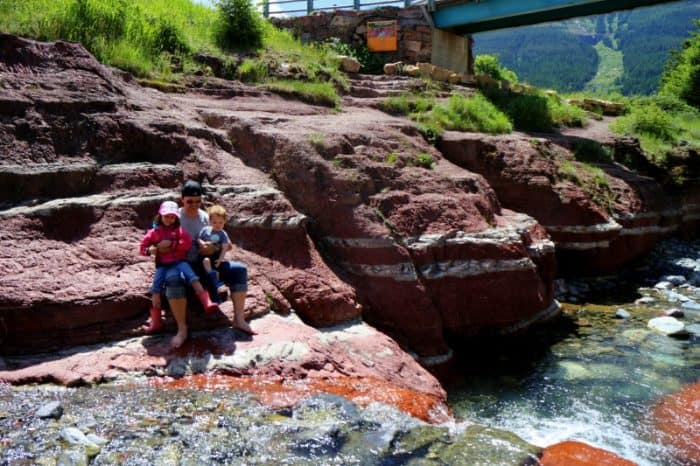 The water at the bottom of the canyon is very shallow, and icy-cold. Bring rain boots or shoes that can get wet, and you can walk a little in either direction. Being on the floor of the canyon with its small waterfalls, surrounded by the mountains, is incredible.
Like most of Waterton, the scenery is breath-taking. My kids loved splashing around in the water and watching the waterfalls.
We were on the floor of the canyon for about half an hour, but we could have stayed much longer. During our next trip, I'll budget at least a couple of hours for Red Rock. Bring your camera, because this is a beautiful place to snap some family photos!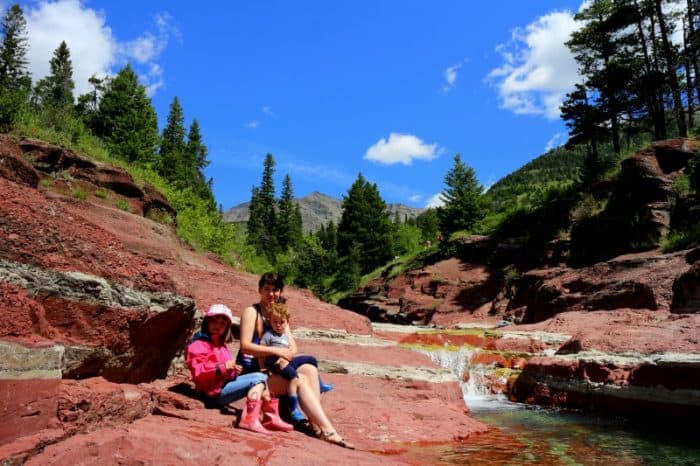 Crandell Lake
You can reach Crandell Lake from the Crandell Lake Campground, which is an easy 4 km hike (return). We accidentally accessed it from a trailhead on the Akamina Parkway, which was about 4.5 km return.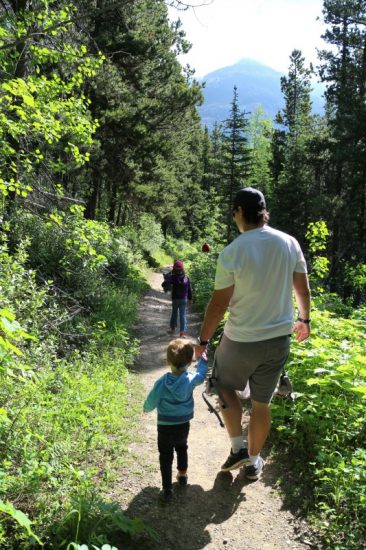 I do not recommend the hike from Akamina for kids. It felt like we climbed up one side of the mountain and down the other. Many parts of the path were very steep, and large sections of it were covered in large, loose rocks.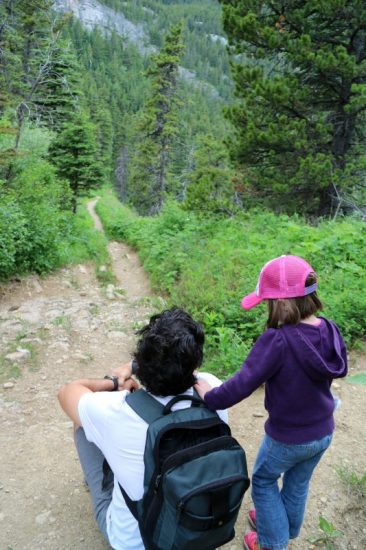 We were all exhausted by the time we got to the lake, and we still had to make our way back to the car. I didn't bring water because I thought we were on a short, easy walk. ALWAYS bring water on your hikes, even if you think they will be short and easy!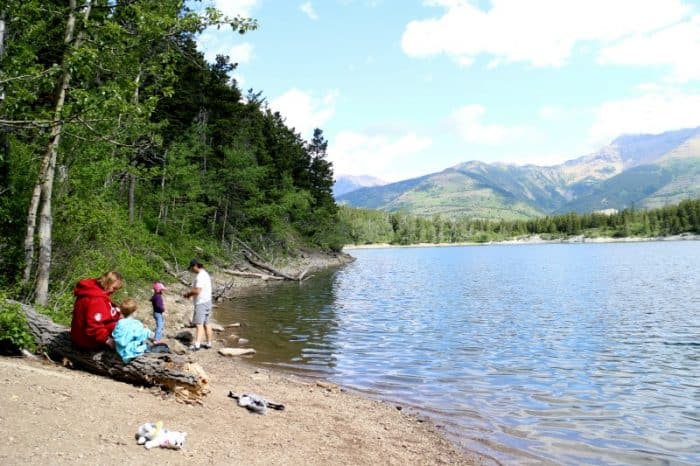 Once you reach Crandell Lake (hopefully not by the same route we did), the scenery is jaw-droppingly gorgeous. The lake is surrounded by mountains and forest, and the water is crystal-clear. We ended upon a small rock beach with a few fallen trees to sit on. It was a peaceful and beautiful place to rest.
There's also a really pretty hike around the Waterton townsite. We all loved the chilly beauty of Upper Waterton Lake, and my kids got a kick out of combing the rocky beach (although you are not allowed to remove rocks or plants from Waterton). The lake is within walking distance of any part of town.
Prince of Wales Hotel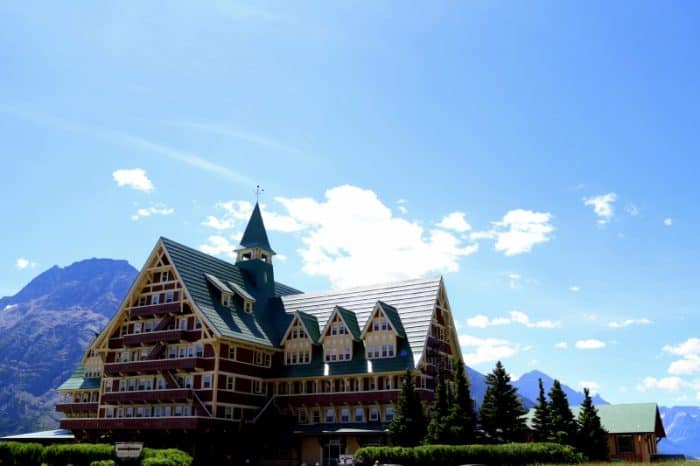 We paid a quick visit to the iconic Prince of Wales Hotel. It's beautiful inside, and no-one gave me the side-eye for wandering around and taking pictures in the lobby even though I obviously wasn't staying there.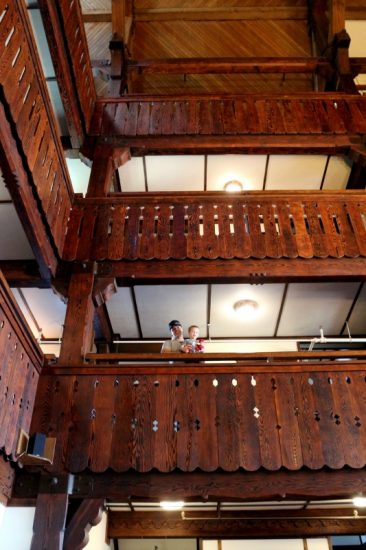 We let the kids run up to the first floor of the hotel to peek down from the landing, and they had fun exploring the spacious lobby.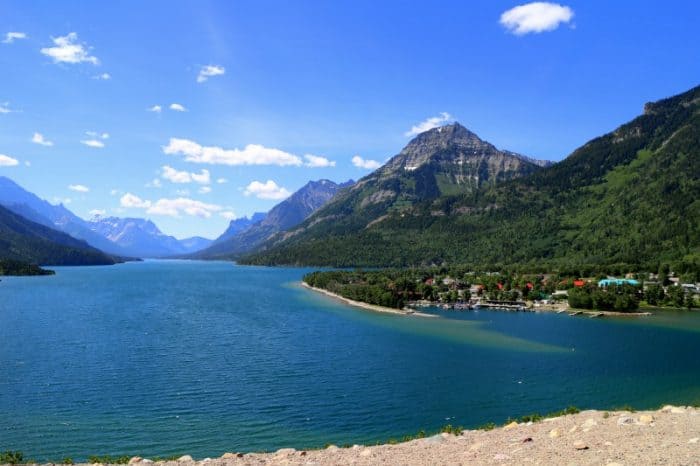 The best part, though, is the view of the lake you get behind the hotel. My kids found this part pretty dull, but I could have sat and stared at the view for hours.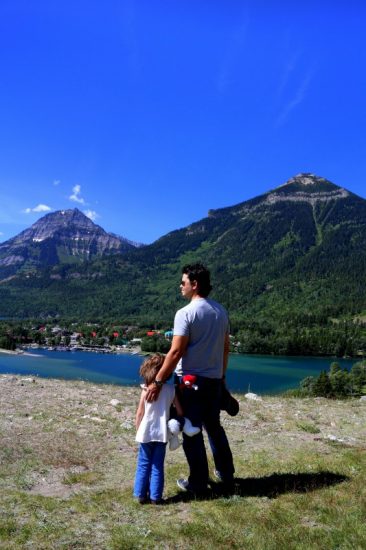 Bison Paddock
The Bison Paddock is located just inside the Park boundary, so it's best to stop there on your way into or out of Waterton. The paddock is a large fenced-off area where bison roam in their natural habitat.
Do not get out of your car – there is a road that will take you all the way around the paddock, in about a 10 minute drive. We didn't get a great view of the bison (they were sleeping), but entry was free!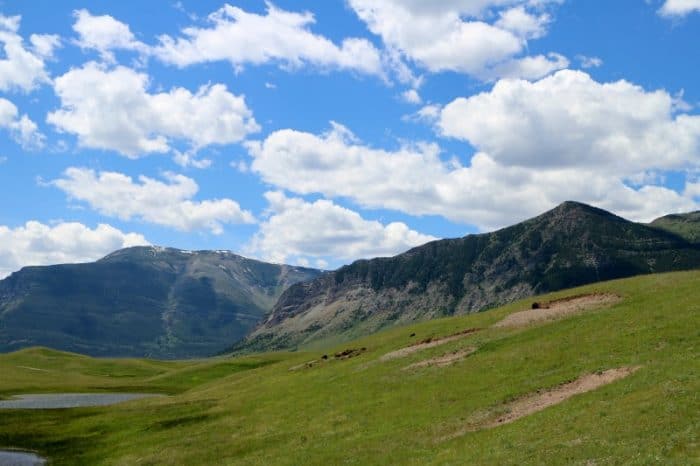 Horse & Carriage Rides in Waterton
My kids saw a horse and carriage go by our hotel room a couple of times, and they desperately wanted to ride on it. I Googled for ages, but couldn't find any information about it. We ended up finding Clint and his gorgeous Draft horses on a walk through the townsite, and discovered that he had just started operating that day!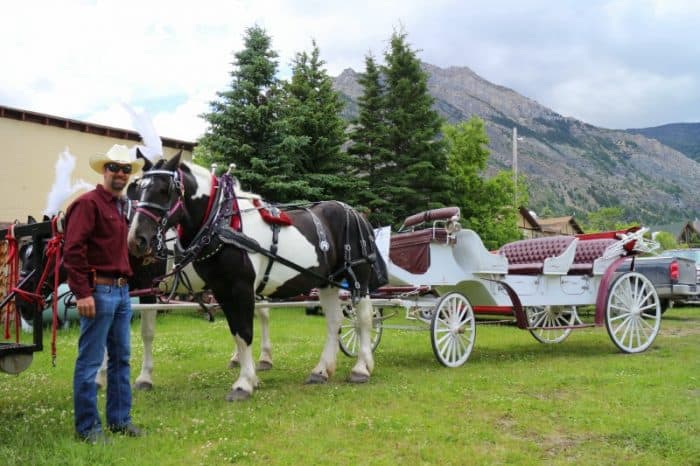 You can purchase tickets for the Glass Slipper Carriage Rides at Zum's Gift Shop ($15 for adults, $10 for kids under 10, infants free). The ride around the townsite lasts about 20 minutes, and your kids will love every moment of it. Clint greets people on the street as you pass, and kids stop in their tracks to wave as the carriage goes by.
This ride was worth every penny, and will be a sure-fire hit with any child.
Shopping in Waterton
The town of Waterton is full of lovely gift shops. We went on a small shopping spree with Grandma, and visited most of them. My favourite shop in Waterton was Junction (look for the big sign that says Pearl's Café and grab a cup of coffee while you're there).
Junction is run by Julia, a former art student, and she is incredible. Her store and merchandising are so pretty, and her products are fantastic.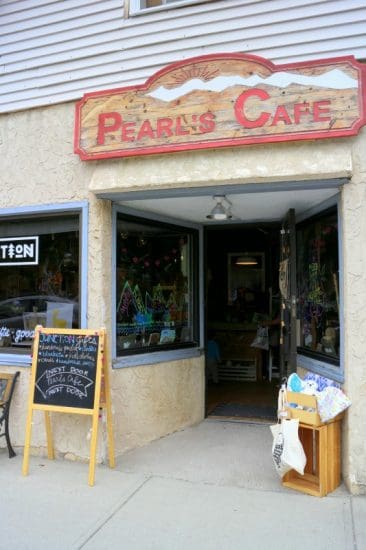 What sets Junction apart is the fact that most of their products are handmade. This means you can leave Waterton with a beautiful, high-quality souvenir and support indie artists at the same time!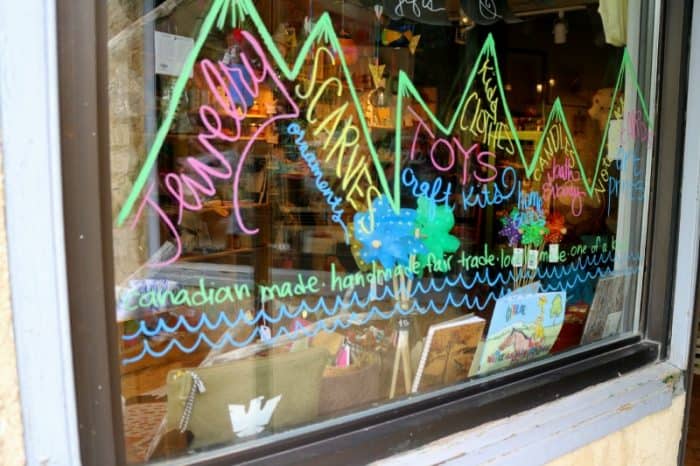 Julia has a nature theme going in the store. We ended up buying a set of vintage bird mugs, a glass necklace that looks like an origami canoe, bags that contain "herds" of horses for the kids, and a little felted bison head mounted on a plaque.
Junction also has wood-block-printed pillows, hand-painted dolls, and tons of beautiful jewelry. The prices are very reasonable. I'm still thinking about the things I didn't buy!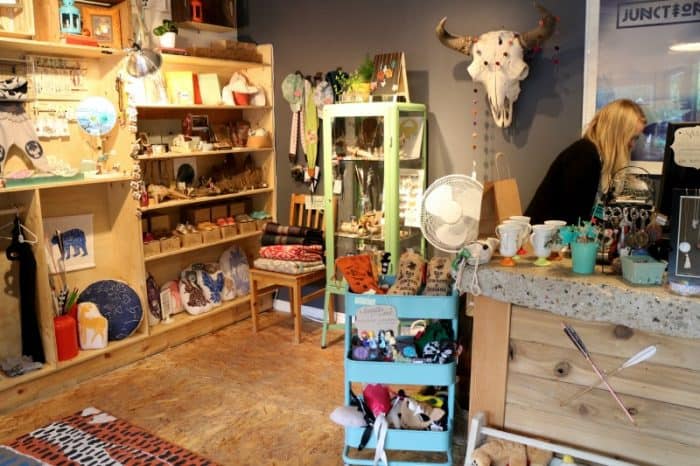 We were in Waterton for two and a half days, and it wasn't nearly long enough. We could have spent a week there without running out of things to do with the kids. Never leave home without your camera, because the place is FULL of scenery.  
Thank you to Waterton Lakes Lodge Resort for providing accommodation during our stay – we hope to return soon!   Katie is a freelance writer based in Calgary. You can find her at Best Birthdays and Brass Knuckle Book Reviews.
Please Note: 
We do our best to ensure the information on Calgary Playground Review is accurate, however information and events are subject to change. Please contact the organizations directly to avoid disappointment.
Can you help make this article better?
If you have noticed an error, have additional information or would like to share a comment you can:
E-mail us at calgaryplaygroundreview@gmail.com
Find us on Facebook: CalgaryPlaygroundReview
Find us on Instagram: YYCdana
Tweet us: YYCdana
We are not affiliated with any venues, attractions or organizations. Please message them directly if you have questions or concerns.