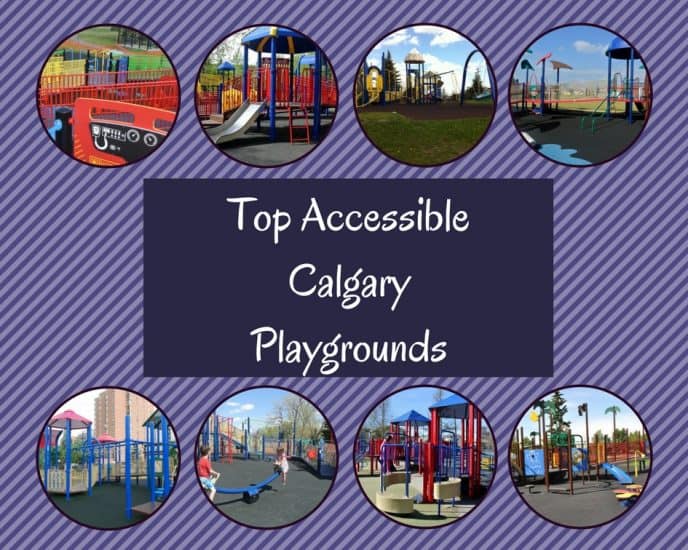 These playgrounds have more than just accessible flooring, they are great places for kids with special needs to play.
Currently the city's best inclusive playground. There is accessible flooring throughout the playground and space to move around. The ramps are extensive and double-wide. There are ground level musical features, lots of options for swinging, spinning and bouncing (including accessible swings) and a roller slide. This playground is fantastic for kids of all abilities providing great inclusive play in a lovely park setting.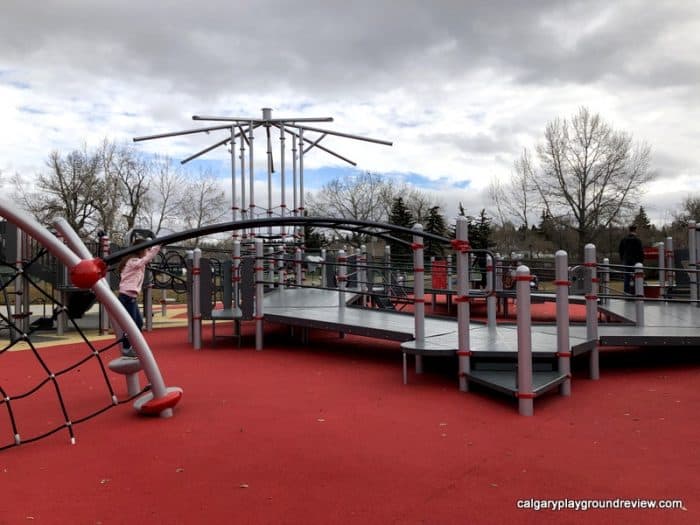 One of the best accessible playgrounds in Calgary and one of the best playgrounds in the city period. It features an extensive ramp system and an accessible swing. The apollo and saucer swings are great for anyone who is able to transfer. With interesting activity panels, musical panels, sunshades and excellent ground floor accessibility, all children will be able to get into the play.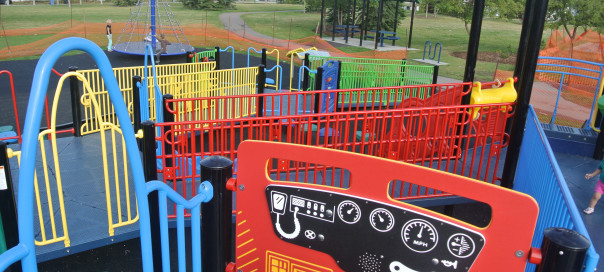 52nd St SE between 8th Avenue and 14th Avenue
This playground has an extensive ramp system complete with interesting panels, some shade and spots where wheelchairs can turn around. The playground design allows for kids in wheelchairs or who are unsteady on their feet to get in amongst the play across the entire playground. There is also a saucer swing which is great for kids who can transfer.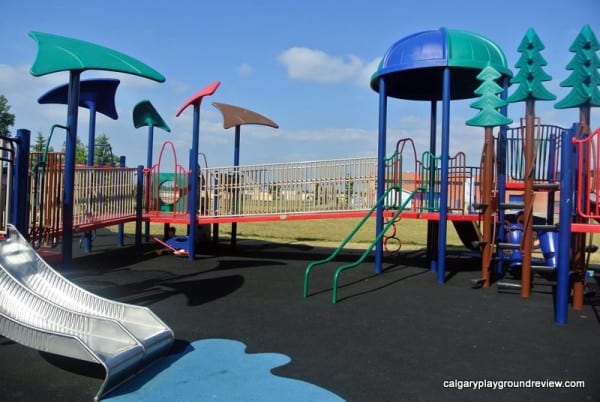 This playground is designed for kids 5 and under. It features multi-level ramps, activity and musical panels, a ground floor playhouse set up for imaginative play, and an accessible swing.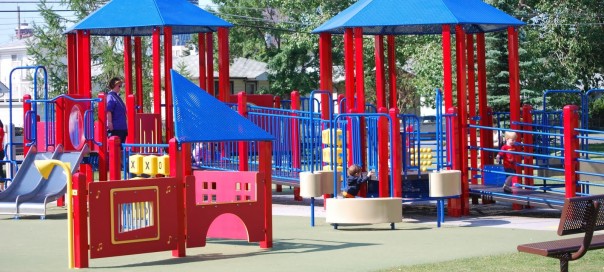 Bowness Park – 8900 48 Ave. N.W
Located in one of Calgary's most popular parks, this playground has a preschool climber with a multi level ramp and sunshade as well as great manuverability for a wheelchair around the play space. The rest of the playground can be accessed with steps allowing excellent access for kids who are ambulatory but have reduced motor control or strength. The playground also has a saucer swing and Apollo spinner which are great for kids who are able to transfer.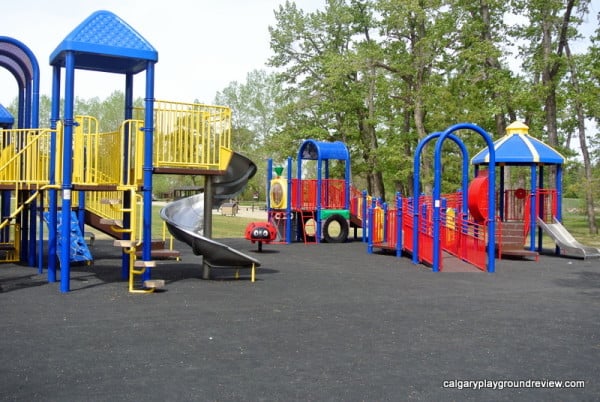 This playground has a great ramp system and a saucer swing. It also has two 1-person spinners and a bouncer for kids who benefit from vestibular stimulation.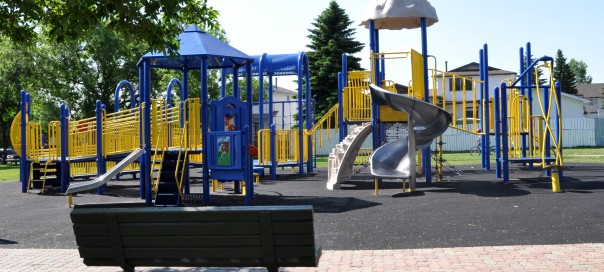 This playground strives for both accessibility and inclusiveness using Playcore's 7 Principles for inclusive design. To support this goal, the playground includes things like: accessible flooring, a ramp system, an accessible double swing and spinner, tactile and musical features, a saucer swing, a sway fun rocker and a roller slide.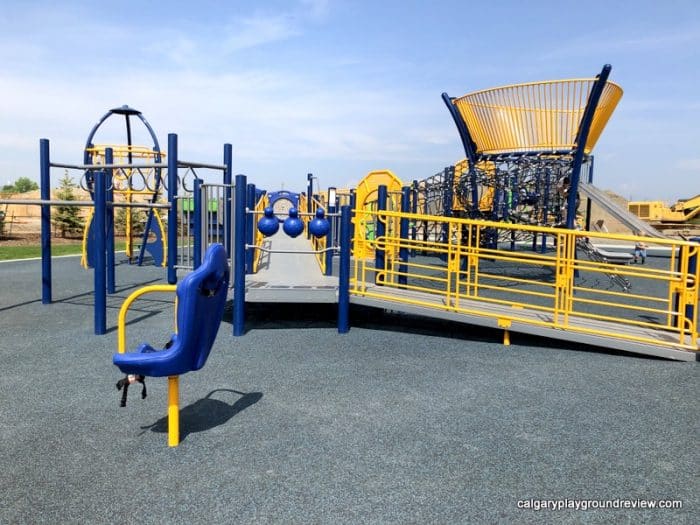 Designed primarily for kids 5 and under, this playground has a cute jungle theme, a great ramp system that connects almost all of the climber. They also have great activity panels, musical panels and a number of different options for kids who like to bounce, swing or spin.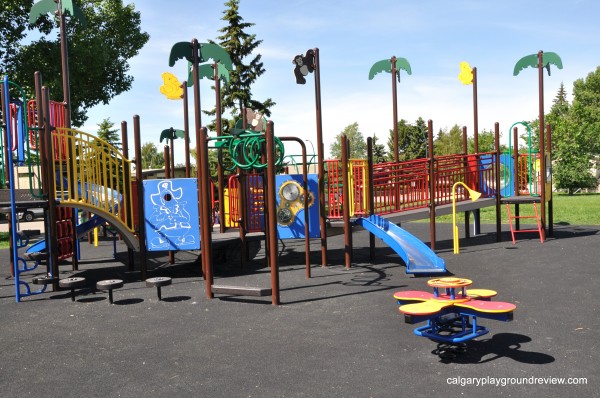 800 12 St. N.W (South of SAIT)
The ramp is only one level high at this playground, however the ground floor, sheltered pretend play area with engaging panels makes up it. Additionally, there are ground level musical features, and both a saucer swing and accessible swing which are good for kids who can transfer. The upper levels of the climber can be accessed with steps making them accessible to kids who are ambulatory.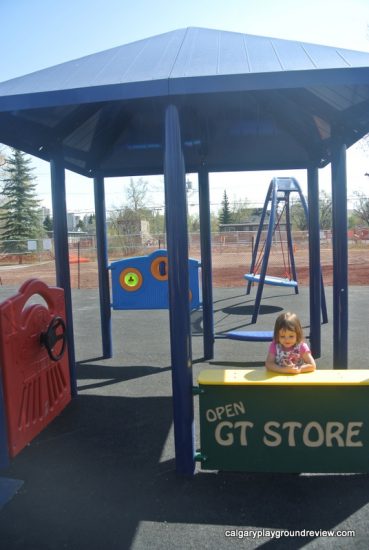 240 Cardiff Dr. NW. (just east of Northmount Dr.)
The main climber at this playground is accessible only via steps, however there are lots of other features that make this playground great. The Aeroglider is designed to be used by someone in a wheelchair so they can enjoy a rocking motion, and the bus has a ramp from the ground level. There are multiple options for vestibular stimulation including an Apollo and three saucer swings were are great for kids who can transfer. There are some engaging ground level panels as well.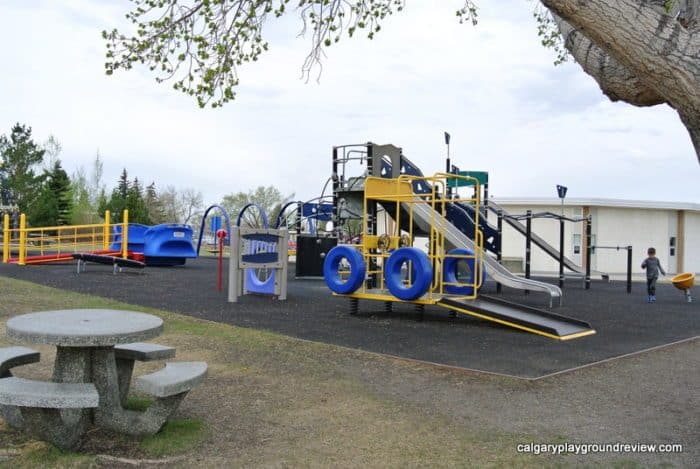 225 13 Ave. S.W. (also known at 13 Ave Park)
The school-aged climber has ramps that go up 3 levels with panels, a canopy and room to turn around at each level. There is also a musical panel on the ground level. The preschool climber would have room for a wheelchair to move around at the ground level and steps to get up to the 2nd level. There is a saucer swing and a small merry-go-round spinner that could be used by people who were able to be transferred. There are a number of things that spin or swing for kids who benefit from vestibular motion.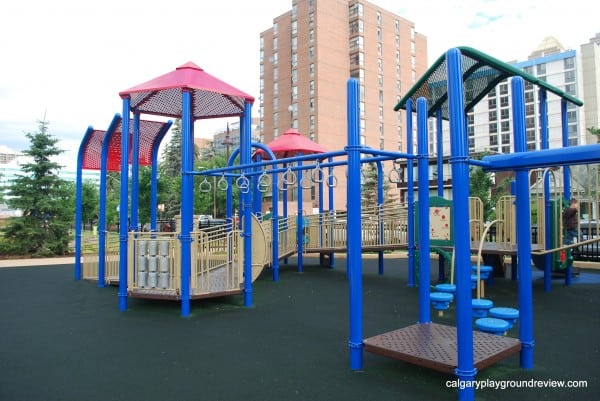 55 Midpark Rise SE
Midnapore School has accessible flooring throughout and a decent ramp system with interactive panels including musical features. There are also some ground level activities for pretend play. There are a couple of things that spin for kids who enjoy vestibular stimulation.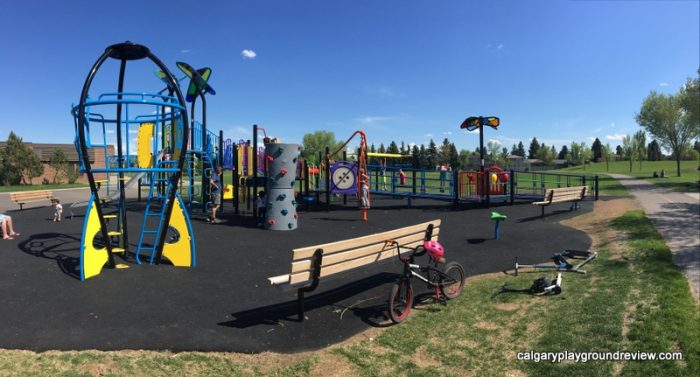 Brentwood – 3023 Blakiston Dr NW
This playground has ground level musical features and accessible flooring throughout. Kids who can transfer may enjoy the accessible swing, a web-like saucer swing and a large web spinner (apollo). There is also accessible flooring throughout the play areas.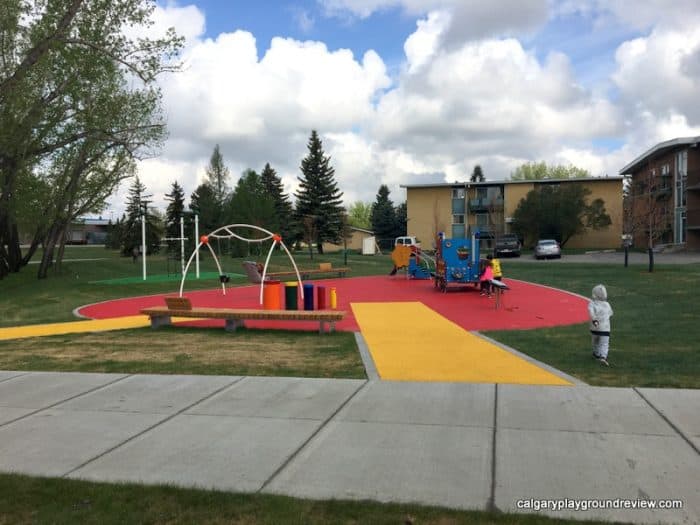 Evergreen Estates – 1601 Evergreen Dr SW
The playground doesn't actually have accessible flooring but a real effort has been made to ensure that it is still inclusive. It features a great ramp system with a gazebo and activity panels, sway fun glider, and a saucer swing for kids that can transfer.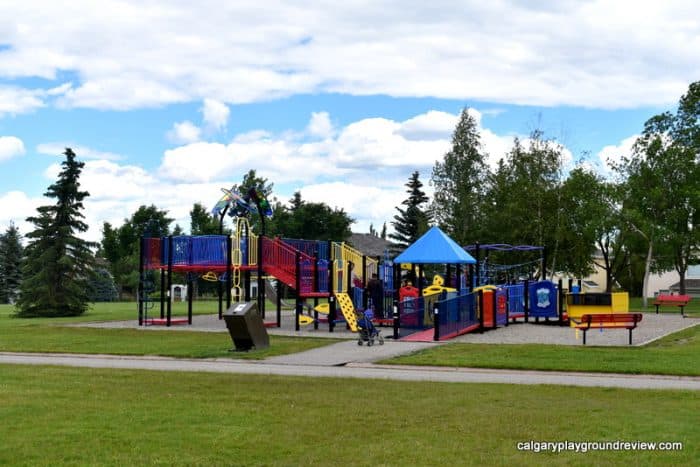 Honorable Mentions
This park is great, but there is no free parking and the pay parking is really expensive which kept it off of the list. The access by bus is pretty good though, and it's a great stop if you happen to by at the Children's hospital anyway. The playground features a ramp with two low levels, activity panels, a steering wheel, chimes and periscope. It also has an accessible swing. Right near the playground there is wheelchair access up to the large Gazebo and paths throughout the park area.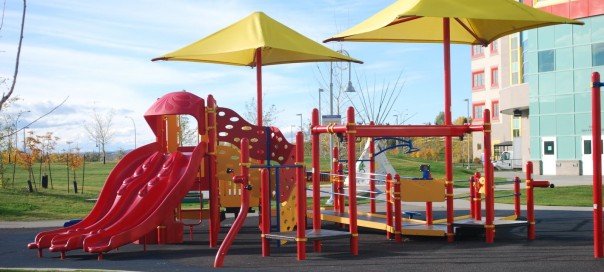 This playground is specifically designed for people with special needs. Unfortunately, it's location makes it pretty isolated and so it lacks a community presence. It has some great features including a roller slide, two low ramps, a gazebo with activity panels on the ground floor and an accessible swing. There are also some family picnic areas next to the playground.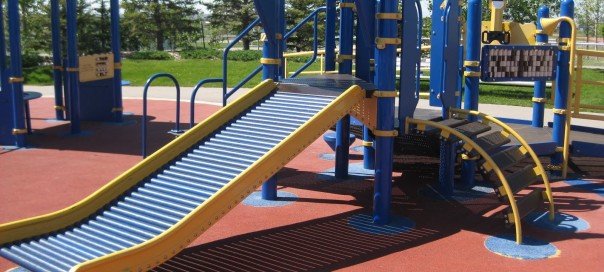 This is a great playground, however there is a fairly long pathway to get to the playground from Springborough Blvd and a narrow path that connects the playground to the bike path. The large climber has ramps that allow access up three levels and has room for a wheelchair to turn around at each junction. There are a number of panels at ground level and along the ramped area of the climber.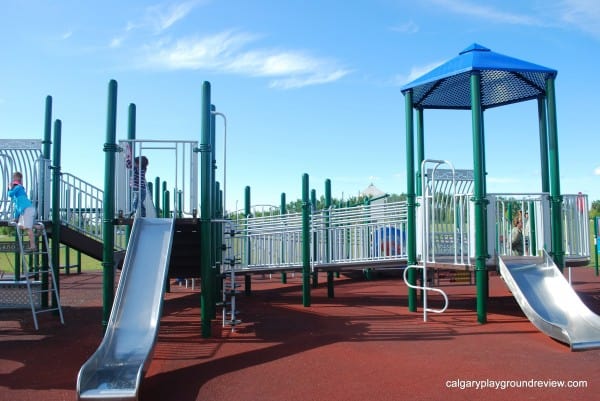 Dalhousie –6502 58 St NW
Unfortunately, there is no great pathway to this school playground making it a little harder to access. It does however, have accessible flooring throughout, a small ramp with activity panels, lots of options for vestibular stimulation and an Apollo (large rope spinner) and saucer swing that can be enjoyed by kids who can transfer.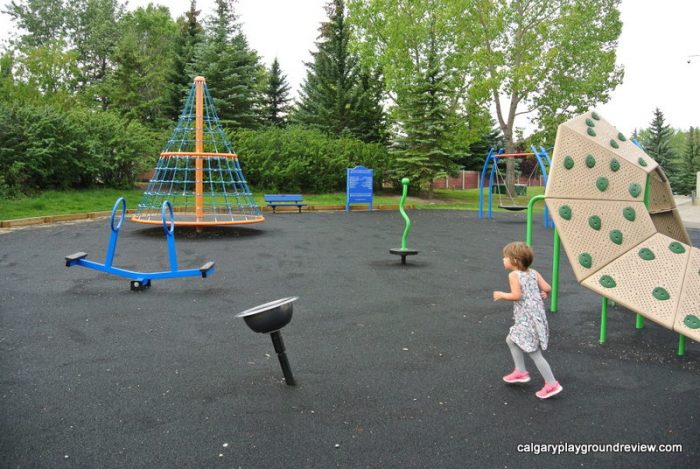 Is there a playground you think should be on this list? Let me know!
Please Note: 
We do our best to ensure the information on Calgary Playground Review is accurate, however information and events are subject to change. Please contact the organizations directly to avoid disappointment.
Can you help make this article better?
If you have noticed an error, have additional information or would like to share a comment you can:
E-mail us at calgaryplaygroundreview@gmail.com
Find us on Facebook: CalgaryPlaygroundReview
Find us on Instagram: YYCdana
Tweet us: YYCdana
We are not affiliated with any venues, attractions or organizations. Please message them directly if you have questions or concerns.