Location        map        http://vivo.ca/Pages/OurFacilityPools.asp
Address: 11950 Country Village Link NE
(from the front doors you go straight until you see a long ramp to your left. At the bottom of the ramp is where you pay. The pool is straight through the admission gates.)
Gordie's Review– Splash Splash Splash!
Cost: Regular admission gives you access to: fitness centre, Pool, gymnasiums, climbing wall plus drop-in fitness classes, and Parent and Tot. Separate rates apply for public skate, shinny and child minding.
Adults – $12.50, Youth (13-17) – $7.50, Child (6-12) – $6, Toddler (2-5) – $4, Under 2 – free, Family $25. Passes and books of 10  are also available see their website for more information.
Parent and Tot Swim (0-6 yrs): Wednesday mornings 10-12 $5.50 per child.
Age Range: All ages.
Clothing: Swim diapers and plastic pants are required for babies and toddlers. Plastic pants can be purchased at the pool. Swimmers who wish to cover themselves may do so provided the clothing is safe, clean and light in colour.
Safety Features/Concerns: A responsible swimmer 14 years or older (wearing appropriate swim attire) must be within arms reach of children under nine. There is a maximum of 3 children per adult during parent and tot swim time.
Features: Toddler park with spray park features; Shallow end with spray park features, lazy river, small slide, hot tub.
Overall Assessment: Cardel place has one of the best pools in the city. It is nice and bright with high ceilings with lots of different water features. I've taken Gordie to this pool a number of times starting from when he was just a few months old. We usually go during the Parent and Tot swim time because the admission price is so much lower. Paying full price can seem like a lot of money when you know your kid is only going to be able to handle being in the pool for an hour. It's definitely busier but not uncomfortably so. I'm not sure when the spray park features are on otherwise, but they are always on during the parent and tot swim time. Even if the pool is being used for lessons (usually sat and sun mornings, tues/wed/thurs 4-7pm) you can always access the hot tub and toddler pool areas. Most other times when the pool is being used for a  class or something only part of the pool is blocked off or shared. Lifejackets are also available and are required for little ones going in the lazy river. The lazy river has an artificial current that helps pull you around the loop which can be a fun feeling.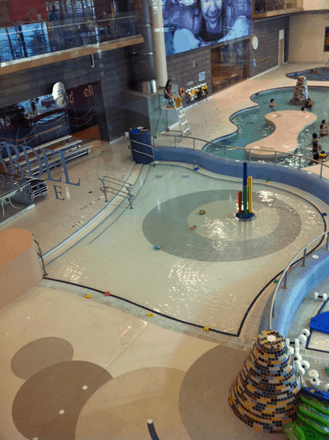 Have you been to this swimming pool? What did you think? Have a suggestion for a playground review?  Write your thoughts in the comments.