Thanks to Sina for this guest review!
Location:    http://cobbscornmaze.com/
Address: 1500 84 St NE  Calgary
Parking: free gravel parking lot
Cobbs is located on the right hand side of the road from 16th Ave, Hwy 1 East just before Stoney Trail. You turn left on Garden Road. Please note that if you come from 17th Ave SE, the website says to turn left on 84th street SE, however 84th St SE is no longer accessible from 17th Ave and you have to turn left on 100th St SE instead. Your GPS will not reflect this recent road closure.
Day Pass Cost: $12 + GST for adults over 17. $10 + GST for kids 3 -17 and Under 3 are free. Family Passes are available at various rates.
Annual Pass Break Even Point: Complicated based on multiple rates. Passes will typically break even on your 2nd or 3rd visit. Extra rides are not included in the annual passes.
Extra Rides: You can upgrade your child's day pass by $4 or $8 and get 2 – 4 extra rides that are not included in the basic pass. These are activities such as Archery, Bouncy Castles, Euro Bungy, Popcorn Popper and Funballz. More information on this is listed on the website.
Food Services: Two food buildings side by side include a cookhouse and the Sugar Shack – Hot food such as fries, poutine, mozza sticks, hot dogs is available.  The Sugar Shack has all kinds of candy, popsicles, packaged ice cream and cold drinks. You can also pack a picnic lunch and eat it in the park. There are plenty of picnic tables.
Age Range: All ages.
Stay Length: 2 hours to all day.
Overall:
Cobbs Corn Maze recently opened in NE Calgary in mid August of 2013. We arrived on a warm mid september afternoon with two 3 year olds and two 5 year olds. Due to the wind that day, the park attendant informed us that a few of the activities and rides weren't open, and therefore the Bouncy Castle area was free with regular admission. One park attendant mentioned that Cobbs is a franchise based out of the USA.
There are port-a-potties in several locations with pumped water hand washing stations. They were the cleanest port-a-potties we had ever been in. The park states on their website that they are working on installing permanent washroom facilities.
Bouncy Castles:
There were 6 bouncy castles operating and the kids thoroughly enjoyed them while the parents are able to sit at picnic tables, some with umbrella shade.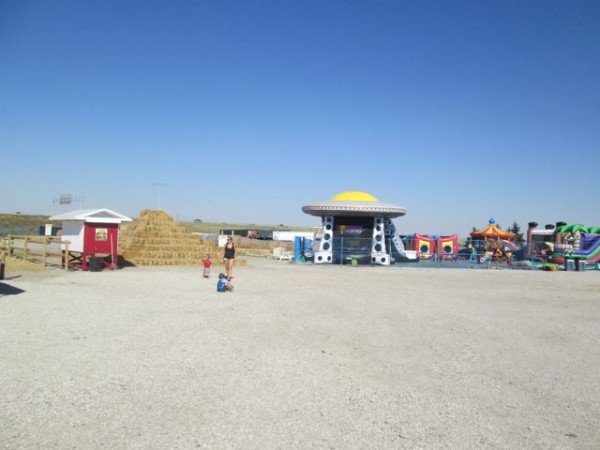 Corn Mazes:
There is a Wild West Corn Maze and a Mini Corn Maze. Being rather new, the mazes weren't fully developed like you would see at other corn mazes but they seem to have the potential to be amazing. The crop was short and thin during our visit. I jokingly called it the weed maze.
There was also a rope maze that was really fun at the mid way point in the tractor ride.
Giant Games and Barnyard Boardgame:
There were lots of games scattered in a grassy area such as large Connect Four, Large Jenga blocks, Chess and Checkers. There were several brightly coloured large puzzles that can be stepped on and figured out.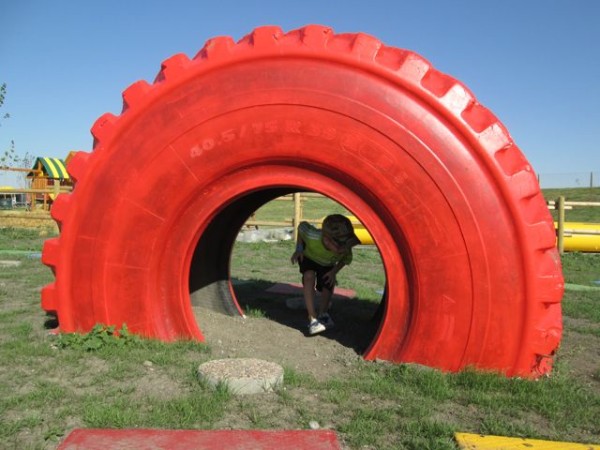 Playground:
There was one playground. I have a few friends whose backyard play structures are more elaborate. It was fine, but I expected more. I was forgiving because the park is still new and I suspect there will be more added over the years.
Giant Hay pyramid:
The kids enjoyed climbing the hay stacks. Nothing much more to it.
Tractor Ride
The ride is a 15-20 minute ride through the Corn Maze and over to a Rope Maze. You can get off at the halfway point or continue back in the loop. The carts are brand new and the kids absolutely loved the ride.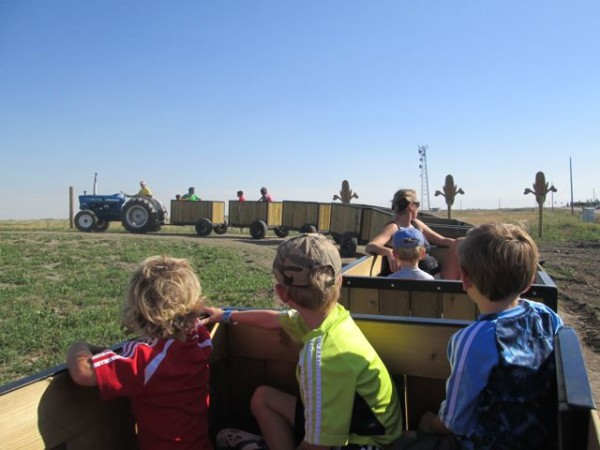 Pedal Carts:
This was one of the favourites for our boys. There were many different carts to chose from, including a 4 seater where only one person needs to pedal. There are a few two seaters and several single riders. There are plenty of staff around the park and a very nice attendant helped us get on our bikes and kept the kids going around the bends.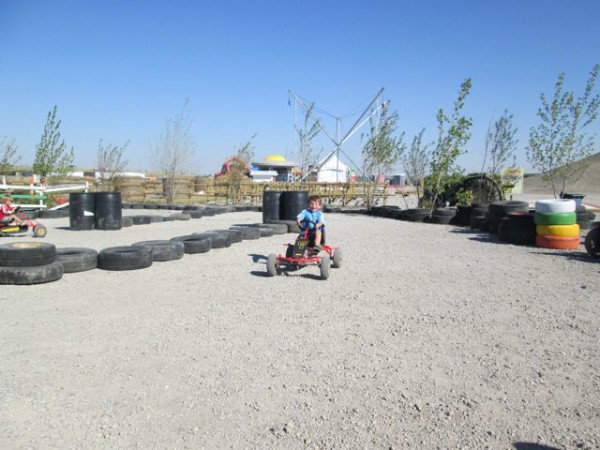 The Pig Pen
There were three cute little pigs to pet and visit with in a cleverly decorated pen with a straw house, wooden house and brick house, just like the story. Being animals, the pigs can get a bit unruly, but the attendants are always there to keep the situation under control.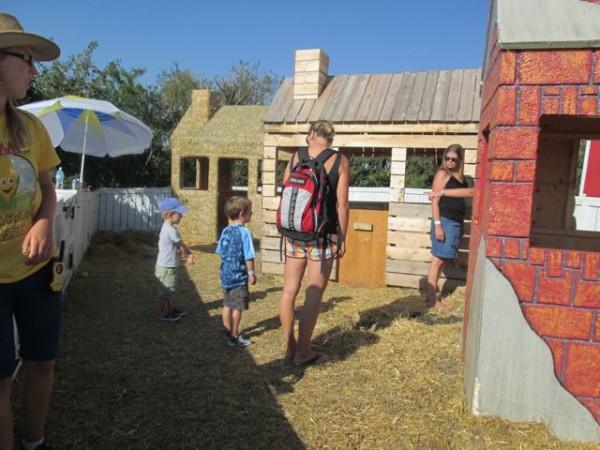 Crafts:
We didn't end up getting to the craft table, but we saw many beautifully painted rocks throughout the park.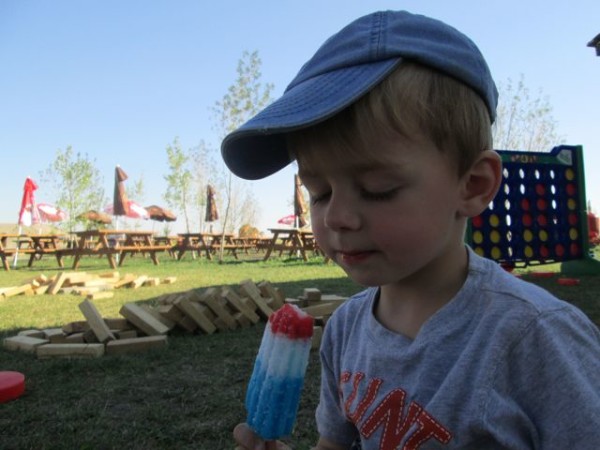 I think your experience at this park will vary based on weather, how busy it is, and what attractions are open. In my opinion, this Corn Maze and fun Farm may not be Calgary's best, however, the staff were very attentive and caring and there were unique activities  (bouncy castles, archery). The food services, picnic area, cleanliness and staff were excellent. I think Cobbs could be improved with some grassier areas, more play grounds, another petting zoo and less complicated pricing for activities. This may become the go-to fun farm for Calgary North. The kids had a great time and it was hard to get them to leave.
Have you been to Cobb's Corn Maze? What did you think?