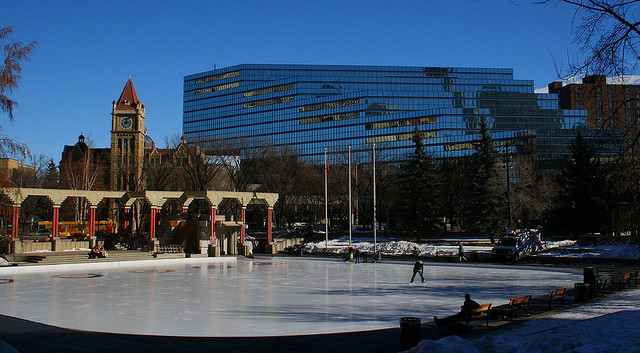 Calgary has a huge number of outdoor rinks most of which are run by volunteers and all of which are free to use.
Community Outdoor Rinks
There are more than 30 outdoor hockey arenas and many communities also maintain an outdoor rink. Here's a list of Calgary outdoor rinks and arenas. Many communities have two rinks, one with boards (to use with stick and pucks) and one without (for pleasure skating).
Outdoor skating rinks in Calgary are (obviously) weather dependent, but typically open in mid-December and continue through February. Helmets are recommended particularly for kids.
City of Calgary Outdoor Rinks
The city of Calgary also maintains 7 outdoor rinks – 3 regular pleasure skating rinks, 3 pond/lagoon skating rinks and one with a refrigerated ice surface. Hockey sticks are not permitted on the city run outdoor rinks. These rinks are also free of charge.
Regular Outdoor Skating Rinks
Evergreen (small rink) – Everoak Dr & Everridge Dr. SW.
Big Marlborough Park (Large rink by the dry pond) – 6033 Madigan Dr NE
Prairie Winds Park – (large rink) –  223 Castleridge Blvd. N.E. (7am – 10pm)
Pond/Lagoon Skating Rinks
Carburn Park (pond rink) – 67 Riverview Dr. SE (5am – 11pm) – This rink is new this year
Bowness Park (Lagoon rink) – 8900 48 Ave. N.W. (9am-10pm) – skate rentals, skate sharpening and stabilization bar rentals are available at the Park Side Cafe. [Bowness is closed for 2013/2014]
Prince's Island Park (Lagoon rink) – 4 St. and 1 Ave. S.W. (5am-11pm) – three years ago the city started offering skating on the Prince's Island Lagoon. Skating with lights and music are offered throughout the day.
Rink with Refrigerated Ice Surface
Olympic Plaza – 228 8 Ave. S.E. (10 a. – 9 pm) – this is the only refrigerated outdoor ice surface in the city. Due to this the rink opens earlier than the other rinks (late November) and closes later (mid March). Washrooms are on site but there are no skate rentals.
Other Outdoor Rinks
Heritage Park (1900 Heritage Drive SW) also offers skating outdoors on an artificial ice surface. The rink is located just before the gates at the Towne Square and does not require admission.
What's your family's favorite skating rink? Do you know of a rink I've missed?
photo credit: Daniel john buchanan via photopin cc