We're spending some time this summer exploring Alberta to find family-friendly attraction right here at home. Red Deer is only a 90 minute drive from Calgary, making it perfect for a day trip or a weekend getaway. It also has a lot to offer! Even though Red Deer is about a tenth the size of Calgary, they have just about as many options for outdoor water play. We spent a weekend there exploring as much water fun activities as we could and had a blast. Here's what we found.
River Bend Recreation Area – Located along the river 3.5 km north of 30 Avenue from 67 Street.
Discovery Canyon is undergoing extensive enhancement work and expects to reopen in 2017.
Closed for 2016 – In the summer months, Discovery Canyon has a inner tube run that kids can ride down. At the bottom is a lovely beachy area with sand, rocks and shallow water. The tube run is probably best for kids in the 5-12 year old range. My 6 year old son found it to be a little too intimidating to try out so I gave it a go.  I am currently 5'4″ and 170 lbs and bottomed out a few times using one of the rental inner tubes. I managed to get down most of the way but ended up having to climb out before the end. Please be aware that the canyon water way is slippery!
The pond area is lovely, with sand and shallow water. My 3 and 6 year old had a blast playing on the inner tubes in the pond, wading through the water and climbing on the big rocks and my 7 month old loved splashing in the water too (although he did try to eat sand a lot).
There are picnic tables, a concession (cash only), nice shady trees and up the hill on the South West side there are washrooms/change rooms.
You can rent inner tubes for $5 with a $15 deposit (cash only) or you can bring your own. Discovery Canyon itself is free to enjoy.
Discovery Canyon typically opens in Early June and closes after the first weekend in September (weather dependent) and runs every day from 9am-9pm.
Abbey Centre – 4500 Womacks Road – Blackfalds, Alberta (15 minutes North of Red Deer)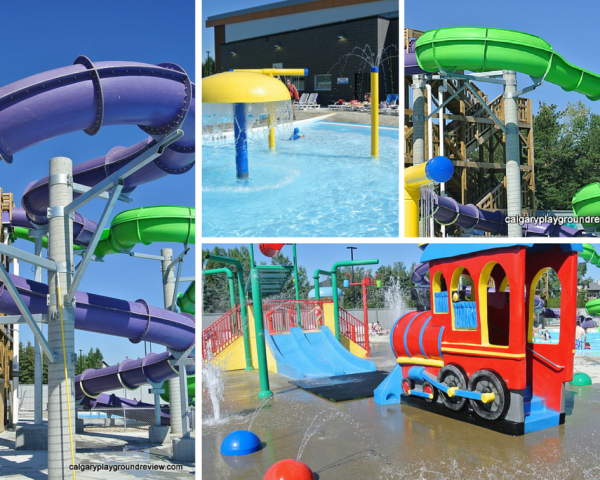 Our family had an amazing time at the McKay Ranch Outdoor Aquatic Centre – there is just so much to do! With a spray park, toddler pool, play pool with slope entry and spray features, a hot tub, jr olympic pool with diving board and 2 big waterslides, we could have played there for ages.
My 6 year old son loved running around the spray park and practicing swimming with his lifejacket on in the play pool. My 3 year old's favorite was the little blue slide in the play pool but she also loved going down the green waterslide (with me or my husband of course!) It was also great for my 7 month old. He liked to sit at the shallow end of the play pool and splash in the water which is generally pretty warm. They also have toys that you can play with in the water like kick boards and pool noodles as well as baby floaters which he really loved.
The Aquatic Centre typically runs from Mid-May to Mid September. You do need to pay to get in but you get a wrist band allowing you access to the whole centre  including the indoor play place and a family is only $20!
 Blue Grass Sod Farm Central Spray and Play
Northwest corner of Rotary Recreation Park (47A Avenue and 48 Street)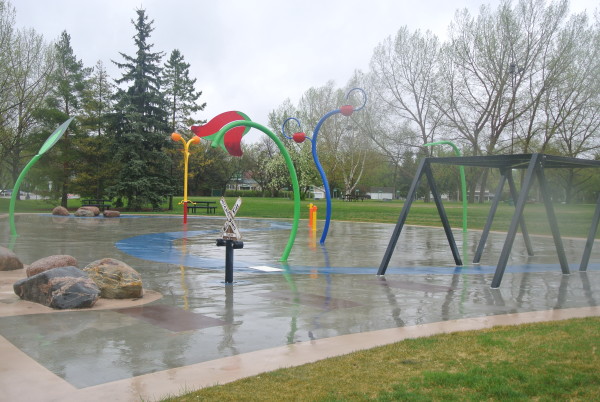 Red Deer's newest spray park is large and attractive. My kids absolutely loved this spray park. There is tons of room for many many kids to run around – I had to use pictures I took while it was raining because there were just too many kids for me to get any clear shots. There is also lots of places to set up a blanket in the shade or in the sun and picnic tables too. The train tunnel and big rocks are especially cute touches. My kids were especially fond of the 'water guns' but ran around together all over the place while I was able to sit back and relax.
Typically runs from the beginning of June until the September long weekend from 11am-7pm.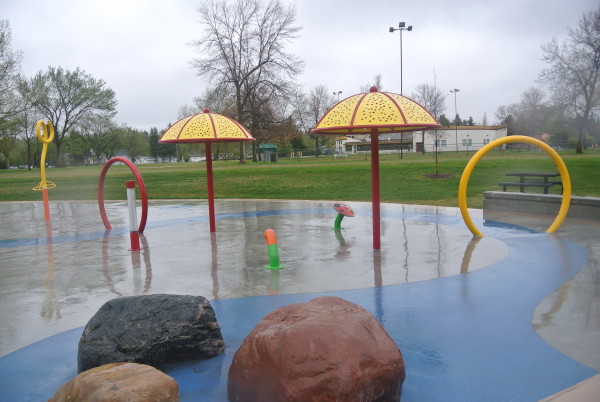 Kin Kanyon spray fountain/wading pool
32 Street on 47 Avenue in Kin Kanyon picnic area.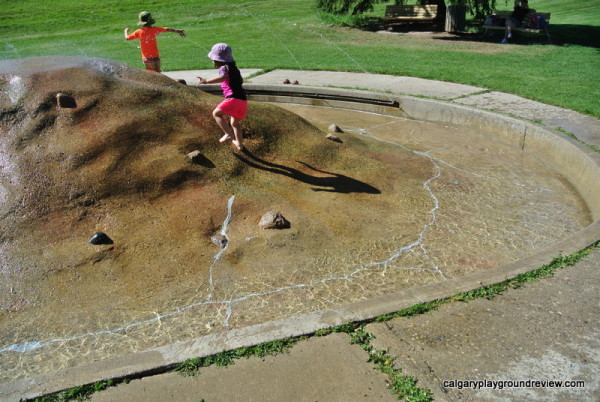 This little spray pool is really unique with a large rock sticking up in the centre. I would have expected it to be slippery, but it's textured and I didn't see anyone slip while we were there. The kids loved climbing up the rock and running through the sprays. It's located just a short walk from the Kin Kanyon playground and picnic area. Typically begins running on the May long weekend and stops after the September long weekend
Centennial Plaza Park spray fountain/wading pool – closed
Alexander Way (48 Street) and 52 Avenue – closed for the 2016 season due to redevelopment/redesign
Rotary Recreation Park wading pool – permanently closed
Located behind the Recreation Centre at 4501-47 A Avenue The Rotary Recreation pool permanently closed in 2016.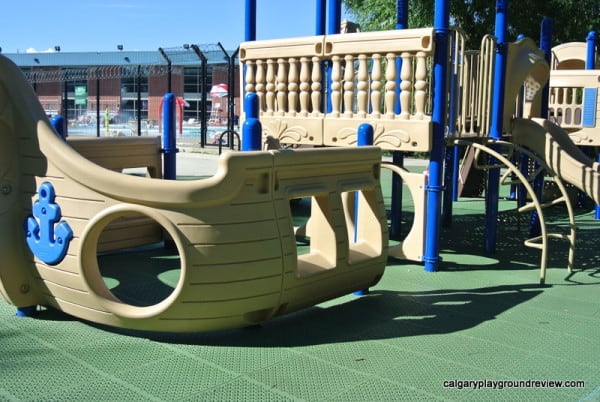 Tayles Splash Park –  Blackfalds
Gregg St, Blackfalds, Alberta
Blackfalds is just 15 minutes North of Red Deer. Their spray park has a a variety of different spray features and is right next to a really cool pirate ship playground. The train line runs right along the park (across the street) on the west side which is a big plus in our world.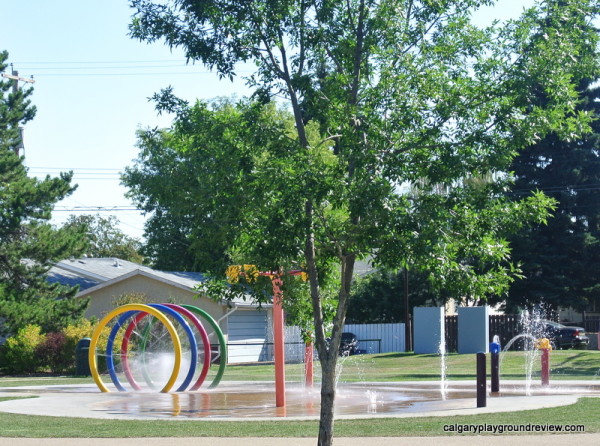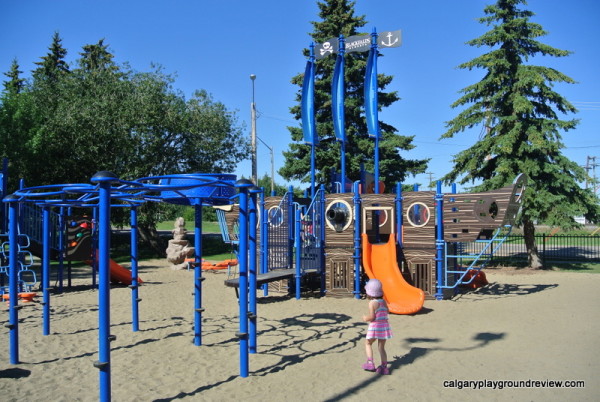 Located by Great Chief Park south of Kerry Wood Drive
In this beautiful park, you can rent two or four person paddleboats, canoes, kayaks, waterballs and surrey bikes. We rented a four person paddleboat and it was fun but so much work! I recommend balancing the boat instead of having the little people in front (like we did). This should make for easier paddling. The paddleboats are $7 per person for a half hour or $10 per person for an hour and include life jackets. The ponds are quiet and calm and really lovely to travel along.
There is also an excellent playground right next to the ponds.
Beaches near Red Deer
We didn't a chance to check out the beaches this trip but there are two lovely beaches just a short drive from Red Deer.
Sylvan Lake Provincial Park Beach
About 25 minutes west of Red Deer, you'll find the beach at Sylvan Lake Provincial Park. They have a nice sandy beach as well as picnic areas and a lakeside pathway. There are also boat rentals, water slides and other recreational facilities.
Aspen Beach Provincial Park
Located on Gull Lake 35 minutes NW of Red Deer, is Aspen Beach Provincial Park. It is great for small children, with a big sandy beach, shallow lake, playground and picnic areas.
Accomodations
We stayed at the Black Knight Inn for our trip. It features a swimming pool and hot tub and has a restaurant and lounge on site. The rooms include a fridge and keurig coffee maker, both of which make it way easier to travel with kids, as well as comfortable beds. Cribs and cots are also available if you need them. The staff was helpful, welcoming and courteous.
It is right down the street from Bower Place Shopping Centre and many family friendly restaurants. walking distance to Kin Kanyon and Sunnybrook Farm Museum and is conveniently positioned for driving anywhere you want to go.
Disclosure: In order to facilitate these reviews, we were provided with accommodation in Red Deer, and some free admission to attractions. Thank you to Red Deer Tourism and the Black Knight Inn for facilitating our trip!