Location     (maps at the end of the post)
Community: East Village – 1300 Zoo Rd. NE (you can access it by car through the South Zoo parking lot)
Parking: pay lot parking
Gordie's Review (6 years old): What was your favorite thing? "wading in the river"
Nicky's Review (3 years old): "climbing on the ropes"
Robbie's Review (7 months old): Loved playing in the rocks
Surrounding Park Area: Located in the newly redeveloped St. Patrick's Island Park. Washrooms, river wading area, large hill for tobogganing, plaza, picnic areas, pathways.
Age Range: 2-10 years.
Ground Cover: pea gravel
Playground Features: 4 hill slides, triangle tower with tunnel and rope bridge, small playhouse, wobbly balance beam, wobbly platforms, 2 spinners, bouncy teeter totter, 3 swings. climber with ropes and climbing wall.
Seating: Several concrete benches, Picnic tables in the surrounding park
Accessibility: None.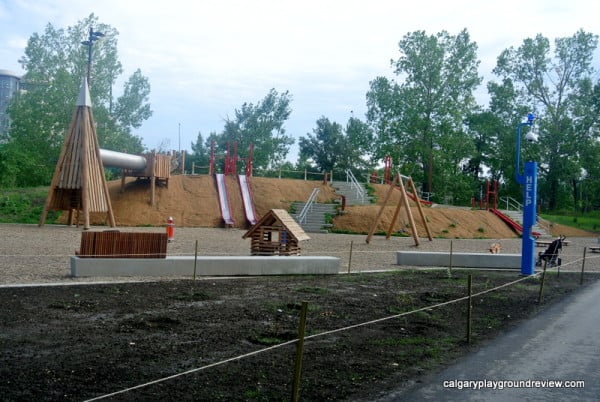 (before they added the sunshade)
Overall assessment: This playground is brand new in 2015 as part of the St. Patrick's Island redevelopment project. Older kids will love the climbing structures and the fast tall slides. Toddlers will find the climbing structures a little challenging but will still enjoy many of the other playground features.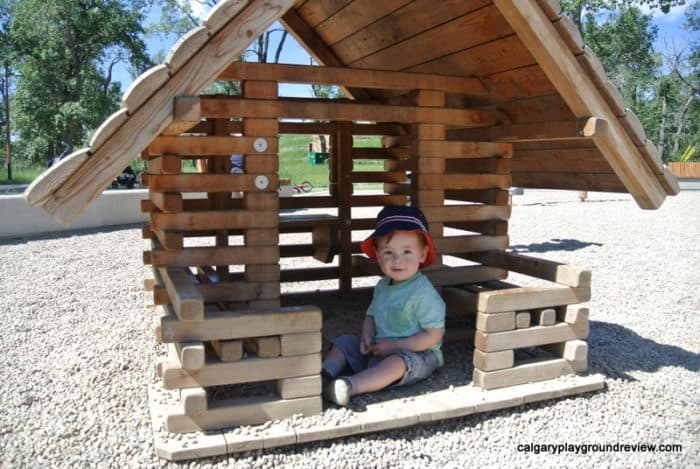 The playhouse is quite tiny – this makes it perfect for toddlers though as the bigger kids will tend to stay out. The climbers here are really different compared to other Calgary parks and my 3 and 6 year olds both really enjoyed trying them out.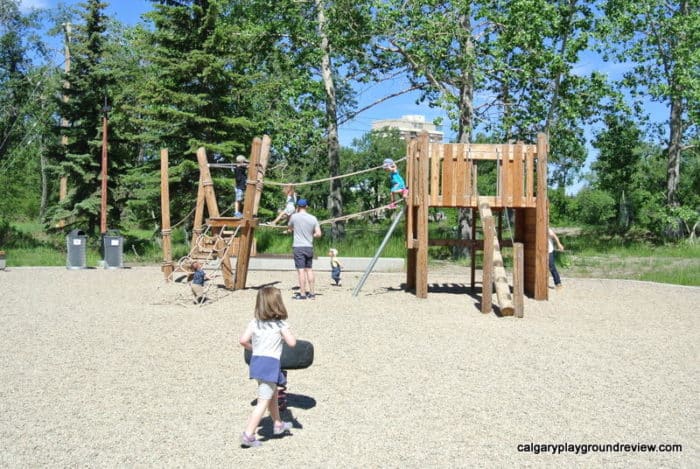 The river is on the other side of hill with the slides so be aware of that if you have a child with a tendency to wander.
Although this playground is great (and will look even better when the grass is mature) the surrounding park is what really makes this a family destination. Check out my review of the St. Patrick's Island Park itself.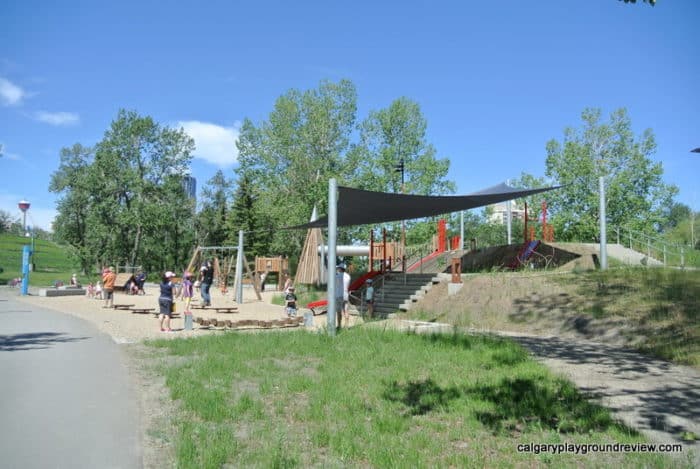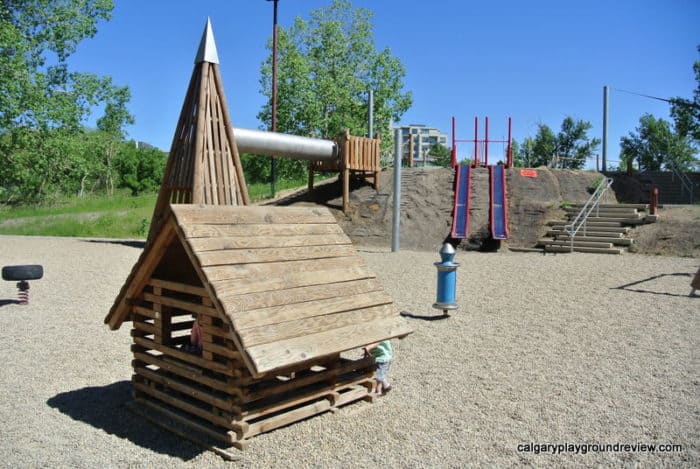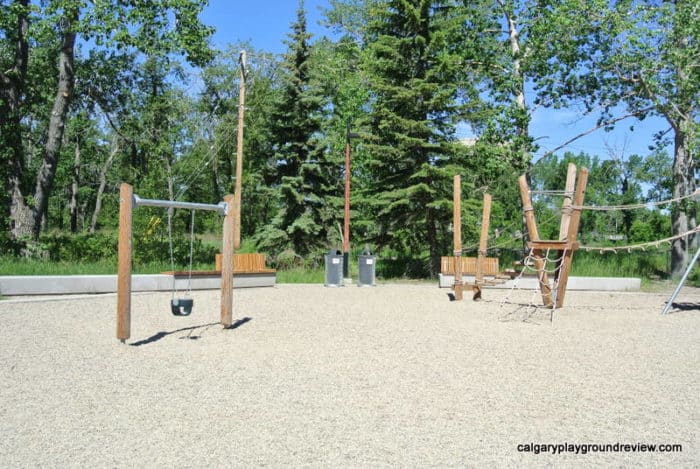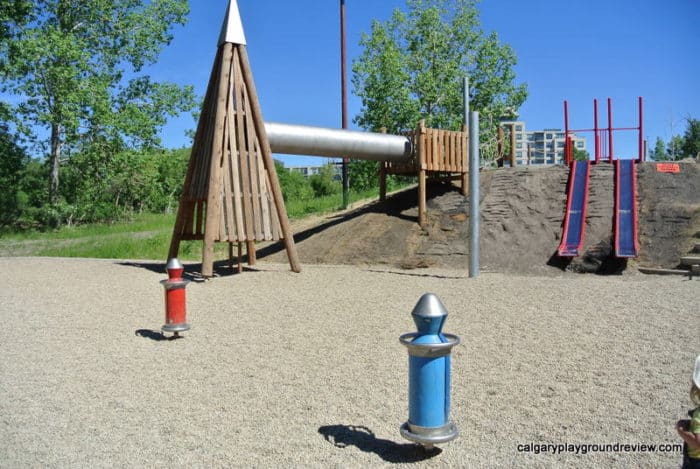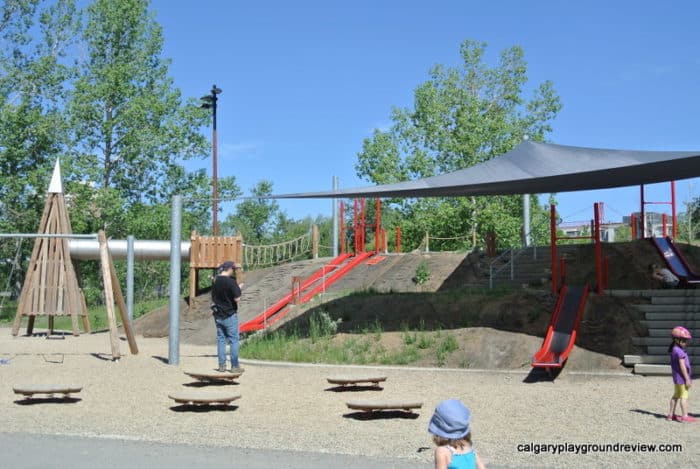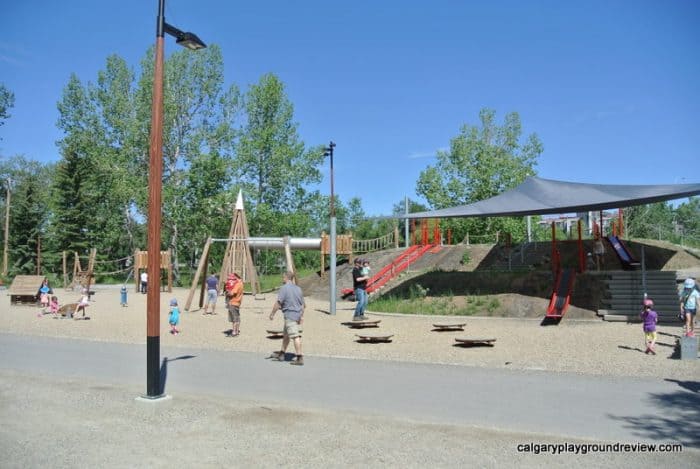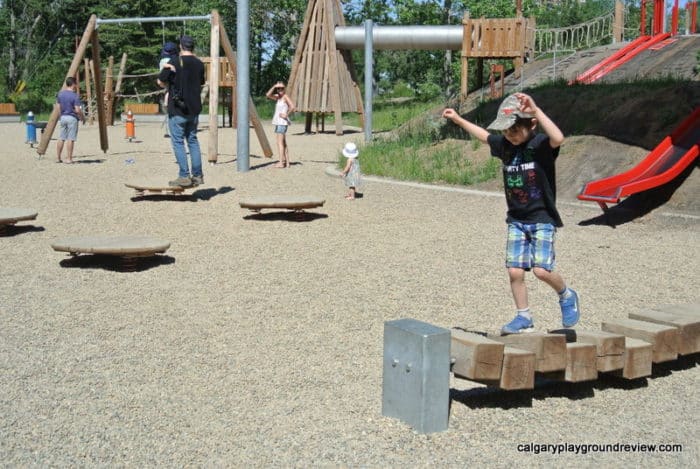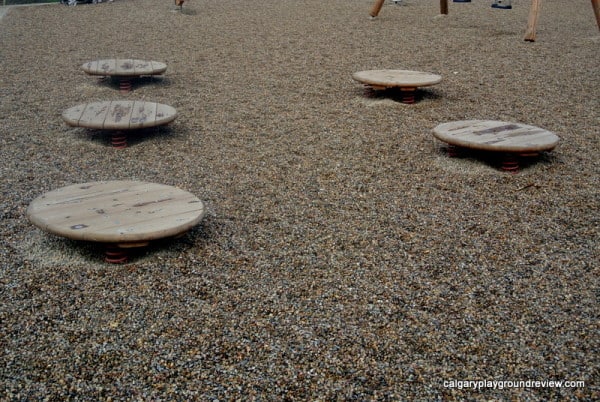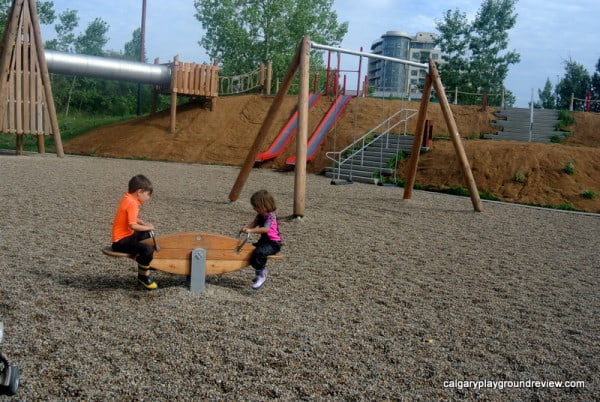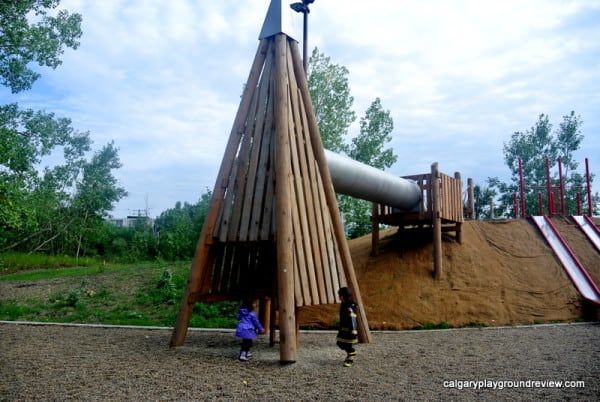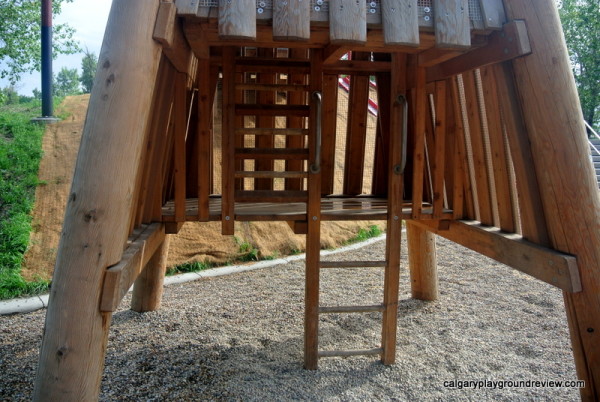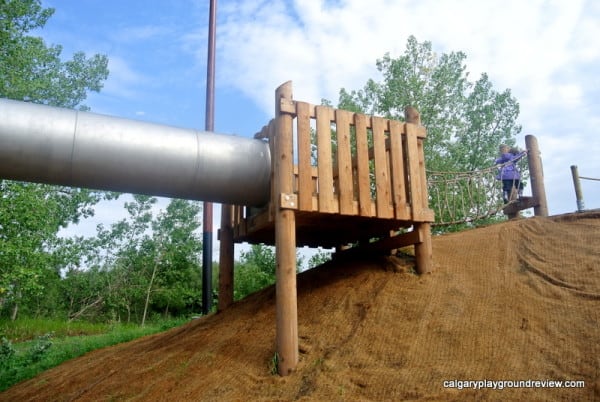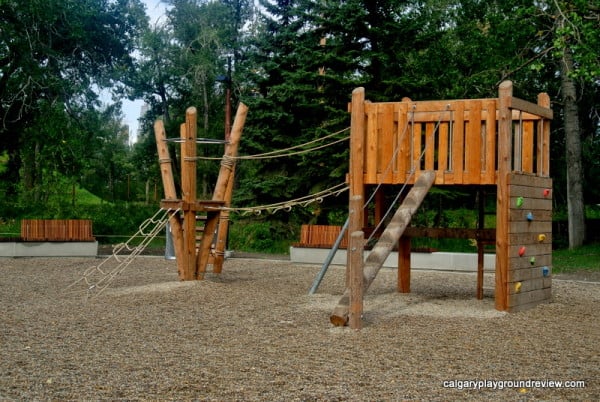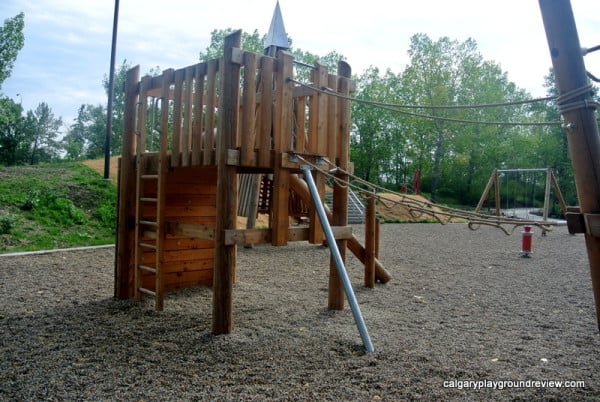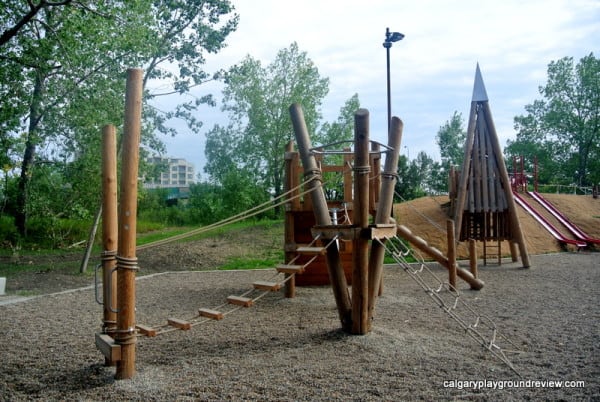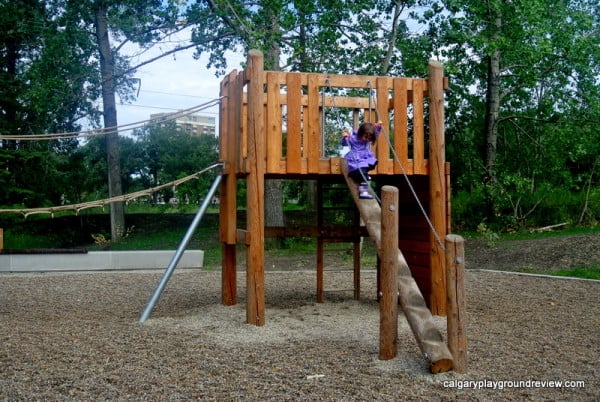 Maps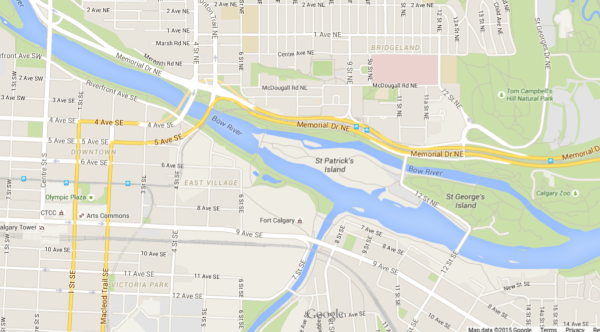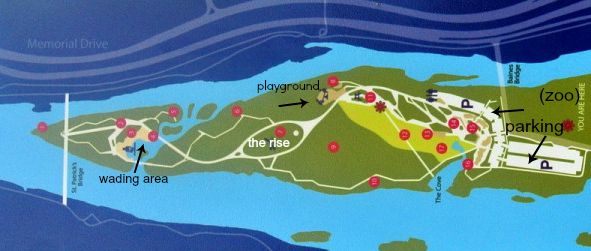 Have you been to this playground? What did you think?