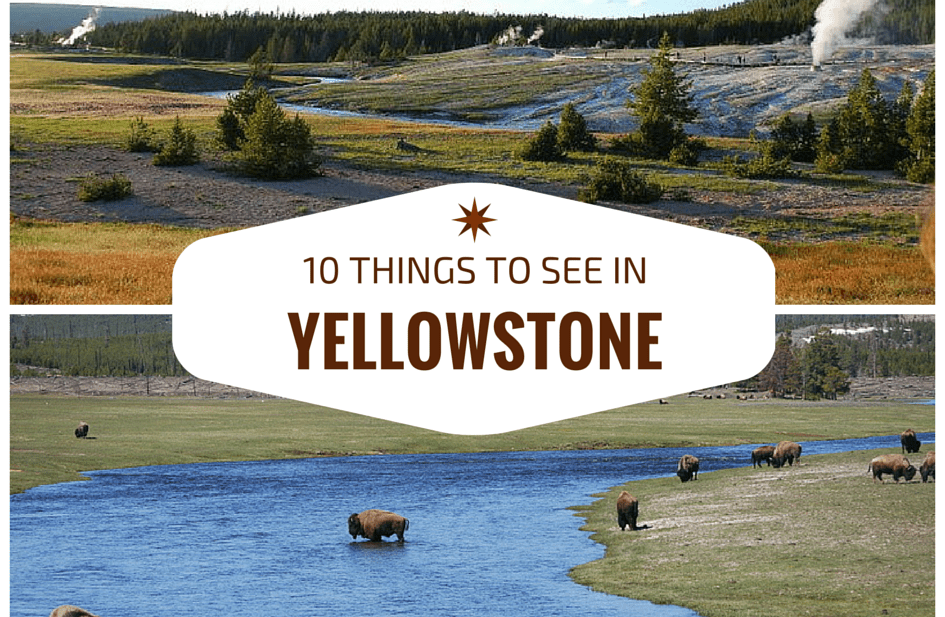 Yellowstone, America's first national park, is huge and varied. We've spent a few days in Yellowstone every summer since my oldest was only a year and a half and have yet to get bored or run out of new things to do or things we'd like to see again.
Planning a trip there it can be overwhelming so we've put together a list of 10 places you won't want to miss in Yellowstone National Park to help you get started.
10 Places you Won't Want to Miss in Yellowstone National Park
1. Old Faithful
If there is only one thing you are going to do in Yellowstone, seeing Old Faithful erupt is a good option. Old Faithful is a predictable geyser with intervals between eruptions of 60-110 minutes. Although it is not the largest or most frequent predictable geyser, it is impressive and its eruptions can be predicted to within +/- 15 minutes.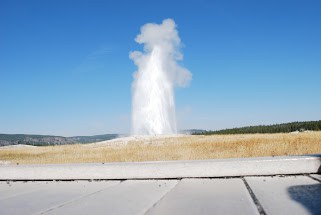 When you are in the Old Faithful area you can find out when it is predicted to erupt next at most of the buildings in the area. The visitor centre collects the data and also posts the predicted eruption times of the other large predictable geysers in the park.
There is bench seating right up close to Old Faithful but it can get quite crowded. You can still get a great view from further back and sometimes you can see better because there aren't any people right in front of you.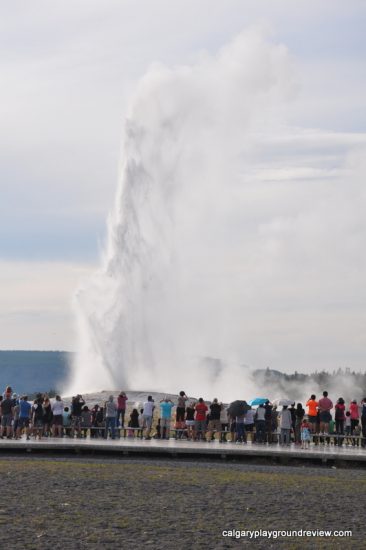 2. Mammoth Hot Springs
You can do a short relatively level walk or much longer walks with lots of stairs. There is also a short drive along the upper terraces that is also worth your time. Watch for the little killdeer birds that like to walk around in the hot running waters.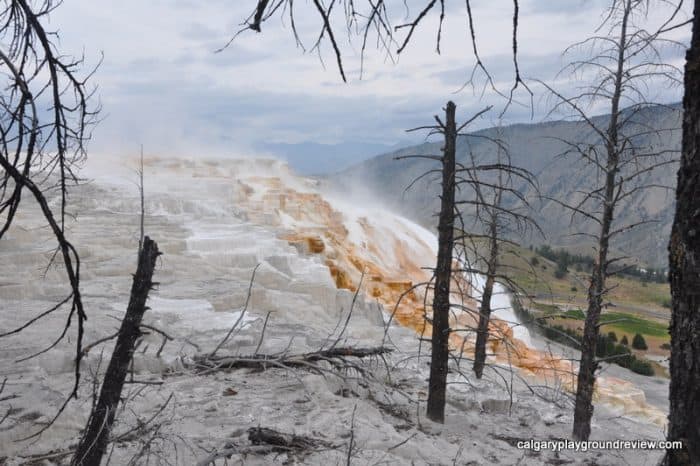 This geothermal area is unlike any other in the park the travertine terraces are stunning and otherworldly. It is also one of the most dynamically changing areas in the Yellowstone – you can often see changes from one year to the next. Boardwalks have been set up along the terraces allowing you to get very close to the formations.
3. The Grand Canyon of the Yellowstone River and the Lower Falls
There are two impressive waterfalls – named the lower falls and the upper falls but it is the lower falls that gets the lion's share of attention. The upper falls is over 100 ft high, but the lower falls is over 300 ft high.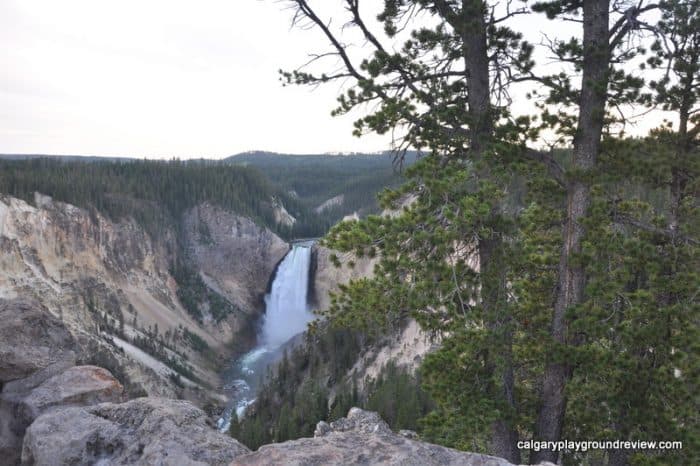 The canyon itself is long and beautiful coloured primarily with yellows and reds. You can access the canyon from a drive along both sides of the canyon. There are easy viewpoints the most popular being artists point on the south rim drive. There are also some easy and extremely difficult trails.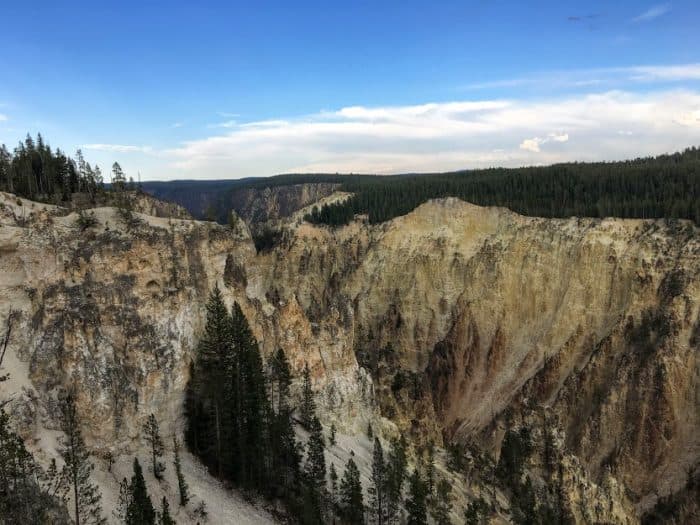 4. Grand Prismatic Spring
Located in the midway geyser basin, the Grand Prismatic Spring is the largest hot spring in the United States. It looks particularly stunning from above but is still impressive from ground level.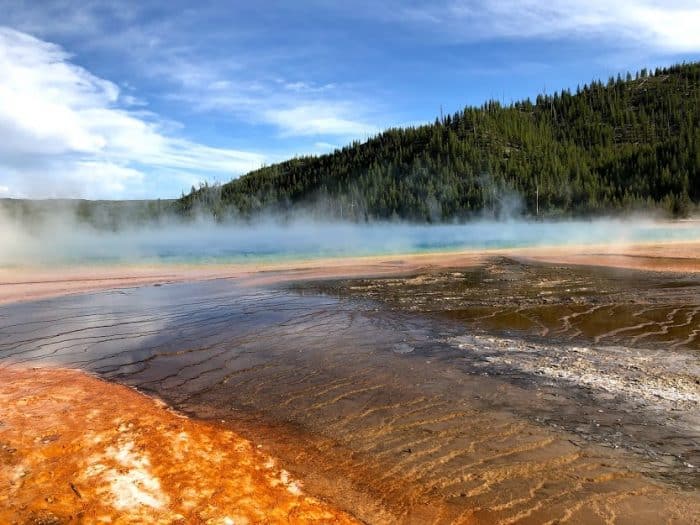 There is now an official overlook that you can access from Fairy Falls Trail.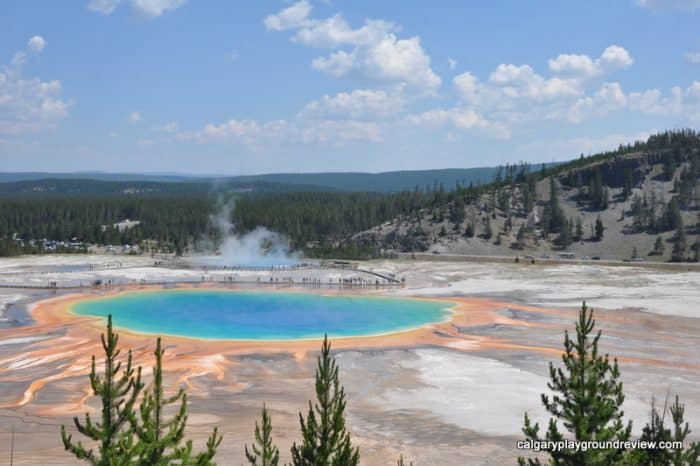 5. Geyser Hill
Old Faithful is located in the Upper Geyser Basin, the largest geyser basin in Yellowstone. Just a short walk from the Old Faithful boardwalk you can do a 2.1 km (1.3 mile) boardwalk loop around Geyser Hill. Every few feet you can see another geothermal feature. If you're lucky you might even be able to see one of the geysers erupt. You can easily take a stroller through the whole walk.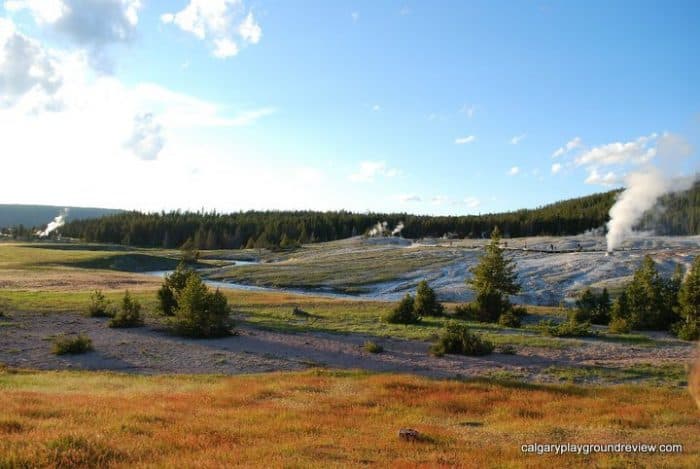 6. Fountain Paint Pots Trail
This is one of my favorite walks in the park. You are able to see mudpots, fumaroles, gorgeous hot springs and geysers. Some of the geysers erupt infrequently but other are almost constantly active. This walk is an easy relatively short loop (0.5 miles/0.8 km) with only a couple sets of stairs.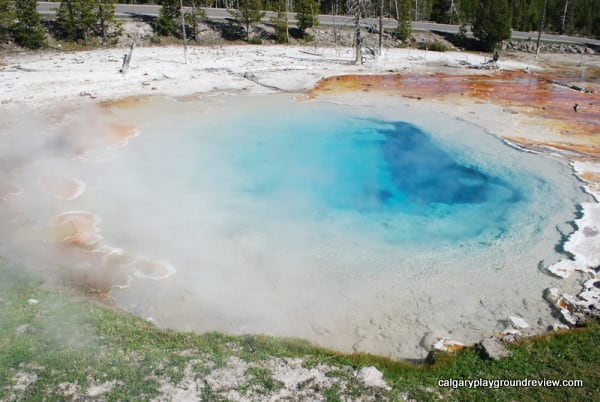 7. Lamar/Hayden Valley
These two valleys are great spots for wildlife watching. The Hayden Valley is along the grand loop drive between the Yellowstone Lake and the Canyon Village. The Lamar Valley is along the North East exit road. You are very likely to see wildlife including bison and elk at any time of day but close to dawn and dust are the best best times.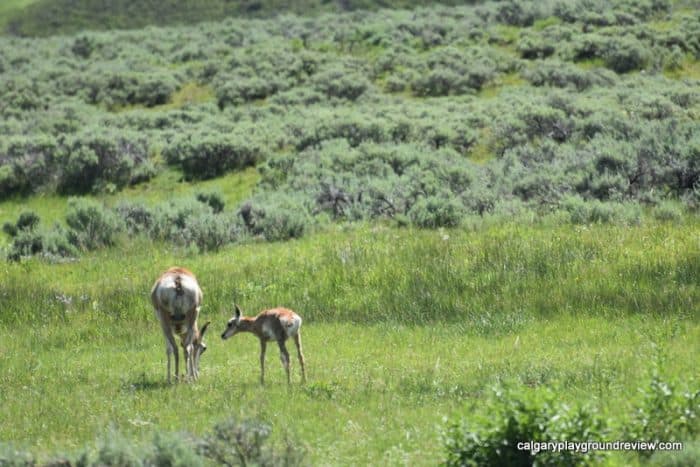 You may also see deer, many different kinds of birds and if you lucky bears or wolves. Please remember that wildlife are wild. Do not approach the animals and stay 100 yards back from bear or wolves and 25 yards back from other large animals.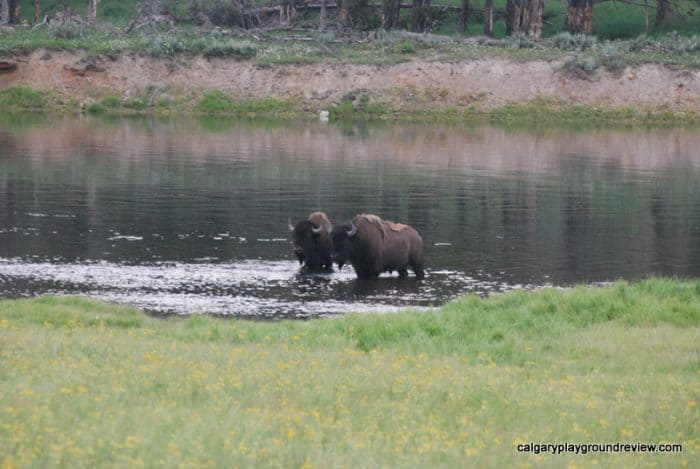 8. Old Faithful Inn
The Old Faithful Inn is a National Historic Landmark and considered the largest log structure in the world. The main body of the hotel was built in 1904 using primarily local materials.
The lobby is gorgeous featuring a large stone fireplace. Built in a style that attempts to fit in with the landscape surrounding it, the Old Faithful Inn is considered a prime example of parkitecture or National Park Services rustic architecture style.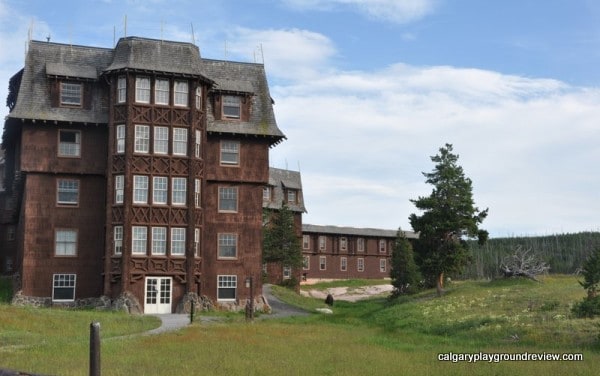 9. Yellowstone Lake/West Thumb Geyser Basin
Yellowstone lake is the largest fresh water lake over 7000 ft above sea level. It is the largest lake in the park and is one of Yellowstone's dominating natural features.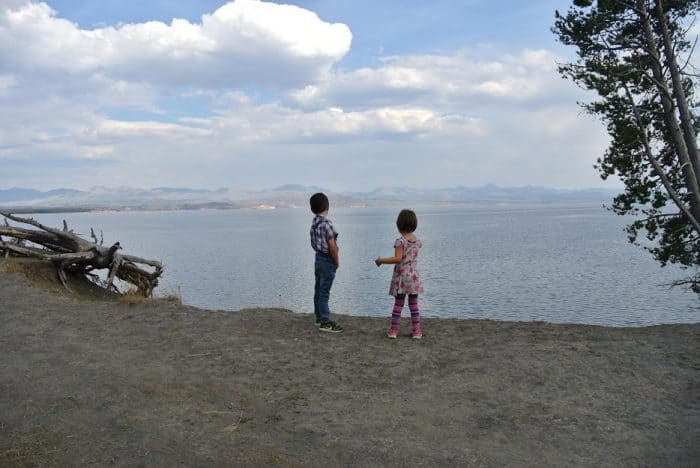 The West Thumb Geyser Basin is located along the 'thumb' of the lake. The boardwalk trail is very scenic with views of the lake and showcases many beautiful and interesting geothermal features.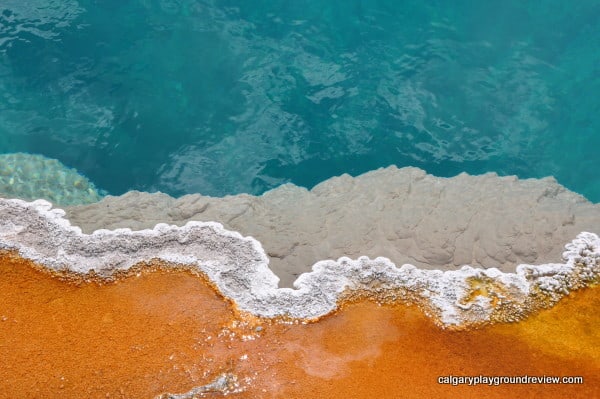 10. Grand Teton National Park
Grand Teton National Park is located just 10 miles south of Yellowstone. The park includes the Teton Mountain range and the Jackson Hole area. Grand Teton National Park is much more of a recreation park than Yellowstone and is popular with hikers.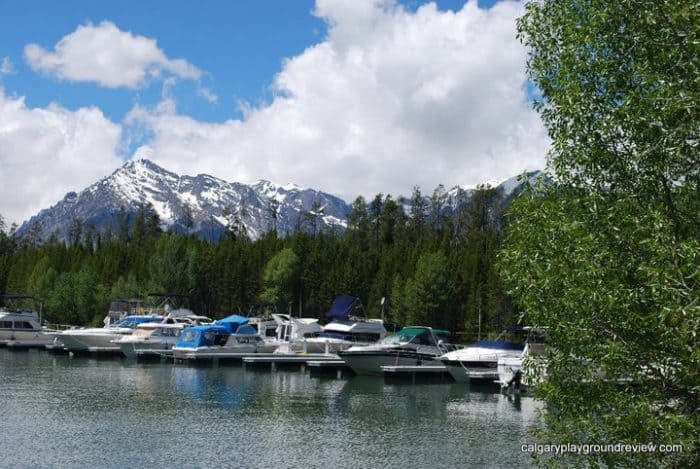 Your kids can also earn another Junior Ranger badge in this park. The drives are beautiful and if you are hoping to see a moose, travelling down to this area is your best bet.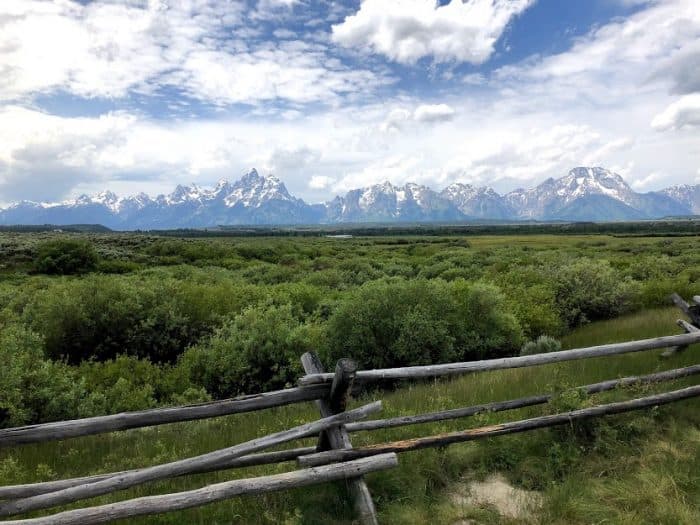 Please Note: 
We do our best to ensure the information on Calgary Playground Review is accurate, however information and events are subject to change. Please contact the organizations directly to avoid disappointment.
Can you help make this article better?
If you have noticed an error, have additional information or would like to share a comment you can:
E-mail us at calgaryplaygroundreview@gmail.com
Find us on Facebook: CalgaryPlaygroundReview
Find us on Instagram: YYCdana
Tweet us: YYCdana
We are not affiliated with any venues, attractions or organizations. Please message them directly if you have questions or concerns.