If you are wanting to take your family on an Alberta staycation featuring urban adventures, Edmonton is by far your best and closest option. Luckily it has a lot of family friendly attractions. We spent a weekend in Edmonton to explore some of what Edmonton has to offer. There is way more to do and see there than would could possibly do in one weekend – I would love to hear your suggestions for what we should do on our next trip.
1. Telus World of Science
11211 – 142 Street, Edmonton, AB          http://telusworldofscienceedmonton.ca/
Even though Calgary has it's own science centre, every science centre is different and provides a different experience. In the discoveryland area, your kids can learn through play by pretending to work at an airport, experiment with water and build with blocks. Your family can also see exhibits about the Human Body, the Environment, Robotics and Space. For an additional cost (until Oct 12, 2015) you can take in Dinosaurs Unearthed an animatronic dinosaur experience.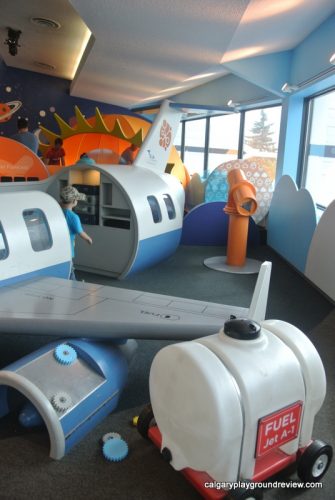 2. Soda Jerks
Unique to Edmonton, Soda Jerks is an excellent option for lunch or dinner for your family. Soda Jerks has three locations, one which is just a short drive from both the West Edmonton Mall and Telus World of Science. They feature high quality beef burgers with out of the box toppings including peanut butter and jam, doritos and mac and cheese as well as traditional favorites, almost every soda you can think of and really good french fries. They have a kids menu if your kids aren't feeling too adventurous, but they are also happy to split an adult burger on two plates for the kids.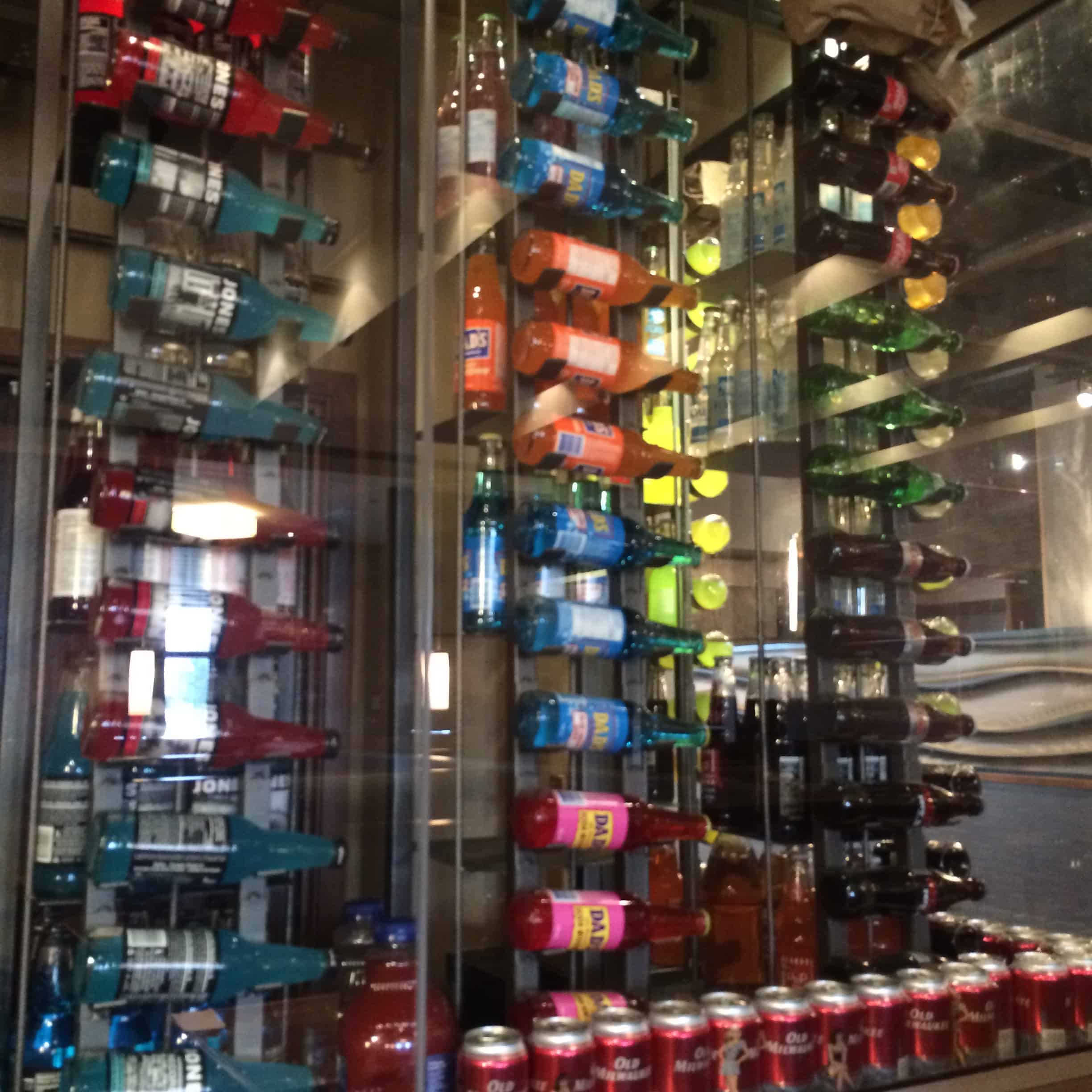 3. High Level Bridge Streetcar
Beginning on the North or South side of the river, you can ride a restored streetcar across the High Level Bridge – the highest streetcar river crossing in the world. At the Strathcona terminal you can also visit the museum on Saturdays between 10am and 2pm. The Streetcar and museum runs from Victoria Day to Labour Day. If you have a train fan in your family, this will be a sure fire hit. (cash only – pay the conductor at the station)
Read more about the High Level Bridge Streetcar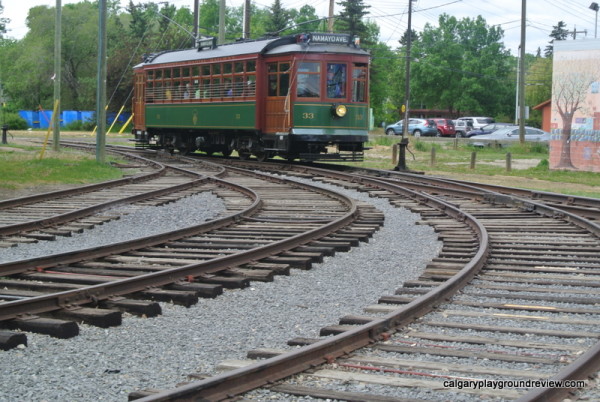 4. Parks and Playgrounds
Edmonton has some truly amazing playgrounds that your kids will love many of which are in their major parks and truly enormous. Here is a list of 13 of our favorite Edmonton Playgrounds so far.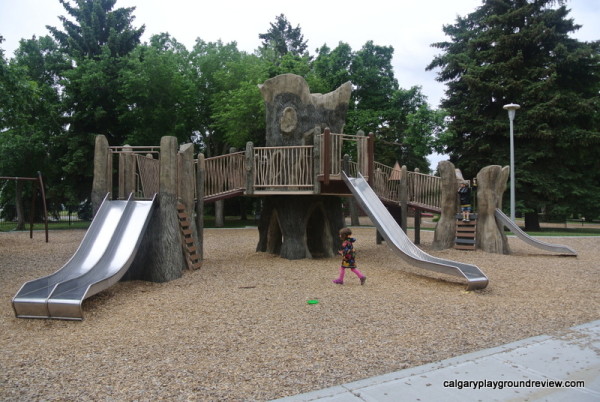 5. Duchess Bake Shop
10718 124 St NW       http://www.duchessbakeshop.com/
When I was planning our trip to Edmonton, the Duchess Bake Shop was highly recommended and it is easy to see why. They offer lunch as well as baked goods – their specialities are meringues and macrons.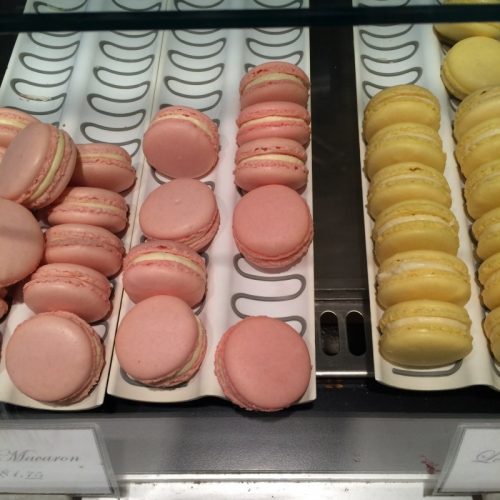 6. West Ed
1755, 8882 170 Street        http://wem.ca
West Edmonton Mall is an obvious choice and has a lot to offer including a fantastic water park, mini golf, a skating rink and an amusement park right inside the mall. You could easily spend an entire vacation just inside West Ed. It can get really busy, we went at supper time on a rainy Saturday and found the crowds to be too much for our young family. If you are planning on visiting around that time, I'd recommend eating prior to getting there.
Inside the Galaxyland Amusement Park there is a huge indoor playground similar to what you can find at indoor play places in Calgary (but taller and easier to get lost in). You can purchase admission just to the Galaxy Kids Playpark for just $9 for kids 4 and up and for $6 for 1-3 year olds (2015 prices).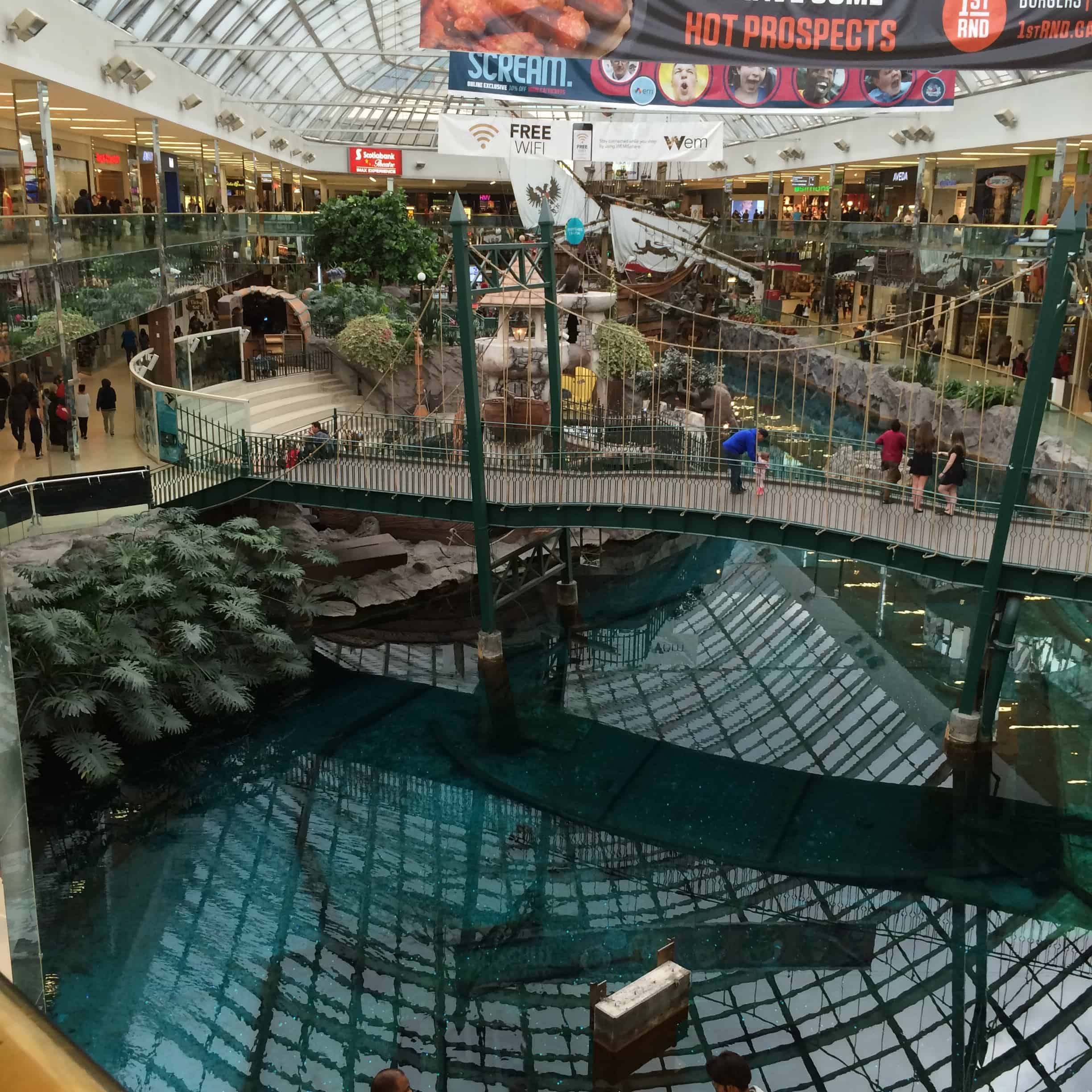 7. John Janzen Nature Centre – Tegler Discovery Zone
7000-143 Street – Whitemud Drive & Fox Drive
The Tegler Discovery Zone located inside the John Janzen Nature Centre is an indoor playground for kids 10 and under. The space re-creates animal habitats and allows children to learn though active play. The space is attractive an engaging. When you visit, look for the little acorns – pretending to be a squirrel moving it's food around entertained my kids for ages.
Read more about the Tegler Discovery Zone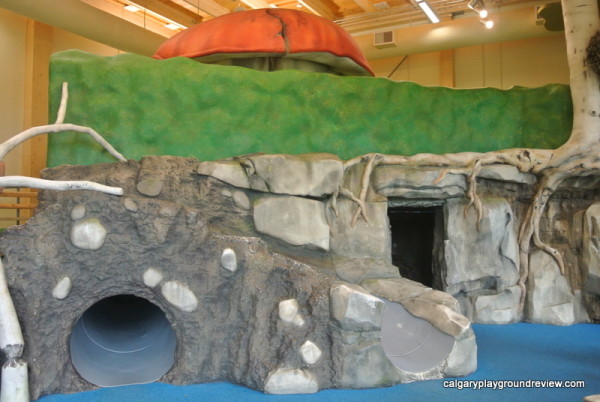 8. Panda Express
This is probably not the most obvious choice, but we've big fans of Panda Express and they don't have any locations in Calgary. In my opinion, it's what fast food Chinese food should taste like. They have a few locations in Edmonton but you'll probably want to avoid the one that is actually inside the University of Alberta along the river no matter how convenient is seems to be to where you are going (BTDT – not sure how I missed it was at the University). There is however one just a short drive from the West Edmonton Mall which would be a great option if you want something quick and different before doing some shopping.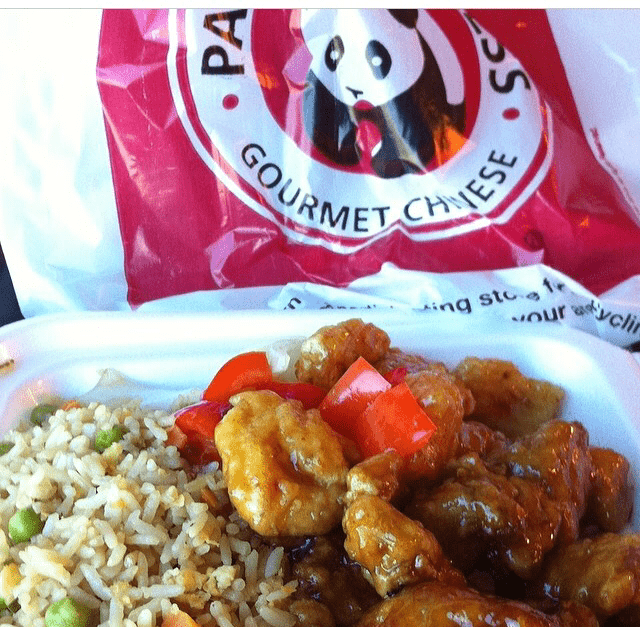 9. Fort Edmonton
We didn't actually get to Fort Edmonton this trip, but after our visit it is on the top of our list for things to do on our next visit. It shares a parking lot with the John Janzen Nature Centre and is more similar to Calgary's Heritage Park than Fort Calgary. You can ride on a steam train, streetcar and stagecoach as well enjoy pony rides and wagon rides. They also have a Midway and a miniature golf course.
Hotels and Accommodation
We stayed at the DoubleTree by Hilton Hotel West Edmonton on our trip. It's just a short drive away from both the West Edmonton Mall and the Telus World of Science. Their goal is to treat each guest as a VIP and create a rewarding experience for their guests. It starts from the moment you check in where everyone in your party gets a warm chocolate chip cookie. The beds were comfortable and the sheets and pillows were just that little bit nicer which makes such a big difference. They also have bathrobes in every room and a pool which my kids loved. If you need them, they can also supply playpens, cribs and high chairs.
If you will be in Edmonton for a longer getaway, Hilton also operates Home 2 Suites right behind the DoubleTree Hotel which is designed for extended stays. The all suite hotel includes kitchens, workspaces and moveable furniture as well as a pool and complementary breakfast.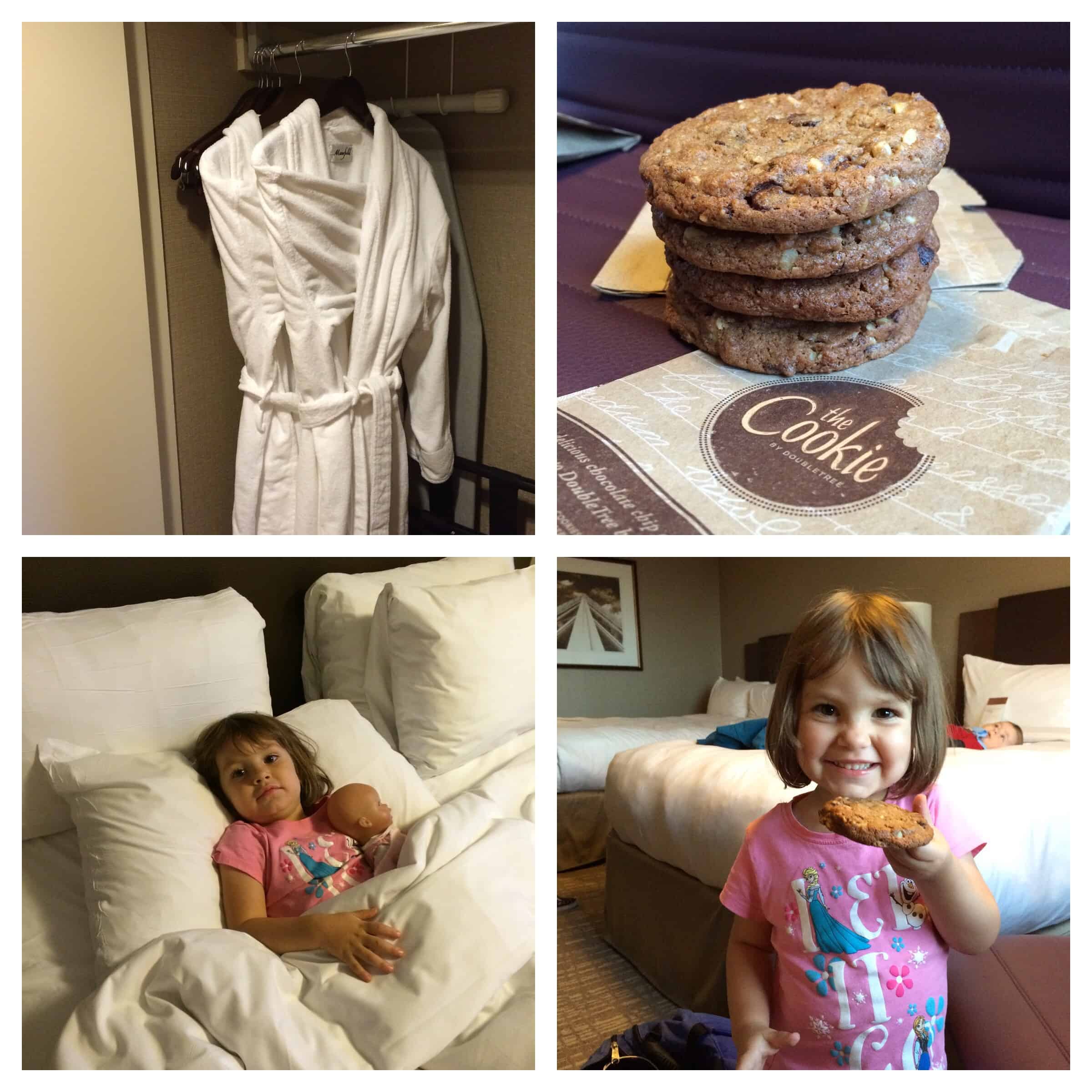 Disclosure: In order to facilitate these reviews, we were provided with accommodation in Edmonton, and some free admission to attractions.