Updated Oct 2015 to add Hazeldean Community League Train Playground
We spent a weekend in Edmonton seeking out some of the fun family friendly attractions right here in Alberta. We came up with a list of 9 places to visit on your family vacation to Edmonton and we also tried to visit as many awesome playgrounds as we could. We managed to go to 13 awesome Edmonton playgrounds but there are more than we could get to in one weekend. I guess we'll have to go back! Do you know of a playground that should be on our list? Let me know in the comments below.
Looking for even more awesome playgrounds? Check out our 2nd edition of awesome Edmonton playgrounds.
Click here for a map of where the playgrounds on these lists are,
Kinsmen Park, 9100 Walterdale Hill
The Kinsmen Park was recommended to me more than any other playground when I asked for Edmonton playground suggestions. It is obviously a city favorite and it's easy to see why. The playground area is more of a park with shady spots, multiple play areas and varied playground equipment including two huge slides on the side of the hill. The park also has a spray park, picnic spots, trails, free parking and a great view of the High Level Bridge. Kids of all ages will be able to entertain themselves for hours.
See more photos of Kinsmen Park Playground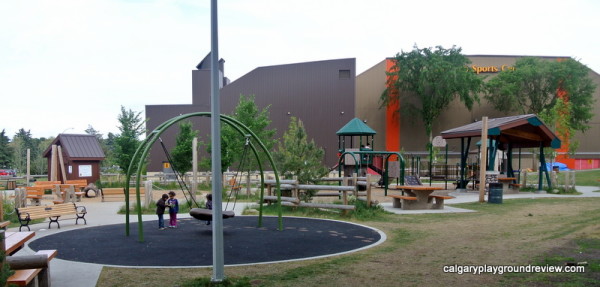 4540 50 St NW
This huge sprawling playground is really more like 4 separate adjacent playgrounds and a spray park.  Each section is worth a visit on its own merits but put together this playground is fantastic. The sheer size of this playground will make it challenging for parents who have children that require close supervision but aren't content to stay in one area. The park also features a small lake, campfire spots and pathways.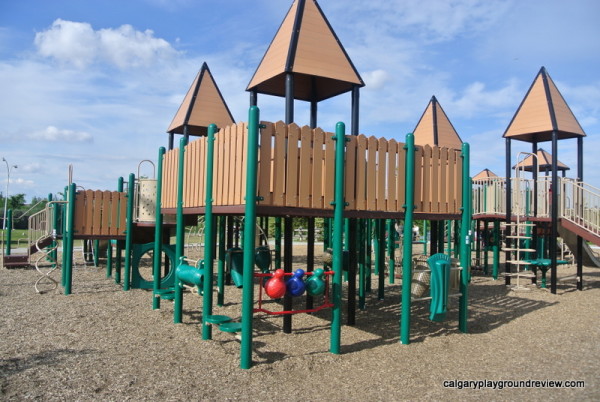 9930 Groat Rd NW
The playground at this park is really unique – in addition to a wide variety of playground equipment it has little buildings for the kids to play in like a general store and a house. This large park also has big mature trees for shade, picnic spots, trails, a lake where you can rent paddle boats, a sheltered pavilion with bathrooms and a concession.
See more photos of William Hawrelak Park Playground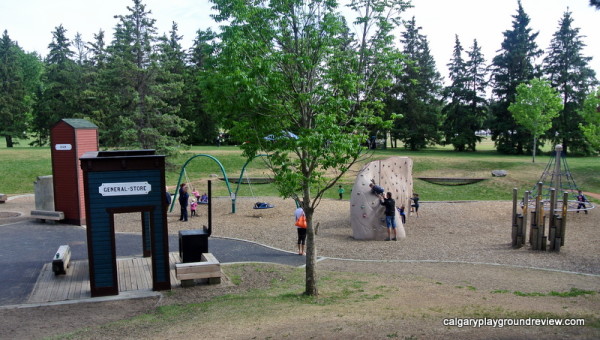 2909 113 Ave NW
This playground also came highly recommended. The play equipment is spread out over a large shady area inside a beautiful park. The park features man made lakes, a paddleboat centre and mini-golf.
See more photos of Rundle Park Playground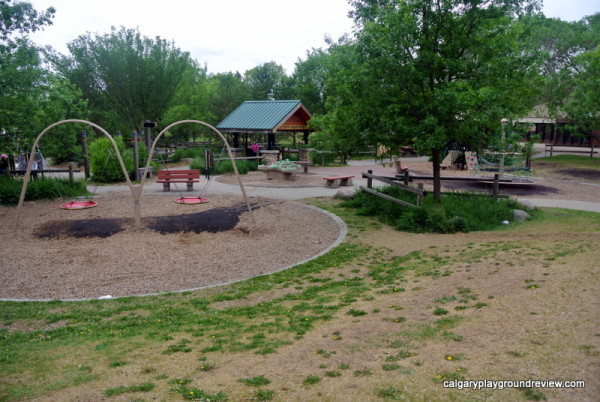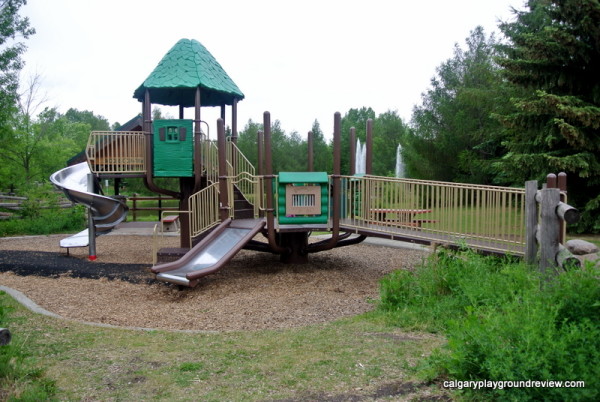 Oak Street – Broadmoor Lake Park, Sherwood Park
This brand new playground and spray park wasn't actually opened yet while we visited but I really wish it was! The spray park has a sea theme with a ship play structure in the centre. The playground has multiple play structures with and accessible flooring. One of the climbers is shaped like a ship and other has a huge tunnel slide. It would absolutely be worth the drive out of the city to Sherwood Park.
See more photos of Broadmoor Lake Park Playground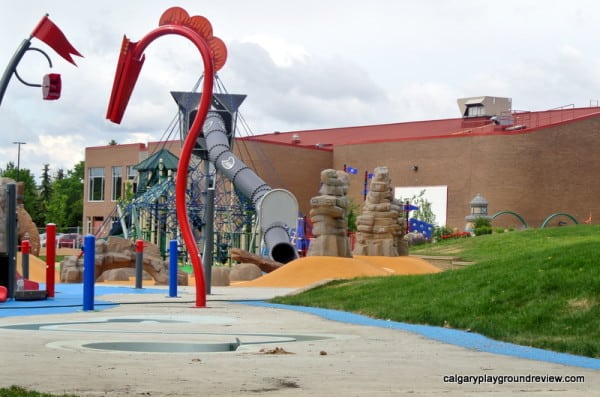 7507 Borden Park Rd NW
This playground actually has three themed climbers all of which are pretty neat. This playground is best suited for kids around age 8 and under as older kids may not find the equipment challenging enough. Younger kids will love using the themed climbers in their imaginative play. The park features large mature trees for shade, a pavilion with washrooms, artwork, picnic sites and flower gardens. The park is in the final stages of its revitalization project – in this final stage they will be turning the outdoor pool into a natural swim experience.
See more photos of Borden Park Playground
3735 114 St
The community of Greenfield has two excellent playgrounds across the field from each other – one at the school and one beside the community association. Behind the community association playground you'll also find a spray park. What else could you want?
See more Greenfield Playground photos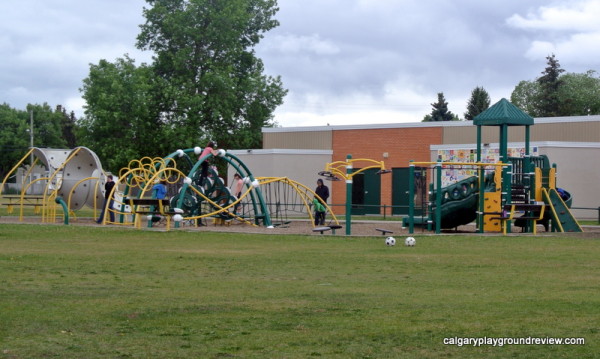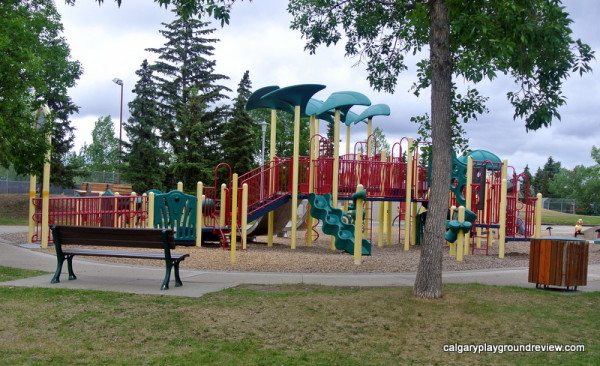 8. Haddow Park
2099 Haddow Dr NW
The playground at Haddow Park is large with a tall slide and sand flooring. The best thing about the park though is the little bridges just outside of the playground.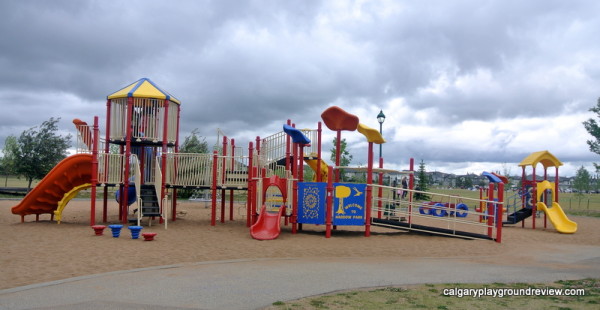 9. Ramsay Heights Playground
15130 43 Ave NW
Ramsay Heights playground has a wide variety of equipment that will appeal both to big kids and little kids. The school age climber gets really high and there are lots of things to swing and spin on. It's in a lovely park with mature trees and right next to a skate park.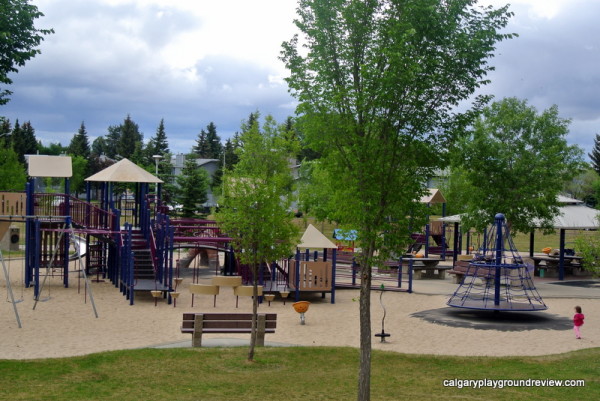 10. West Meadowlark Park
9311-165 Street
This playground features accessible flooring, a long climber than kids will love running along, a big climber wall, multiple swings and is right next to a spray park. Everything you want in one place and not so big that it's hard to keep track of your kids.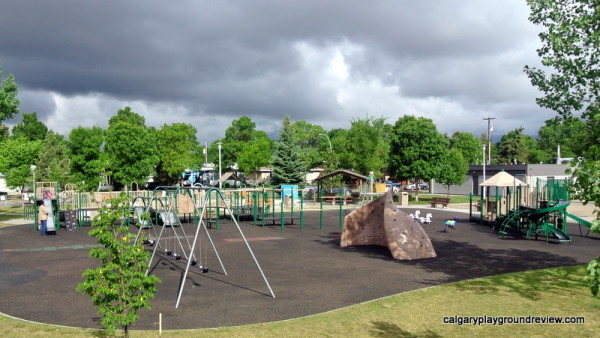 11. Summerside Park Playground
4110 Savaryn Dr SW – beside Michael Strembitsky School
Located on the southern side of Edmonton, next to Michael Strembitsky is this excellent playground in Summerside Park. The playground is large, with equipment that will appeal to little kids and big kids including a helicopter shaped piece of equipment that transportation fans will love.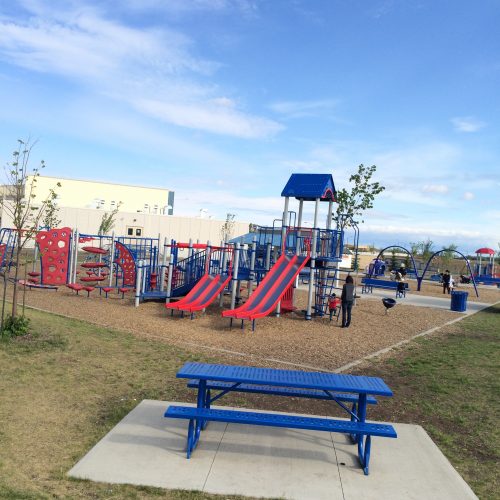 Hodgson Rd NW and Hodgson Blvd NW
This playground is smaller than many on this list, but it's still great. The playground is generally aimed at older kids but younger kids will adore the firetruck climber.
See more photos of Hodgson Park Playground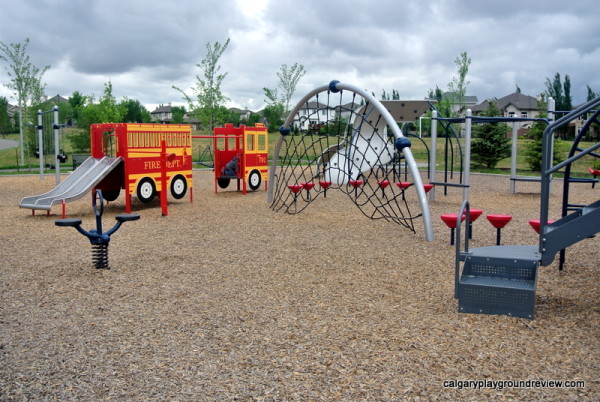 13. Cloverbar Ranch Park Playground – Sherwood Park
875 Jim Common Dr N, Sherwood Park

This playground has multiple slides, a climber than looks like a giant bug and a little spray park as well. A great playground to visit if you are in the Sherwood Park area.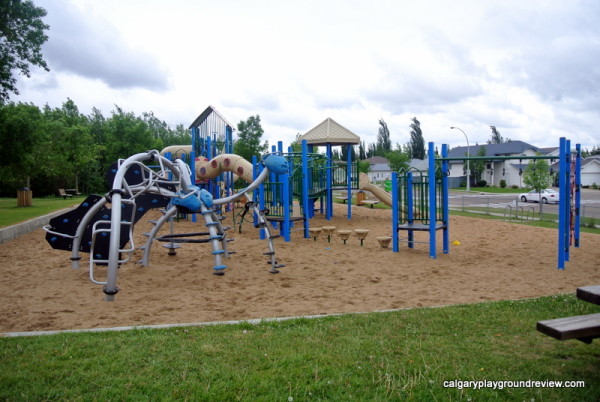 14. Hazeldean Community League Train Playground
9630 66 Ave
The central area of this playground is set up to look like trains going around a loop of tracks. The trains do not actually move, but if you have a little train fan in your family, you will not want to miss this playground.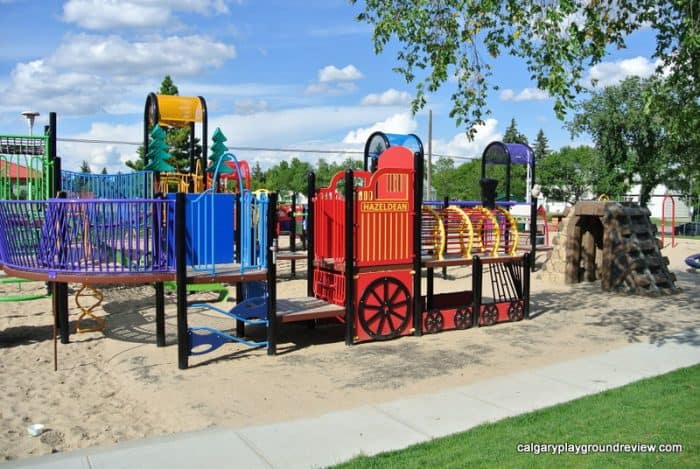 Looking for even more awesome playgrounds? Check out our 2nd edition of awesome Edmonton playgrounds.