We've been doing a lot of travel within Alberta over the last couple of years seeking out all the great things for families right in our own backyard. We went back to Edmonton this year to discover more of their awesome playgrounds. This time we focused primarily on the Northern end but we also visited a central playground and a few in the nearby communities as well.
Make sure you look at our list of awesome Edmonton playgrounds from last year where we which are generally central/south. There is a map with both sets of playgrounds at the bottom of this post.
Edmonton
1. Brintnell Park Playground
Brintnell Blvd NW & 45 St NW
Many of Edmonton's playgrounds have sand but this one has accessible flooring throughout. The shade isn't great, but there are young trees and a gazebo nearby. There is a section for preschoolers, a natural-like area and a challenging climber for older kids too.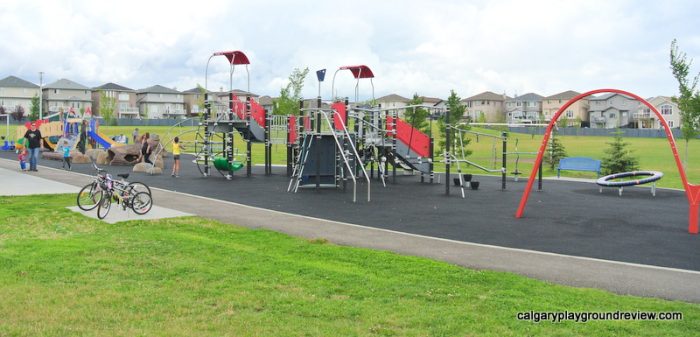 2. Florence Hallock School Playground
16437 87 St NW
This attractive school playground has a small amount of wood chips next to the accessible flooring but no sand. There are plenty of climbing opportunities but the zipline is what is going to make your kids rave about this playground and beg to go back.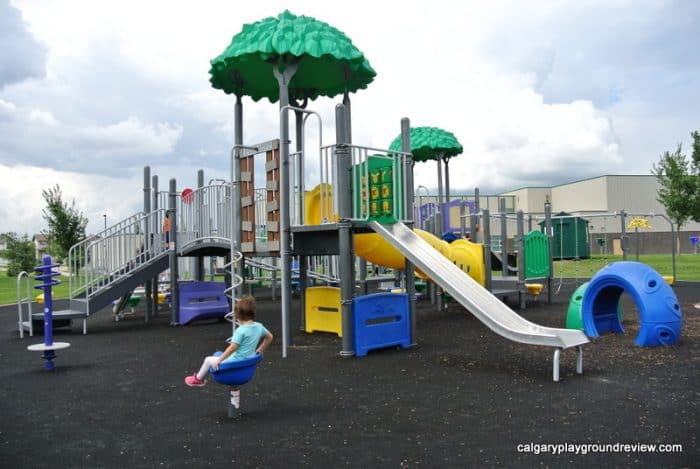 3. Eaux Claires Playground
16103 95 St
Around the toddler climber at this playground there is a little tricycle track that little ones will adore riding around. The playground has a police/fire fighter theme that even includes an ATM and a jail. It also has accessible flooring throughout.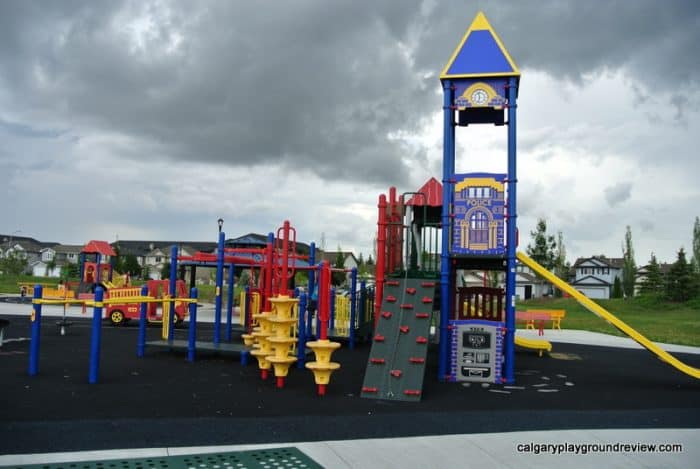 4. Castle Downs Playground
11520 153 Ave NW
One of Edmonton's largest playgrounds also has a adjacent spray park and nearby skatepark. The playground features two ship themed climbers, a sand area with preschool climbers, swings and rock climbers. There is definitely something for everyone at this park.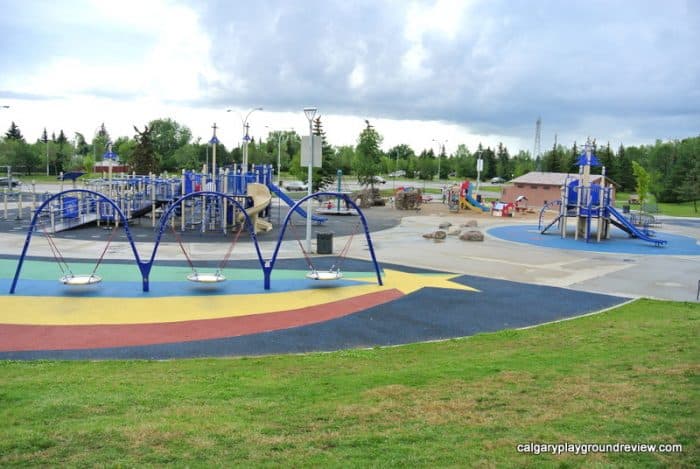 5. Hudson Park
Cumberland Rd near 138 St NW
This playground has part sand, part pour-in-place recycled tire flooring and small adjacent spray park. There are two large climbers that feature cute embellishments like the giant orange fish below. There are also swings, a large rope spinner (apollo) and a gazebo in case you need to get out of the heat.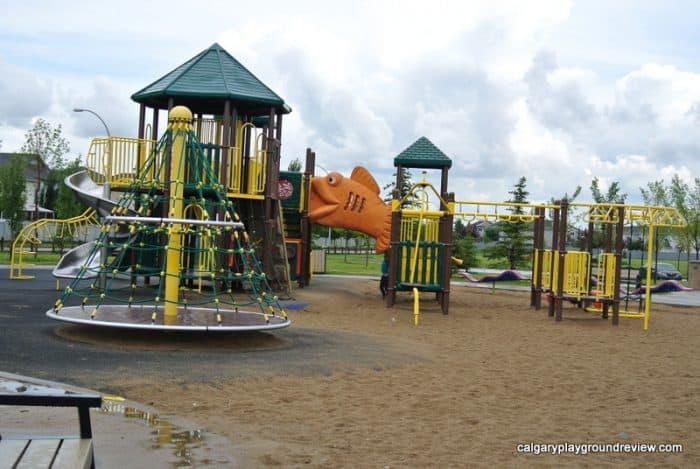 6. Elizabeth Finch School Playground
13815 160 Ave NW
This insect themed playground is sure to be a hit. Kids will love exploring the playgrounds natural features, bouncing on a dragon fly wing and climbing on a honeycomb. There is something for everyone from the littlest kids to big kids and a gazebo in case you need some shade.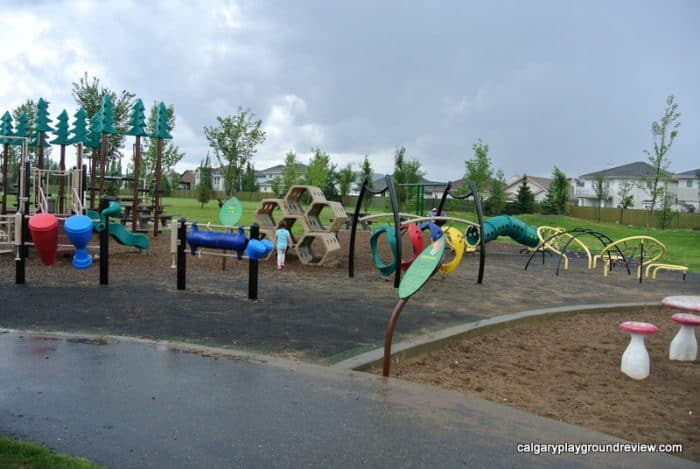 7. Tubby Bateman Park
9703 88 Ave NW
This is a fairly small park but it includes a water/sand area with running water! Be sure to bring a change of clothes with you and your kids will be sure to have a blast. The playground also features some great climbing equipment and a cool little art installation with a bison statue surrounded by big rocks.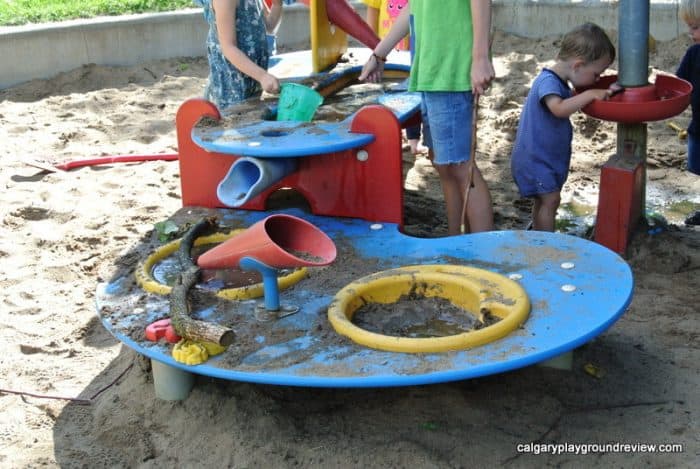 Sherwood Park
8. Broadmoor Lake Park
Oak St near Glenmore Ave – Sherwood Park
This playground hasn't opened yet when we visited Edmonton last year. This is one of the most impressive looking playgrounds I've seen – a real destination playground. With multiple climbing structures, swings and a sea themed spray park with a ship play structure in the centre. My kids all loved this playground. The huge slide was a trip highlight for my 7 year old. This playground is definitely worth the trip outside of the city.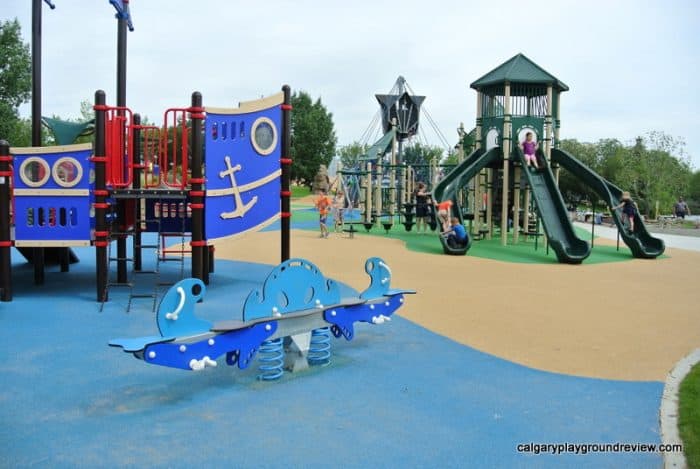 9. Brentwood School Playground
28 Heron Rd – Sherwood Park
If you are looking for a great playground that's a big smaller in Sherwood Park, you'll love the Brentwood School Playground. Bring out your pail and shovel so the kids can play in the sand as well as the parks tall slides, saucer swings and climbing features. If you love playground hopping there is also another playground that you can walk to across the field.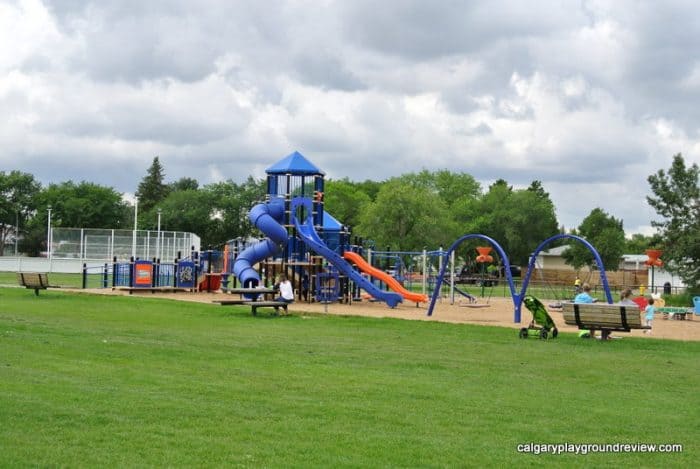 St. Albert
10. Father Jan School Playground
15 Mission Avenue – St. Albert
There is a playground on either side of Father Jan School. This one is tucked in at the back. The playground features saucer swings, a big rope spinner (apollo) and a huge tube slide. Additionally, it has an electronic playground structure. The equipment was working but unfortunately the primary screen was clouded over while we were there which made it difficult to see what game we were playing.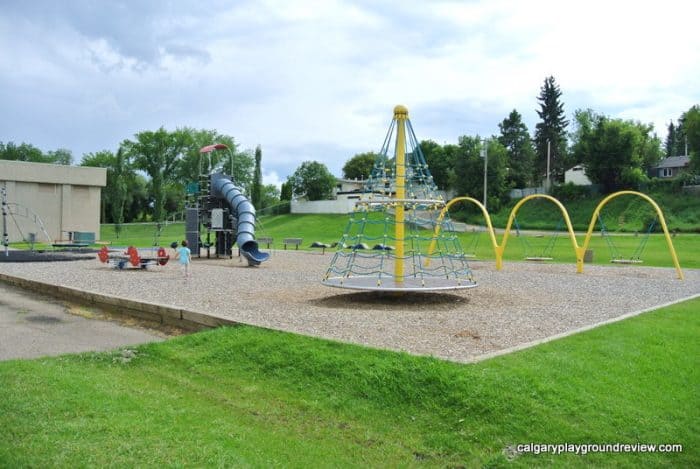 If you decide to go see it, here are the different games that you can play on it.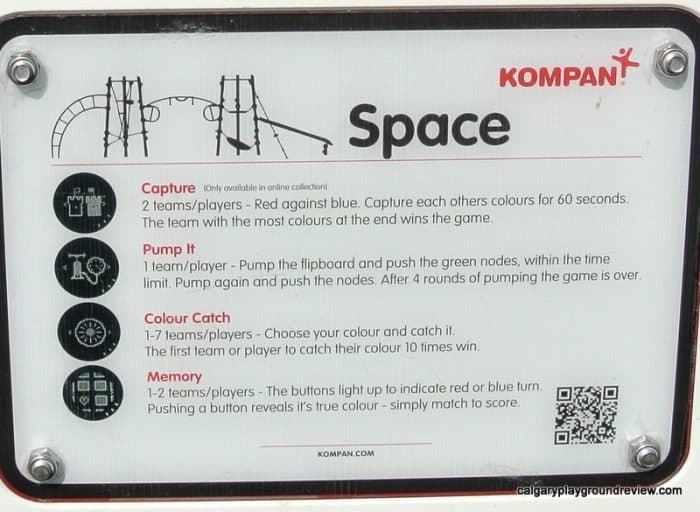 11. Woodlands Water Play Park and Playground
165 Sturgeon Road – St. Albert
In a lovely park with large mature trees, you can find the Woodlads Water Play Park. The spark park is large with many different kids of spray features and right next to it is this playground. Little kids will love the ramps and bigger kids will love the tall twisty slide and walking through the big fish.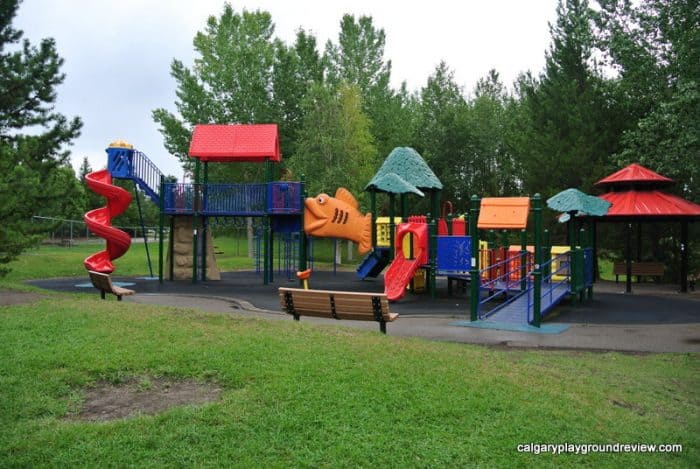 Spruce Grove
12. Spruce Grove Natural Playground
Main Street and Mohr Avenue (may be better accessed from King Street) – Spruce Grove
This natural playground is built onto a hill. The playground has a mining theme with a slide built into the hill, a large rock and rope climber  as well as many rocks and logs to play on.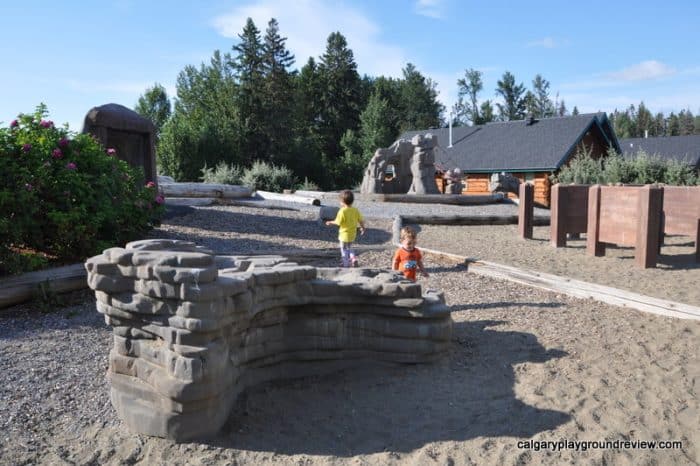 13. Broxton Park School Playground
505 McLeod Ave – Spruce Grove
This playground is tucked around behind Broxton Park School. The playground has a huge web climber, saucer swings, a hexagon climber and as well as a large climber with a triple slide.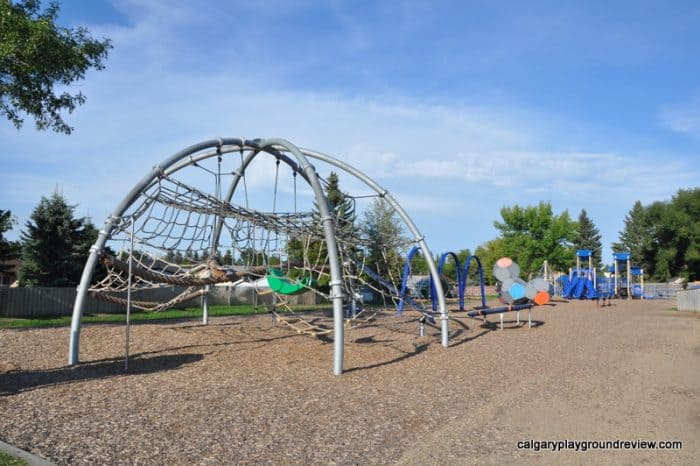 Leduc
14. Meadowview Dinosaur Playground
South off of Meadowview Blvd between Meadowview Dr and CW Gaetz Rd -Leduc
This playground commemorates the hadrosaur dinosaur skelton fossil found in the area of Leduc. The playground has a dinosaur theme which kids will love as well as the best zipline I've seen in Alberta.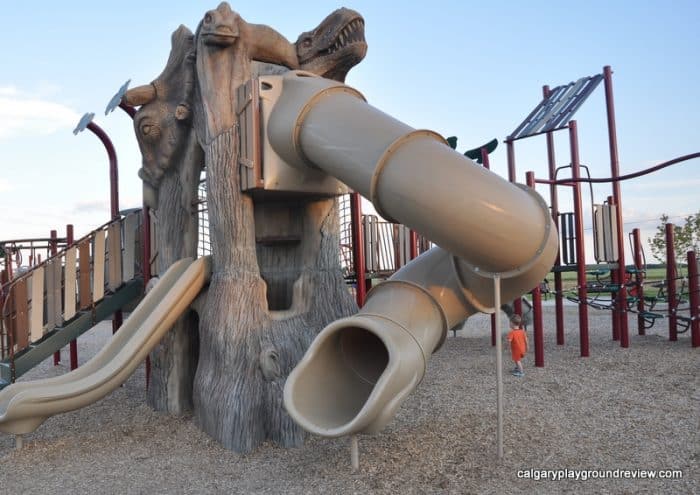 Looking for even more great playgrounds? Check out last year's list of awesome Edmonton playgrounds
Hotel and Accommodations
We stayed at the Delta Edmonton South Hotel on this  trip. Located along the #2 Highway the hotel is easy to get to from Calgary and provides quick access to many of Edmonton's attractions including the West Edmonton Mall, the Edmonton River Valley, and Fort Edmonton.
The hotel is very family friendly. When you arrive the kids each get a little activity pack which makes you feel welcome right from the start. The rooms each have a a little kitchenette, complimentary bottled water and a playpen or rollaway cot if you need one. The pool is nice and bright and has a few life jackets for the kids. We stayed in one of their Kidzone rooms which has a King bed and a small room with bunk beds for the kids. I found this really helped the kids fall asleep and made the rest of our evening nicer too. Each bunk bed has its own TV where the kids can watch DVDs from the lobby.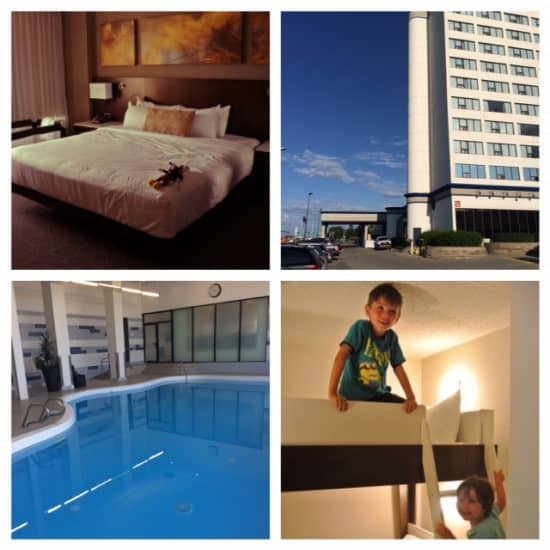 Disclosure: In order to facilitate these reviews, we were provided with accommodation in Edmonton by Delta South Edmonton.