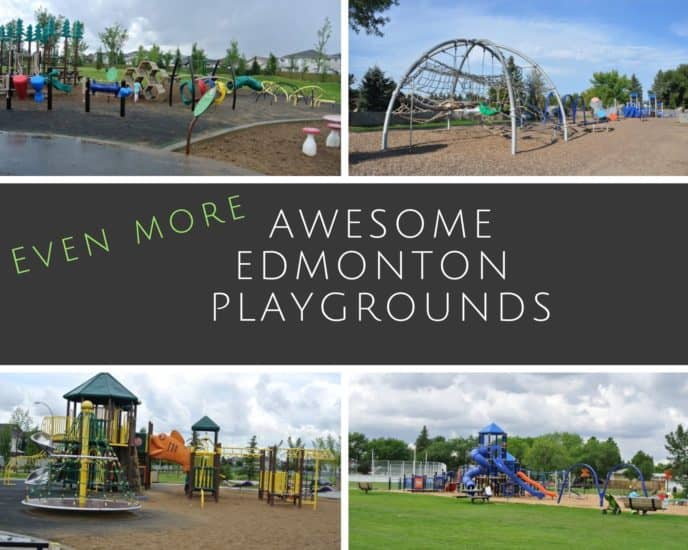 Even more of the best playgrounds in and around Edmonton
We've been doing a lot of travel within Alberta over the last couple of years seeking out all the great things for families right in our own backyard. Here are some of the best Edmonton Playgrounds North/West of the river.
Make sure you look at our list of other awesome Edmonton playgrounds too. There is a map with both sets of playgrounds at the bottom of this post.
Edmonton – South of the River
3735 114 St
The community of Greenfield has two excellent playgrounds across the field from each other – one at the school and one beside the community association. Behind the community association playground you'll also find a spray park. What else could you want?
See more Greenfield Playground photos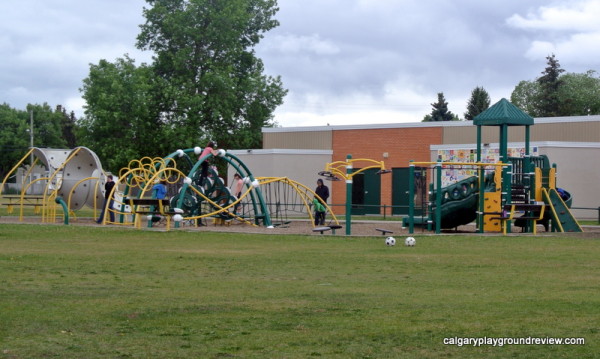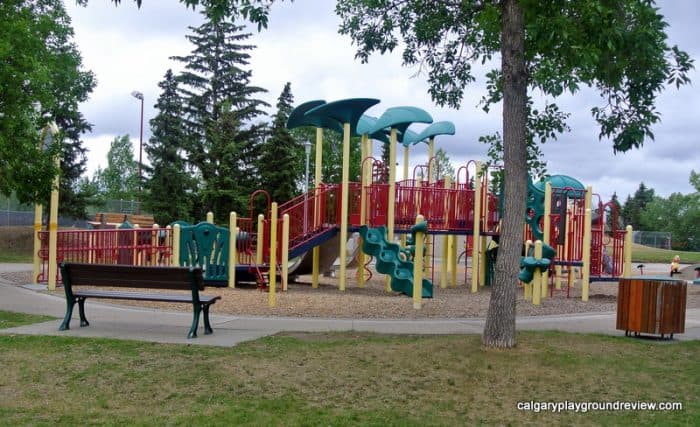 2. Haddow Park
2099 Haddow Dr NW
The playground at Haddow Park is large with a tall slide and sand flooring. The best thing about the park though is the little bridges just outside of the playground.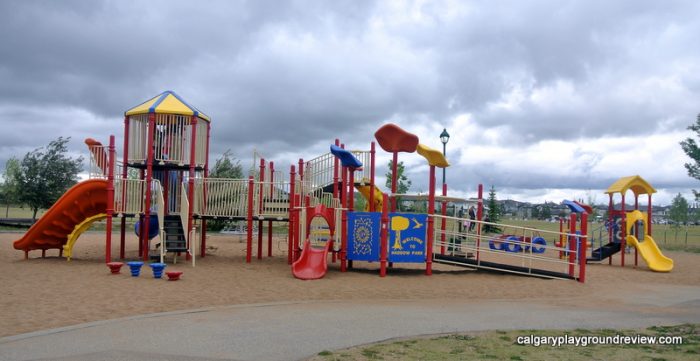 3. Ramsay Heights Playground
15130 43 Ave NW
Ramsay Heights playground has a wide variety of equipment that will appeal both to big kids and little kids. The school age climber gets really high and there are lots of things to swing and spin on. It's in a lovely park with mature trees and right next to a skate park.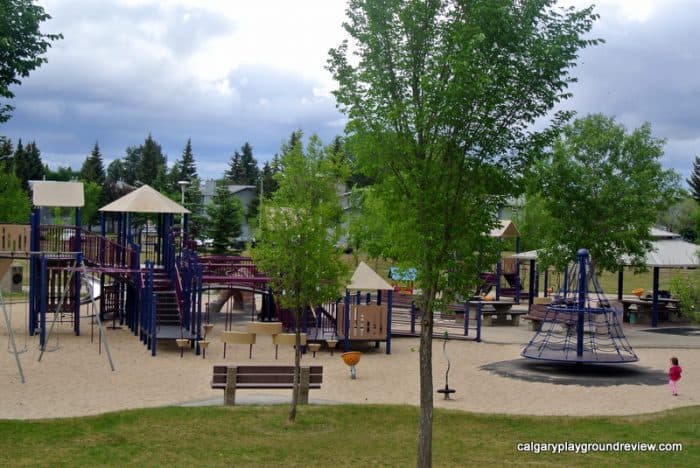 4. Summerside Park Playground
4110 Savaryn Dr SW – beside Michael Strembitsky School
Located on the southern side of Edmonton, next to Michael Strembitsky is this excellent playground in Summerside Park. The playground is large, with equipment that will appeal to little kids and big kids including a helicopter shaped piece of equipment that transportation fans will love.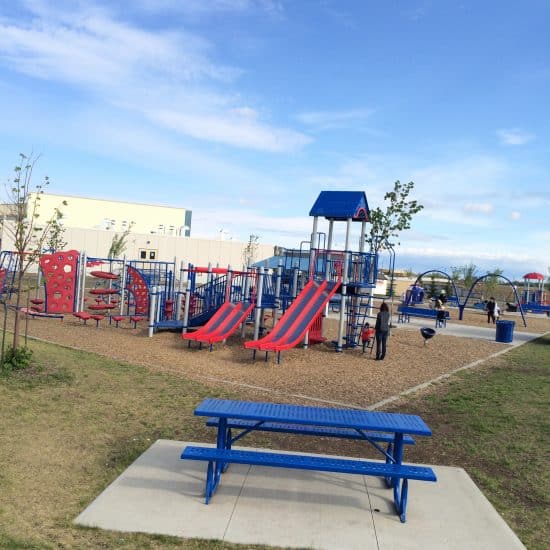 Hodgson Rd NW and Hodgson Blvd NW
This playground is smaller than many on this list, but it's still great. The playground is generally aimed at older kids but younger kids will adore the firetruck climber.
See more photos of Hodgson Park Playground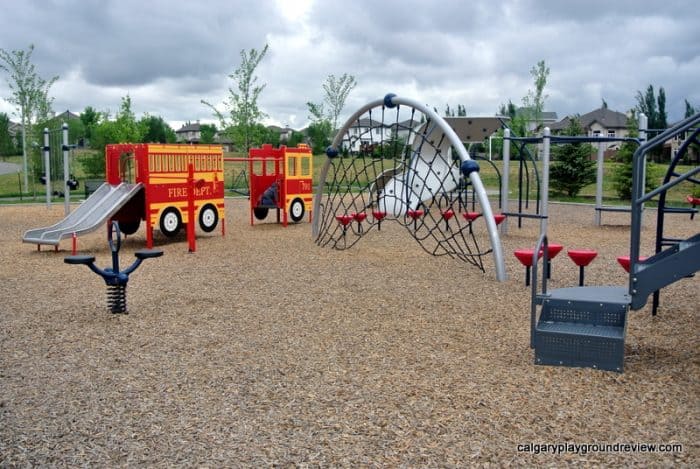 6. Tubby Bateman Park
9703 88 Ave NW
This is a fairly small park but it includes a water/sand area with running water! Be sure to bring a change of clothes with you and your kids will be sure to have a blast. The playground also features some great climbing equipment and a cool little art installation with a bison statue surrounded by big rocks.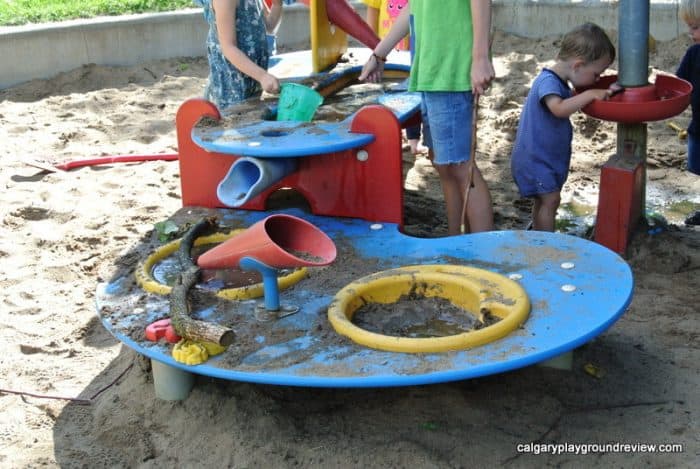 Edmonton – North of the River
7. Florence Hallock School Playground
16437 87 St NW
This attractive school playground has a small amount of wood chips next to the accessible flooring but no sand. There are plenty of climbing opportunities but the zipline is what is going to make your kids rave about this playground and beg to go back.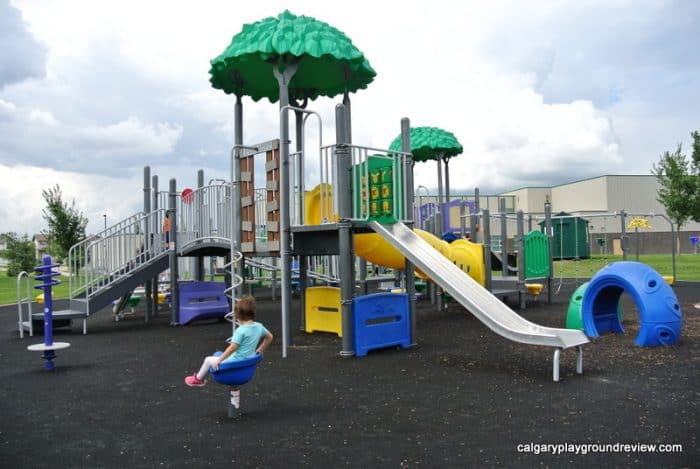 8. Hudson Park
Cumberland Rd near 138 St NW
This playground has part sand, part pour-in-place recycled tire flooring and small adjacent spray park. There are two large climbers that feature cute embellishments like the giant orange fish below. There are also swings, a large rope spinner (apollo) and a gazebo in case you need to get out of the heat.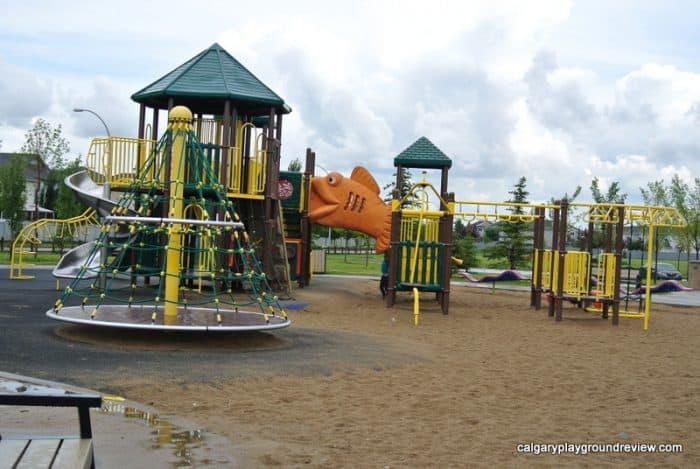 9. Elizabeth Finch School Playground
13815 160 Ave NW
This insect themed playground is sure to be a hit. Kids will love exploring the playgrounds natural features, bouncing on a dragon fly wing and climbing on a honeycomb. There is something for everyone from the littlest kids to big kids and a gazebo in case you need some shade.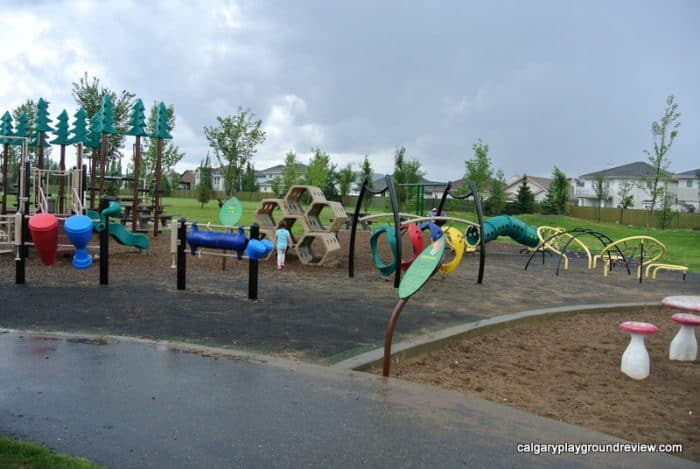 10. West Meadowlark Park
9311-165 Street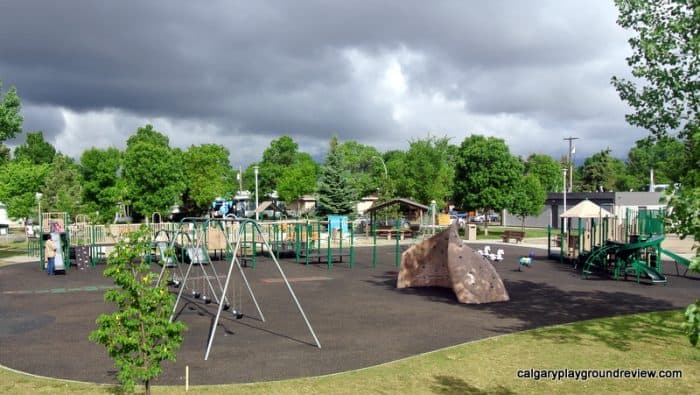 This playground features accessible flooring, a long climber than kids will love running along, a big climber wall, multiple swings and is right next to a spray park. Everything you want in one place and not so big that it's hard to keep track of your kids.

St. Albert
11. Father Jan School Playground
15 Mission Avenue – St. Albert
There is a playground on either side of Father Jan School. This one is tucked in at the back. The playground features saucer swings, a big rope spinner (apollo) and a huge tube slide.
Additionally, it has an electronic playground structure. The equipment was working but unfortunately the primary screen was clouded over while we were there which made it difficult to see what game we were playing.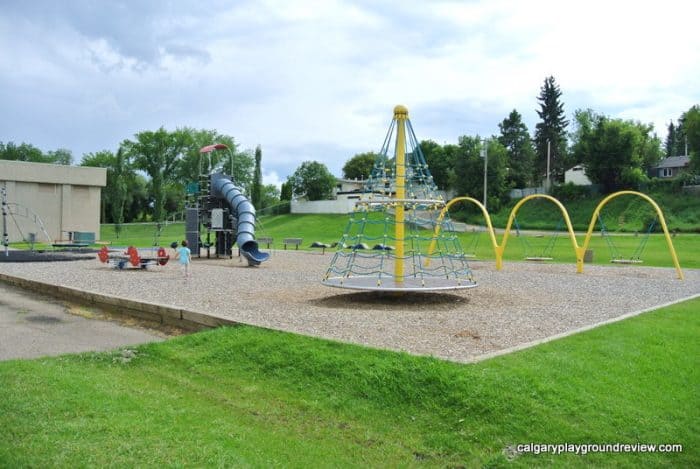 If you decide to go see it, here are the different games that you can play on it.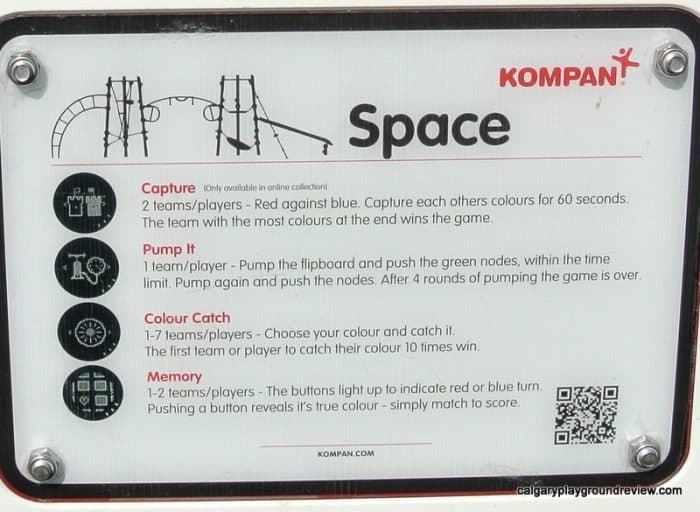 12. Woodlands Water Play Park and Playground
165 Sturgeon Road – St. Albert
In a lovely park with large mature trees, you can find the Woodlads Water Play Park. The spark park is large with many different kids of spray features and right next to it is this playground. Little kids will love the ramps and bigger kids will love the tall twisty slide and walking through the big fish.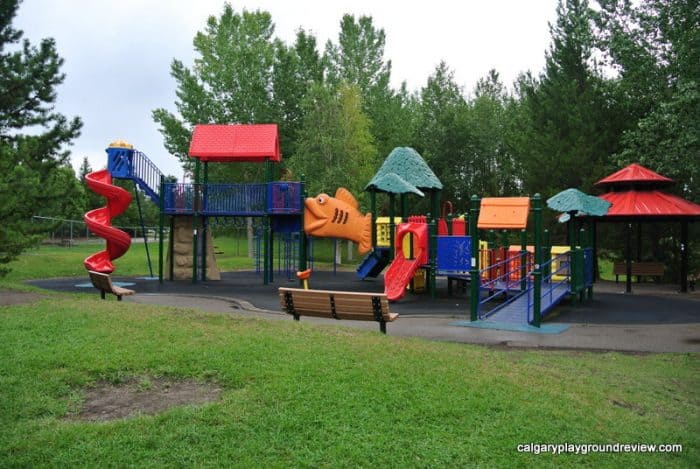 Spruce Grove
13. Spruce Grove Natural Playground
Main Street and Mohr Avenue (may be better accessed from King Street) – Spruce Grove
This natural playground is built onto a hill. The playground has a mining theme with a slide built into the hill, a large rock and rope climber as well as many rocks and logs to play on.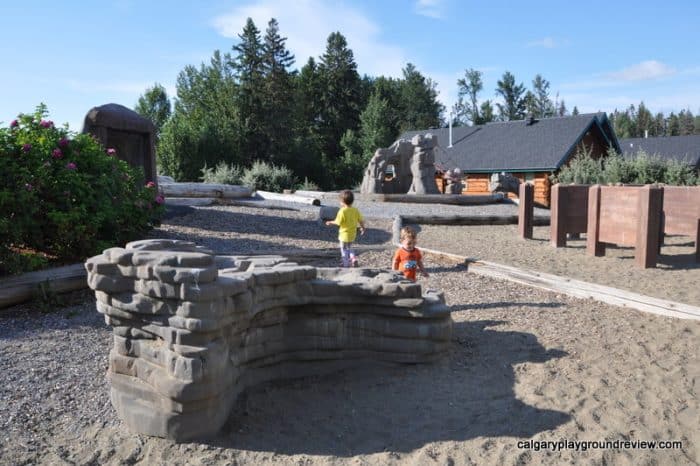 14. Broxton Park School Playground
505 McLeod Ave – Spruce Grove
This playground is tucked around behind Broxton Park School. The playground has a huge web climber, saucer swings, a hexagon climber and as well as a large climber with a triple slide.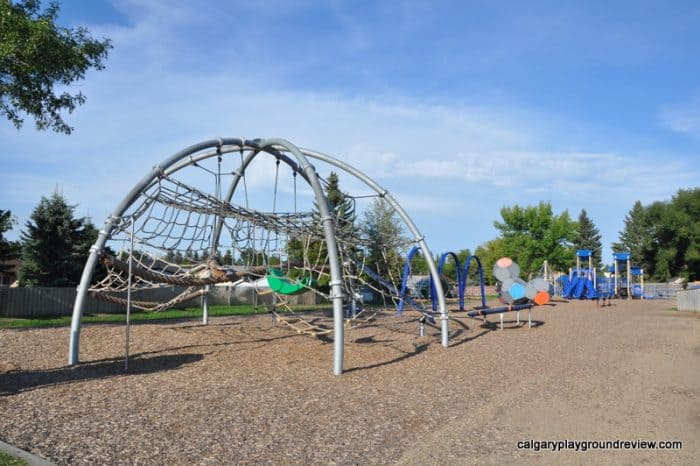 Sherwood Park
15. Brentwood School Playground – Sherwood Park
28 Heron Rd – Sherwood Park
If you are looking for a great playground that's a big smaller in Sherwood Park, you'll love the Brentwood School Playground. Bring out your pail and shovel so the kids can play in the sand as well as the parks tall slides, saucer swings and climbing features. If you love playground hopping there is also another playground that you can walk to across the field.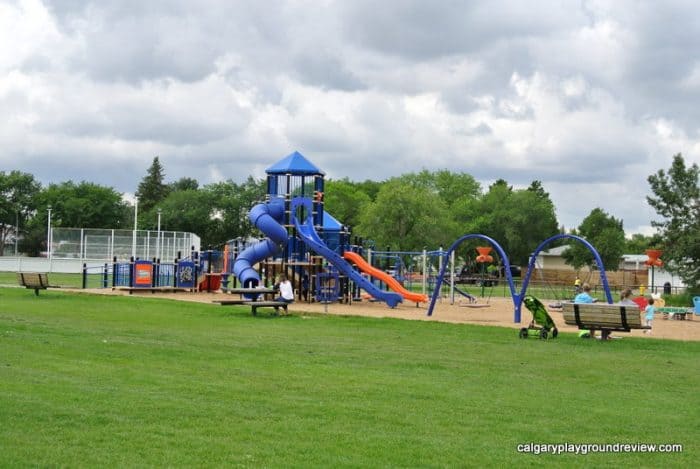 16. Cloverbar Ranch Park Playground – Sherwood Park
875 Jim Common Dr N, Sherwood Park
This playground has multiple slides, a climber than looks like a giant bug and a little spray park as well. A great playground to visit if you are in the Sherwood Park area.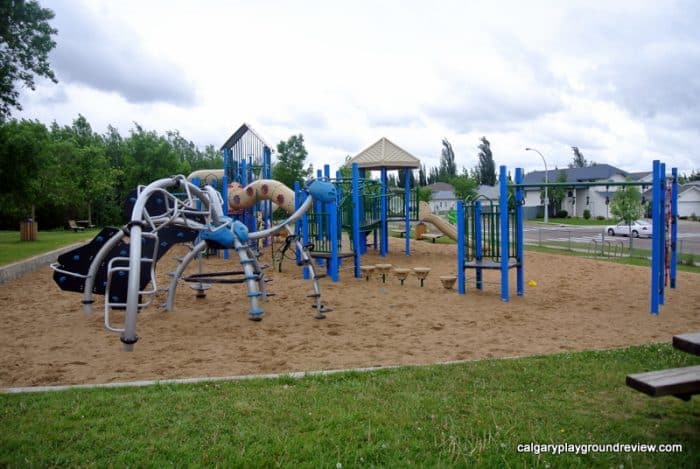 You may also be interested in:
Please Note: 
We do our best to ensure the information on Calgary Playground Review is accurate, however information and events are subject to change. Please contact the organizations directly to avoid disappointment.
Can you help make this article better?
If you have noticed an error, have additional information or would like to share a comment you can:
E-mail us at calgaryplaygroundreview@gmail.com
Find us on Facebook: CalgaryPlaygroundReview
Find us on Instagram: YYCdana
Tweet us: YYCdana
We are not affiliated with any venues, attractions or organizations. Please message them directly if you have questions or concerns.