Alberta has some really fun playgrounds. They can be a great stop on a road trip or a destination all on their own. Here are some of Alberta's best playgrounds that will make your kids say "let's go there!"
I've split the list up into Southern Alberta and Northern/Central Alberta so if you are looking for Southern Alberta playgrounds check this list. There is also a map at the bottom of the post.
Do you know of a playground that should have been on this list? Let me know! I am always looking for great playground recommendations.
Northern and Central Alberta Playgrounds
1. Carstairs School Playground – Carstairs
Scarlett Ranch Blvd, Carstairs
This playground is located in the middle of a large field next to the Carstairs Elementary School and Carstairs library. The playground is so big it's hard to capture in one picture. Great for a wide age range.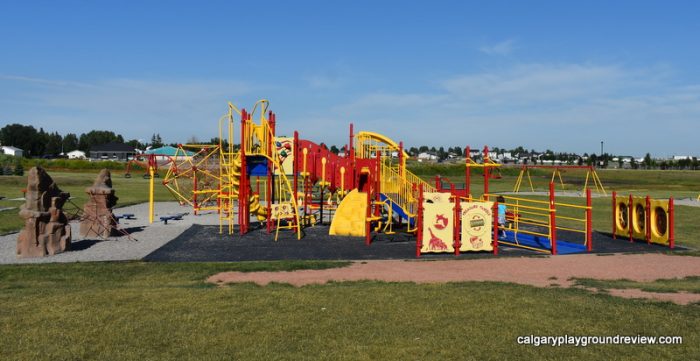 2. Royal Tyrrell Museum Playground – Drumheller
1500 N Dinosaur Trail, Drumheller, AB
Located just outside the Royal Tyrrell Museum, this playground is free to access. The set up is similar to a small indoor play place and also includes a shaded dinosaur dig at the back.
See more: things to do with kids in Drumheller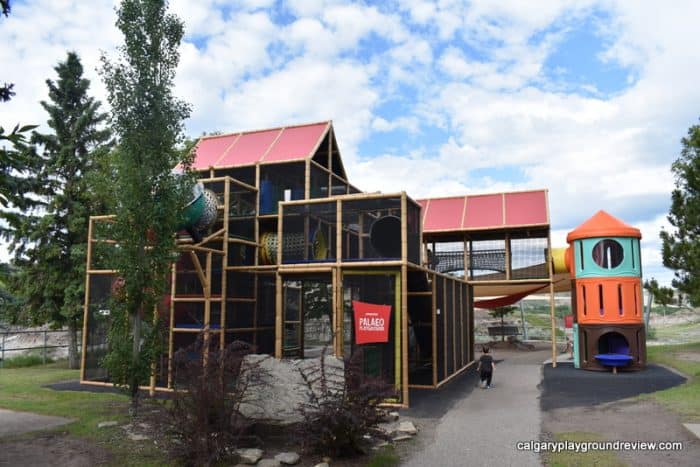 3. David Thompson Resort Rocketship Playground – Near Nordegg
42km west of Nordegg on Highway 11
This extremely tall Rocketship playground at the David Thompson Resort is open to the public and unlike any other. Even if you are not staying the night, you can also check out the restaurant and gift shop while you are there.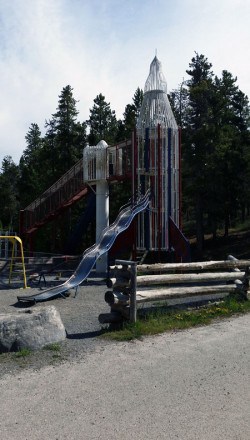 (Photo courtesy of the David Thompson Resort)
6300 45 Ave – Red Deer, AB
This playground is very different from your typical metal and plastic playgrounds and provides different kinds of challenges that city kids can miss out on. In addition to the great slide, kids can walk on logs, hop from stump to stump, crawl along a web and play with loose rock and wood pieces.
See more great Red Deer Playgrounds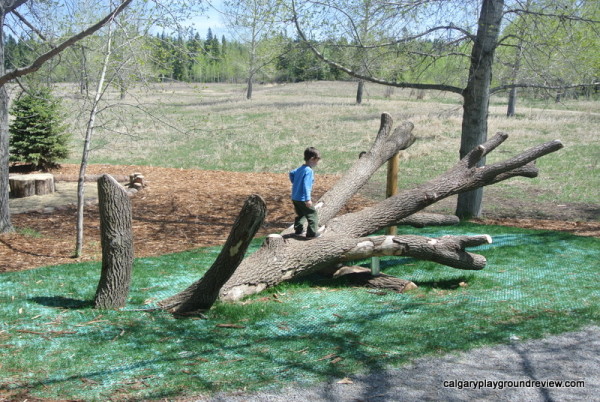 5. Tayles Park Pirate Ship Playground – Blackfalds
Gregg St – Blackfalds, Alberta
The Pirate ship playground is really cool and provides a great backdrop for imaginative play. There is also a spray park right next to the playground. The train line runs right along the park (across the street) on the west side which is great for little train fans.
See more great Blackfalds playgrounds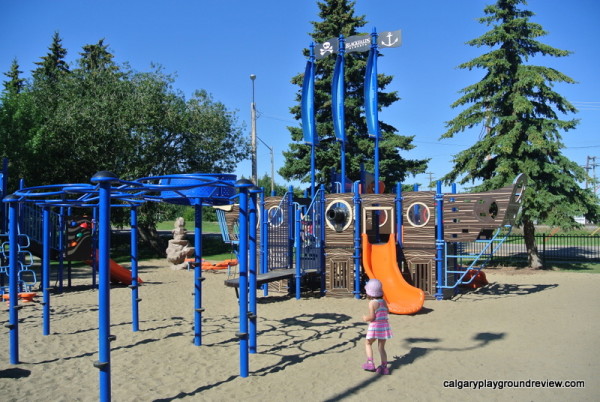 6. Everybody's Playground – Lacombe, AB
5414 50 St, Lacombe, AB
This playground located behind Ecole Lacombe Upper Elementary School (and close to the spray park) has accessible flooring, ramps and other features making it fun for kids of many different abilities.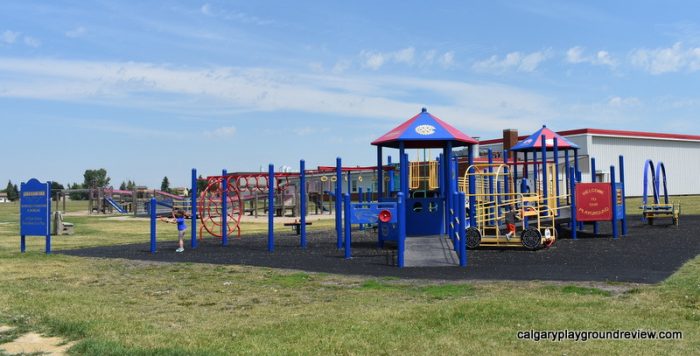 7. Ponoka Elementary School Playground
Highway 2A and 48 Ave, Ponoka, AB
The new playground at Ponoka Elementary is fantastic including a jaw dropping slide and climber. In addition, if you like playground hopping there are a few additional playgrounds in the adjacent fields. Just across the highway, you'll find Lion's Centennial Park with another solid playground, Ponoka's spray park and the World's Largest Bronc and Rider statue.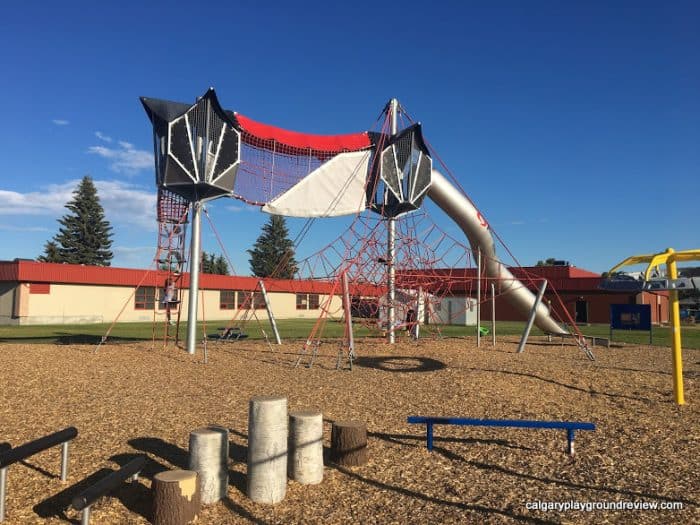 8. Centennial Park Playground – Jasper
Maligne Ave and Turret St – Jasper, AB
This playground is located in an elk proof park in the heart of the Rocky Mountains. The playground has a insect theme with big slides, ramps and a sandbox area.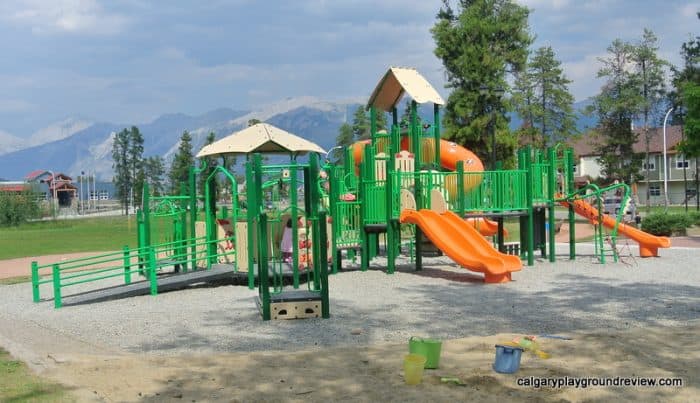 9. Fultonvale Elementary School Playground
52029 Range Rd 224, Sherwood Park (actually located SE of Sherwood Park)
This amazing playground is located at a school that serves the rural area SE of Sherwood Park. The slide at the main climber is huge and the rest of the playground is great too. In addition, if you like playground hopping, there's another playground at the East end of the school and and older playground at the adjacent Strathcona Olympiette Centre too.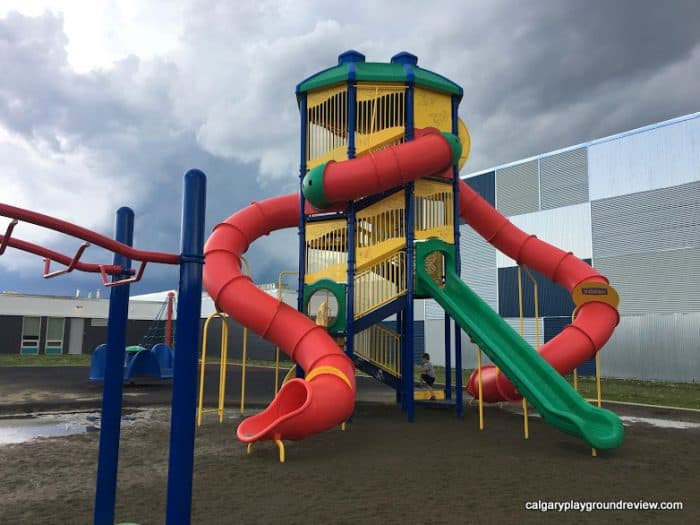 10. Meadowview Dinosaur Playground – Leduc
Meadowview Blvd – Leduc, Alberta
This playground was built on the site where a hadrosaur skeleton was found the year before. The playground features dinosaur themed slides and a dino dig sandbox where kids can pretend to be paleontologists.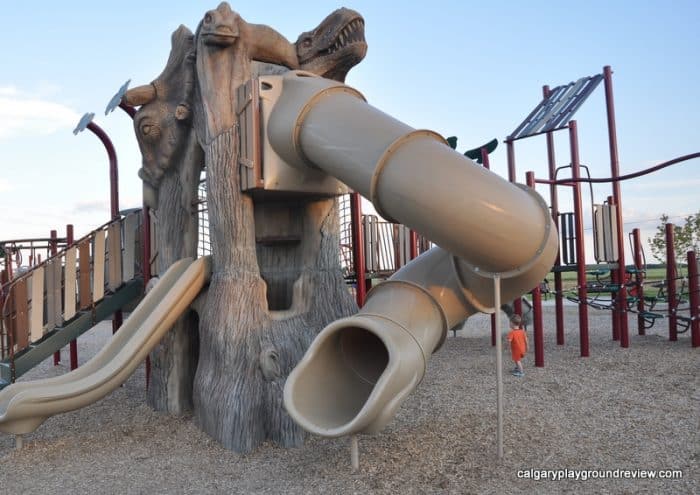 4540 50 Street NW, Edmonton, AB
Jackie Parker has one of the biggest outdoor play spaces in Alberta. This huge sprawling playground is really more like 4 separate adjacent playgrounds and a spray park. Each section is worth a visit on its own merits but put together this playground is fantastic.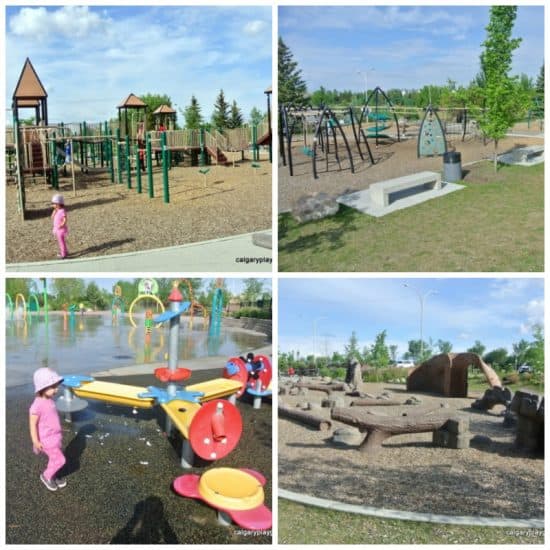 See more great Edmonton playgrounds

Oak Street – Broadmoor Lake Park – Sherwood Park, AB
The playground has multiple play structures with and accessible flooring. One of the climbers is shaped like a ship and other has a huge tunnel slide. The spray park has a sea theme with a ship play structure in the centre. It would absolutely be worth the drive out of the city to Sherwood Park.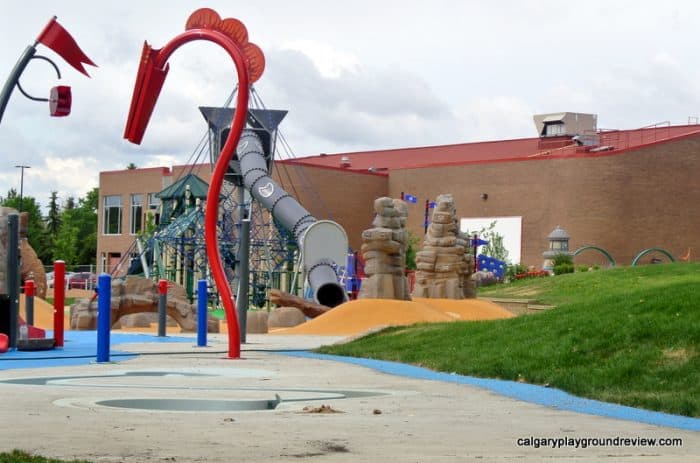 9100 Walterdale Hill – Edmonton, AB
The playground area is more of a park with shady spots, multiple play areas and varied playground equipment including two huge slides on the side of the hill. The park also has a spray park, picnic spots, trails, free parking and a great view of the High Level Bridge. Kids of all ages will be able to entertain themselves for hours.
See more great Edmonton playgrounds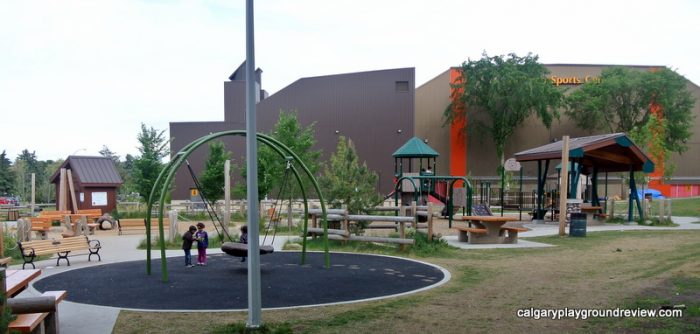 14. Elks/Kinsmen Park Playground – Vegreville
43st and 5st Ave – Vegreville, AB
This accessible playground features a huge ramp system and a train climber. This playground has something for kids of all ages and abilities. The Elks/Kimsmen Park is also home of the world's largest Pysanka "Easter Egg" and lovely trout pond and is great place to stop and have a picnic. A short drive North on 47 St will lead you to another fantastic playground with a really impressive slide.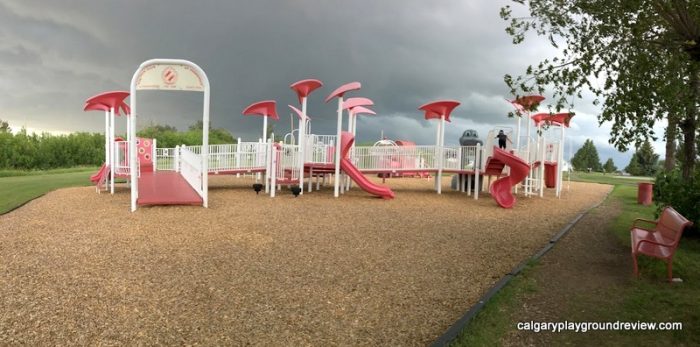 15. Rotary Playscape – Spruce Grove
Tri Leisure Way and Jennifer Heil Way
This large playground provides challenges and opportunities for kids of all ability levels.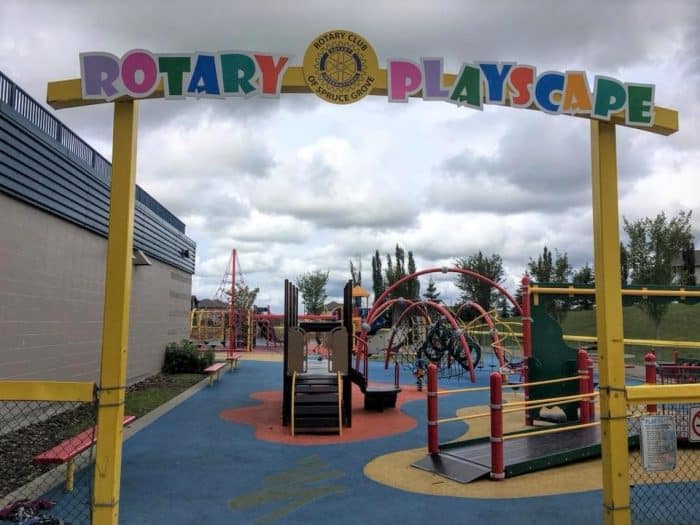 (photo courtesy of Family Adventures in the Canadian Rockies)
16. Niton Junction Pump track Playground
Niton Junction
This playground in the hamlet of Niton Junction is located right next to their pump track so don't forget to bring your bike.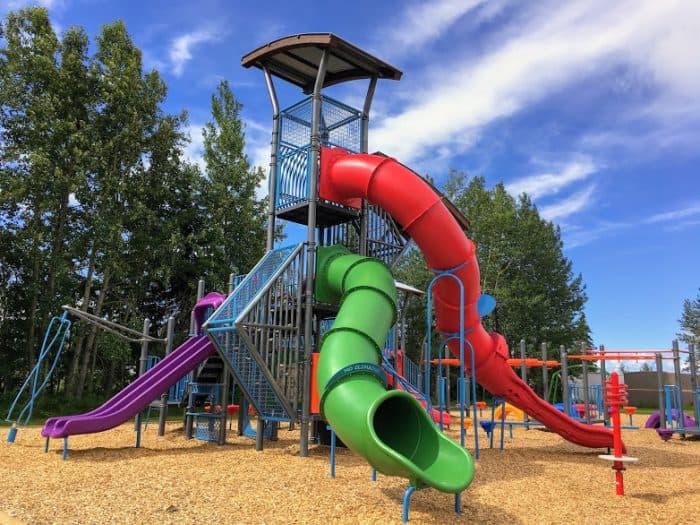 (photo courtesy of Family Adventures in the Canadian Rockies)
17. Peers Pump Track Playground
51 St Peers, AB
This playground is located next to the pump track so be sure to bring your bike.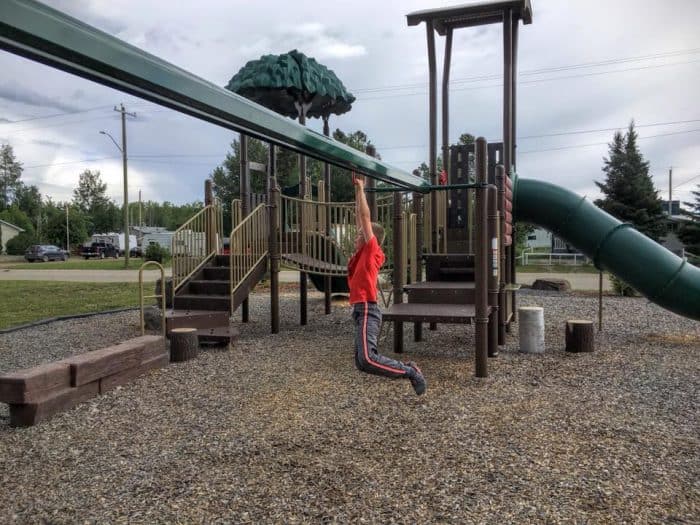 (photo courtesy of Family Adventures in the Canadian Rockies)
18. Josephburg Agriculture Playground – Josephburg
1 ave S and 2 st W – Josephburg, AB
This playground has an agriculture theme with barn, grain elevator and tractor shaped playground equipment with great slides, bridges and tunnels.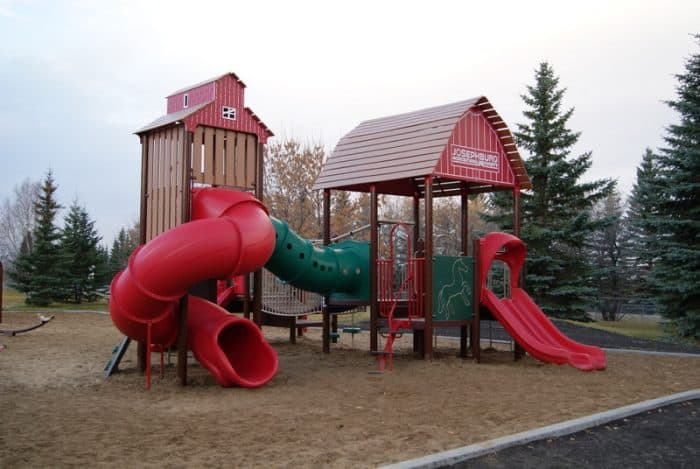 (photo courtesy of Park N Play Design)
end of 51 Street heading North – Whitecourt, AB
This accessible playground is one of the tallest in Alberta – the treehouse climber lets kids play safety at a huge height and then slide down enormous tube slides. In the summer months they also have a washroom, Whitecourt river tube slides (no rentals) with a shallow basin beach, splash park and fishing pond.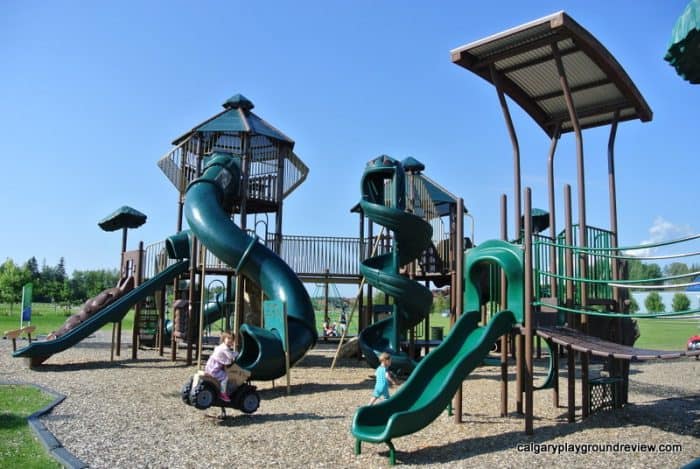 20. Lagasse Park – St. Paul, AB
47 St & Lakeshore Drive, St. Paul, AB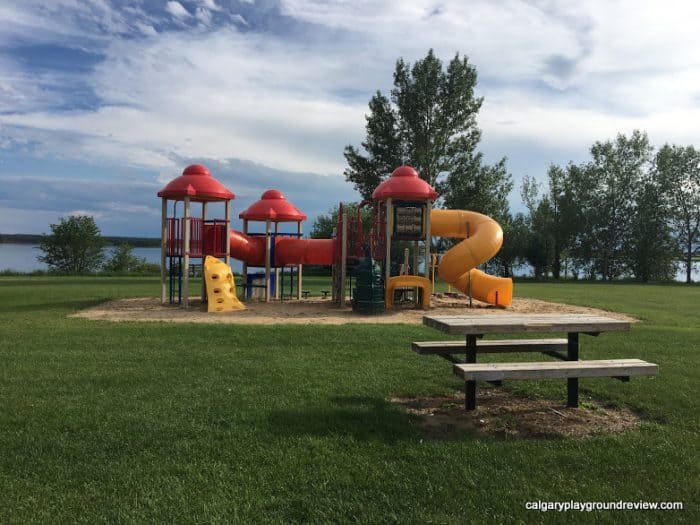 St. Paul is home to the World's First UFO Landing Pad roadside attraction as well as this lovely lakeside park. The park features a playground, spray park, outdoor fitness centre, pathways and a basketball court.

21. Glendon Pyrogy Park – Glendon, AB
Highway 882 (Pyrogy Drive) and 1 Ave N, Glendon, AB
Glendon is home to the World's Largest Pyrogy and this delightful playground, both located in Glendon's Pyrogy Park. The playground even has a zipline and a nearby public bathroom (in a little unmarked building on the south end of the park). Seasonally, you can also find a food truck just to the South of the playground.

22. Duclos School Playground – Bonnyville, AB
4801 52 Ave, Bonnyville, AB
This school playground is so large and spread out that it's really challenging to get everything in one shot. The playground has an accessible area, musical features and all kinds of climbing equipment.
You can also find a playground and Bonnyville's spray park along Lakeshore Drive.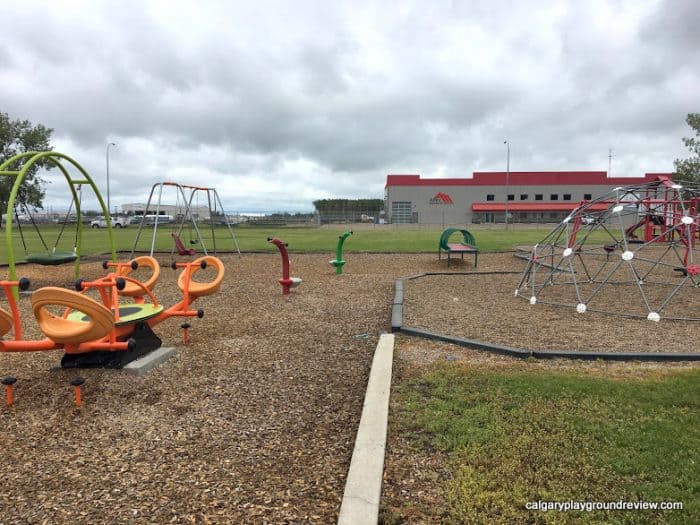 8 St North of Hammond Dr N, Fox Creek, AB
One of the most spectacular themed playgrounds we've been to is located in the small community of Fox Creek, Alberta. The heavy duty construction equipment theme can be seen throughout the playground from the large pieces all the way down to the activity panels.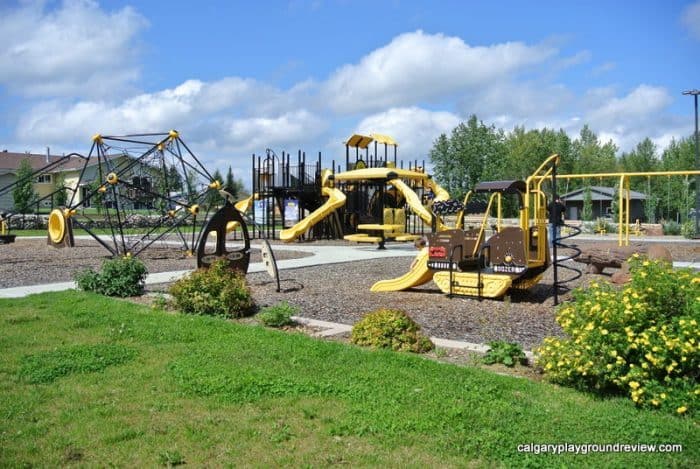 24. Pipestone Creek Park Dinosaur Playground – near Wembly
16 kilometres south of Wembley at Pipestone Creek Park Campground
This area has a rich fossil bed making a dinosaur playground a must. Featuring tall slides, long bridges and a dinosaur fossil dig this playground is sure to be a winner.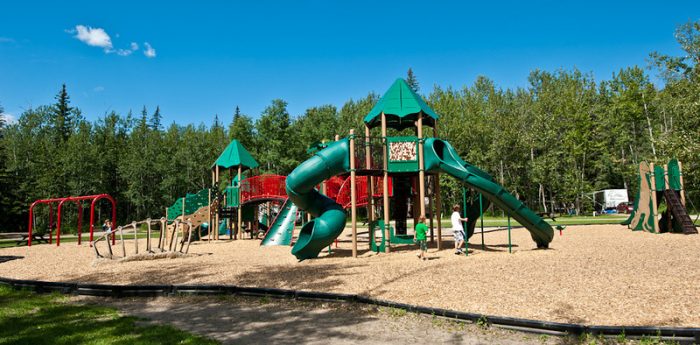 (photo credit: Landscape Structures)
25. Avondale North Park – Grande Prairie
113 Ave. and 102 St – Grande Prairie, AB
This playground has artificial turf flooring, unusual net climbing assemblies, as well as a wheelchair accessible climber with an large ramp system.
26. Honey Capital Park – Fahler, AB
18 Central Avenue NW, Fahler, AB
If you are ever passing through Fahler, Alberta, you won't want to miss this playground. It has one of the most amazing slides I have ever seen and there is a spray park next to the playground too.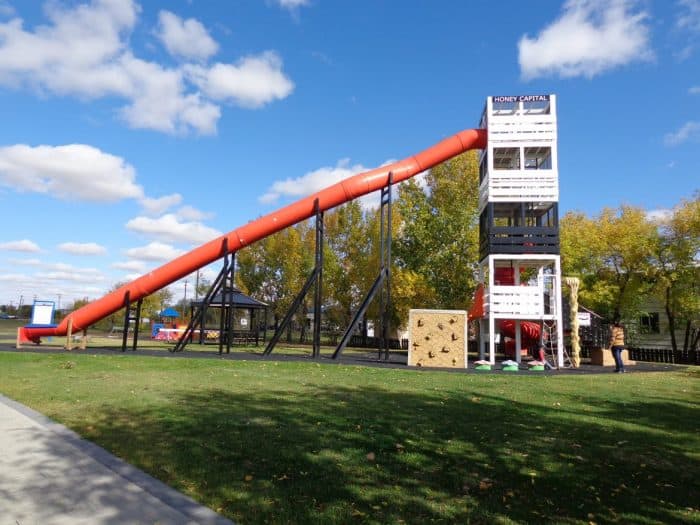 (photo courtesy of the Town of Fahler)
Please Note: 
We do our best to ensure the information on Calgary Playground Review is accurate, however information and events are subject to change. Please contact the organizations directly to avoid disappointment.
Can you help make this article better?
If you have noticed an error, have additional information or would like to share a comment you can:
E-mail us at calgaryplaygroundreview@gmail.com
Find us on Facebook: CalgaryPlaygroundReview
Find us on Instagram: YYCdana
Tweet us: YYCdana
We are not affiliated with any venues, attractions or organizations. Please message them directly if you have questions or concerns.