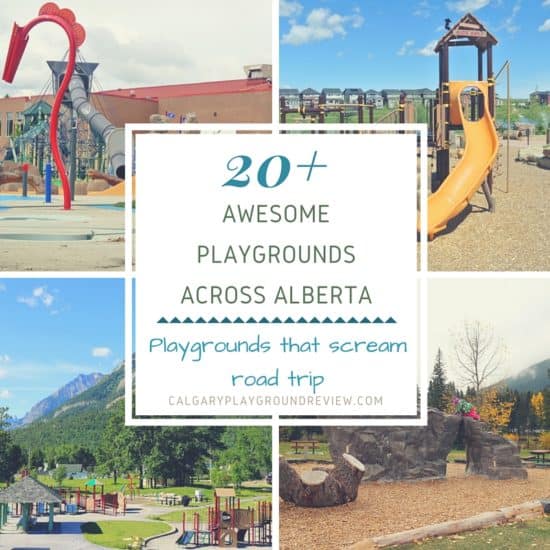 Alberta has some really fun playgrounds. They can be a great stop on a road trip or a destination all on their own. Here are some of Alberta's best playgrounds that will make your kids say "let's go there!".
I've split the list up into Southern Alberta and Northern/Central Alberta to give it a little organization. There is also a map at the bottom of the post.
Do you know of a playground that should have been on this list? Let me know! I am always looking for great playground recommendations and I will be making another list of great Alberta playgrounds in the future.
Southern Alberta
91 Banff Ave – Banff, AB
This natural playground does a great job of blending into the stunning scenery. The playground features slides, a climbing wall, and several fallen trees and tree stumps for climbing. On the other side of the park, there's a faux-mountain that kids can climb or run underneath (there's a small opening in the middle).
See more Banff playgrounds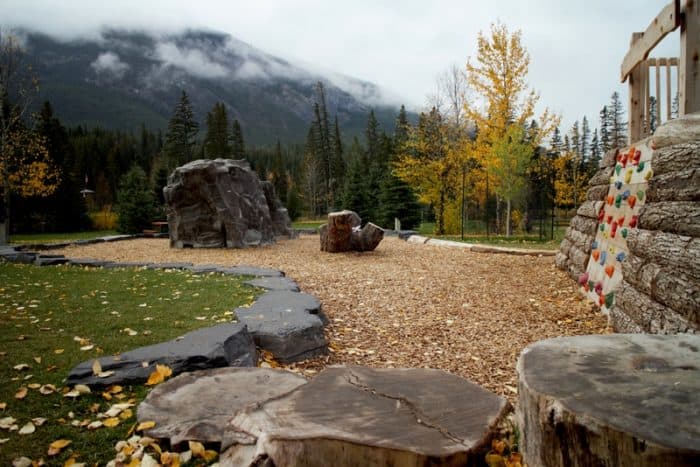 1st Avenue between 4th and 5th St. – Irricana, AB
This playground has a very attractive prairie theme with a grain elevator, train and dump truck climbers. The slide is taller than most and inside the grain elevator you can climb up and peek out the highest windows.  Behind the playground you can see trains go by.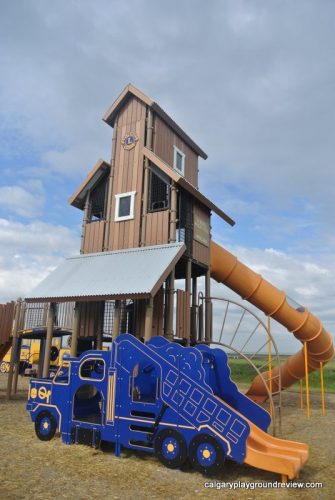 2953 Battleford Ave SW – Calgary, AB
The airplane theme is really attractive and inviting for imaginative play, the flooring is accessible and the control tower slide is really tall.
See more great Calgary Playgrounds
 
245 McMaster Blvd West – Lethbridge, AB
Nicholas Sheran Park is built around a man-made lake. The playground is really awesome with a train / coal mine theme. The playground has a lovely location right next to the lake, restrooms, and a picnic shelter.
See more great Lethbridge playgrounds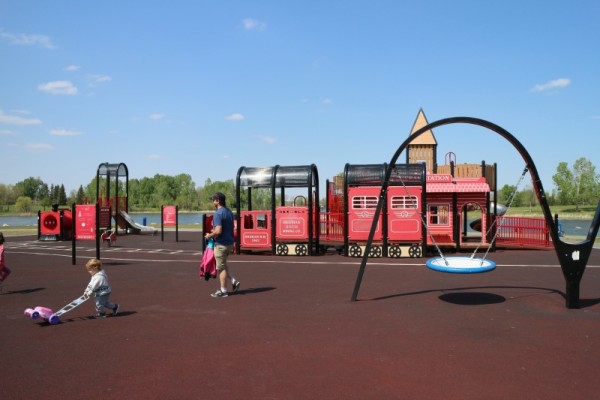 5. West Canmore Park Playground
Rundle Dr/Three Sisters Drive – Canmore, AB
This playground has a stunning mountain setting and features accessible flooring, a large web climber and climbers and slides for all ages.
(photo credit: GPI Outdoor Designs)
6. Family Leisure Centre Viking Playground – Medicine Hat
2000 Division Avenue N – Medicine Hat, AB
Located behind the family leisure centre, this playground has a viking ship theme and accessible floooring throughout. The shade is poor but the play value of the equipment is high. There is also outdoor fitness equipment right next to the playground.
See more great Medicine Hat Playgrounds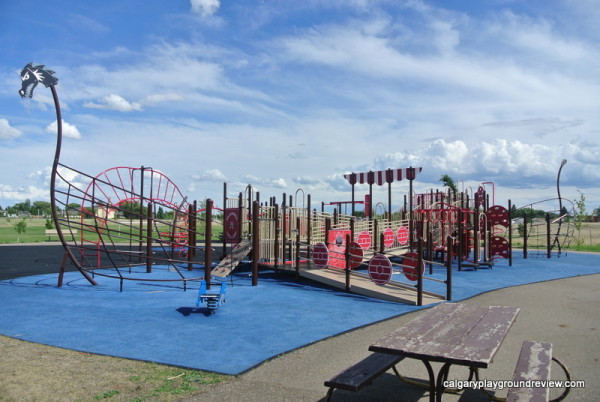 7. Sunset Ridge Playground – Cochrane
Sunset Road and Sunset Blvd – Cochrane, AB
Cochrane's Sunset Ridge Playground is large with a section for toddlers, one for older kids and another with equipment shaped like rocks and logs. The area is beautifully landscaped with large rocks that provide another opportunity for play.  The park itself has a pond with picnic spots and a pathway.
See more great Cochrane playgrounds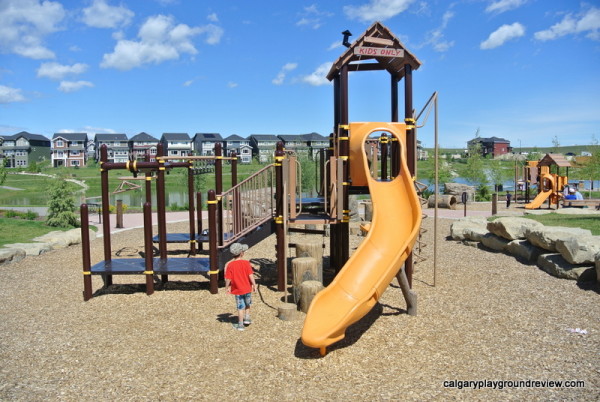 7 Ave and 6 St SE – Calgary, AB
This Calgary playground combines traditional playground and natural playground equipment. It is set into a hill, has a huge log and rope climber and a roller slide. It's also walking distance to St. Patrick's Island Calgary's favorite new park.
See more great Calgary Playgrounds

2853 Chinook Winds Drive SW – Airdrie, AB
Chinook Winds Park has a great playground with accessible flooring. Making it even better there is a spray park right nearby that features slides and a discovery stream and a great skateboard park.
10. Birchwood Park Natural Playground – High River
1 Avenue and 1 Street S.E. – High River
This natural playground uses natural materials for it's playground equipment. It features hills,  logs, boulders, sideways tree play structures and an embankment slide. The playground is very open with lots of room to run around.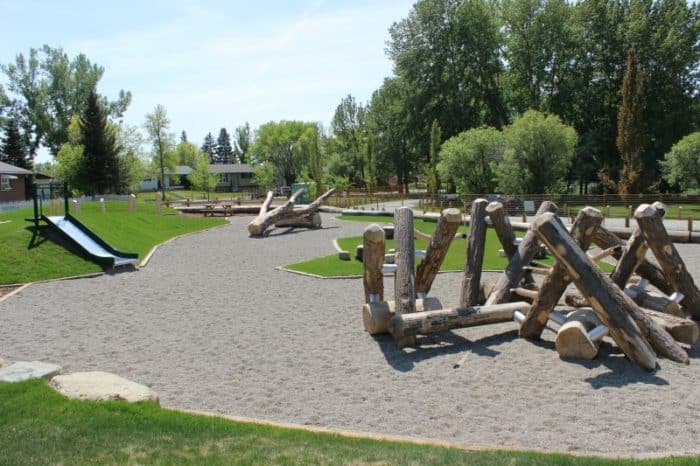 (photo courtesy of the Town of High River)
Sutherland Drive by Cassils Rd – Brooks, AB
This playground features a viking ship and a train as well as ramps and accessible flooring. It's right next to a spray park with waterslides.
Read more about the City of Brooks parks and playgrounds here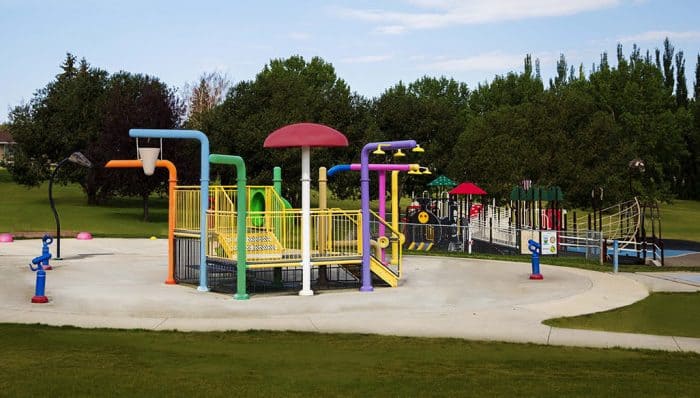 (photo courtesy of the City of Brooks)
Cameron Falls Drive and Wind Flower Ave – Waterton, AB
There are not too many playgrounds in a more beautiful setting than this one. The playground and spray park in Waterton are great for kids of all ages. There are three separate areas: a toddler climber and baby swings; a climber and swings for older kids; and the spray park. There are plenty of picnic tables and benches, some of which are shaded.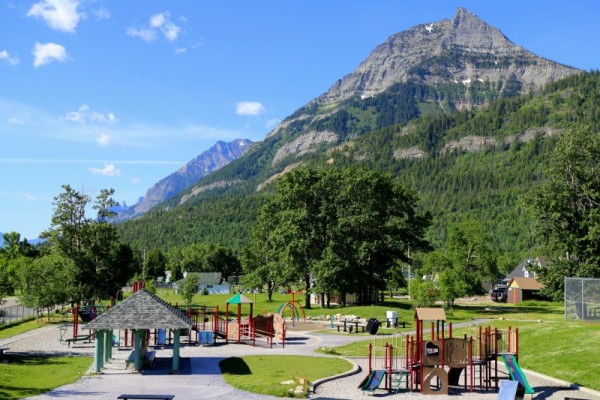 13. Sheep River Park – Okotoks
Woodhaven Dr – Okotoks, AB
This playground is located along the Sheep River Pathway near the Sheep River. There are lots of options for climbing and spinning and it is a great place to have a picnic.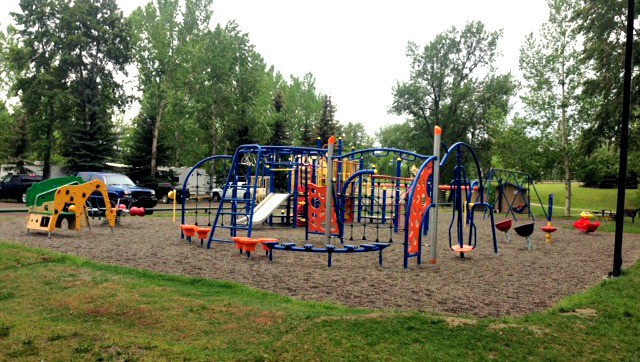 (photo courtesy of Town of Okotoks)
22nd Ave (Highway 2) & 18 St – Nanton, AB
Right off the highway with plenty of parking, this playground features a rope spinner, lots of slides and sand flooring. The park has great shade and washrooms nearby.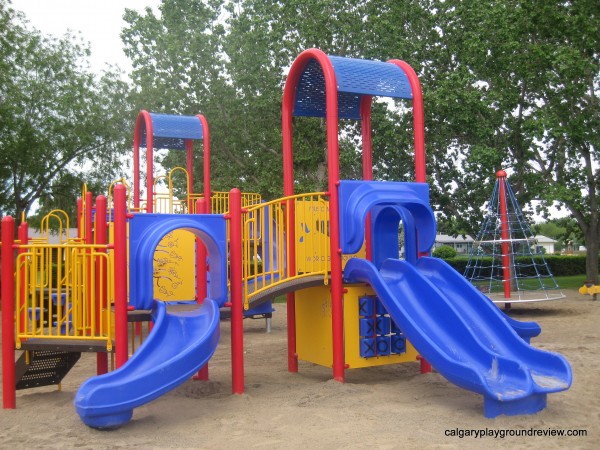 Northern and Central Alberta
Oak Street – Broadmoor Lake Park – Sherwood Park, AB
The playground has multiple play structures with and accessible flooring. One of the climbers is shaped like a ship and other has a huge tunnel slide. The spray park has a sea theme with a ship play structure in the centre. It would absolutely be worth the drive out of the city to Sherwood Park.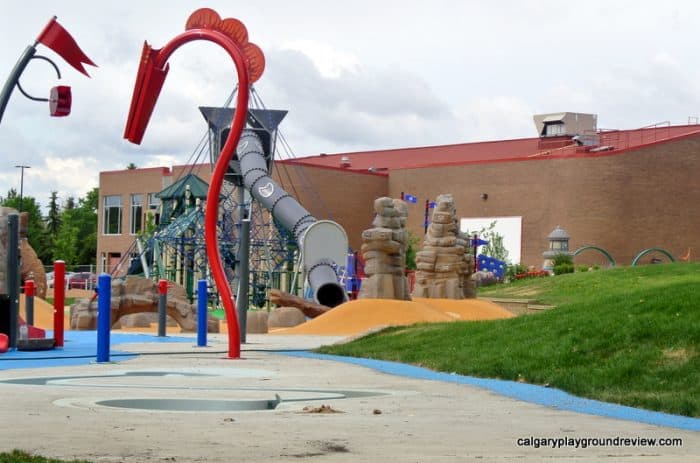 2. Meadowview Dinosaur Playground – Leduc
Meadowview Blvd – Leduc, Alberta
This playground was built on the site where a hadrosaur skeleton was found the year before. The playground features dinosaur themed slides and a dino dig sandbox where kids can pretend to be paleontologists.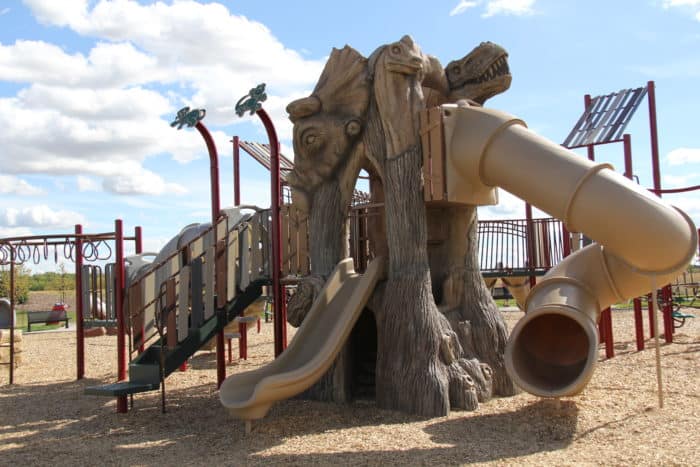 (photo courtesy of the City of Leduc)
4540 50 Street NW, Edmonton, AB
Jackie Parker has one of the biggest outdoor play spaces in Alberta. This huge sprawling playground is really more like 4 separate adjacent playgrounds and a spray park. Each section is worth a visit on its own merits but put together this playground is fantastic.
See more great Edmonton playgrounds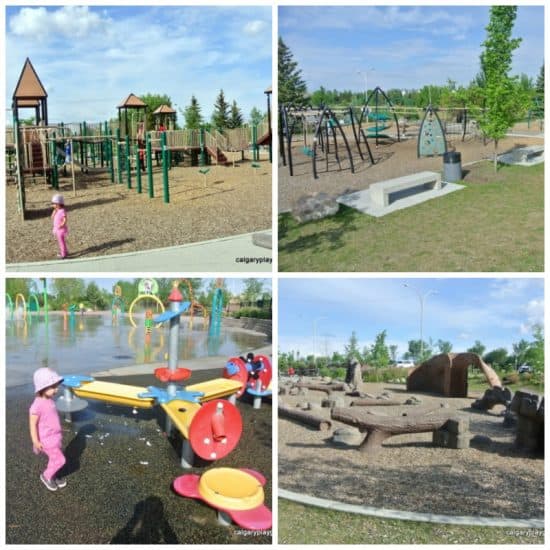 4. Rotary Park – Whitecourt
end of 51 Street heading North – Whitecourt, AB
This accessible playground is one of the tallest in Alberta – the treehouse climber lets kids play safety at a huge height and then slide down enormous tube slides. In the summer months they also have a washroom, Whitecourt river tube slides (no rentals) with a shallow basin beach, splash park and fishing pond.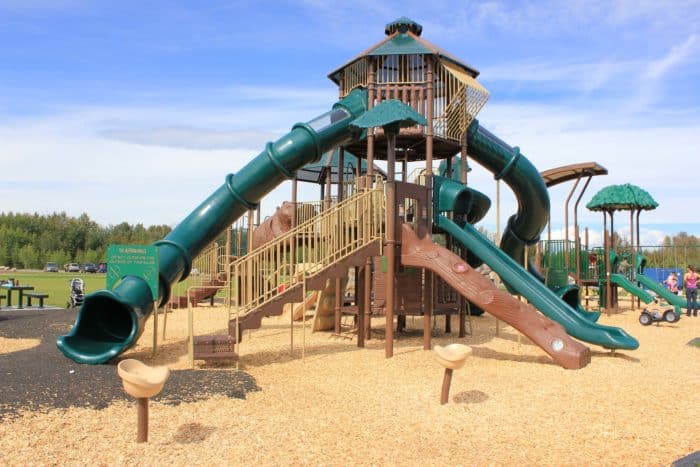 (photo courtesy of the Town of Whitecourt)
5. Centennial Park Playground – Jasper
Maligne Ave and Turret St – Jasper, AB
This playground is located in an elk proof park in the heart of the Rocky Mountains. The playground has a insect theme with big slides, ramps and a sandbox area.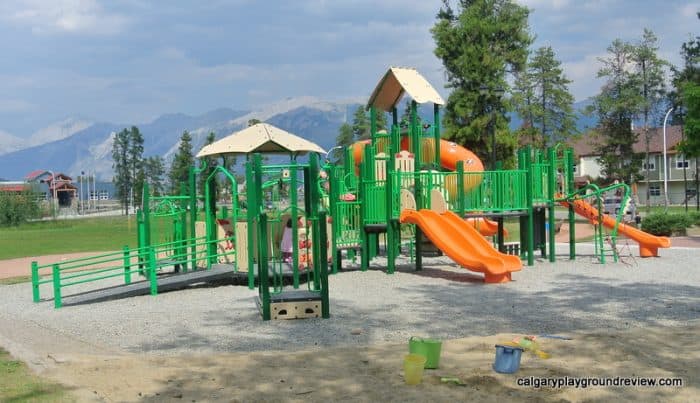 6. Pipestone Creek Park Dinosaur Playground – near Wembly
16 kilometres south of Wembley at Pipestone Creek Park Campground
This area has a rich fossil bed making a dinosaur playground a must. Featuring tall slides, long bridges and a dinosaur fossil dig this playground is sure to be a winner.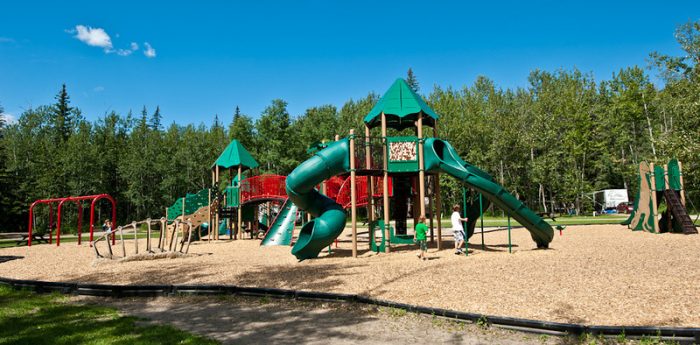 (photo credit: Landscape Structures)
6300 45 Ave – Red Deer, AB
This playground is very different from your typical metal and plastic playgrounds and provides different kinds of challenges that city kids can miss out on. In addition to the great slide, kids can walk on logs, hop from stump to stump, crawl along a web and play with loose rock and wood pieces.
See more great Red Deer Playgrounds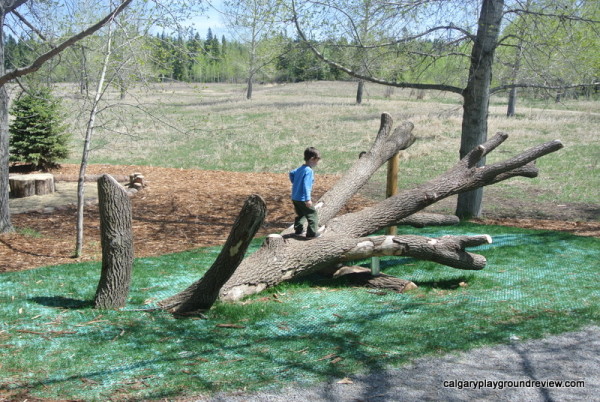 8. Avondale North Park – Grande Prairie
113 Ave. and 102 St – Grande Prairie, AB
This playground has artificial turf flooring, unusual net climbing assemblies, as well as a wheelchair accessible climber with an large ramp system.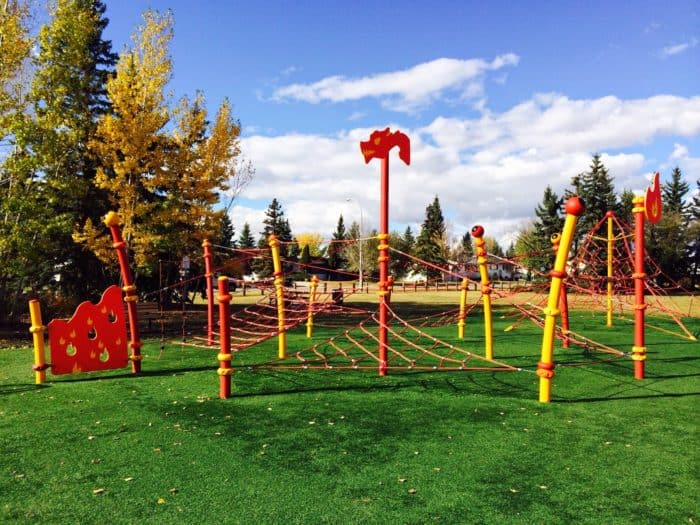 (photo courtesy of Kidnation Playgrounds)
9100 Walterdale Hill – Edmonton, AB
The playground area is more of a park with shady spots, multiple play areas and varied playground equipment including two huge slides on the side of the hill. The park also has a spray park, picnic spots, trails, free parking and a great view of the High Level Bridge. Kids of all ages will be able to entertain themselves for hours.
See more great Edmonton playgrounds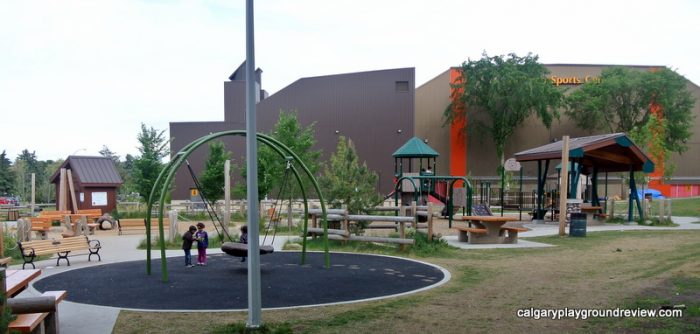 10. Elks/Kinsmen Park Playground – Vegreville
43st and 5st Ave – Vegreville, AB
This accessible playground features a huge ramp system and a train climber. This playground has something for kids of all ages and abilities. The Elks/Kimsmen Park is also home of the world's largest Pysanka "Easter Egg" and lovely trout pond and is great place to stop and have a picnic.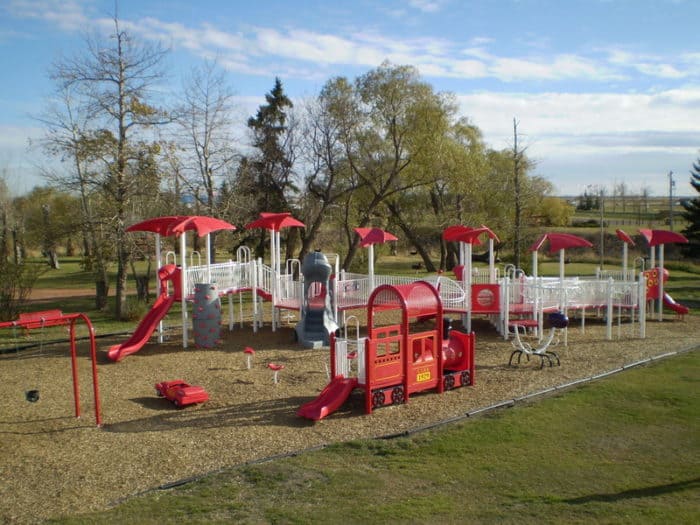 (photo courtesy of Park N Play Design)
11. Tayles Park Pirate Ship Playground – Blackfalds
Gregg St – Blackfalds, Alberta
The Pirate ship playground is really cool and provides a great backdrop for imaginative play. There is also a spray park right next to the playground. The train line runs right along the park (across the street) on the west side which is great for little train fans.
See more great Blackfalds playgrounds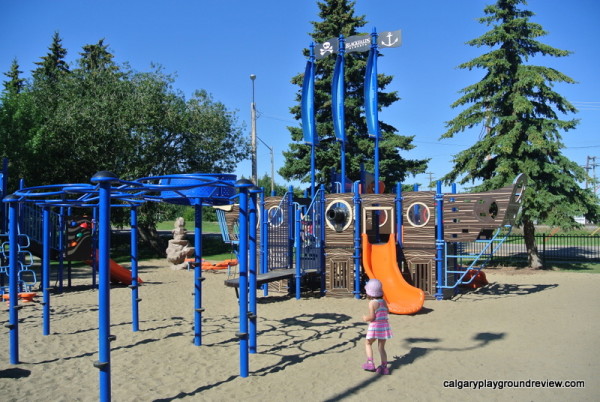 13. David Thompson Resort Rocketship Playground – Near Nordegg
42km west of Nordegg on Highway 11
This extremely tall Rocketship playground at the David Thompson Resort is open to the public and unlike any other. Even if you are not staying the night, you can also check out the restaurant and gift shop while you are there.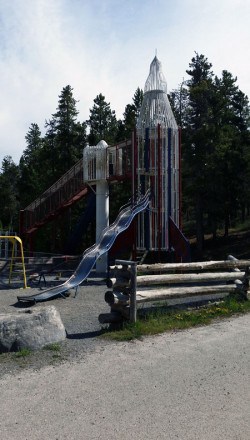 (Photo courtesy of the David Thompson Resort)
14. Josephburg Agriculture Playground – Josephburg
1 ave S and 2 st W – Josephburg, AB
This playground has an agriculture theme with barn, grain elevator and tractor shaped playground equipment with great slides, bridges and tunnels.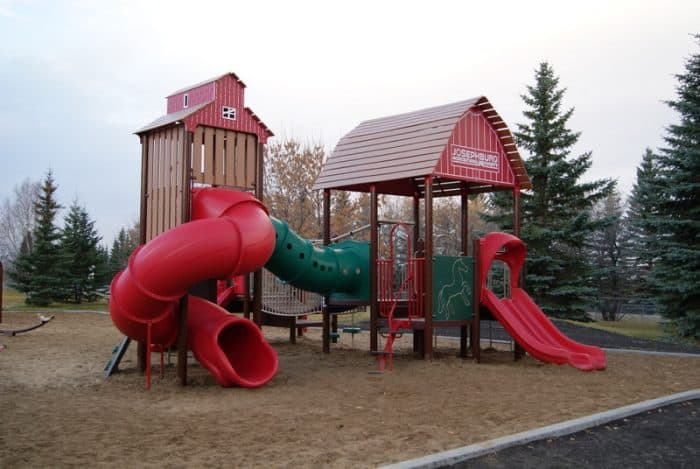 (photo courtesy of Park N Play Design)
I'll be doing another list in the future so please let me know if you know of another great Alberta playground that you think should have made this list.