In 2018, I set up a survey to find Calgarian's picks for Calgary's best outdoor playgrounds. The results were pretty strong with the top 15 standing out from the pack. There are lots of great playgrounds that aren't on this list but these are all solid choices.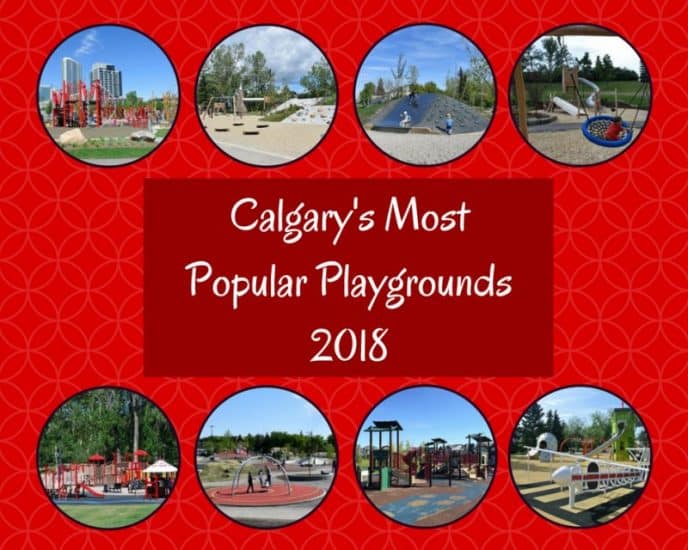 Playground Features Calgary Loves
Looking at the ones that made it, a few trends show up.
A great playground in an awesome park
Playgrounds with imaginative themes
Playgrounds perfect for toddlers
Playgrounds with unusual equipment
Playgrounds that work for a wide age range.
Playgrounds with natural features
This list is ranked with the playground with the highest proportion of votes first.
Curie Barracks – 2953 Battleford Ave SW
This playground was top of the list, hands down. It has become instantly popular even though it can be a little tricky to get to because of the construction in the area. The airplane theme is really attractive, the flooring is accessible and the control tower slide is really tall.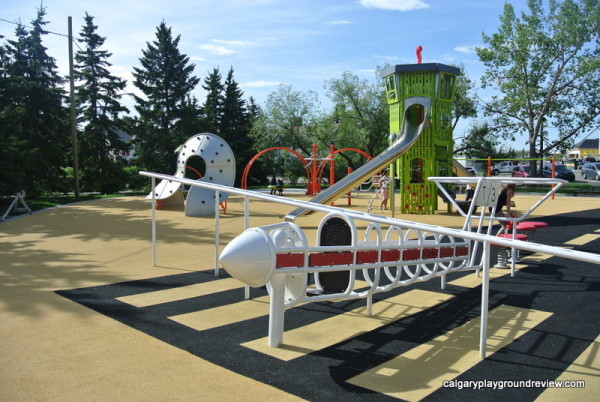 Location: Prince's Island Park, just north of downtown.
A strong second, Prince's Island Park Playground is definitely a destination playground. The surrounding park area is gorgeous, complete with pathways, mature trees and the surrounding river. During the summer months you can also walk over to the wading pool at Eau Claire.
The playground itself is one of the largest in Calgary with something for everyone. It is partially accessible with great shade. The Calgary theme with a cowboy hat swing set and Fort Calgary climber, completes the package.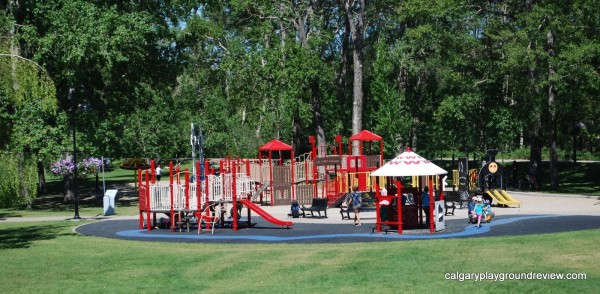 East Village – 1300 Zoo Rd. NE (you can access it by car through the South Zoo parking lot)
Completed as part of the St. Patrick's Island redevelopment project, this playground (and park) has become a Calgary favorite. The playground has a wonderful setting and includes unusual equipment.
Older kids will love the climbing structures and climbing the rocks set into the hill. Toddlers will find the climbing structures a little challenging but will still enjoy many of the other playground features. Be sure to visit the other side of the park where you'll find a river wading area and a rocky beach.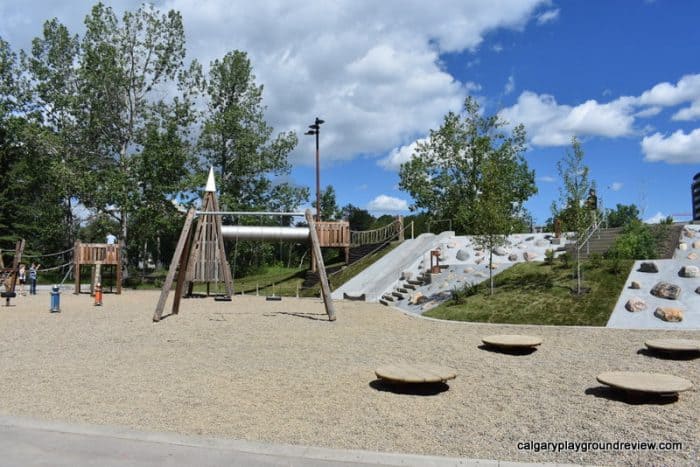 Bowness – Bowness Park – 8900 48 Ave. N.W.
One of Calgary's most popular parks for years, now has an excellent playground as well. Younger kids will love the ramps and the train structure and older kids will love running up high on the bigger climber. Bowness Park is now fully reopened and also has many other great features including a wading pool and miniature ride on train.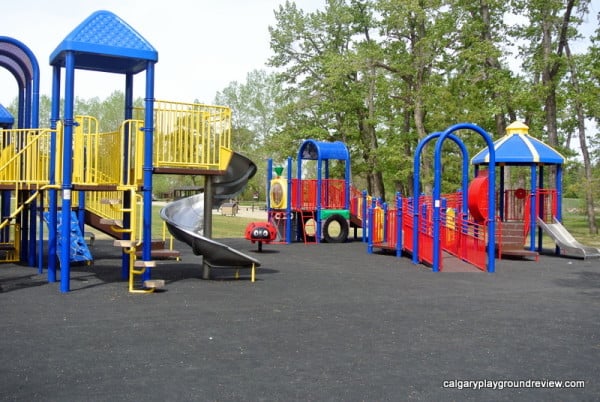 East Village – 7 Ave and 6 St SE
The popularity of this playground has brought more kids than ever to the East Village. This playground is very different from other playgrounds in Calgary from the equipment itself to the position of the playground along a hill.
Bigger kids will love challenging themselves on the ropes and logs. Really young kids will love trying to walk around the uneven ground and climbing up on the stumps and platform. And everyone will love the roller slide.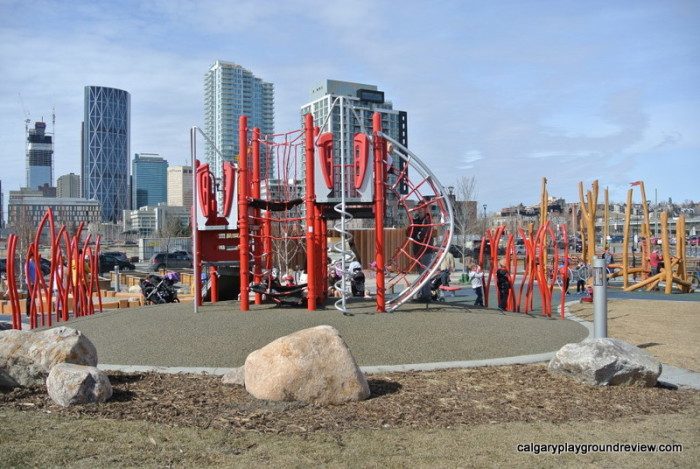 905 30 Ave NW
This playground was designed to celebrate Canada's 150th birthday and includes a tipped over canoe climbing sculpture, multi level fort with huge slides, a water pump and sand area and swings. The play space itself is set up as more of a social space, with seating integrated into the play area, rather than just along the perimeter.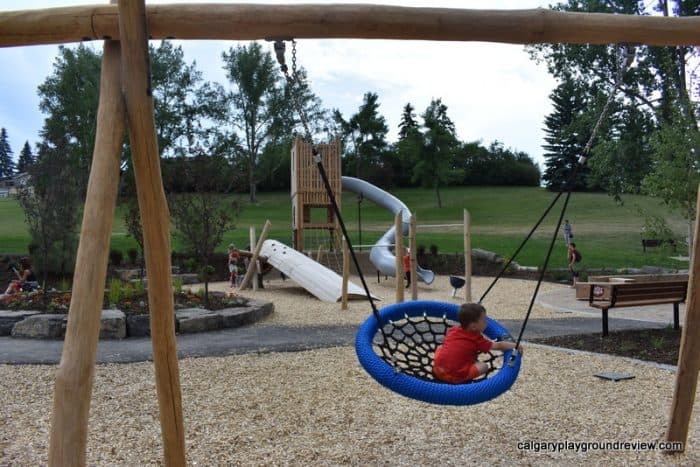 Elboya – 46 Ave & 4a St. SW
It is no surprise this community playground made the list. The playground is big and bright and sure to please.
The playground has accessible flooring, and plenty of equipment for both older and younger kids. Making the playground even better is the landscaping surrounding it including small hills, rocks, pathways and trees.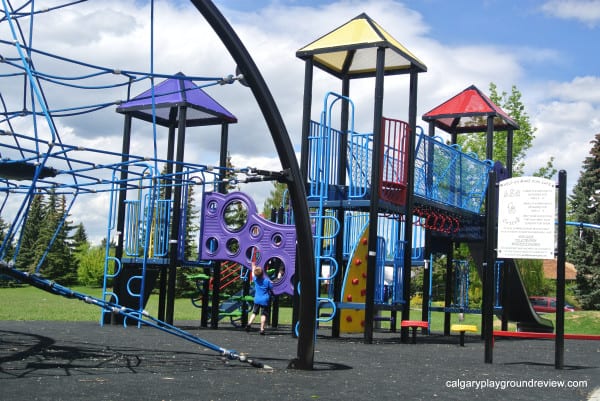 Location: Renfrew – 811 Radford Road N.E.
This playground is designed exclusively for children 5 and under. With safe fall carpet flooring and ramps there is no better playground for early walkers and even crawlers. More proficient walkers will love the independence they can have on the wide variety of equipment that is just their size.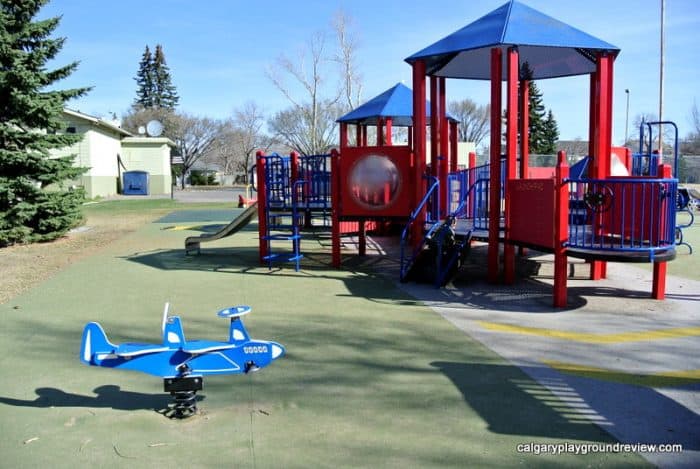 South Glenmore Park – 90 Ave. & 24 St. S.W.
This playground really has everything. It has a toddler area, a big schooled aged play structure and a new nautical spray park. It has recently received new structures to the playground as well.
The park area has mature trees and there are pathways that run by the playground that continue along the water. There are picnic tables and a large gazebo.
In the summer months there are even washrooms right next to the playground. The spray park is completely accessible and there is accessible flooring throughout the playground.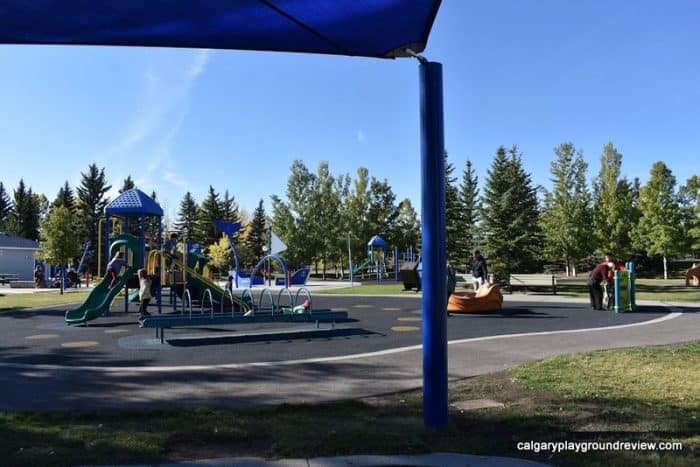 New Brighton – 2000 Brightoncrest GRN SE
This playground is designed especially for kids 5 and under. Featuring accessible flooring and a cute treehouse theme this playground is sure to spark your child's imagination.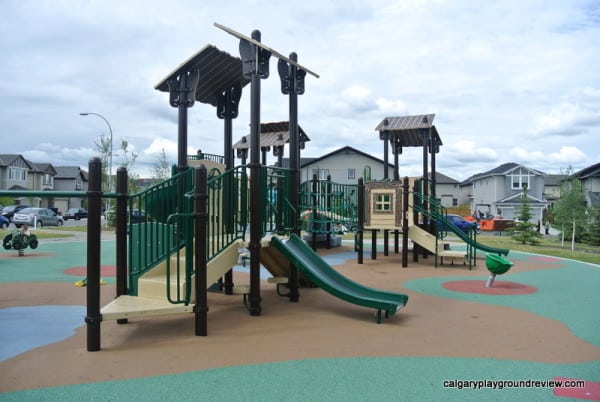 Westwinds/Castleridge – 233 Castleridge Blvd. NE.
This brand new playscape is located in NE Calgary's largest recreation park. It is a different style of playground from most in the city as it uses a 'natural playground' setting with hills, slides set into a hill and a long double zipline.
The South playground is only a short walk away (which also made the list below). This playground is also right next to the new wading pool with a lazy river and spray park. Prairie Springs is a real destination park.

Parkdale/West Hillhurst – 5th Avenue and 27th St. NW.
This playground was really popular when I first started reviewing playgrounds 8 years ago and is still going strong. It's large with plenty of equipment for older and younger kids and has a helicopter theme. The area for younger kids has accessible flooring. This playground is great for groups with a big age range.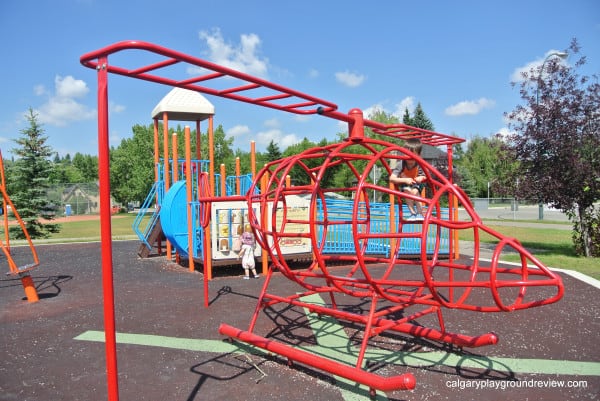 Westwinds/Castleridge – 233 Castleridge Blvd. NE.
Located on the South side of Prairie Winds Park this playground features accessible flooring, saucer swings and a huge Merry-go-round spinner (Apollo).
This playground is hugely popular – you are unlikely to be lonely visiting this playground. Prairie Winds park is one of the most popular recreation parks in the NE.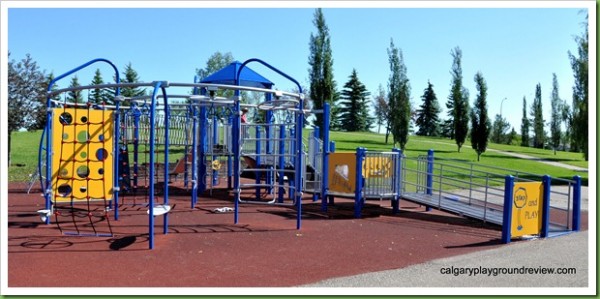 Location:Prestwick – 1 Prestwick Manor SE
Unlike many of the playgrounds on his list, this is located on a very modest park area but it is still a Calgary favorite. With a pirate ship play structure on one side and a castle play structure on the other this playground provides an amazing opportunity for imaginative play.
Nothing could be cooler than playing in a castle except maybe a pirate ship. This playground is very visually appealing and provides great opportunities for pretend play.
Applewood – Applestone Park, Applewood Drive SE
Applestone Park has a huge accessible playground with equipment suitable for kids of all ages and ability levels. Hands down one of Calgary's best and biggest playgrounds.
I would encourage everyone to make the trip to see it but especially if you have a child with special needs.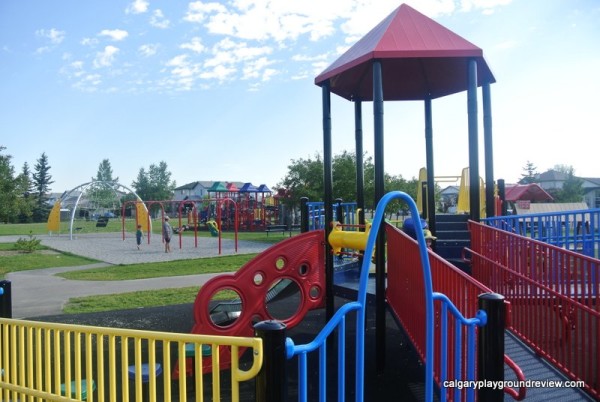 Honorable Mention
Haysboro – 1204 89th Ave SW
This playground is one of the most 'natural' natural playground in Calgary right now. The playground is quite different from a more traditional metal and plastic playground and provides different kinds of challenges for kids.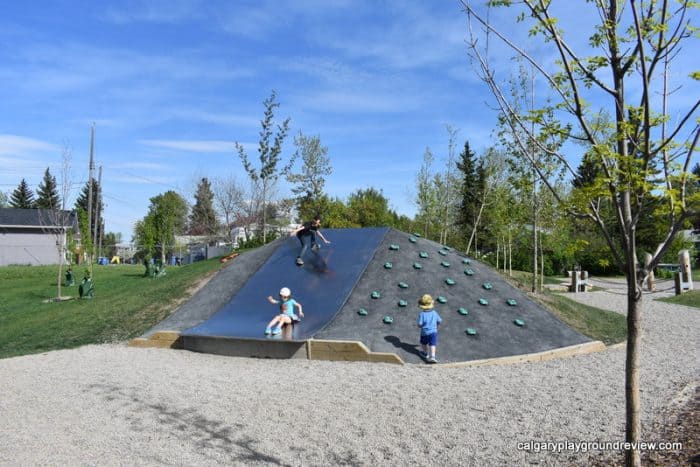 Download a checklist of Calgary's 15 Most Popular Playgrounds- 2018
Map of Calgary's Most Popular Playgrounds
You may also be interested in:
Please Note: 
We do our best to ensure the information on Calgary Playground Review is accurate, however information and events are subject to change. Please contact the organizations directly to avoid disappointment.
Can you help make this article better?
If you have noticed an error, have additional information or would like to share a comment you can:
E-mail us at calgaryplaygroundreview@gmail.com
Find us on Facebook: CalgaryPlaygroundReview
Find us on Instagram: YYCdana
Tweet us: YYCdana
We are not affiliated with any venues, attractions or organizations. Please message them directly if you have questions or concerns.