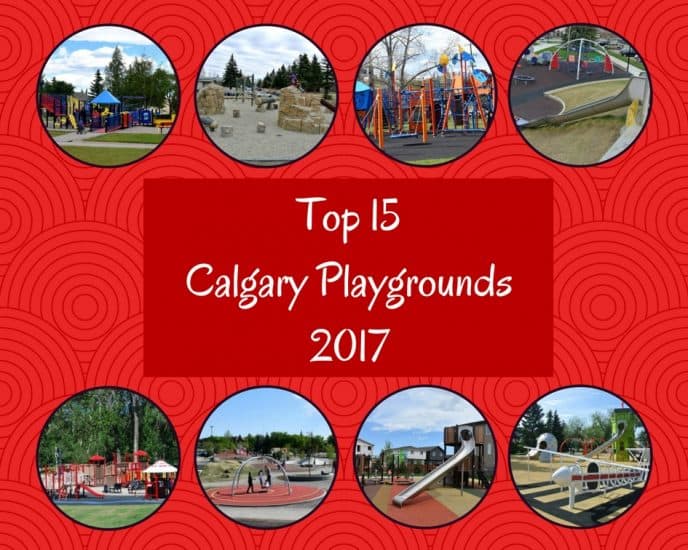 In no particular order, these playgrounds represent some of the best from around the city. Some of the playgrounds have been on the list for a while, but I try to include a lot of newer ones each year. Did I miss a playground that you think deserves to be on the list? Let me know in the comments below.
You may also be interested in some of my other playground lists: Calgary's Most Popular Playgrounds, Best NE Calgary Playgrounds, Best SE Calgary Playgrounds, Best Central Calgary Playgrounds, Best NW Calgary Playgrounds and Best SW Calgary Playgrounds
This newly redeveloped Beltline park used to be the home of Calgary's lawn bowling club. The highlight of this playground is the tall hill slide. It also features a hexagonal climber and a large web climber.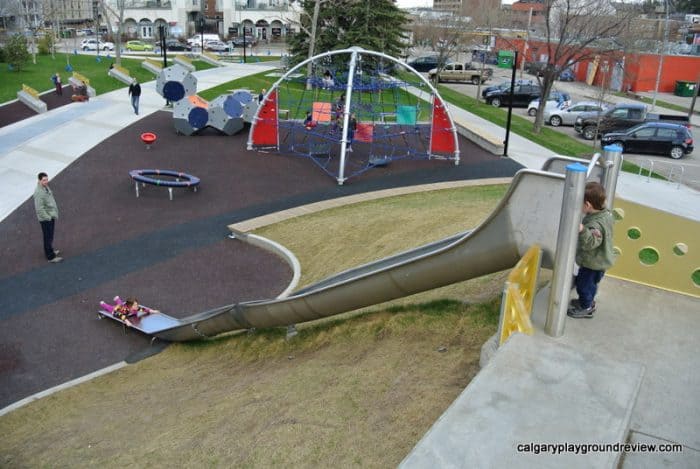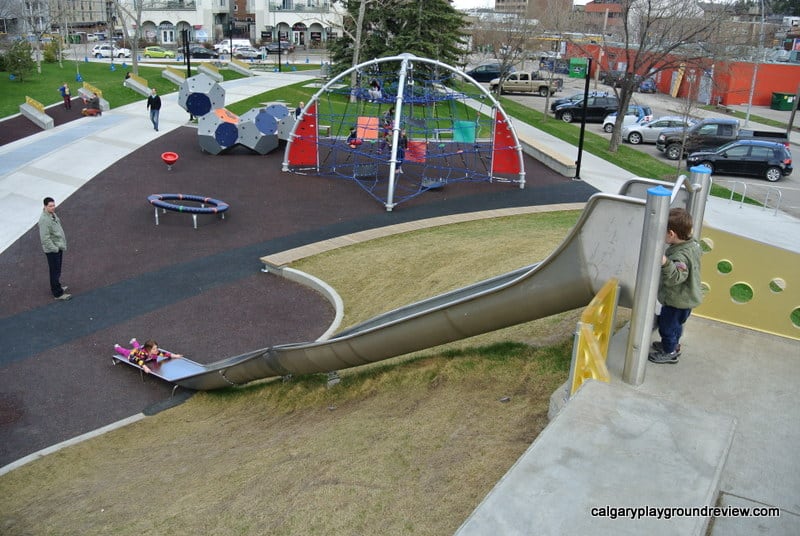 Applestone Park has a huge accessible playground with equipment suitable for kids of all ages and ability levels. Hands down one of Calgary's best and biggest playgrounds. I would encourage everyone to make the trip to see it but especially if you have a child with special needs.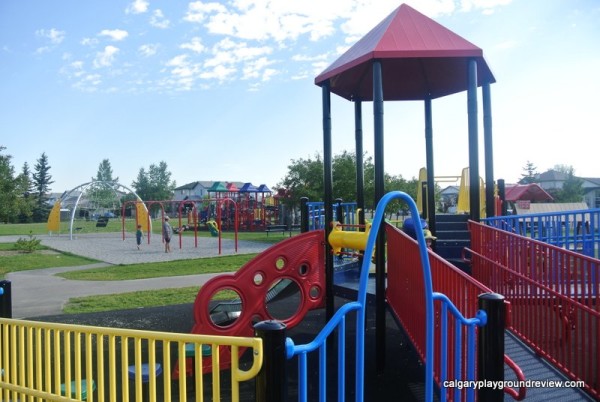 This playground was designed to celebrate Canada's 150th birthday and includes a tipped over canoe climbing sculpture, multi level fort with huge slides, a water pump and sand area and swings. The play space itself is set up as more of a social space, with seating integrated into the play area, rather than just along the perimeter.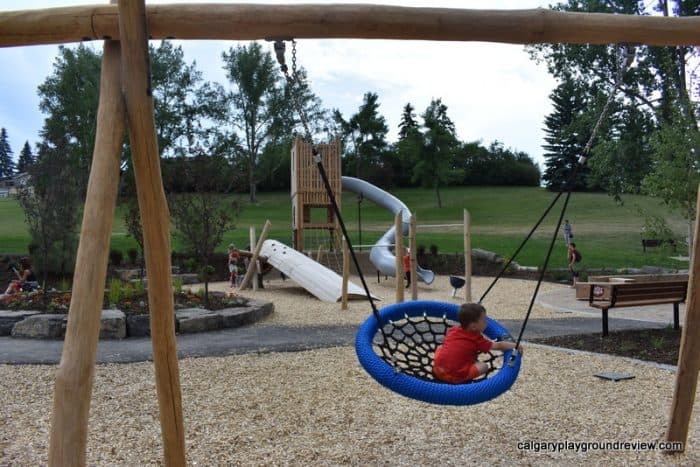 This playground has become instantly popular – the airplane theme is really attractive, the flooring is accessible and the control tower slide is really tall.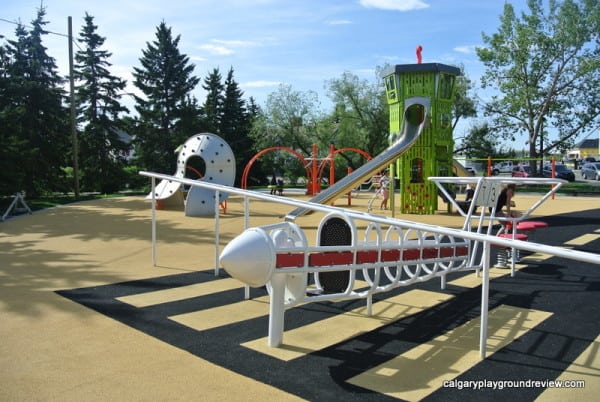 This playground located in Calgary's far North features colourful accessible flooring, some unusual pieces of equipment and a tall slide.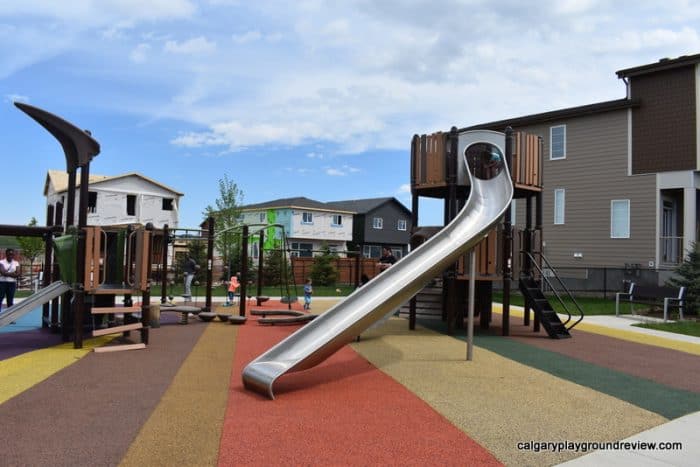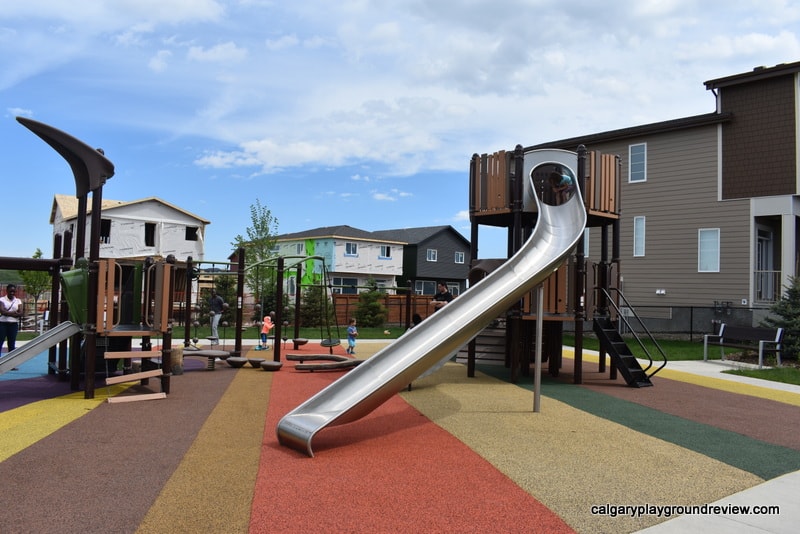 This playground has undergone some modifications this Spring which includes the addition of climbing rocks as well as a new slide. The playground has a wonderful setting and includes unusual equipment. Be sure to visit the other side of the park where you'll find a river wading area and a rocky beach.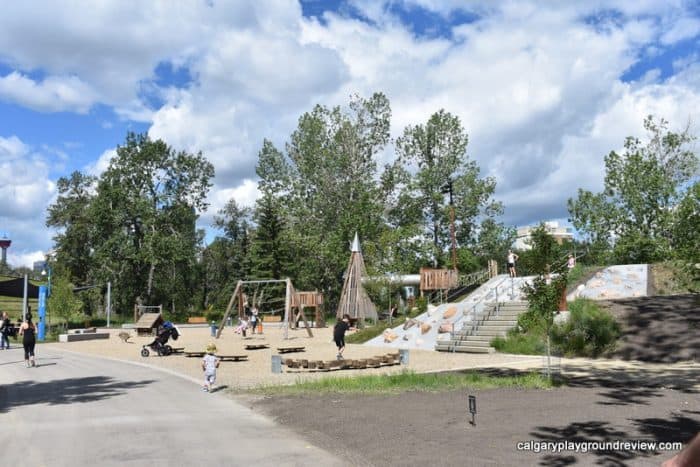 This brand new playscape is located in NE Calgary's largest recreation park. It is a different style of playground from most in the city as it uses a 'natural playground' setting with hills, slides set into a hill and a long double zipline. The South playground is only a short walk away (which has a more traditional accessible playground with ramps and saucer swings). This playground is also right next to the (almost completed) new wading pool with a lazy river and spray park. Prairie Springs is a real destination park.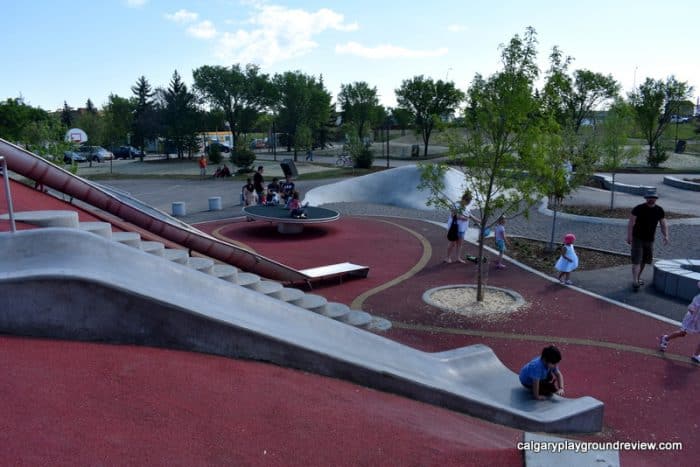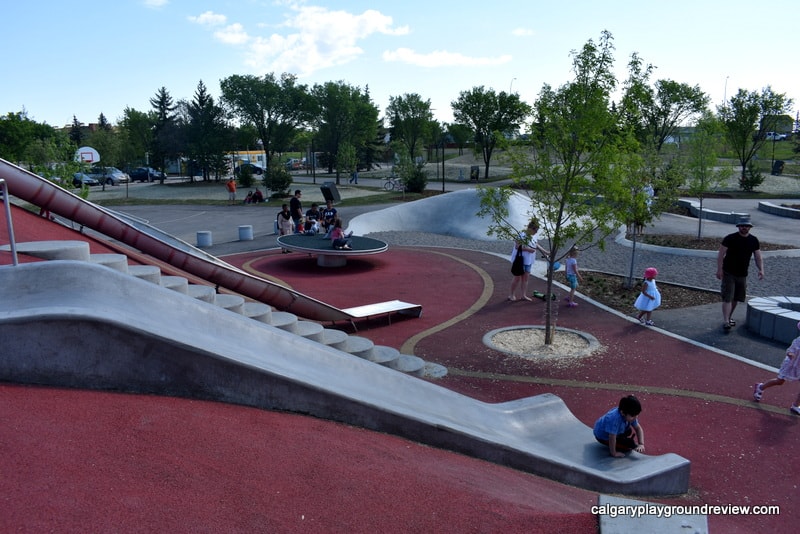 This playground is one of the most 'natural' natural playground in Calgary right now. The playground is quite different from a more traditional metal and plastic playground and provides different kinds of challenges for kids.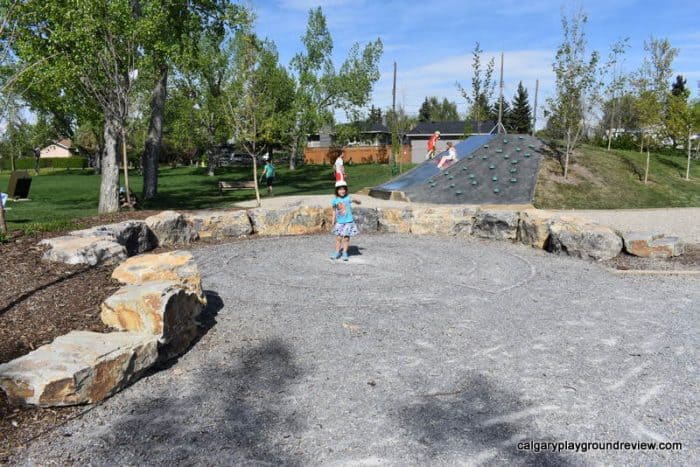 This beautiful park has two fantastic playgrounds both with accessible flooring. The preschool playground is inside a fenced area along with a spray park. The school-aged playground is just up the hill and has equipment that will challenge and entertain even your biggest kids.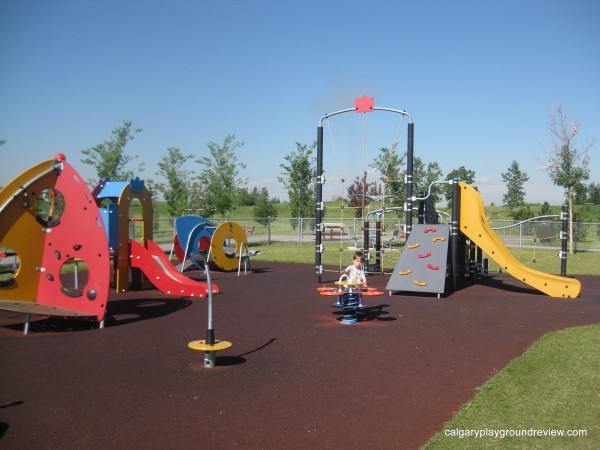 This playground is built out of natural looking materials including logs, stumps, rocks, boulders and ropes. This playground will be well loved by both little kids and big kids. Make sure to look for the little hidden animals too.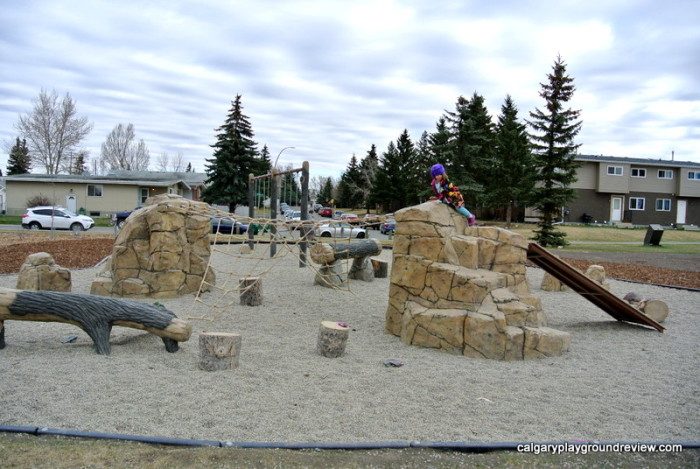 People can't stop talking about the swing at this playground. The only one I know of in the city so far, allows you to swing facing your child in a baby swing. The swing is awesome, but so is the rest of the playground! With tons of climbing equipment, a good ramp system, slides and a high catwalk there is something for everyone.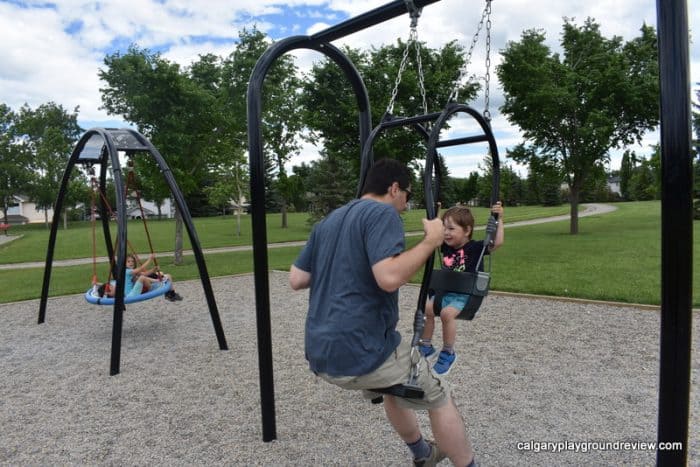 Calgary's most popular playground is a definitely a destination playground. The surrounding park area is gorgeous, complete with pathways, mature trees and the surrounding river. During the summer months you can also walk over to the wading pool at Eau Claire. The playground itself is one of the largest in Calgary with something for everyone. It is partially accessible with great shade. The Calgary theme with a cowboy hat swing set and Fort Calgary climber, completes the package.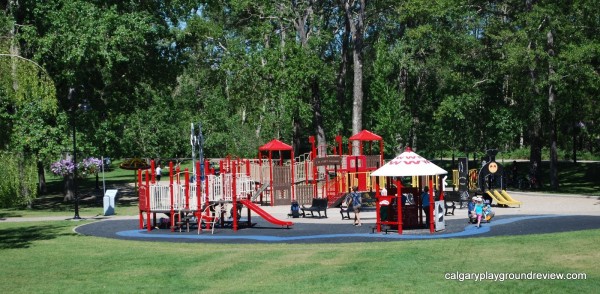 Located near Chinook Centre, this playground offers accessible flooring, a treehouse, an insect climber, saucer swings and a large rope spinner.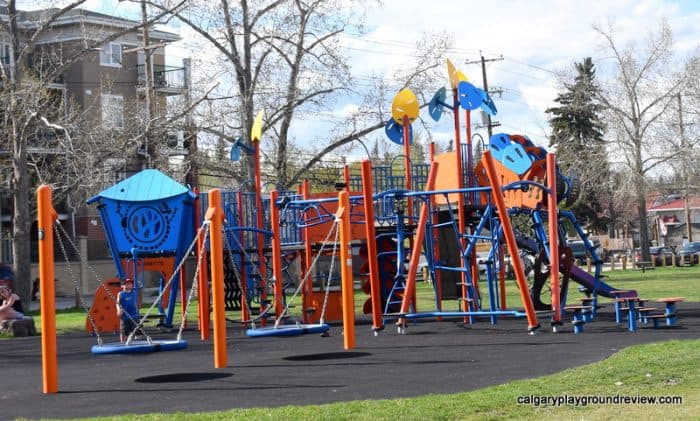 A great playground built for the smaller set with just enough to entertain younger schooled aged kids for a bit too. Great opportunities for active play and pretend play and allowing safe independence for those under 5.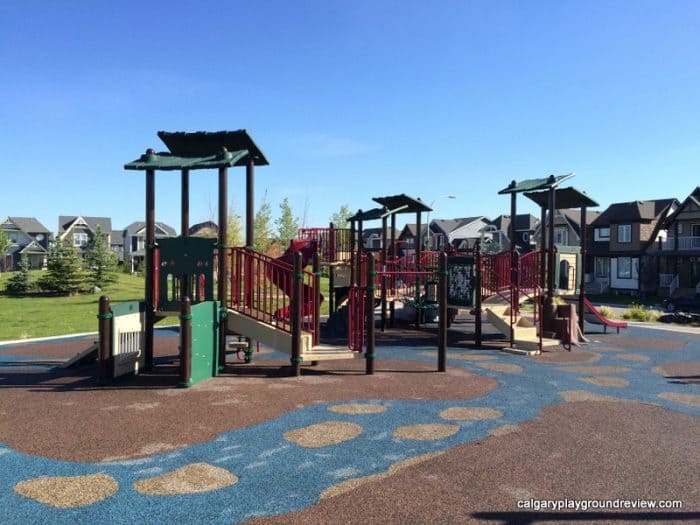 This playground is really different from any others in Calgary. Older kids will love it. If you get nervous when your kids climb up high you might want to skip this one as well. Kids (and adults) who love a climbing challenge will love testing their skills at this very different style of playground.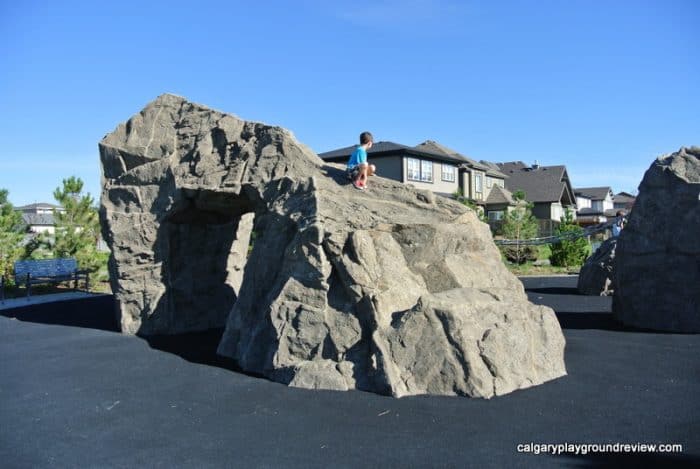 The playground is generally aimed as younger kids and features accessible flooring throughout. Toddlers will love being able to easily run around the ground, going up and down the ramp and little slides. Kids a bit older will love the high balconies, navigating the step trees and walking across the wobbly balance beam.
The equipment at this park is set up in a circuit-like pattern. It was designed to be challenging and support the middle school's phys ed and fitness programs.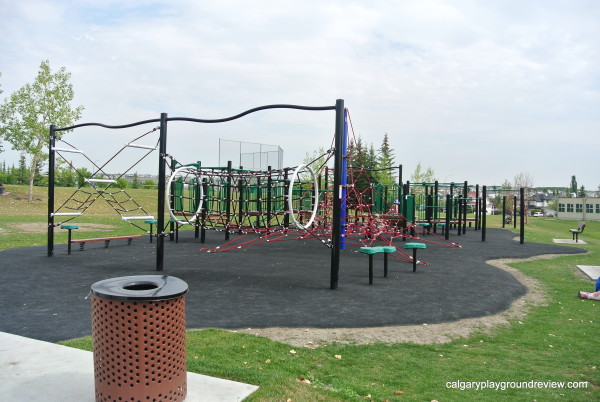 Honorable Mentions
This playground uses different equipment than I have seen elsewhere near Calgary. The web climber has panels on the outside that makes it double as a playhouse which I thought was brilliant. This playground is best for school-aged kids and older preschoolers, however my toddler amused himself happily the whole time we were there.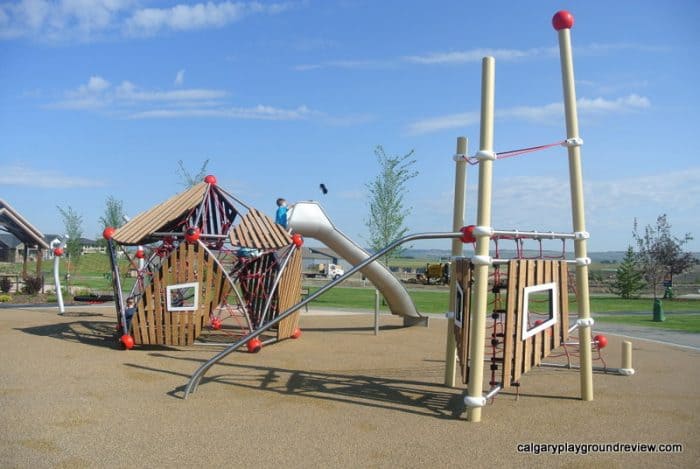 Calgary's free mobile adventure playground are back again this year. This is very different from what we typically think of as a playground. One of the things traditional playgrounds lack is the ability to engage in loose parts play. Loose parts play is the central concept of these adventure playgrounds.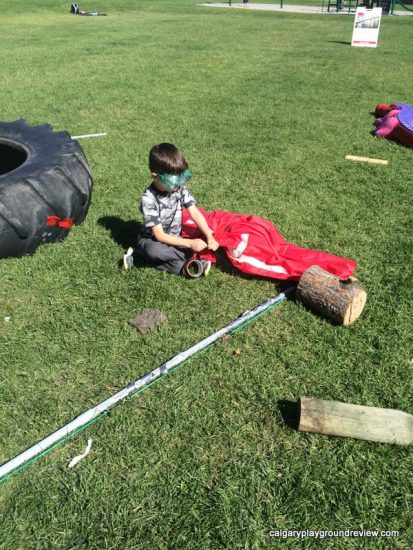 Please Note: 
We do our best to ensure the information on Calgary Playground Review is accurate, however information and events are subject to change. Please contact the organizations directly to avoid disappointment.
Can you help make this article better?
If you have noticed an error, have additional information or would like to share a comment you can:
E-mail us at calgaryplaygroundreview@gmail.com
Find us on Facebook: CalgaryPlaygroundReview
Find us on Instagram: YYCdana
Tweet us: YYCdana
We are not affiliated with any venues, attractions or organizations. Please message them directly if you have questions or concerns.