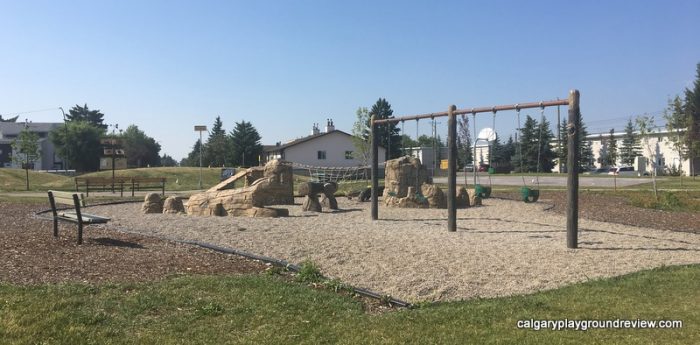 Location map
Community: Forest Lawn – 43 St and 10th Ave SE
Parking: Free street parking
Gordie's Review (7 years old): "I liked how parkour-y it is"
Nicky's Review (4 years old): "Everything! The swings."
Robbie's Review (15 months old): Liked climbing over the tail of the 'lizard'.
Age Range: All ages.
Ground Cover: pea gravel
Shade: limited.
Features: Rock and log shaped equipment, 4 swings (2 baby), rope bridge, double hill slide
Surrounding Park Area: grassy area, hills, bridge, gravel pathways, seating area, newly planted natural area with shrubs.
Accessibility: None.
Seating: a few benches
Overall assessment:
This style of playground provides a different kind of experience from more typical metal and plastic playgrounds. It tends to be a big hit with both big kids and little kids. Younger kids have fun just climbing up onto the logs, rocks and stumps. Older kids manage to find all kinds of ways to interact with the equipment. A great addition to the neighborhood.
July 2017 update: This playground has received some improvements including some hills, a double hill slide, walking logs and a slackliner bridge. Unfortunately, there has also been quite a bit of damage to the cute little animal figures.
Video review: