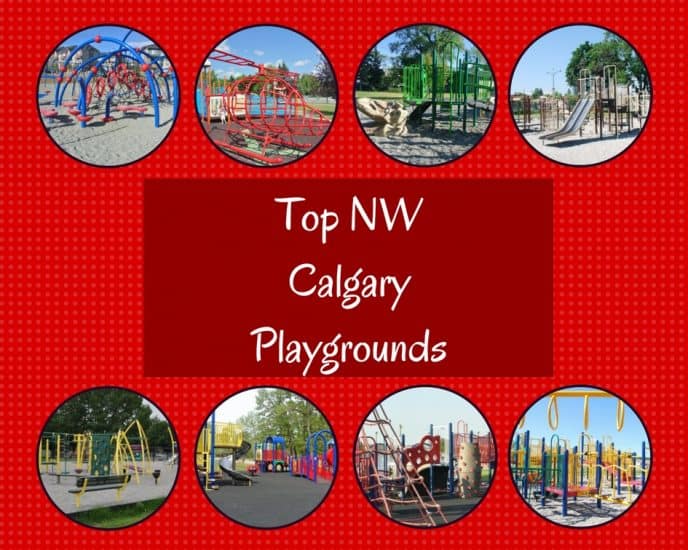 This is a list of the best playgrounds I've found in NW Calgary. Is there a playground you think should be on this list?
Bowness – Bowness Park – 8900 48 Ave. N.W.
One of Calgary's most popular parks for years, now has an excellent playground as well. Younger kids will love the ramps and the train structure and older kids will love running up high on the bigger climber. Bowness Park also has many other great features including a wading pool and miniature train.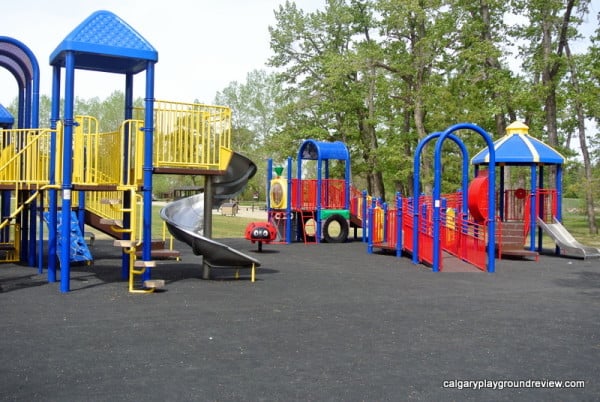 Capitol Hill – 20th Avenue and 15th St. NW.
This playground provides great opportunities for imaginative play and will have your kids begging to go to the dinosaur playground.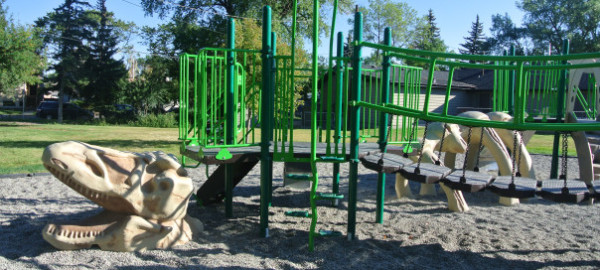 Parkdale/West Hillhurst – 5th Avenue and 27th St. NW.
One of Calgary's most beloved playgrounds. It's large with plenty of equipment for older and younger kids and has a helicopter theme.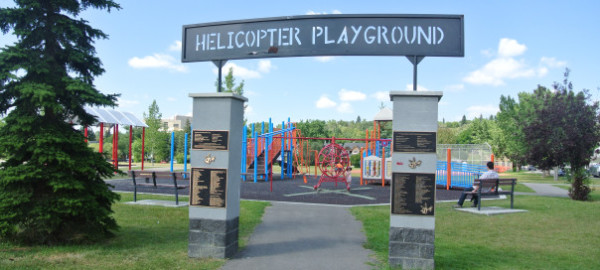 6502 58 St NW
This playground has features that will appeal to kids of all ages. Little ones will love the ease that they can run around and going up and down the slide, older kids will love the overhead features and everyone will love the saucer swings and Apollo spinner.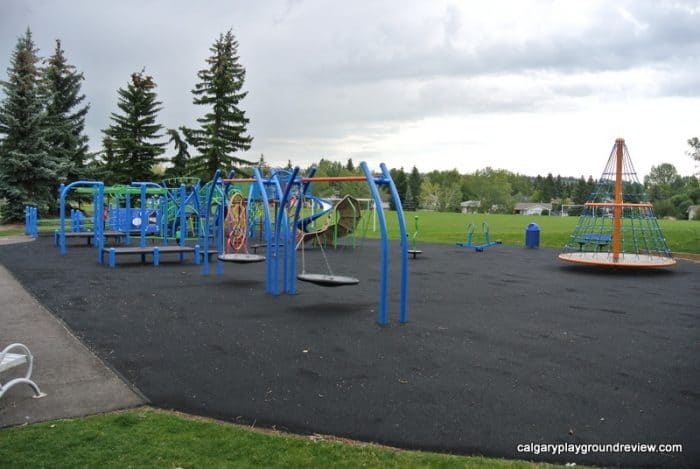 Brentwood – Northmount Drive and Brantford Drive NW
One of the best school playgrounds in the city. It offers some unique equipment is large and varied. It is best for school aged children but there are some things younger kids will enjoy as well.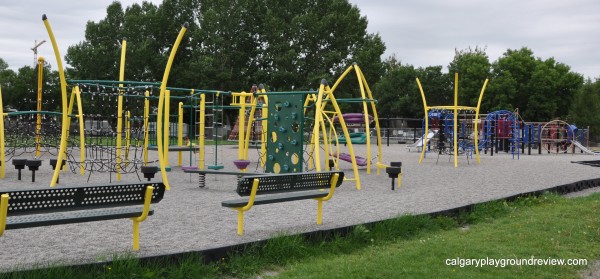 Nolan Hill Blvd just North of Nolan Hill Drive NW
This is one of 4 great playgrounds in Nolan Hill. The castle theme makes an awesome backdrop for imaginative play.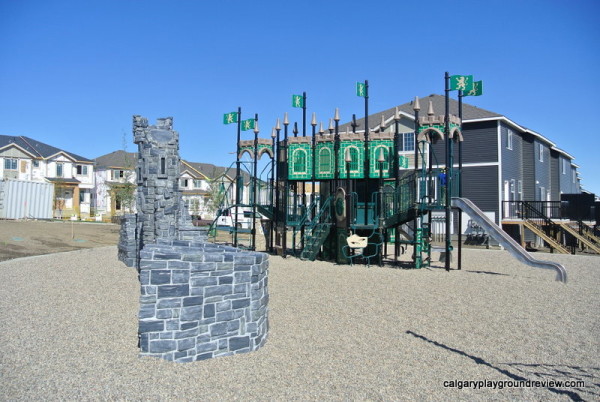 Collingwood – along Collingwood Drive just south of Northmount Drive NW.
This playground is huge with tons of great equipment for kids of all ages.  It's lacking a bit (okay a lot) in shade but the playground itself is fantastic.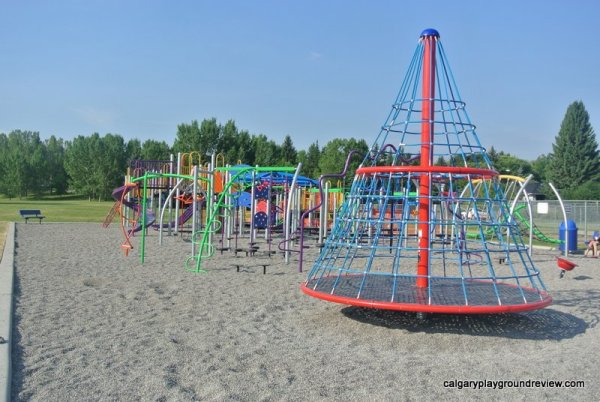 Panorama – 134 Panatella Hill NW
The climber at this playground is unusual and challenging for older kids. What separates this playground from others using this type of climber is the addition of a great preschool climber, plenty of swings and a covered picnic area.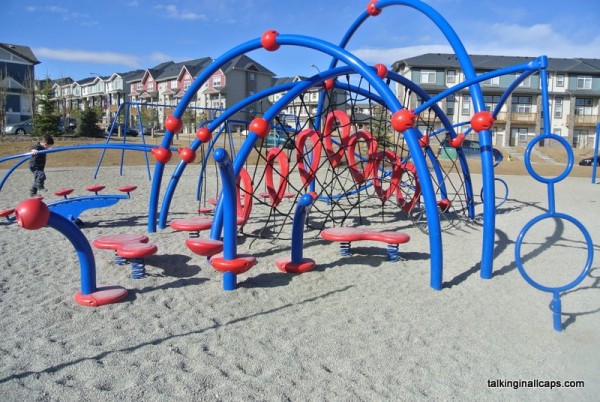 Tuscany Hill and Tuscany Dr NW
There are 4 playground areas here all within easy walking distance of each other. If you like playground hopping, this is the spot for you.

16th avenue and 1 st. NW
If you have school aged kids that are looking for a challenge, this will be a perfect playground for them to go to. It is one of only a small number of playgrounds specifically designed for middle school kids (8-14 years).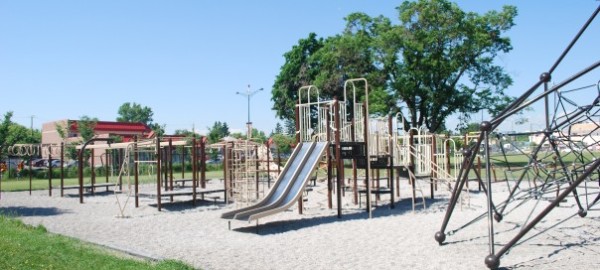 Edgemont Drive and John Laurie Blvd NW
You can see this playground as you drive along John Laurie. But what you can't see is how awesome it actually is. This playground offers popular traditional features like ramps and slides as well as natural-like rock and log features. And a train!

Sandstone – Sandarac Drive and Sandalwood Gate
This playground is excellent, it features accessible flooring, a large Merry-go-round spinner (Apollo) and a musical array. To top it off there is another really good playground just a short walk across the field.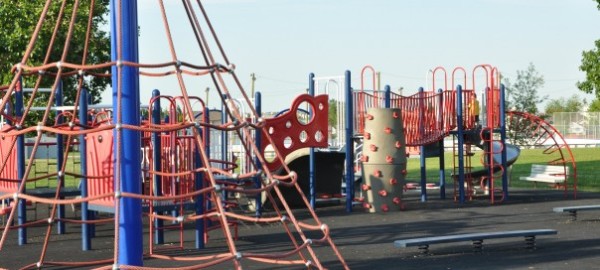 240 Cardiff Dr. NW. (just east of Northmount Dr.)
This is a great park with a huge level of variety for different ages and ability levels. The only thing it is missing is a preschool play structure but there is still a lot of other things to amuse younger children. There is also a preschool playground  close enough so you could supervise older children from there.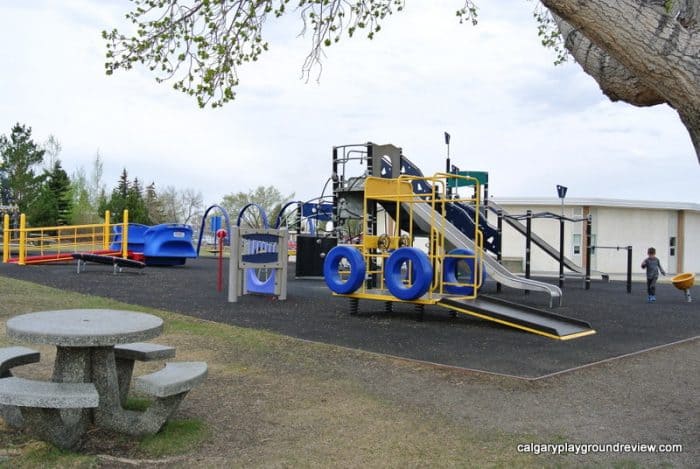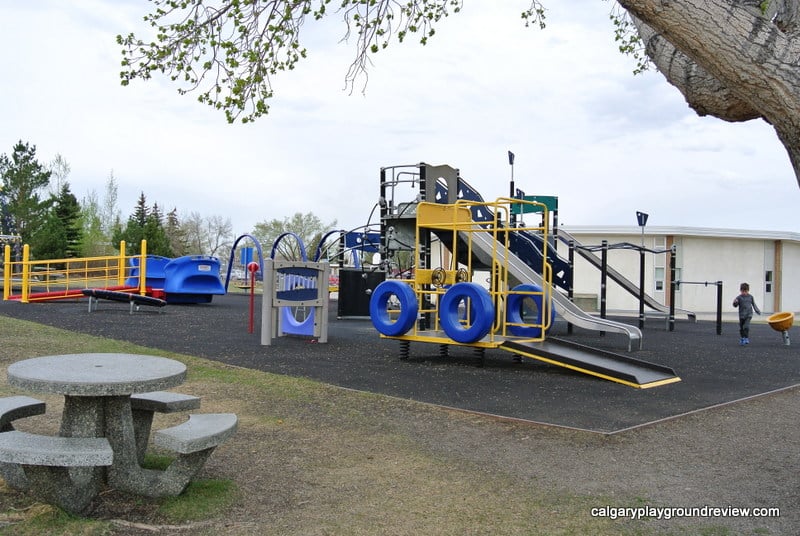 9 St and 21 Ave NW
This playground is large and has a number of really cool features including the artificial log and rock features. Even though the playground is designed for kids 5-12 there is a lot that will appeal to younger kids as well.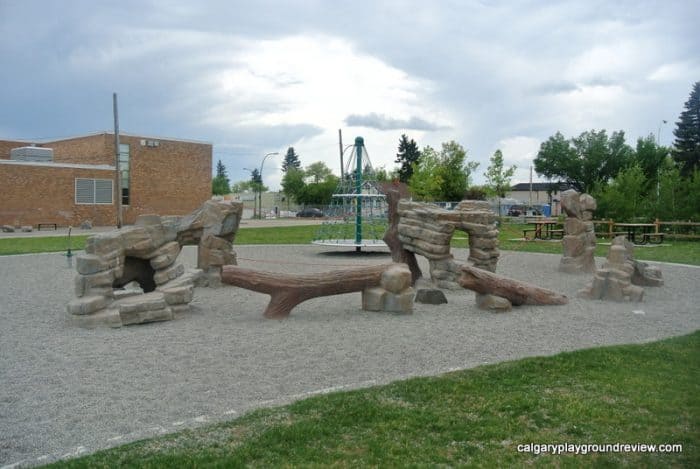 Tuscany –  65 Tuscany Hills Rd NW
The equipment at this park is set up in a circuit-like pattern. It was designed to be challenging and support the middle school's phys ed and fitness programs.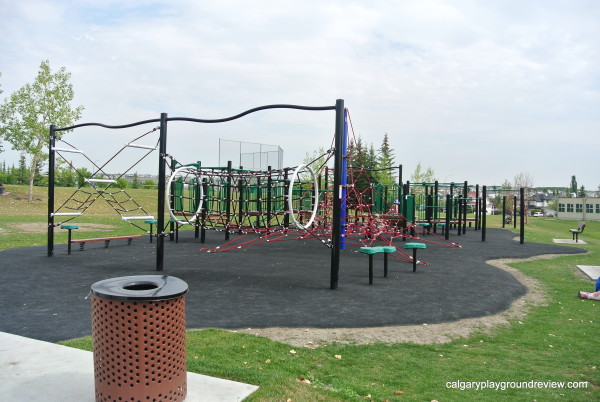 905 30 Ave NW
This playground was designed to celebrate Canada's 150th birthday and includes a tipped over canoe climbing sculpture, multi level fort with huge slides, a water pump and sand area and swings. The play space itself is set up as more of a social space, with seating integrated into the play area, rather than just along the perimeter.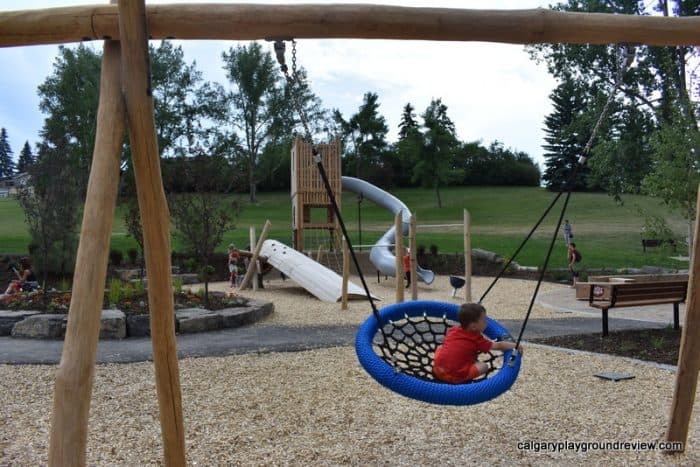 What playground would you add to this list?