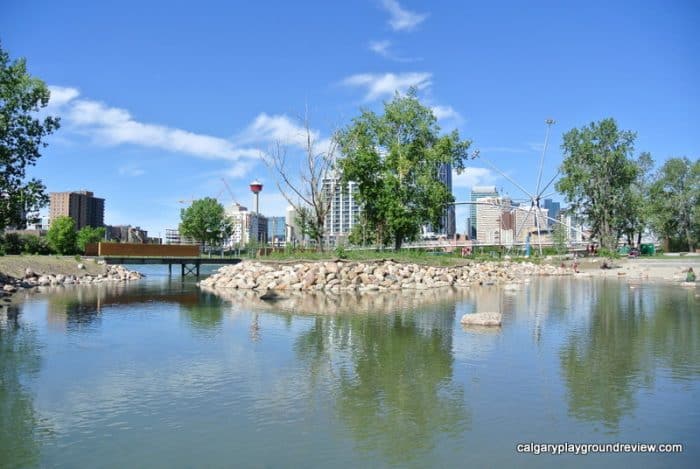 Disclosure: This post was sponsored by IHG properties – as always, all opinions are my own.
We love to travel as a family but with the loonie trending low, we have decided to cancel our annual US road trip this year in favour of destinations closer to home. My daughter had been asking and asking when we would be going to a hotel again. She was so excited when I told her about our staycation plans.
We spent the weekend at the Holiday Inn Express – University Area and had a really fantastic time. Here's my list of the awesome things we found about having a staycation and being a tourist in our own city.
1. Maximize Your Vacation Time
We go on a lot of driving vacations from week-long trips to weekend getaways. And while they are a ton of fun, a lot of our time is spent in the car getting from one place to another. This time we arrived at our hotel in just minutes and were able to start our vacation right away.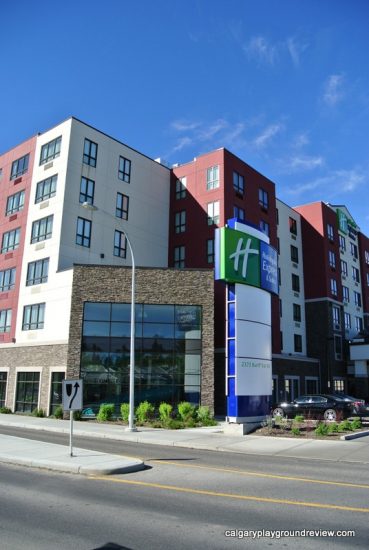 You also avoid the long drive (or flight) home. We ended up having some extra time in the afternoon on our last day, and instead of having to head home, we were able to run over to Heritage Park before calling it a day.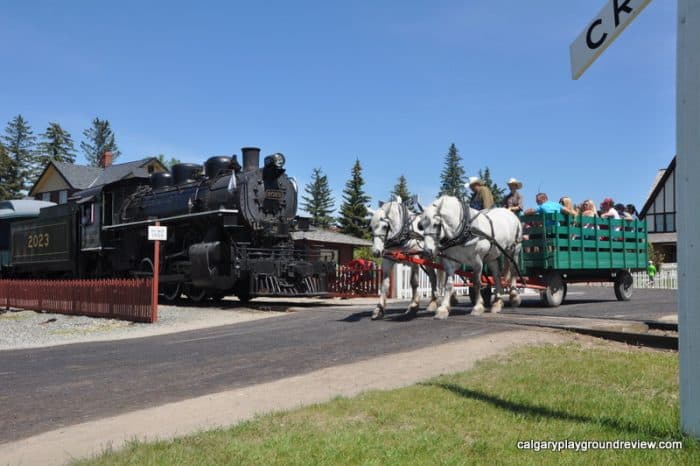 We rode on the train and the carousel, played on the playground, had a treat from the bakery and visited the animals in the farm area.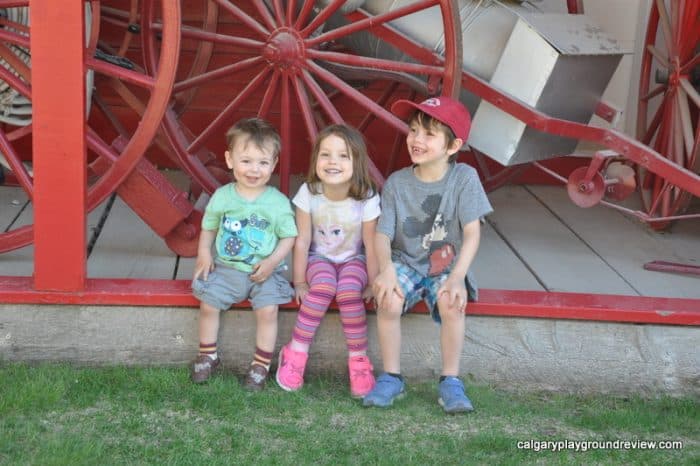 2. Less Stress
No matter how well you plan there is a good chance that something will not go quite like you hoped – whether it's rain, getting lost or an attraction being closed unexpectedly. Handling hiccups like these are way less stressful when you're familiar with your surroundings.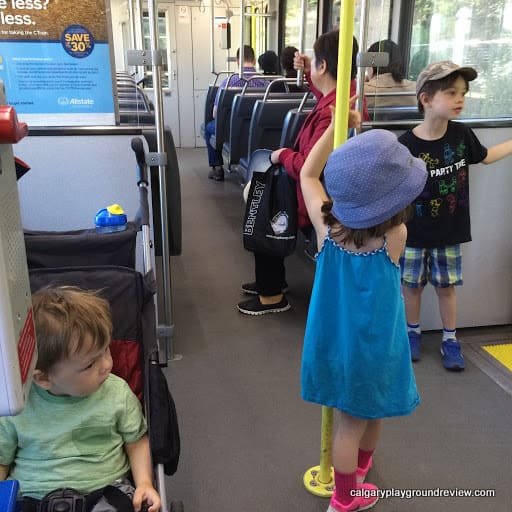 We had planned on using transit for our staycation travels as there was a C-train station right outside out hotel, but as it turned out the c-train wasn't running downtown that weekend.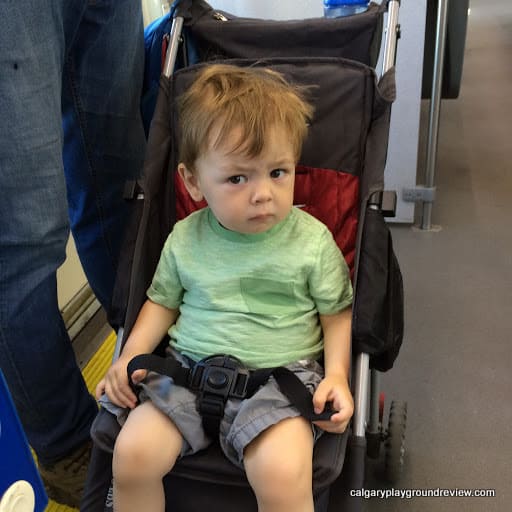 We ended up taking the shuttle bus (my son was thrilled to be able to go on an articulated bus) and then missed our stop.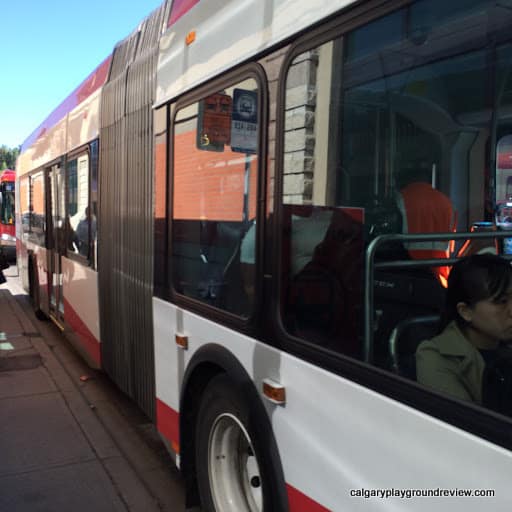 Because we know our way around Calgary it was only a small annoyance and were easily able to get back and modify our plans for the rest of the trip.
3. Explore New Places
A staycation provides a great opportunity to get out of your routine and explore parts of your city that you haven't been to before. We decided to check out Reader Rock Garden and the Lougheed House.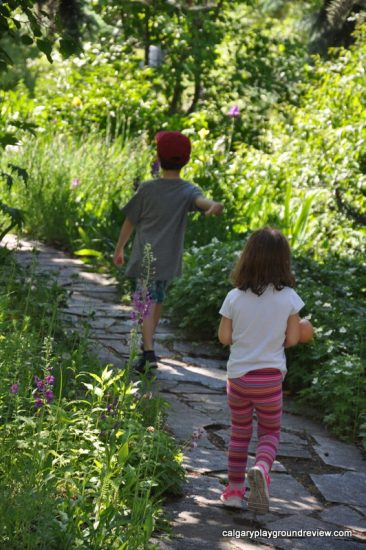 Reader Rock Garden was beautiful. The kids loved exploring all the different rock paths and finding new flowers. I was really happy we had finally made it there.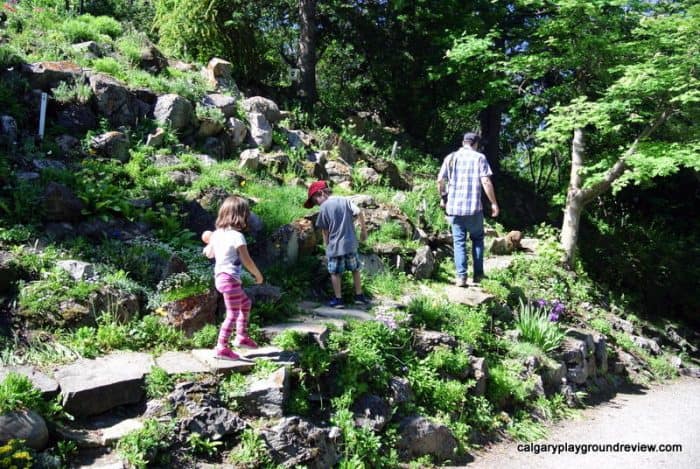 The Lougheed House is a National Historic site just south of downtown Calgary. The formal gardens are open to the public and the inside of the mansion is a museum.
4. Try New Food
Although we often think about taking the kids to new places, most of the time we get stuck in a food rut, opting for something familiar that we know they'll like. A staycation is a great opportunity to take the family out on a food adventure.
Big Ts BBQ
There were a few restaurants within walking distance of our hotel so we decided to stop by one of them before hitting the pool. Big Ts BBQ didn't look like the most kid-friendly restaurant at first glance, but they have highchairs, a kids' menu and kid-sized cups with lids.
We decided to get a platter so the kids could try a variety of things instead of committing to just one. It worked out really well and all the kids found things they loved.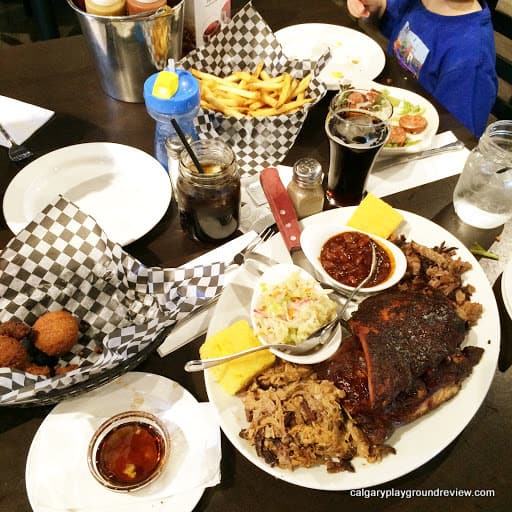 Simmons Building
Since we had planned on spending a lot of time in the East Village, checking out the offerings in the Simmons Building was a must. The Simmons Building is a historic Calgary landmark which now houses a coffee shop, bakery and restaurant. We were there in the morning so we grabbed a snack and a coffee.
I had heard the coffee at Phil & Sebastian was good and the simple iced coffees we got did not disappoint. We also picked up some ham and cheese croissants from Sidewalk Citizen Bakery – I'm still thinking about them.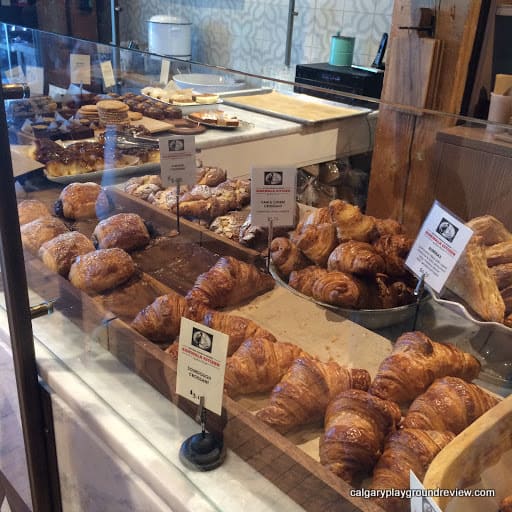 Re: Grub Burger Bar
We picked up some burgers to go from Re: Grub Burger Bar. It has a pretty trendy feel but still casual enough for the kids. If you go, try the tasty 4oz recession burger for only $7!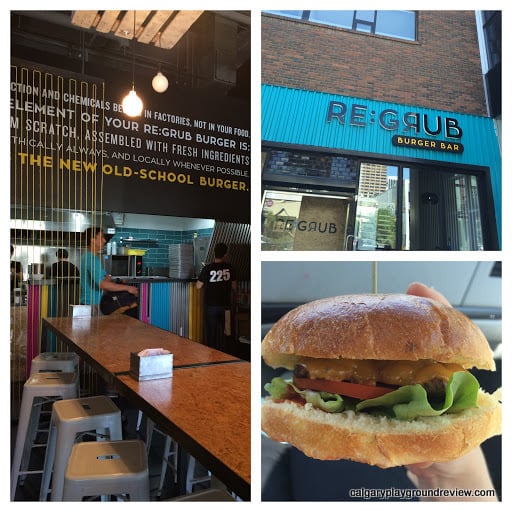 5. Relaxing
One of the best things about going on a staycation is all the awesomeness of staying in a hotel.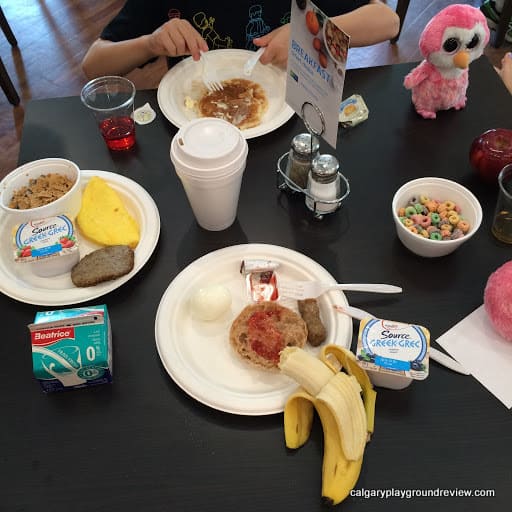 One of our favourite parts of the day is having breakfast together. At the Holiday Inn Express there is a free breakfast buffet that is good and has enough variety to keep everyone happy. It's a great start to the day and I don't have to do any of the work!
I also love coming back to a room where someone else has tidied up and made the beds.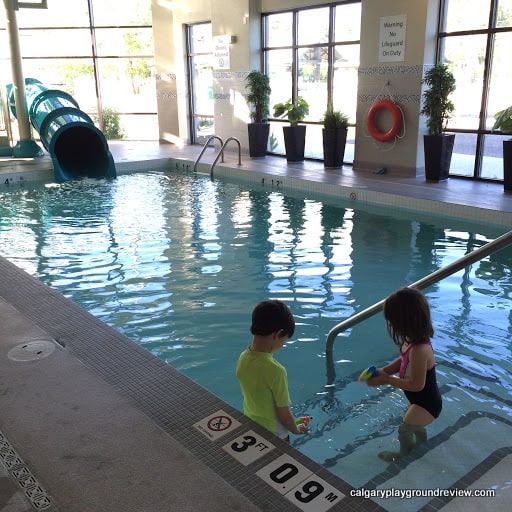 The best thing of all of course, is the hotel pool. We went three times while we were there and loved every minute. The waterslide is pretty cool too, but a little more intense than it might look.
6. It Doesn't Have to Cost a Lot
When you go on a staycation, you already save money on gas or airfare. But you don't have to spend a lot of money on activities in order to have a good time either. There are so many awesome family-friendly places to visit in Calgary that don't cost a penny – like the city's spray parks, wading pools, parks and playgrounds.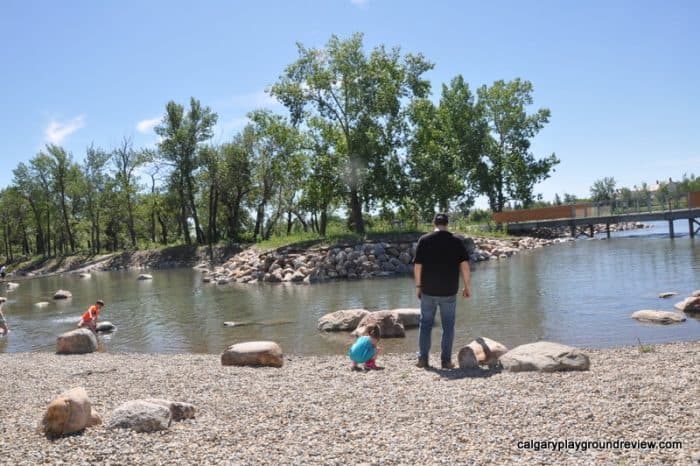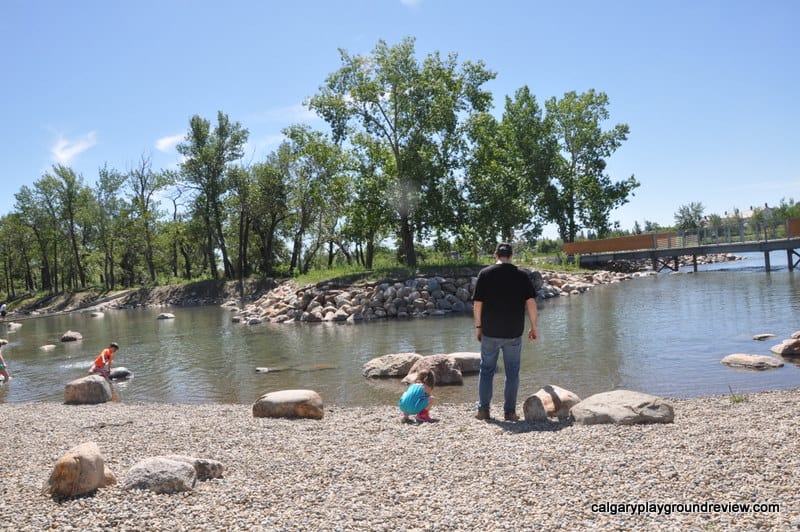 We spent our morning in and around the East Village. After stopping for a snack at the Simmons Building, we wandered over to St. Patrick's Island. We walked the pathways, spent a little time in the river wading area and played on the playground.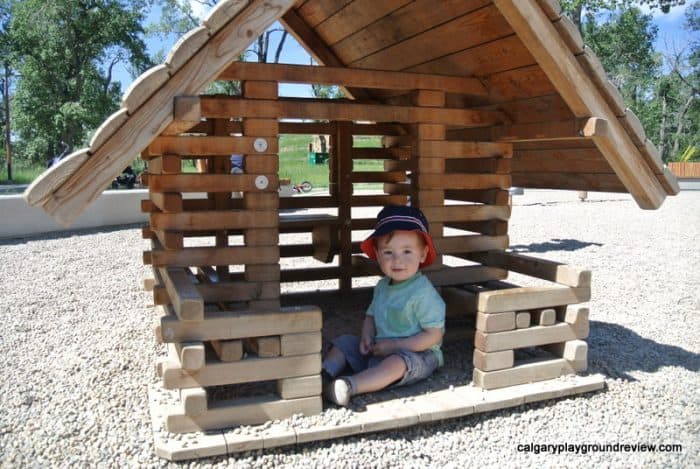 We then went back across the bridge and spent some time on the new East Village playground.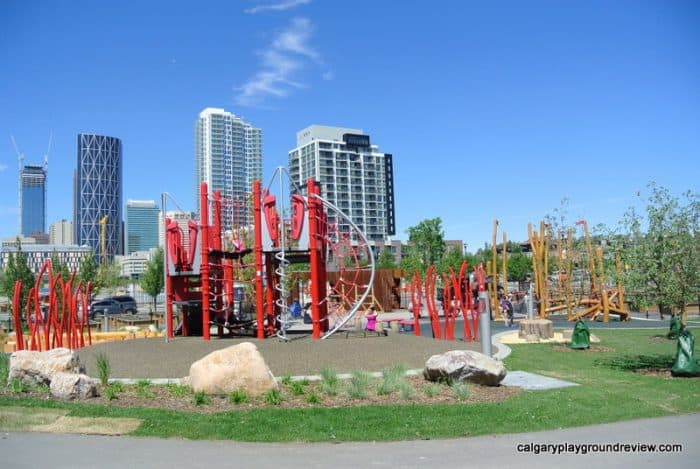 After lunch we spent some time at Prince's Island and then walked across the Peace Bridge. The Reader Rock Gardens are also completely free.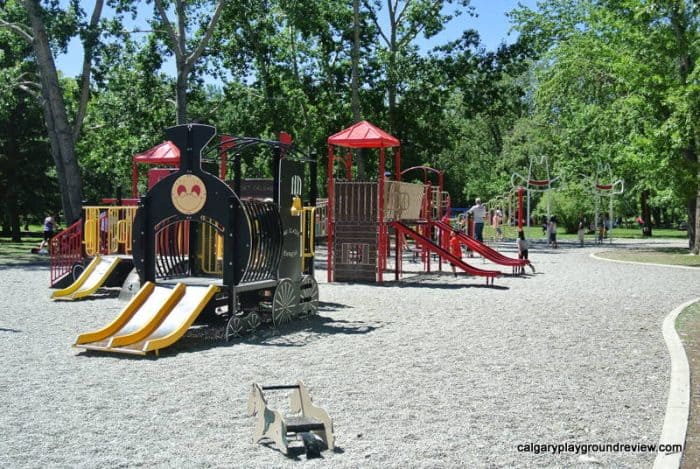 7. See Your City from a New Perspective
Exploring the city as a tourist allows you see different things than you normally would. Our day is usually defined by naptime, but since we were on a vacation, our little one had to nap on the go instead of going back in the middle of the day.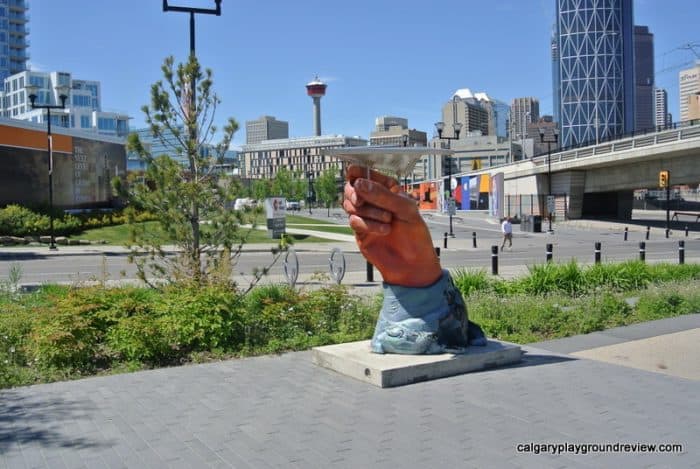 This gave us a lot more time – so we walked along the river from the East Village to Eau Claire Market.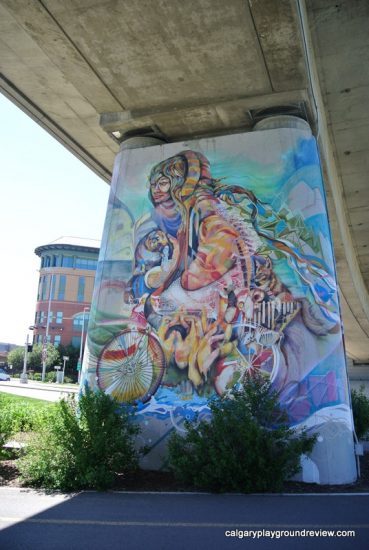 We got to see some cool pieces of public art and different views of the city.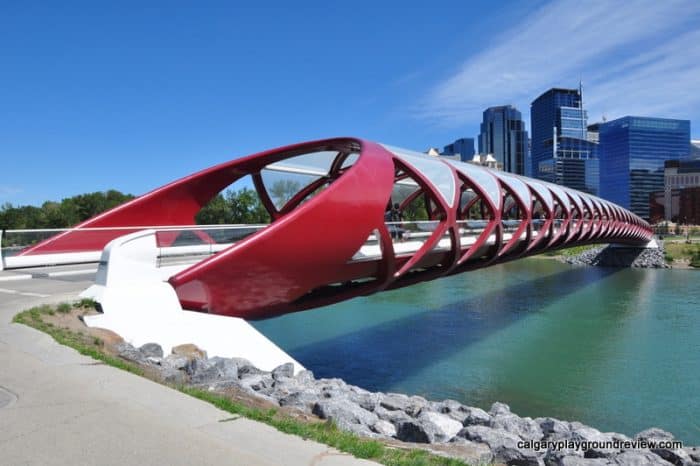 And found out that our littlest will sleep in the stroller if he has too.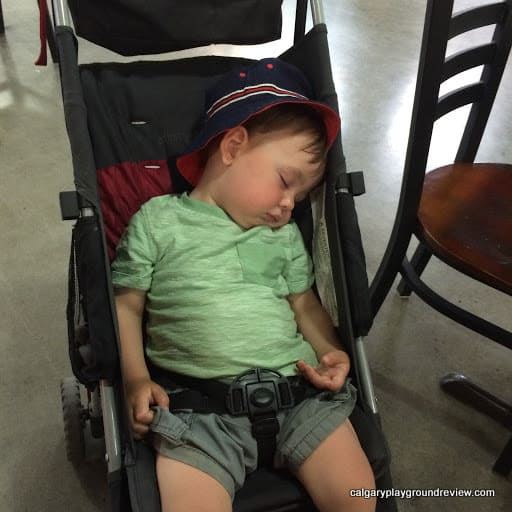 8. Time For Those Little Things Kids Love
Every time we go on a vacation the highlights for the kids never seem to be our reasons for going. Usually their favourite thing is the hotel pool. This time was no exception. But there were also a couple of other things that made them happy.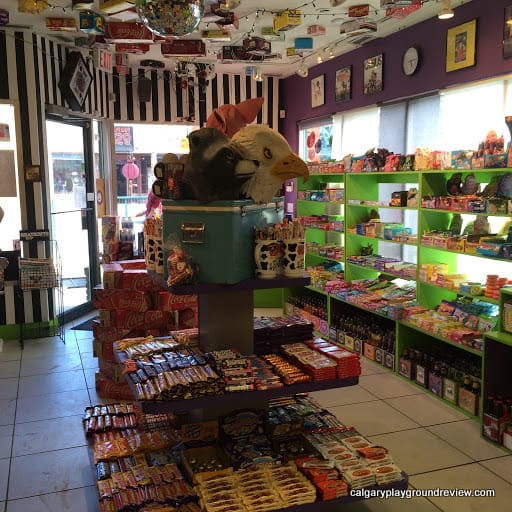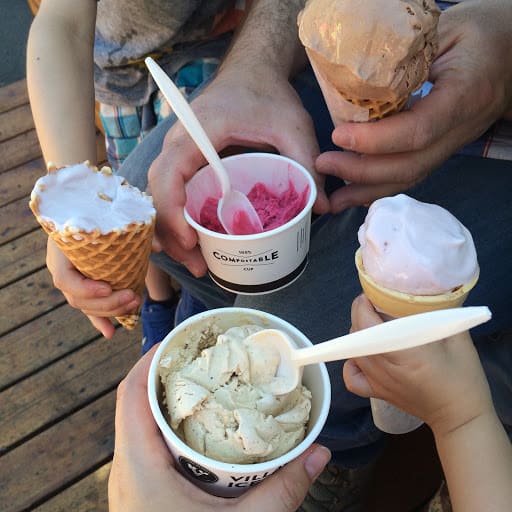 One was getting candy at the Gummi Boutique in Kensington. Nicky got a bag of Frozen-themed jelly beans and thought it was the most amazing thing ever.
The other was going for ice cream at Village Ice Cream. Getting ice cream on vacation is one of our family traditions so how could we skip it on our staycation?
We had a fantastic time being tourists in our own city. Having a staycation was a great way for us to connect as a family and spend uninterrupted time together.
Want to have your own Calgary Staycation? Check out IHG's Calgary hotels to book your stay.
Please Note: 
We do our best to ensure the information on Calgary Playground Review is accurate, however information and events are subject to change. Please contact the organizations directly to avoid disappointment.
Can you help make this article better?
If you have noticed an error, have additional information or would like to share a comment you can:
E-mail us at calgaryplaygroundreview@gmail.com
Find us on Facebook: CalgaryPlaygroundReview
Find us on Instagram: YYCdana
Tweet us: YYCdana
We are not affiliated with any venues, attractions or organizations. Please message them directly if you have questions or concerns.