We had so much fun on our family vacation in Saskatoon, I couldn't fit it all in one article! Read on for even more fun with kids in Saskatoon!
Fun With Kids in Saskatoon
If you hit some bad weather, your kids can burn off some energy at the Fun Factory, an indoor play place in Saskatoon.
They have a very large toddler area with two playhouses, several rockers, a ball pit solely for little ones, and giant foam blocks.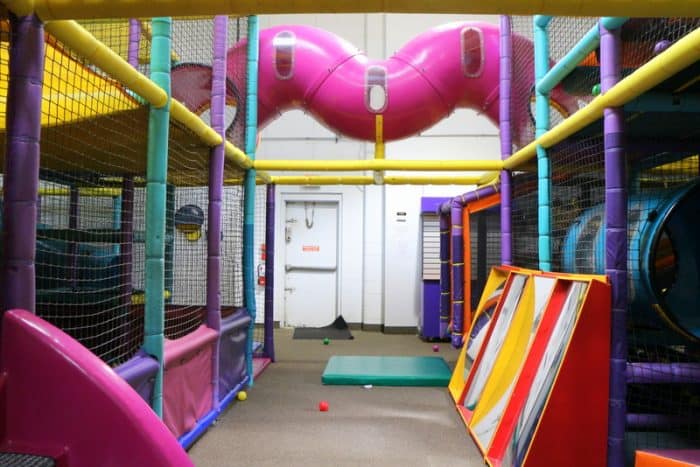 The climber is broken into two sections, which are connected by large "pipe" bridges. There's a ball pit for big kids on the bottom level of the climber, and there are several slides, including one composed of rollers.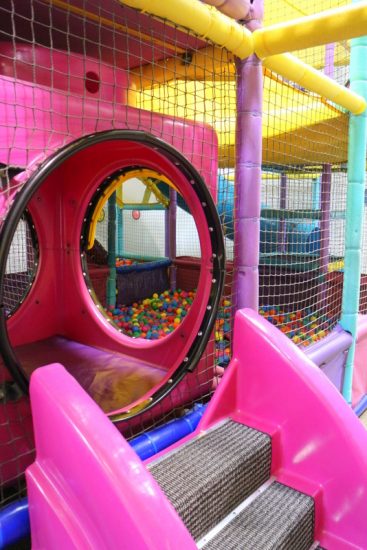 There are also a bunch of arcade games. You need to buy tokens for these, but the kids can trade in their tickets for prizes when they're done playing. During our visit, the kids played in the climber while my husband and I entertained ourselves with arcade games. It was awesome.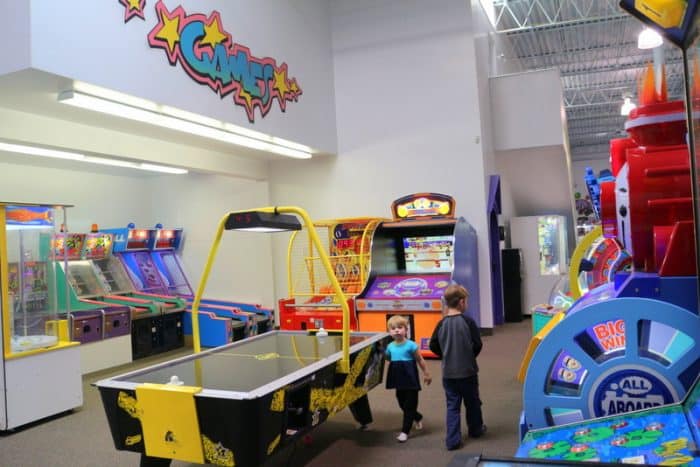 The Fun Factory has a wide variety of food and drinks available, ranging from mac and cheese to burgers and wraps. There is no air conditioning in this building, so if it's hot outside, be sure to budget for some water during your visit. Lots of fans help keep the temperature down, but our kids all got thirsty.
River Heights Playground & Spray Park (60 Ravine Dr) and Lawson Wave Pool
This playground is located at a school, so it may be busy during the school year. However, it's absolutely huge, so there's lots of room to spread out.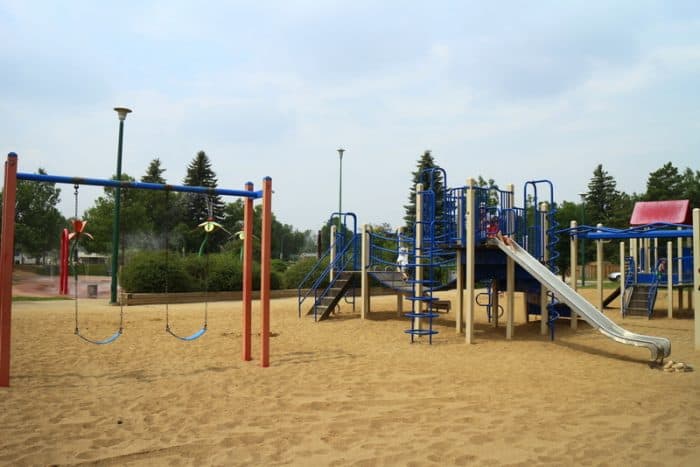 There are 3 different playground areas (2 playgrounds and one area with swings), a spray park, and lots of open green space filled with picnic tables and small rolling hills.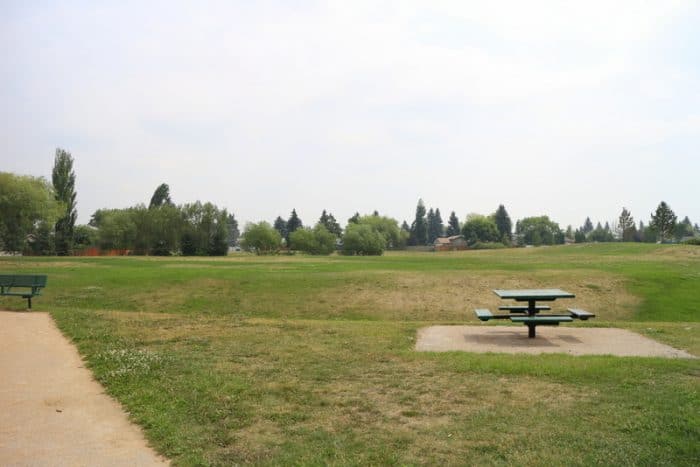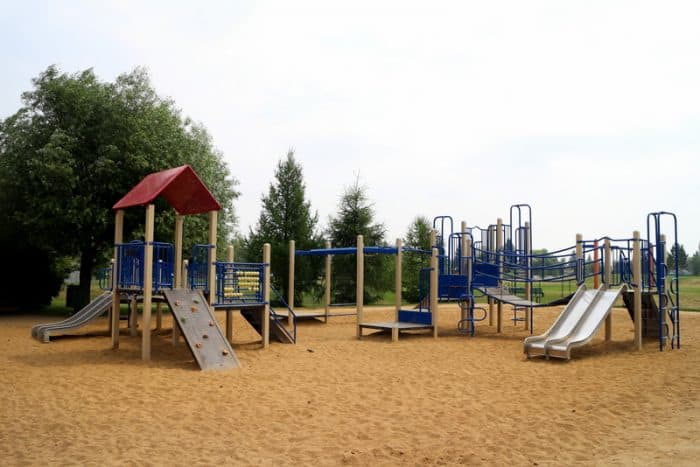 The spray park is right next to one of the playgrounds. It has a cute botanical theme.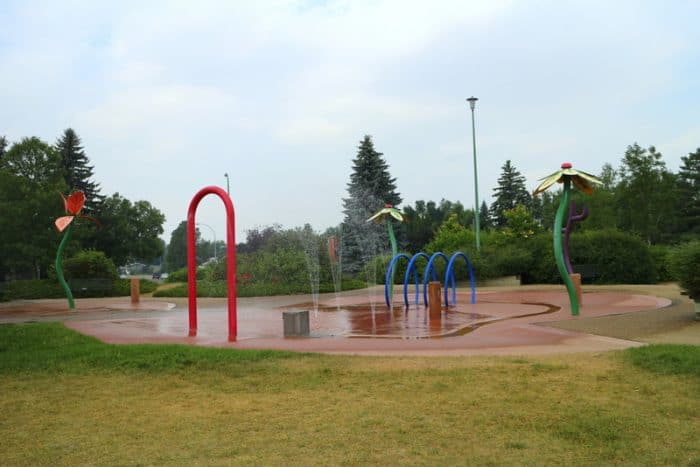 The second playground is right behind the school. It has an old wooden climber and some new plastic additions.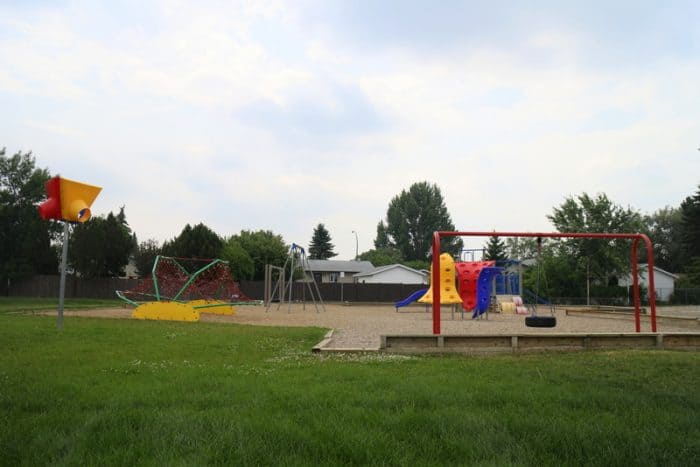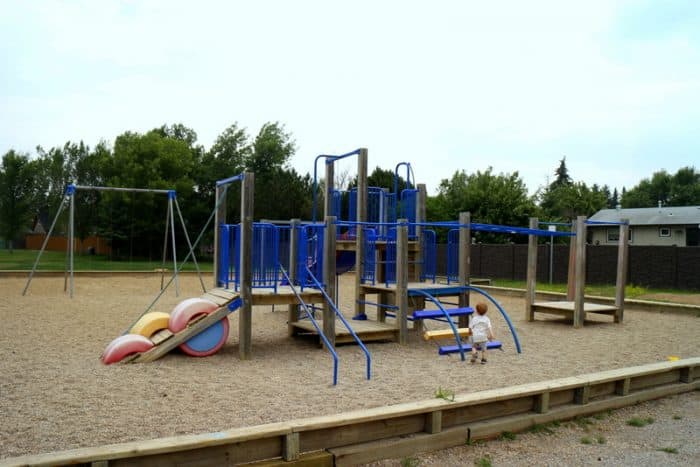 The nearest washrooms are located at the Lawson Civic Centre, which is just a few blocks away. The Civic Centre has a pool with two different shallow toddler areas, and a wave pool. If the playground doesn't tire your kids out, the pool will. Bonus: the prices are much lower in Saskatoon than they are in Calgary.
Picture Heritage Park indoors, and you've got the Western Development Museum. Bring your camera, because there are a lot of cute photo ops here.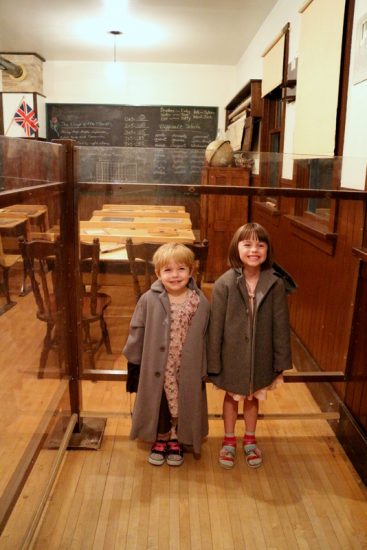 When you enter the Museum, you'll find yourself in a 1910 Boomtown, complete with homes, shops, a school, a firehall, and a church. The kids love exploring all the buildings, and pretending to drive the antique car (there's one near the front that you can climb into). Don't forget to put them in the jail at the RCMP outpost!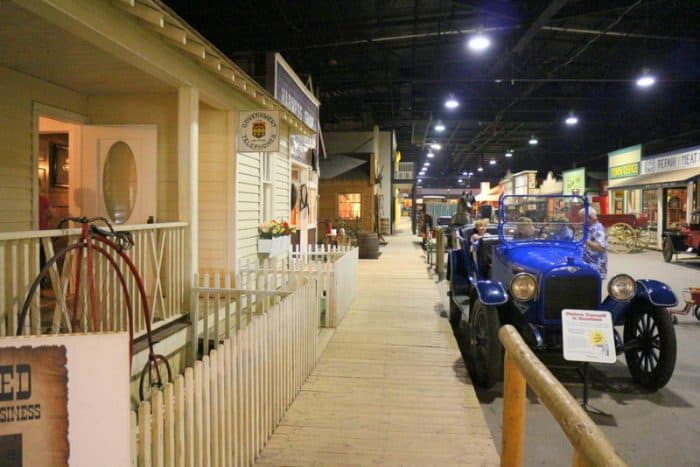 Once you reach the end of the main street, there's a steam train for the kids to climb in. This was one of the kids' favourite parts.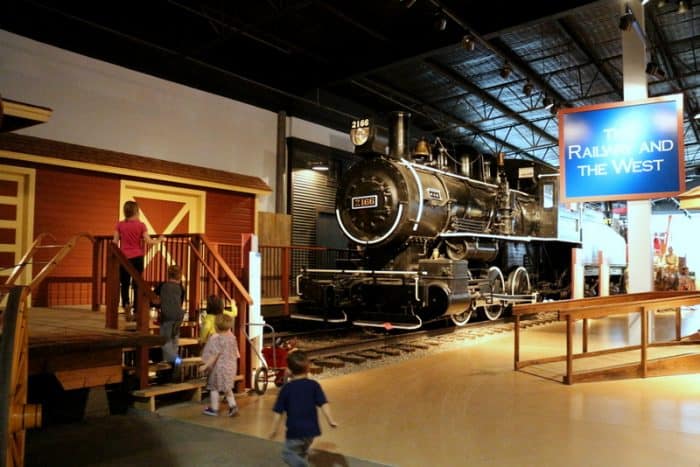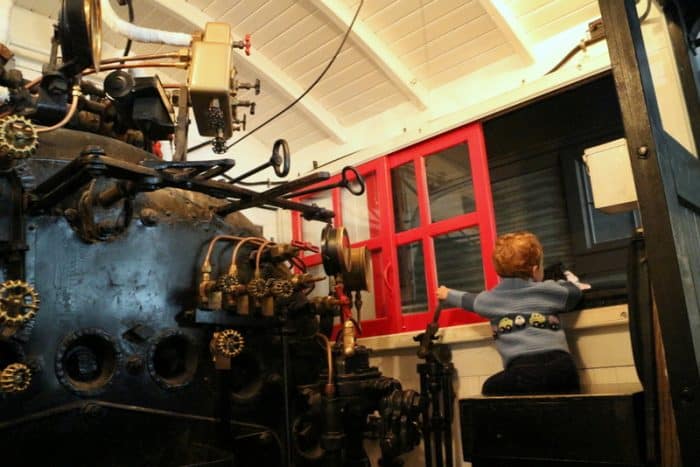 Other exhibits include a sod home, an old-fashioned Fun House, and antique farm equipment ("Tractors!," my son gleefully exclaimed).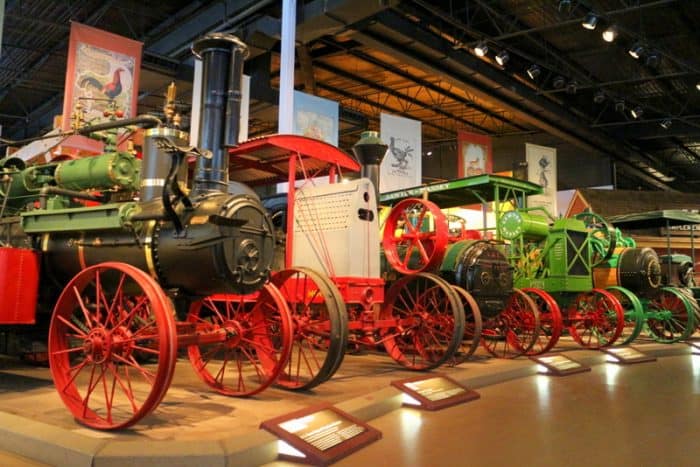 There are plenty of opportunities for interaction at this museum – kids can climb into various vehicles, operate model trains, and try on old-fashioned coats at the school. There's a whole wing dedicated to trains and cars, which was a big hit with my kids.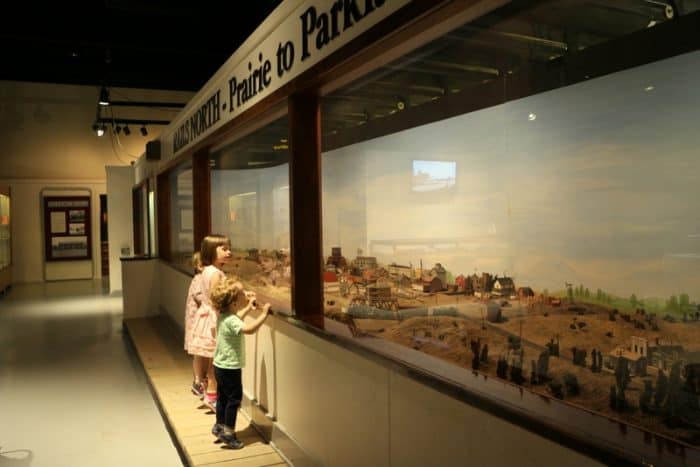 When we were there, the Museum happened to be offering horse and carriage rides as well! This doesn't happen every day, so call ahead if your heart is set on it.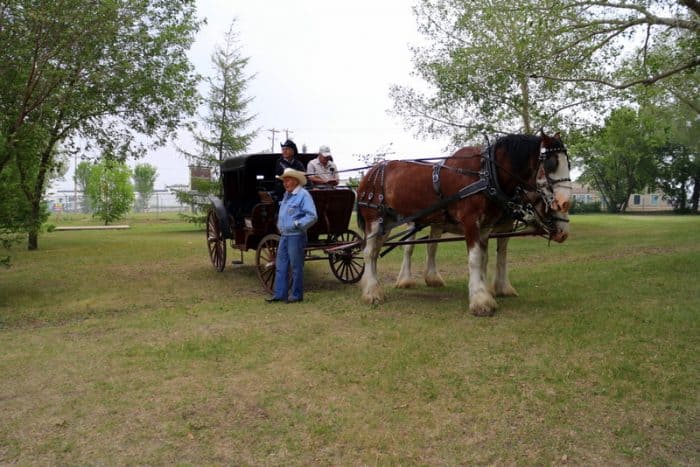 Shopping
McNally Robinson is an incredible bookstore. To get to the kids' area, you climb a staircase that winds around a massive tree in the middle of the store. It's MAGICAL. They have a fantastic selection of kids' books (including some in French), games, and high-quality toys. It's one of my favourite places to hang out.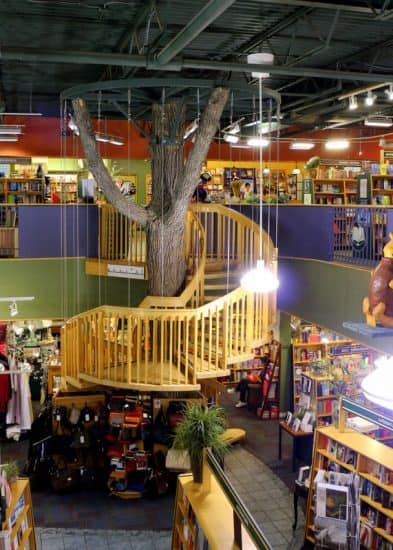 McNally also has a wide selection of books by local authors. If you're looking for a locally-made (or locally-written) souvenir, this is the perfect place to find it.
Where to Eat in Saskatoon
My favourite restaurant in Saskatoon is Fuddruckers. They have AMAZING burgers, and they are very kid-friendly. They also have mini golf, an arcade (Ruckers), and batting cages right outside! You could easily spend an afternoon here, and then head into the restaurant for dinner.
Jerry's Food Emporium is another favourite with locals. They also have standard burger fare, but their selection of milkshakes is HUGE, and they are delicious. If you love Peter's Drive-In when you're in Calgary, Jerry's is the place you want to go in Saskatoon.
Where to Stay in Saskatoon
We stayed at the Best Western Plus Blairmore during our visit to Saskatoon, and it was perfect. The hotel looks and feel new, and the room was spotless.
The kids were extremely excited about the salt water pool and waterslide.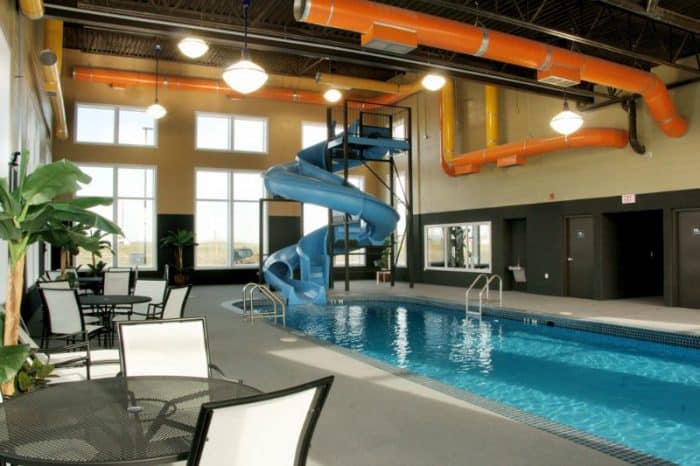 My favourite thing about the hotel, though, was the free hot breakfast buffet. It made our mornings so much easier – we didn't have to worry about going to a restaurant first thing in the morning.
And, because the food was ready when we arrived, my kids didn't get bored waiting. The food was really good, and the selection was a little different every day.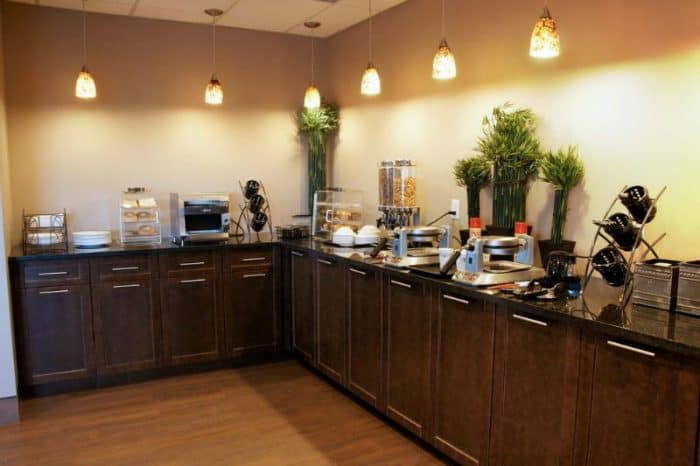 The cost of rooms fits with a family budget, and everyone was really friendly. Once, we were leaving the hotel and ran into a housekeeper on the way out.
I ran back upstairs for sunscreen, and she was already making up our room. She said that because we had small kids, she wanted to be sure it was ready for nap time! I'd highly recommend staying here.
Check out Part 1 of our adventures in Saskatoon for the best museum ever and more! How do you like to have fun with kids in Saskatoon?
Katie is a librarian and writer based in Calgary. You can find her at Best Birthdays and Brass Knuckle Book Reviews.
Disclosure: In order to facilitate these reviews, we were provided with accommodation in Saskatoon. Thank you to Tourism Saskatoon for assisting with our trip!
Please Note: 
We do our best to ensure the information on Calgary Playground Review is accurate, however information and events are subject to change. Please contact the organizations directly to avoid disappointment.
Can you help make this article better?
If you have noticed an error, have additional information or would like to share a comment you can:
E-mail us at calgaryplaygroundreview@gmail.com
Find us on Facebook: CalgaryPlaygroundReview
Find us on Instagram: YYCdana
Tweet us: YYCdana
We are not affiliated with any venues, attractions or organizations. Please message them directly if you have questions or concerns.