Location map
Multiple entrances – Bounded by 14th St, John Laurie Blvd, Shaganappi Trail and the Community of Macewan
Parking: Free lot parking
Park Features: Hiking trails, off-leash area, washrooms, wildlife, interpretive signs, native grasslands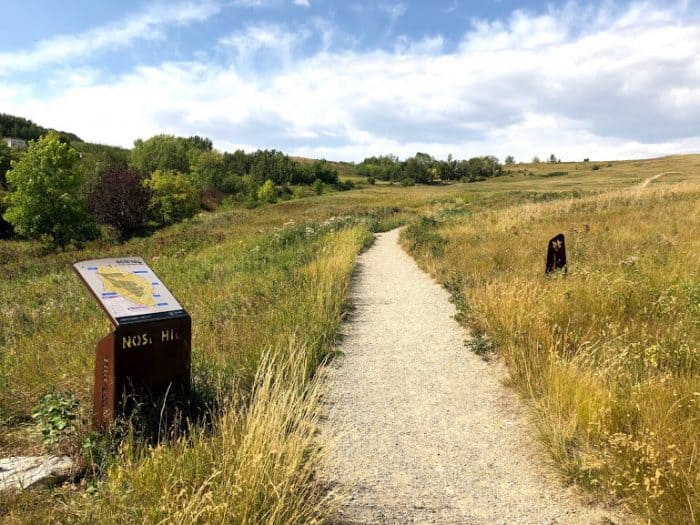 Overall: Nose Hill Park is Calgary's biggest city park (Fish Creek is a provincial park) covering 11.27 square kilometers. Nose hill is a natural environment park with numerous hiking, biking and walking paths – many are dirt, but some are gravel or asphalt paths.
Nose hill is a great location for wildlife spotting, and is home to many larger mammals like deer and coyotes. You can also find many geocaches.
There are several entrances to Nose Hill Park – one off Shaganappi Trail, one off John Laurie and four along 14th street which all have parking lots. In addition, there a number of community entrance points without parking lots.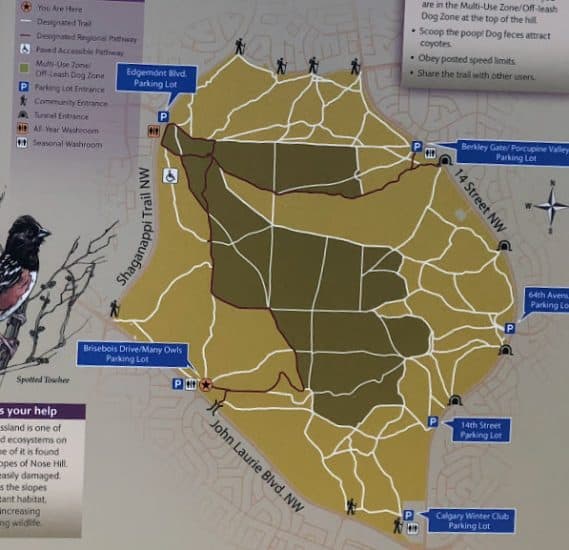 Tips for exploring Nose Hill Park with kids
Be aware of off-leash dogs – the central area of Nose Hill is an off-leash park but you will often encounter dogs off-leash throughout the park. Also, the Edgemont parking lot leads directly into the off-leash area so off-leash dogs will be particularly common.
Amenities are limited – Nose Hill park is a fun place to explore, but the features are largely natural. There are no playgrounds unless you include giant rocks.
Not all parking lot entrances have bathrooms – there are only 4 bathrooms on Nose Hill Park. They are marked on the map.
Wear good walking shoes and be prepared for hills – There are plenty of different pathways on Nose Hill but most include lots of hills.
Paved pathways – you can take a stroller to Nose Hill Park but I recommend you look for one of the three parking lots that lead to paved pathways – (Edgemont, Berkley Gate, Brisbois)
Biking on Nose Hill – Nose Hill is an amazing place for trail riding. If you are taking a child with a bike, I would suggest starting on one of the entrances with a paved pathway unless they are an experienced trail rider. There will still be lots of opportunities to go 'off-road' by leaving the main paved trail but it will make it easier to tailor the ride to their abilities.
Edgemont Blvd Parking Lot (Shaganappi Entrance)
Features – wheelchair accessible path, washrooms, picnic tables
This is one of the few areas where you can find picnic tables (benches are more common). They are located in a lovely grove of trees not far from the parking lot. In this same area you can also find a 'teepee' made out of logs. Sometimes this gets torn down but it seems to be rebuilt each time.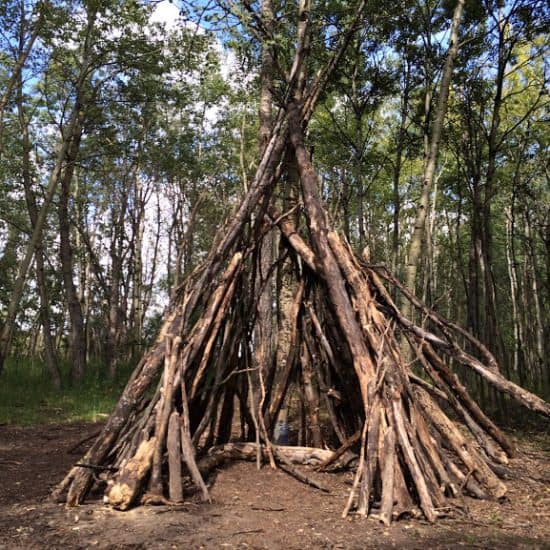 This is a great spot for small kids on bikes or strollers – there is a paved path that is not as steep as many on Nose Hill. However, the off-leash area starts just outside the parking lot, so off-leash dogs will be particularly common here.
Brisbois Drive/John Laurie (Many Owls) Entrance
Features – washroom, good views of downtown (requires some elevation gain), pedestrian overpass (fun to walk over to watch the cars go by on John Laurie).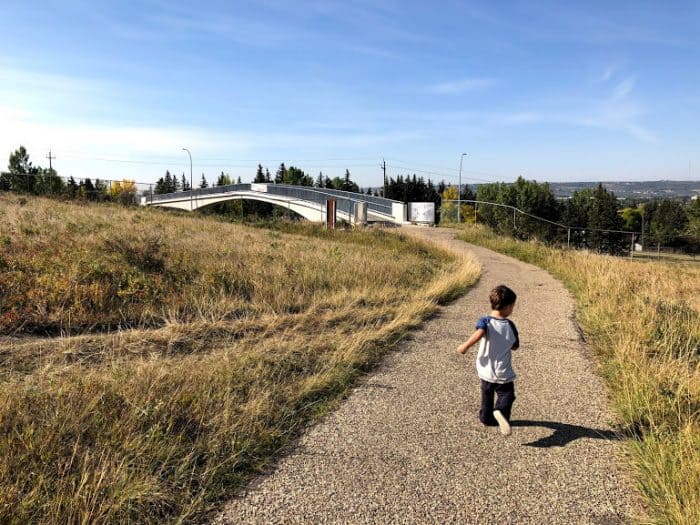 There is a paved pathway from the parking lot but it does require some elevation gain. You can get some good views of downtown if you follow pathways close to the south side.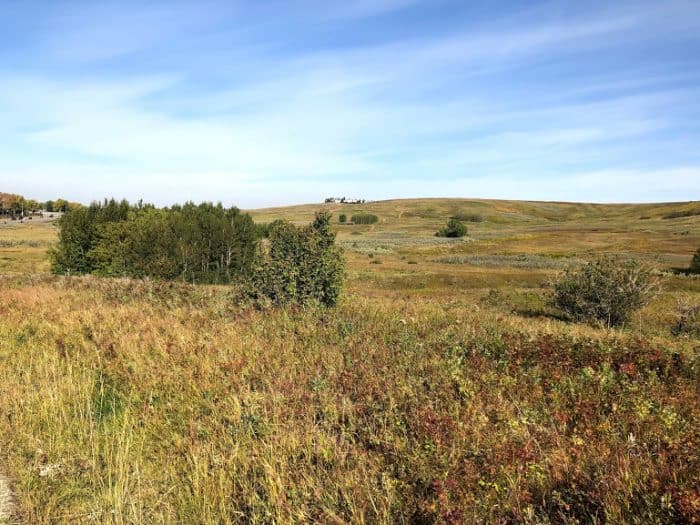 Calgary Winter Club Parking Lot
Features – good views of downtown, stairs, washrooms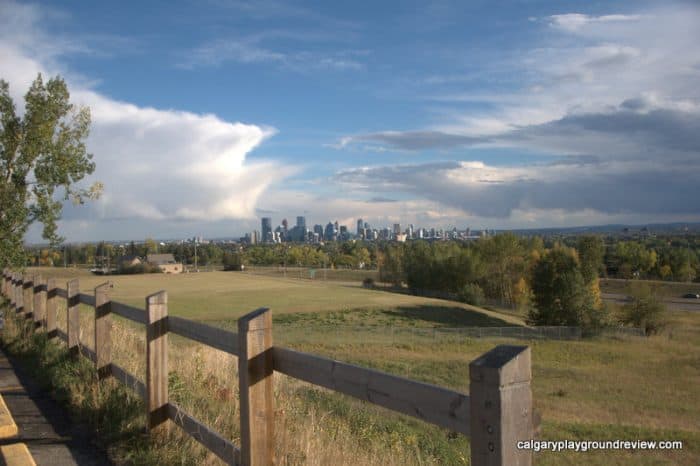 To get to this parking lot you have to squeeze between the police station and the Calgary Winter Club. It doesn't really feel like you are going the right way, but at the back of the Winter Club Parking lot is a public parking lot for Nose Hill.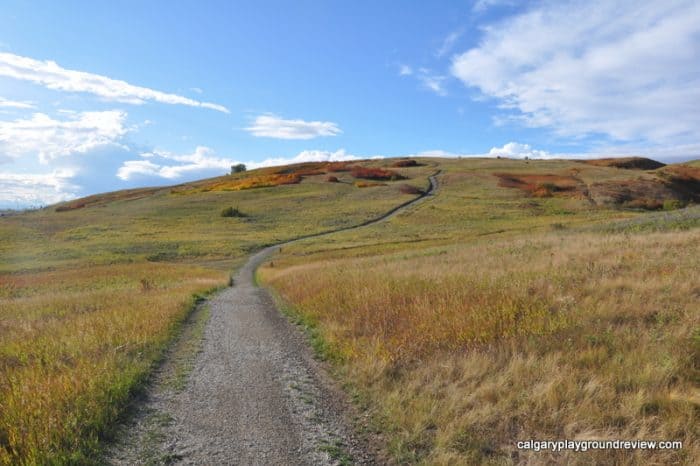 Coyote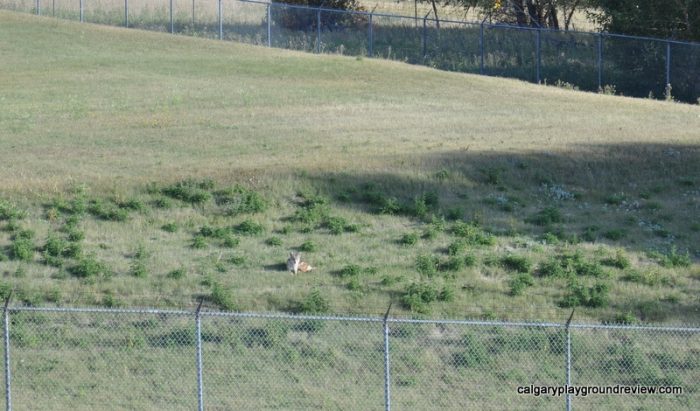 14th Street Parking Lot Entrance
Features – good views of downtown and the airport, good access point for Medicine Wheel, Intermittent Pond and Glacier Erratics (large boulders).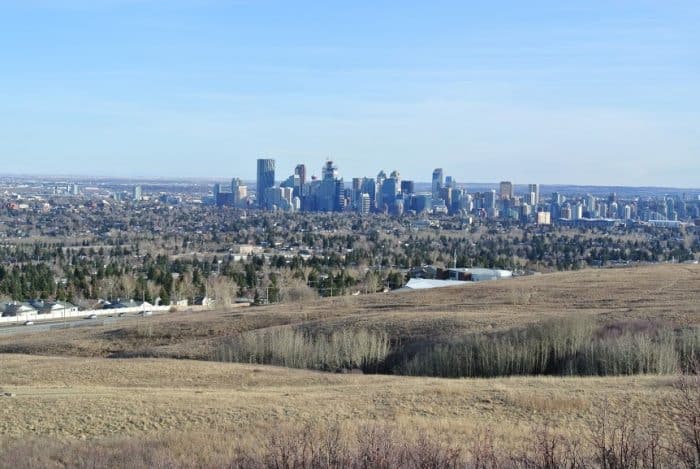 To find the Medicine Wheel, first go to the tall radio tower (this should be easy to spot). Then walk south towards downtown. You should come upon the Medicine Wheel fairly quickly. Please treat this cultural landmark with respect (see here for more information about the Medicine Wheel).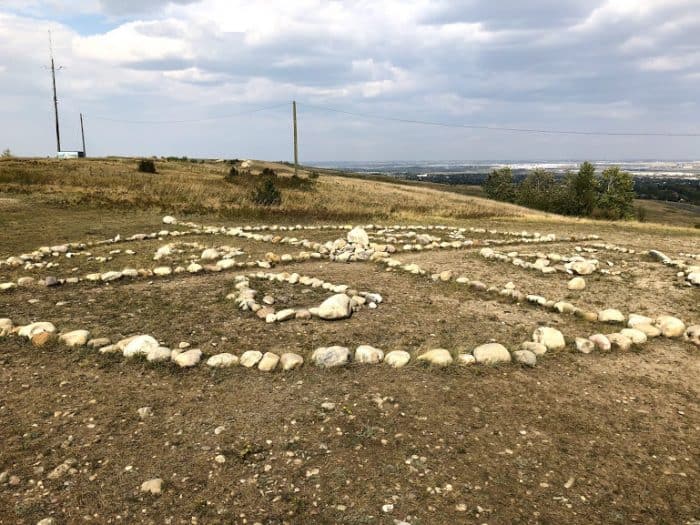 The large boulders are located North and a bit to the East of the radio tower.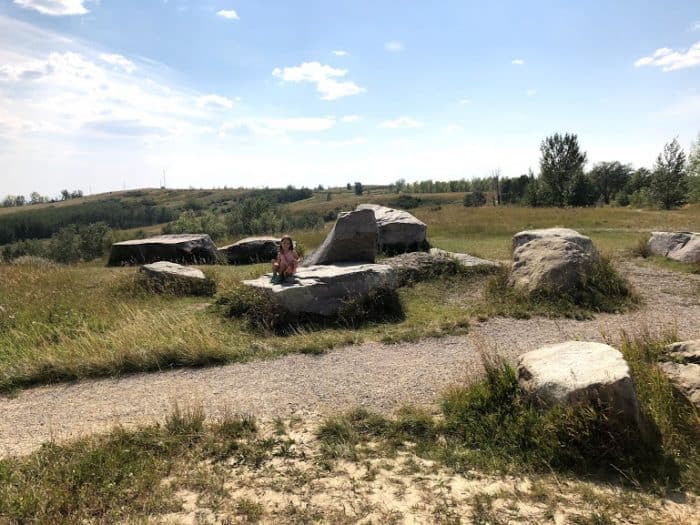 The intermittent pond (which is completely dry for parts of the year, hence the name) is located North West of the radio tower.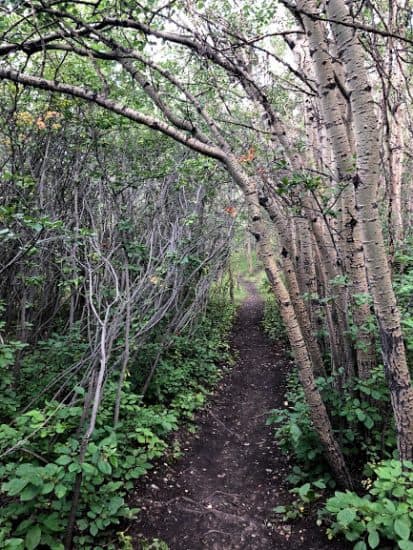 Although Nose Hill can appear to be composed completely of grassland from the road there are some lovely forested areas as well.
64th Avenue Parking Lot Entrance
Good access point for large Glacier Erratic. Good views of the airport along the East side.
You can see the large glacial erratic pretty quickly after leaving the parking lot making it easy to locate. It's not a long walk – my 3 year old was able to do it easily.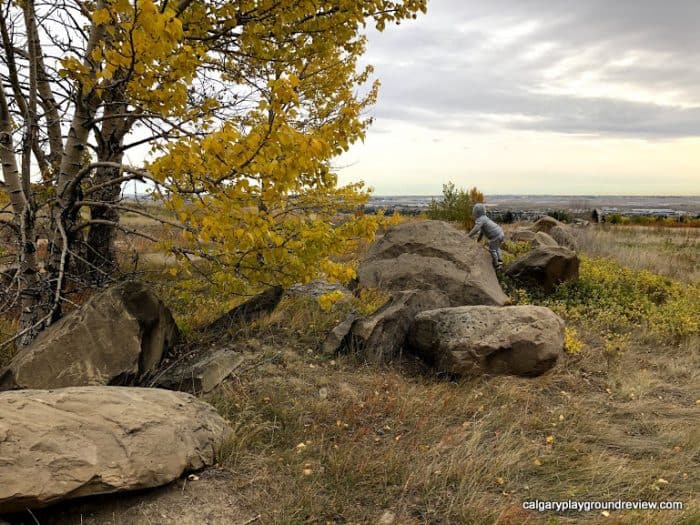 There are a lot of smaller rocks part way there that are fun for climbing on.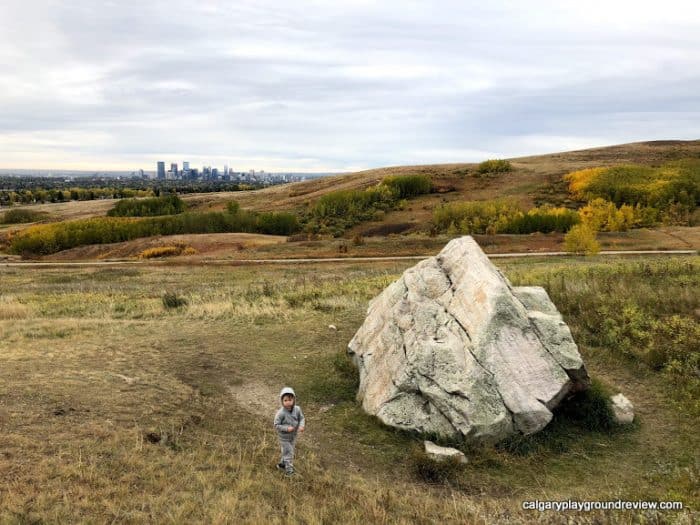 Berkley Gate Entrance (North East Entrance) – map
Features – paved pathway, interpretive signs, washrooms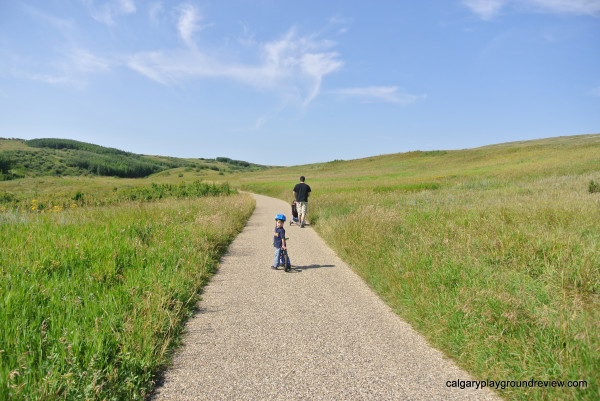 From this entrance you can access interpretive signs as well as a paved pathway, great for little kids to bike ride on.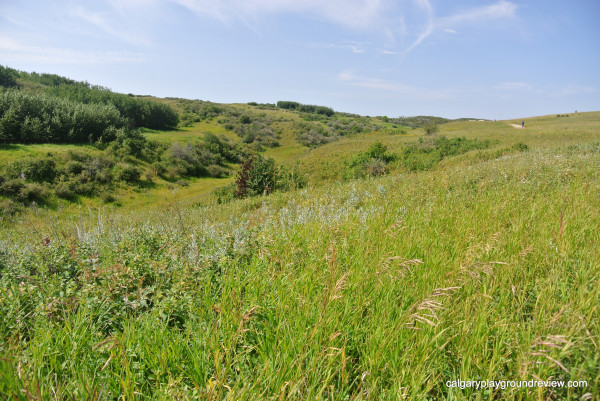 Have you been to Nose Hill Park? What did you think?
Please Note: 
We do our best to ensure the information on Calgary Playground Review is accurate, however information and events are subject to change. Please contact the organizations directly to avoid disappointment.
Can you help make this article better?
If you have noticed an error, have additional information or would like to share a comment you can:
E-mail us at calgaryplaygroundreview@gmail.com
Find us on Facebook: CalgaryPlaygroundReview
Find us on Instagram: YYCdana
Tweet us: YYCdana
We are not affiliated with any venues, attractions or organizations. Please message them directly if you have questions or concerns.