Location    map
Community: Parkdale – 3512 – 5th Ave. N.W. Calgary, AB.
Parking: There is free street parking along the park and at the community centre.
Gordie's Review (15 months old) – Stairs were fun. Swings were okay. Spinner was a little scary.
Age Range: Primarily 5-12, Only the infant swings and train play structure are really pre-school appropriate
Ground Cover: Pea gravel
Features: 2 large  playstructures with 4 slides; 1 small train play structure with twin slide; 4 swings(2 infant); medium size spinner; jeep play car; digger.
Surrounding Park Area: Large flat grassy area; outdoor rink; baseball diamond
Shade: little to none
Seating: 2 picnic tables, 5 benches and a small gazebo outside the play area.
Stroller/wheelchair access: great to the park but not inside the play area

Overall assessment: Great playground for school aged children. Quite big with a lot of variation in the equipment. Worth a 15 minute drive especially if you were going to meet someone. Not worth driving to for smaller children unless they have older siblings or friends that are coming too.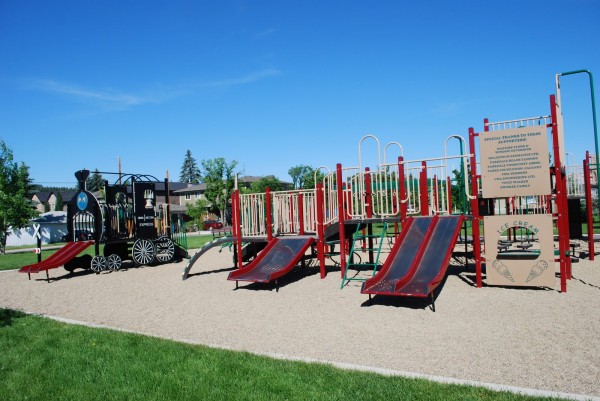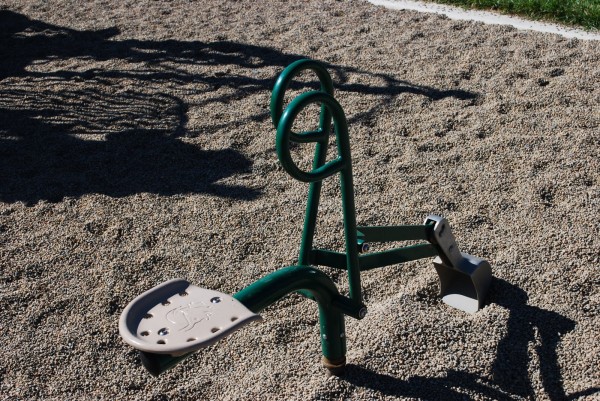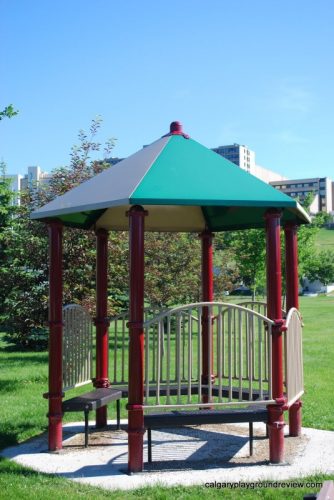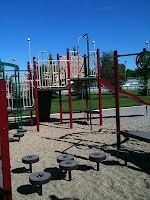 Have you been to this playground? What did you think?