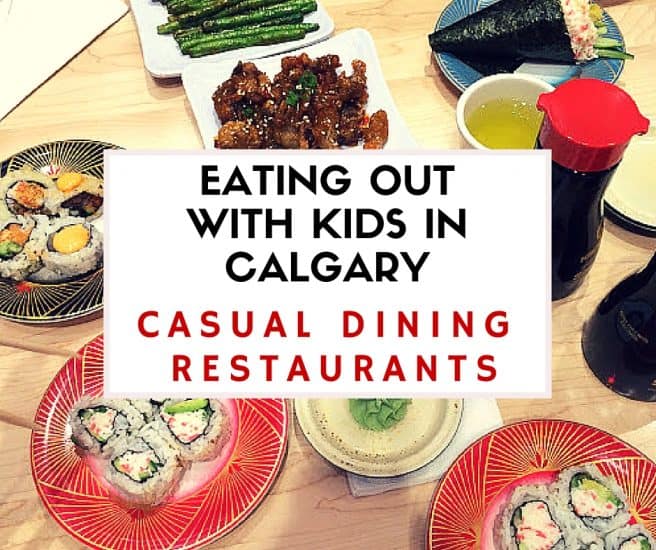 I asked around and even conducted a survey looking for suggestions for great places to take the kids out to eat. I'm putting the results of this into a series of posts. Great sit-down restaurants (where you order at the table) is the 3rd installment.  This isn't an exhaustive list but it has some great options with a large range of prices and styles.
What's your favorite sit-down restaurant to take the kids to? Is there another restaurant you think should be on this list?
Independent Restaurants
Boogies Burgers
908 Edmonton Trail NE  http://boogiesburgers.com/
The food at Boogies burgers is made fresh but comes fast. The restaurant is casual and in their words "modest" but it's cool in a retro kind of way. They serve up some interesting burgers including a pizza burger and a deep fried mac and cheese burger as well as more standard fare and a huge selection of milkshakes. For kids they offer a reasonable priced single patty burger, hot dog and a kids chicken fingers and fries.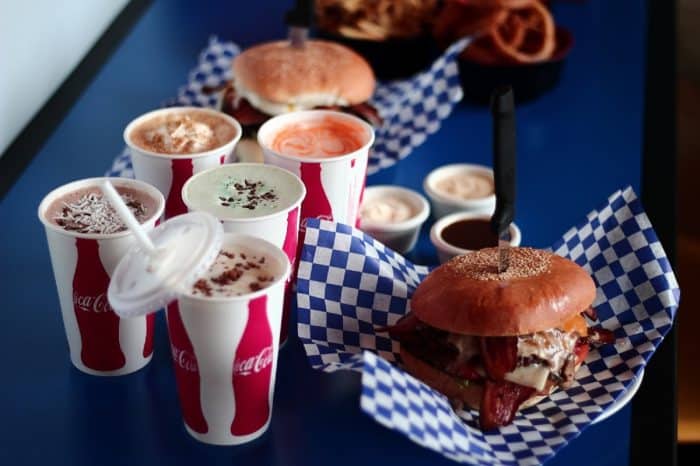 (photo courtesy of Boogies Burgers)
Naina's Kitchen
2808 Ogden Road SE  http://nainaskitchen.com/
Naina's Kitchen is famous for their stuffed burgers and also makes a great poutine. Kids (and grown-ups) will also enjoy their mac and cheese and grilled cheese options. You can make them all your own with a large variety of ingredients including bacon, carmelized onions, pulled pork and more. The restaurant is fairly small with a causal atmosphere.  ­
You actually do order at the counter at Naina's Kitchen, however the food preparation takes a bit longer than your typical quick service restaurant so I've included it on this list instead.
Check out Merry About Town's review of Naina's Kitchen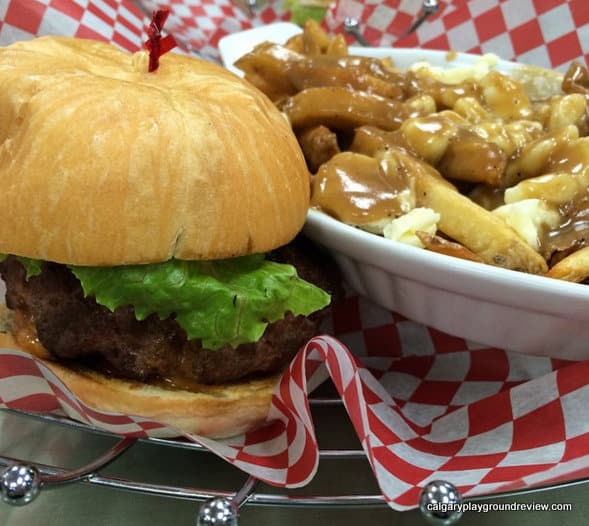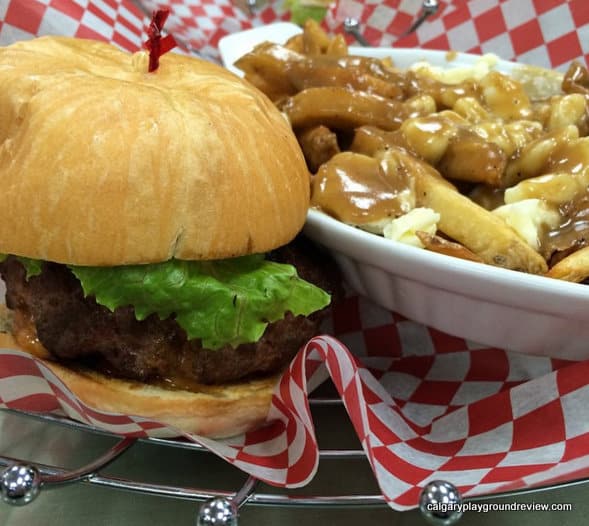 Sushi Ginza
Willow Park Village #276, 10816 Macleod Tr. S.  http://sushiginza.ca/
The décor at Sushi Ginza complete with a bridge, fish pond and waterfall will be a hit with kids. The quick service and the option to sit at the sushi bar serving up floating sushi boats will make you want to go back again and again.
Bubblemania
455 – 16 Avenue NE  http://www.bubblemaniacafe.com/
Bubblemania has a fun casual atmosphere with quick and friendly service. Its specialities are bubble tea (hence the name) and wings but they also serve many different kinds of small and large plates that are designed for sharing.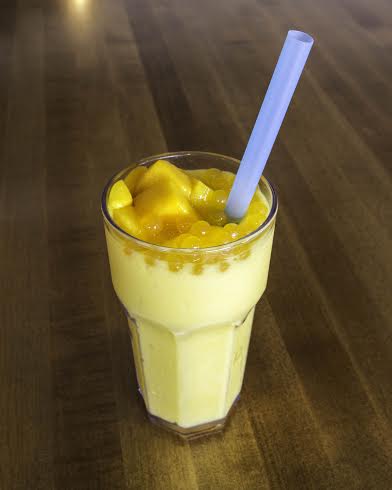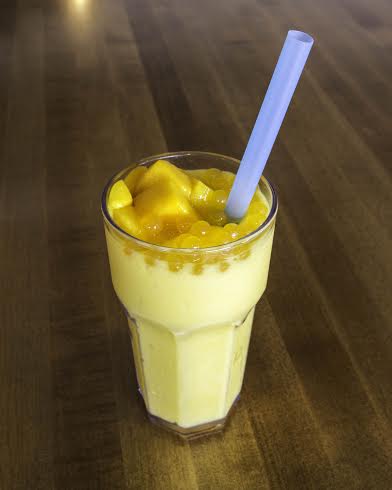 (photo courtesy of Bubblemania)
Xan Mongolian
Beacon Hill Centre 11670 Sarcee Trail   http://www.xanmongolianbarbeque.com/
Xan Mongolian is a Mongolian BBQ style restaurant where you put your bowl of food and sauces together and it gets made up on a big grill. You pay by weight so it can work out well for small eaters. The set up can be great for getting a nutricious meal for kids because they can pick out exactly what they want in their bowls and know exactly what they are getting.
Karma
McKenzie Towne 4600 130 Avenue SE  http://karmacalgary.com/
Looking to try taking the kids out to eat for Indian food? If you are in the South Karma is a great option. Family owned and operated, they have lots of variety and friendly service. They also have a lunch buffet.
Nick's Steakhouse and Pizza
2430 Crowchild Trail NW (across from McMahon Stadium) http://nickssteakandpizza.com/
Nick's Steakhouse is a family run Calgary original – founded in 1979 by Nick Petros. Nick's has a retro feel but the quality of their food is excellent. They are very family-friendly and welcoming to kids. They serve classic thick crust pizza, great steak and fresh made burgers. They also have a kids menu with typical kid friendly fare as well as steak sliders.
Oak Tree Tavern
Level 2, 124 10 St NW http://oaktreetavern.ca/
Wanting some pub food but not sure of a good place to take the kids? Oak Tree Tavern states right on their website that they are kid friendly. They serve up a lot of pub standards as well as great burgers.
Pfanntastic Pannenkoek House
2439 54th Ave. SW http://www.dutchpancakes.ca/
The Pfanntastic Pannenkoek House serves up Dutch style pancakes, which are more similar to crepes than what we normally think of as pancakes with sweet or savory ingredients (like potato, onion, bacon and cheese) cooked right into them. The pancakes are bigger than you might expect so you will probably be happy with one per person. Although you may also want to split a sweet one for dessert. There can be a line up on weekends but if you get your name on the list the line moves pretty quickly.
See Merry About Town's Review of the Pfanntastic Pannenkoek House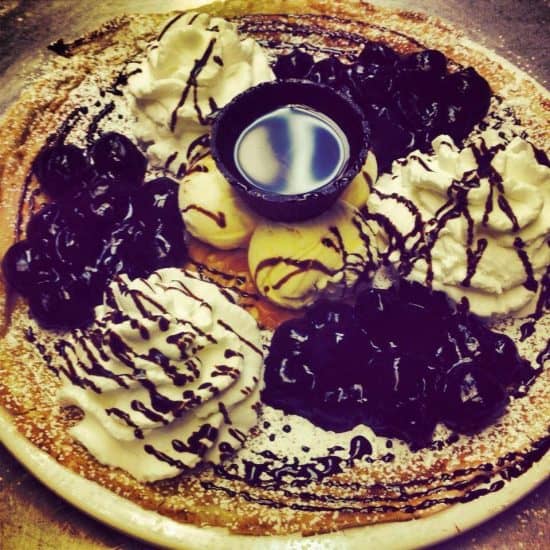 (photo courtesty of Pfanntastic Pannenkoek Haus)
Silver Dragon
106 3rd Avenue SE  http://www.silverdragoncalgary.ca/
Considered to be one of the best places for Dim Sum in the city, Silver Dragon is another great option for a food adventure. You can choose to order from their menu or if you are there during their Dim Sum daily brunch instead you can choose from dishes made for sharing from the Dim Sum carts circling around. If you go on the weekend, there can be a line-up but once you're seated you get to start eating right away.
Want to do Dim Sum but have some unadventurous eaters in your party? Check out this post.
Local Chains
4 Calgary locations – http://www.kinjosushiandgrill.com/
Kinjo was by far the most popular response for the best sit down restaurant for kids and it's easy to see why. Although Sushi is their specialty, they have lots of options for kids (and adults) that are fish free too. They make an extra effort that keeps families coming back including a fruit appetizer for the kids, kids chopsticks and pocky sticks at the end of your meal.
See our review of Kinjo here.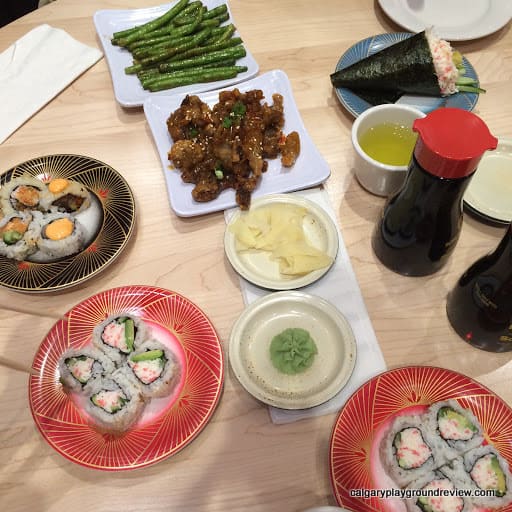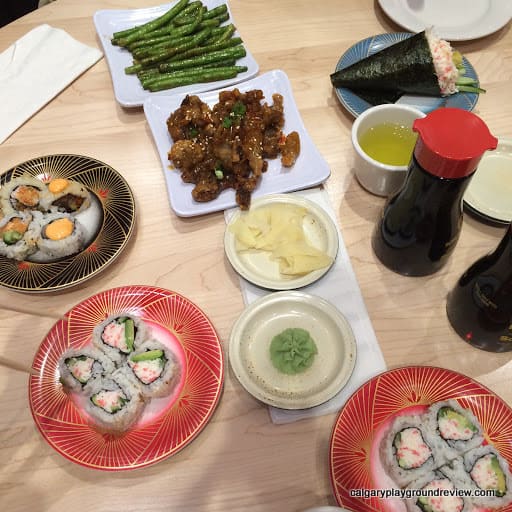 Ginger Beef
3 sit down locations  http://www.gingerbeef.com/
The Ginger Beef has been around since the 80s and offers classic Canadian Chinese food and is named after Calgary's signature Chinese food dish. The staff is known for being friendly and welcoming to families.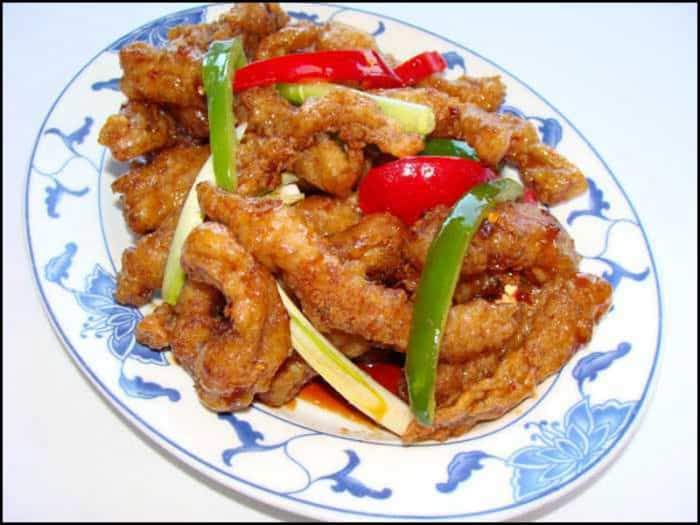 (photo courtesy of Ginger Beef)
Saigon Y2K
McMahon Stadium Centre and Downtown – http://www.saigony2kcrowchild.com/
Even though most Vietnamese restaurants don't have a kids menu, they typically have a casual atmosphere and quick service. Saigon Y2K is no exception. They restaurant is spacious with lots of seating. They can accommodate larger groups easily and if your kids are a little restless you aren't right on top of the next table. The food is fresh and the meat is always good quality.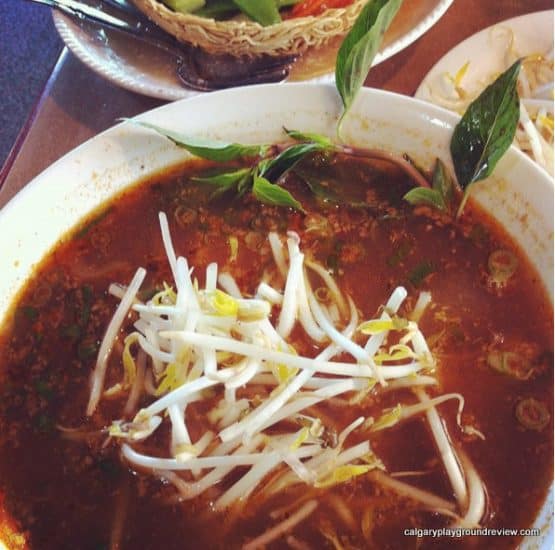 Sushi Ichiban
2 locations – Westbrook and Macleod Trail  http://sushiichiban.ca/
Sushi Ichiban is another great sushi option. The service is quick and friendly and very welcoming to kids. They offer sushi boat and the Macleod Trail location has an all you can eat lunch and dinner with a special rate for kids.
Chain Restaurants
Famoso Neapolitan Pizzeria
4 Calgary locations – http://famoso.ca/
Famoso's serve Neapolitan style thin crust pizza. It cooks quickly so you usually don't have to wait too long for your food. While you are waiting you can get coloring or pizza dough to for the kids to play with. When you dine-in they have a kids' special which comes with a kid sized pizza (as well as a few other entrée options), a drink and a scoop of Fiasco gelato or sorbetto. Did I mention they have Fisaco gelato and sorbetto? The pizza is excellent and the atmosphere is nice but very family friendly.
See our review of Famoso.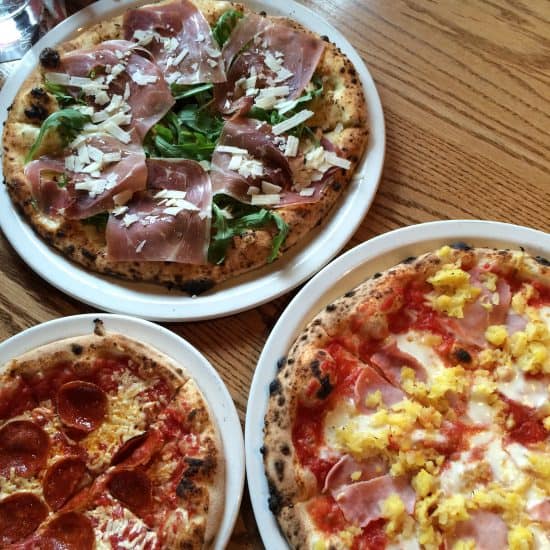 White Spot
Two Calgary locations – Macleod and Barlow Trail  https://www.whitespot.ca/
This BC and Alberta chain has been around for 85 years! They specialize in breakfast, Burgers and milkshakes but you can also get soup, salad, sandwiches and a selection of other entrees. They pride themselves on providing a great place for families to eat and offer crayon and an activity booklet while you wait for your food. They have a flexible kids menu where kids can order a main and side with a drink and ice cream for dessert served in a little pirate boat. They will also rush the food for the kids if you ask.
Buffalo Wild Wings
2 Calgary locations – Sunridge and Macleod Trail  http://www.buffalowildwings.com/en-CA/
Buffalo Wilds Wings is a Sports bar but they have a separate lounge and restaurant which is completely kid friendly. They specialize in wings which you can get with a wide variety of sauces (look for the flavour of the month). You can get the wings regular or boneless (breaded chicken) and they have a solid kids menu as well. They have tablets and crayons for the kids to play with while you wait for your food. There are also TVs playing sports everything.
Note: this may be a little overwhelming for some kids.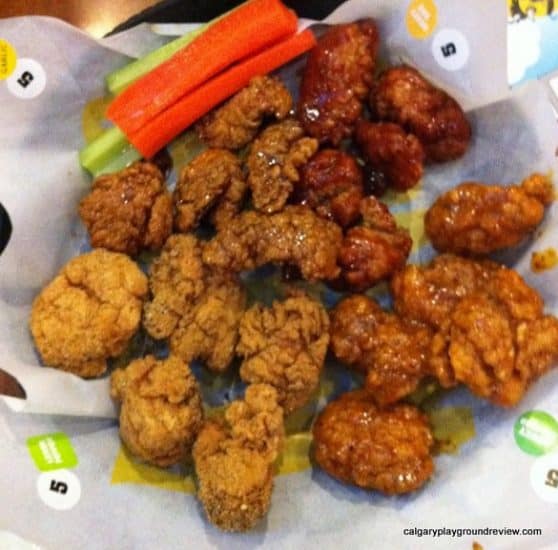 Boston Pizza
Multiple locations – https://bostonpizza.com/en
Boston Pizza is a Canadian based chain with multiple locations in Calgary, across Canada, in the US and Mexico. They offer regular and thin crust pizza. Boston pizza is a super popular place to take kids and it is easy to say why. They have a great kids menu with lots of options, kid cups and coloring for while you wait. The atmosphere is very family-friendly and you don't have to worry if your kids are acting like kids. Service is typically fast so you don't have to wait a long time.
Moxies
7 Calgary Locations http://moxies.ca/
Originating in Calgary, this Canadian chain offers a diverse Canadian menu. The atmosphere is a little more upscale than most of the restaurant on this list but they are still very family friendly. The kids menu offers typical kid friendly options and comes with unlimited drinks as well as dessert. The dessert is the best part – the impressive looking volcano sundaes with dry ice will definitely impress the kids.
East Side Marios
1 Calgary location – Shawnessy  http://www.eastsidemarios.com/
East side Mario is a Canadian based chain offering Italian-american food such as pasta, steak and chicken. The atmosphere is casual, bright and family oriented. Their kids menu has options for kid with smaller and bigger appetites and offers free dessert too.
Montanas
6 Calgary locations –  http://www.montanas.ca/
This Canadian chain specializes in ribs, steaks and burgers. They have a lot of interesting décor that kids love to look at and are very casual and family friendly. The table have a huge sheet of brown paper on them that you can draw all over. The kids menu offer smaller versions of the adult menu and is served in a blue canoe and comes with a drink, dessert and an activity sheet.
Chili's
5 Calgary locations – http://www.chilis.ca/
Chili's originated in Texas and serves Tex-Mex cuisine. The kids menu has typical kid friendly meal with the multiple different healthy sides.
What's your favorite sit-down restaurant to go to with the kids?