We've been exploring all the best places in Calgary for ice cream this so we can give you guys a comprehensive list of what Calgary has to offer. Also, because ice cream is delicious. I also have a list of some of the great ice cream options in Alberta (in the Southern/central region) outside of Calgary.
The list below doesn't include larger chains although there are some great ones in Calgary including Marble Slab, Dairy Queen and the Rocky Mountain Chocolate Factory.
I've noted which places have special diet options but be sure to check with the shop before you go to avoid disappointment. We've managed to go to many of the places on the list so you can get full reviews by clicking on the title link. If you are interested in non-dairy options you should also check out this post.
Soft Serve Ice Cream
4 Calgary locations (500 Country Hills Blvd NW, 1103 17th Ave SW, 8525 Broadcast ave, SW, 1829 33 AVE SW)  https://www.ladiperie.com/
This Montreal based chain has now expanded into Calgary. They specialize in flavoured Belgian chocolate dipped soft serve ice cream covered in toppings. They also love to dip other things like donuts and rice krispie sqares. They also have hard ice cream.
Vegan options available.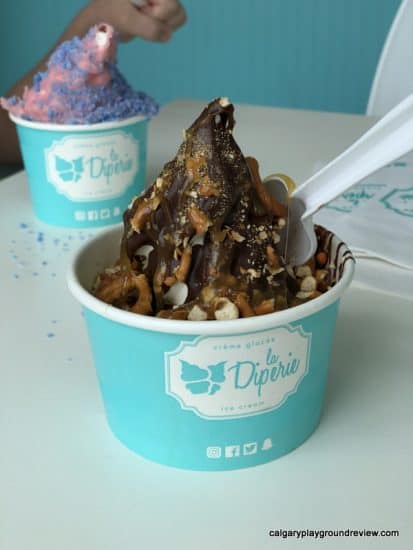 Address: 219 – 16 Avenue NE http://www.petersdrivein.com/
Peter's is better known for their milkshakes but they also offer soft serve ice cream, sundaes and banana splits. They will let you put more than one flavor on your sundae at no extra charge.
Special diet options: None.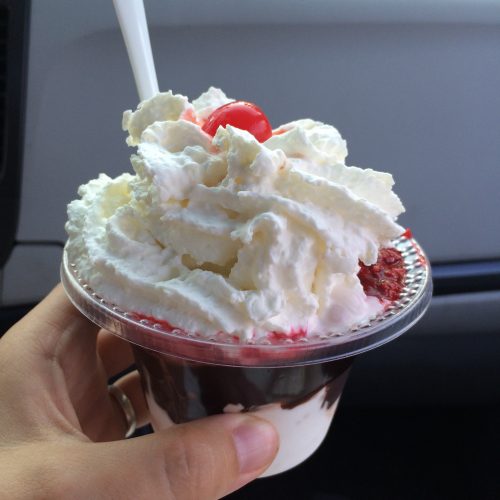 110 2nd Avenue S.E. https://www.facebook.com/uzutaiyaki/
Serves Japanese taiyaki, waffle cakes in the shape of a fish, (but you can also get a regular cone or a bowl) with red bean or nutella coating the inside and filled with soft serve in flavours like pandan, matcha or vanilla with tons of topping options.
May have dairy-free flavour depending in what flavours are currently on offer.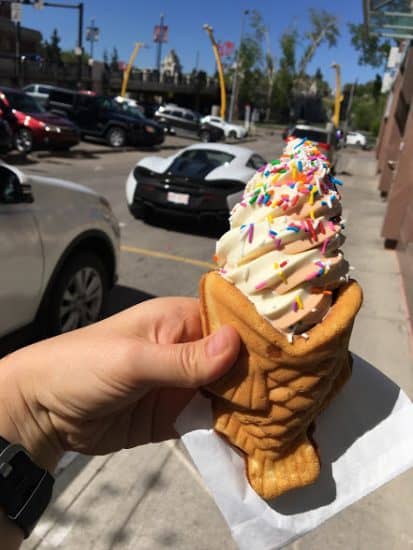 4. Inglewood Drive-in
Inglewood – 802 12 Street SE
The Inglewood Drive-in serves soft serve, malts, twisters and dole whips. You can even get your cone dipped in chocolate.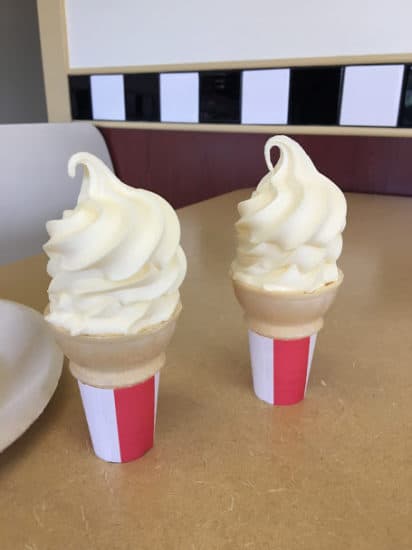 Hard Ice Cream
5 Calgary locations (Britannia Plaza – 820 49th Ave SW, Victoria Park – 431 10 Avenue SE and Garrison Corner – 2406 34th Ave SW, Bridgeland – 69 7A St NE, 4019 University Ave NW) http://villageicecream.com/
When I was originally asking for recommendations for the best ice cream in Calgary, Village Ice Cream was the most frequent and most enthusiastic response. They make their own small batch ice cream with high quality, local, seasonal and often organic ingredients.
They have 10 flavors always available plus a few seasonal flavors as well. They have some classic flavours like chocolate, strawberry and vanilla as well as innovative artisanal flavours like salted caramel, earl grey tea and cardamom.
Special diet options: Dairy free sorbet and dairy-free coconut milk ice cream.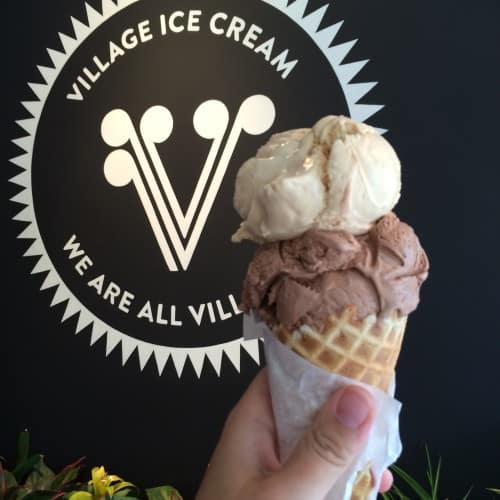 1013 17th ave SW – suite 121, 221 19 St NW (West Hillhurst), 1105 1st Ave NE (Bridgeland)
Made By Marcus now has three Calgary locations. They offer artisanal small batch hard ice cream flavours as well as soft serve ice cream sundaes.
Special diet options: dairy free sorbet/vegan ice cream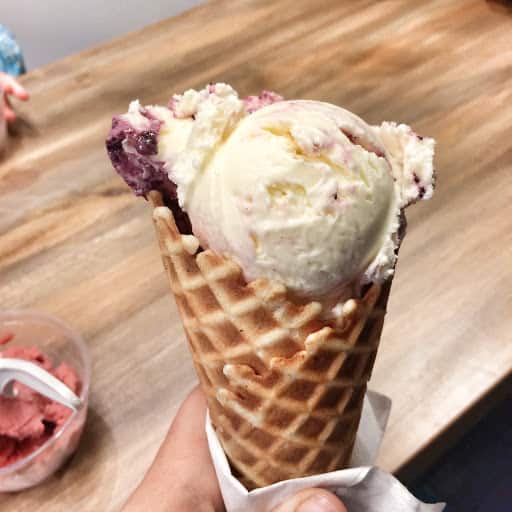 (7 Calgary locations – Bowness road, McCall Way, Inglewood Crossing, Pacific Place Mall, Southwood Corner, Kensington, Greenwich) – abbeys.net
Offers hard and soft ice cream made in house. At their shop you can get ulimited mix-ins with your ice cream.
Special Diet options: Vegan option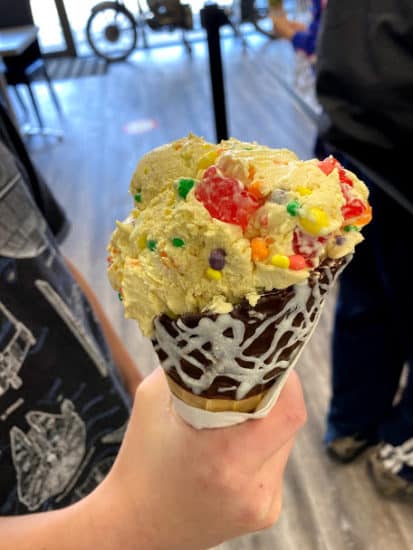 3007 26 Ave SW – https://www.canelos.ca/
Canelo's serves ice cream with a Mexican inspired twist. They serve scoops, soft serve, vegan soft serve, ice cream tacos and ice cream nachos.

Special Diet options: vegan soft serve in 24 flavours. Gluten free cones and soft serve ice cream. Lactose free hard ice cream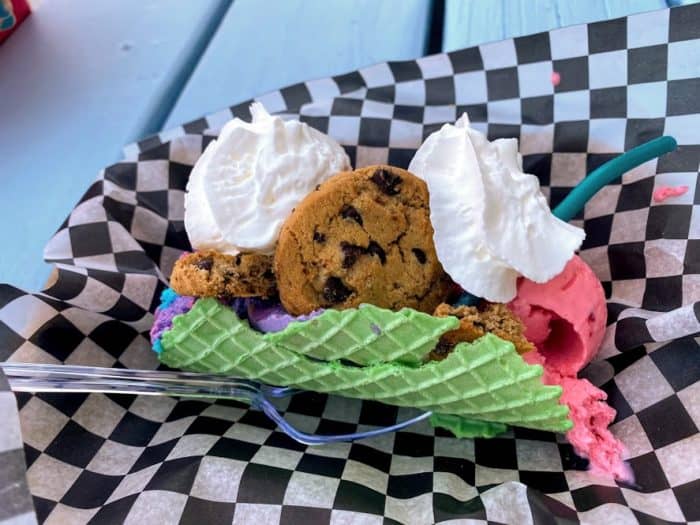 808, 100 Auburn Meadows Drive S.E. https://www.xoicecream.com/
Offers small batch, traditional and seasonal flavours in a modern interpretation of a mom and pop shop. You can also get your ice cream as a sundae with a waffle (even better than it sounds).
Special diet options: dairy free sorbet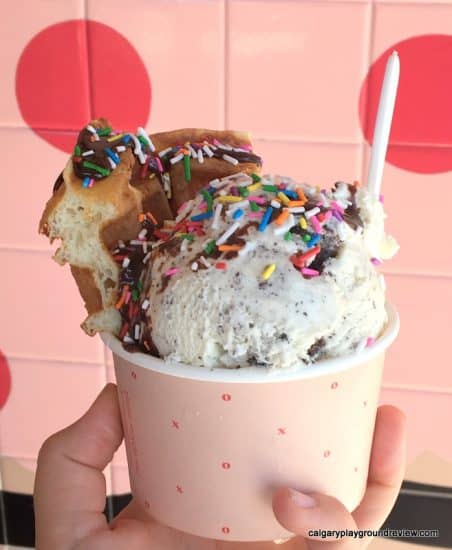 1900 Heritage Dr SW – Heritage Park Square at Heritage Park
Located just outside the gates of Heritage Park, Harvey's Confectionary serves MacKay's ice cream by the scoop as well as milkshakes, sundaes, candy, soda and fudge.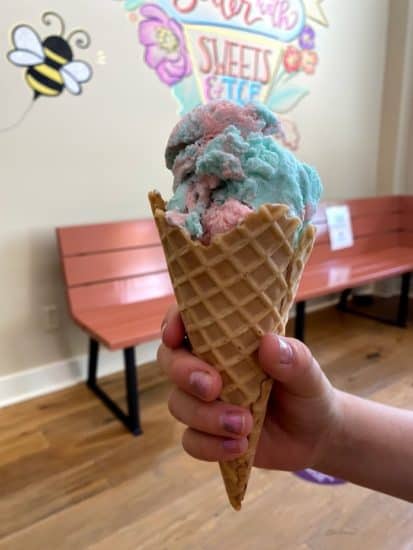 11. Milk Ice Cream – open for pick up inside John's Breakfast & Lunch 2614 4th St NW (will be temporarily closed after the May long weekend as they move to their new locations – 1000 Centre St N, Unit 110)
https://www.instagram.com/milk.yyc/
Milk was orignally just a pop up shop but you can now buy pints all the time inside John's Breakfast & Lunch (2614 4th St NW). They are a microcreamery and sell hard ice cream in one serving tubs, ice cream pops and pints. Flavour examples – Earl Grey, Viet Coffee, White Rabbit, Old Town Road. Dairy-free option (eg. vegan pandan coconut) may be available depending on current offerings.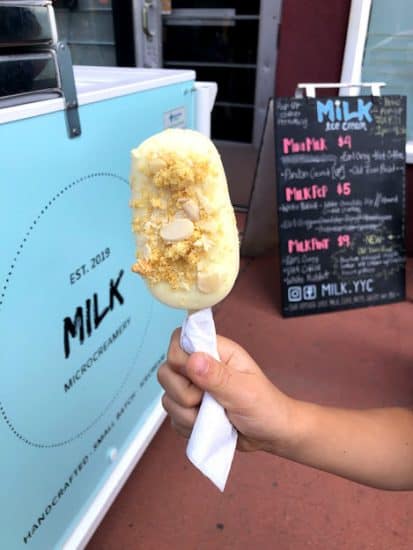 Parkdale – 3410 – 3 Ave NW Calgary, AB http://lics.ca/
Lic's has been serving ice cream in Calgary for 33 years. It's location makes it a perfect place to stop for a cone and a walk along the Bow River. They have lots of flavours and if you order a double, you even get a double cone!
Special diet options: No sugar added, lactose-free and dairy-free sorbet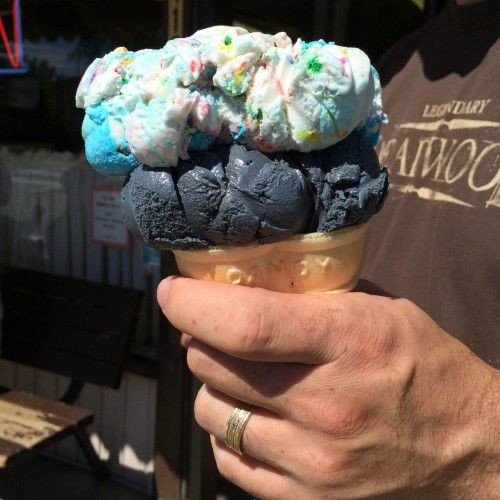 Altadore – 2048 42 Ave. S.W., West Springs – 1114 – 8561 8A Ave. S.W http://www.myfavoriteicecream.com/
My Favourite Ice Cream Shoppe now has two locations – it's orginal Altadore location has been around since 1981. They atmosphere has a retro-dive feel but their selection (primarily Foothills Creamery) is huge.
Special diet options: dairy free sorbet available, No sugar added ice cream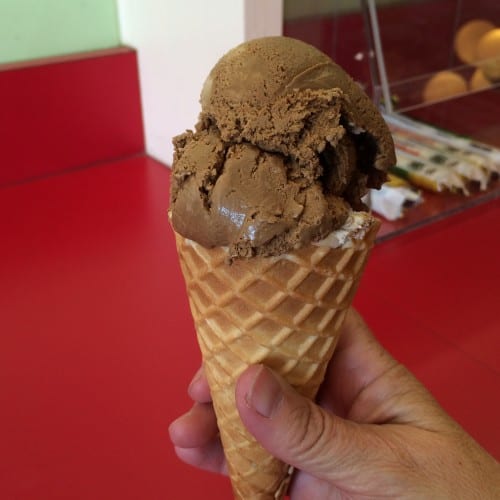 8 locations in Calgary and more elsewhere in Alberta, BC and Ontario http://www.purdys.com/
Purdy's is a regional chain that started in Vancouver. Purdy's typically offers a selection of around 8 of their own flavors as well as sundaes and ice cream bars. Their sundaes are topped with Purdy's melted chocolate and either with sprinkles or toasted nuts.
The ice cream bars get dipped right in front of you. If you really want to do it right, get Purdy's Ultimate Ice Cream bar – a vanilla ice cream bar that is first dipped in white chocolate, then dark chocolate and finally covered in toasted almonds or sprinkles right in front of you.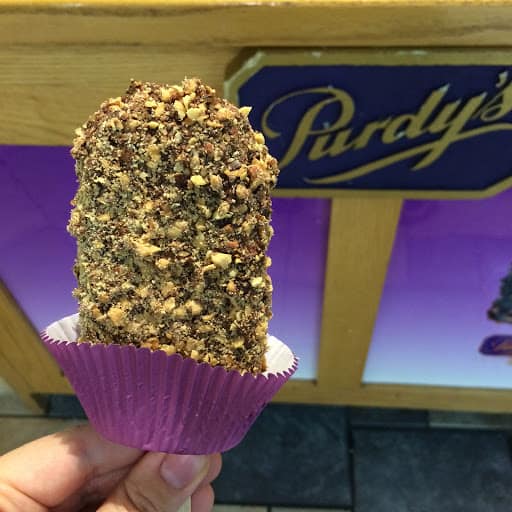 Bingsoo – Shaved Ice
14. Snowy Village
Brentwood – 3604 52 Ave NW https://www.snowyvillages.ca/
Bingsoo makes their shaved ice with milk giving it a fluffy and smooth texture. Even the regular size is large enough to share – the large is big enough to share with the kids and little sharing bowls are available. Around 12 flavour options are available including oreo, strawberry and injeolmi with uses red beans and korean ice cakes.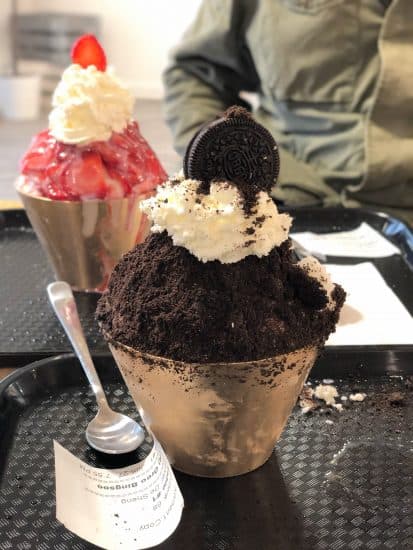 Bridgeland – 112 4 St NE & Killarney 3407 26th Ave SW      http://lukesdrugmart.com/
This drug mart, unlike any other, offers two flavours of soft serve ice cream at their coffee bar. They offer unique seasonal flavours and create their soft serve from scratch using milk from D Dutchmen Dairy in BC. They serve one size which you can get a single flavour or in a swirl of both.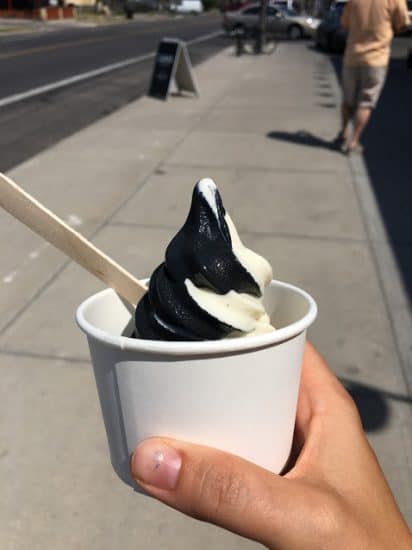 Rolled Ice Cream
206 Center St SW http://sticyyc.com/
Sweet Tooth Ice Cream offers Thai style rolled ice cream made right in front of you. They have 7 different flavours with lots of toppings.
Special diet options: dairy-free (vegan) coconut ice cream base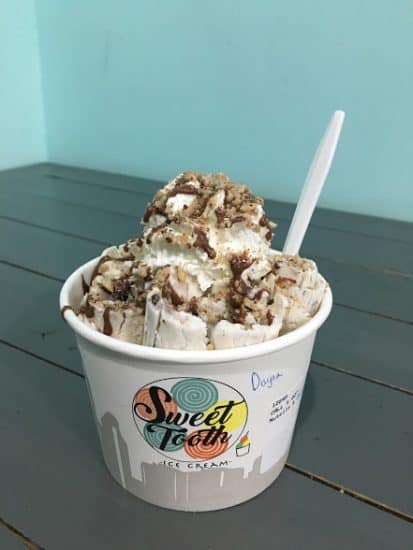 Gelato
2104 # 7 Kensington Road NW https://www.amatogelatocalgary.com/
Amato Gelato specializes in Mario's Gelati traditional Italian ice cream. It is hands down the best place in Calgary for selection of dairy free and Italian gelato flavours.
Special diet options: tofulati (made with soy), many non-dariy sorbetto options, no sugar added ice cream.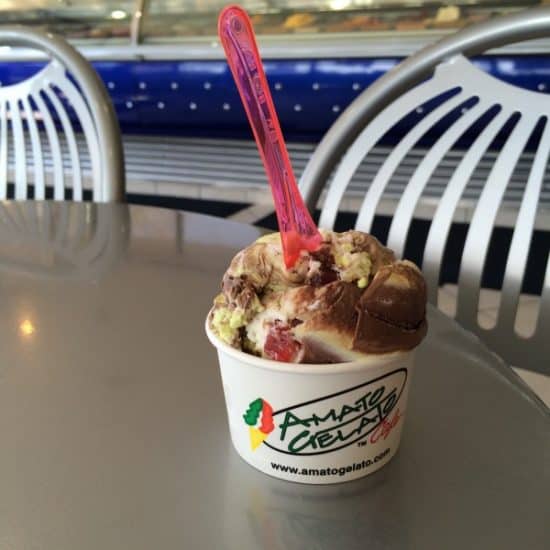 Sunnyside – 938 2 Ave NW
Holy Cow Gelato and Donuts offers in house made gelato and dairy-free sorbet as well as a variety of house made donuts.
Special diet options: vegan, dairy-free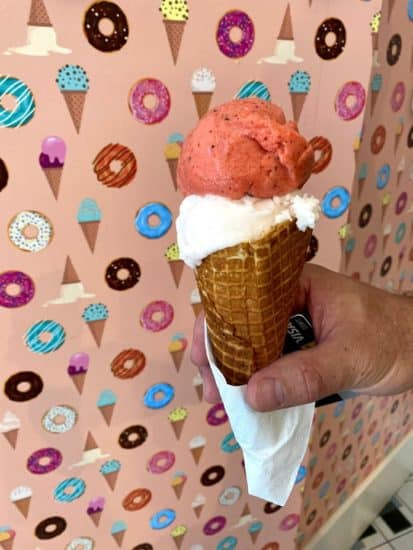 19.
Honorable Mention
220- 1st St West, Cochrane, Alberta http://www.mackaysicecream.com/
Though technically not in Calgary, it seems like a miss to keep MacKay's Ice Cream off the list. The MacKay family has been making and selling ice cream in Cochrane since 1948. MacKay's ice cream is richer creamier than many as they start with a cream base with a higher percentage of butterfat. Their flavours include old stand bys like chocolate, strawberry and vanilla, flavors that remind me of my childhood like cotton candy and tiger and more unusual options like baklava, durian and avocado.
Special diet options: 1% dairy sorbet, gluten free cones
Thinking about a roadtrip? Check out this list of ice cream shops elsewhere in Alberta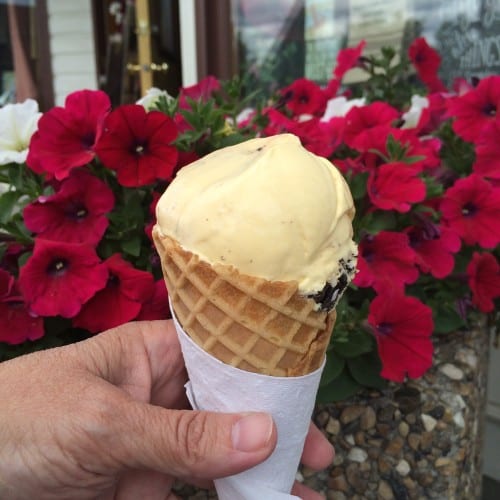 Please Note: 
We do our best to ensure the information on Calgary Playground Review is accurate, however information and events are subject to change. Please contact the organizations directly to avoid disappointment.
Can you help make this article better?
If you have noticed an error, have additional information or would like to share a comment you can:
E-mail us at calgaryplaygroundreview@gmail.com
Find us on Facebook: CalgaryPlaygroundReview
Find us on Instagram: YYCdana
Tweet us: YYCdana
We are not affiliated with any venues, attractions or organizations. Please message them directly if you have questions or concerns.