We've been exploring all the best places in Calgary for ice cream this summer so we can give you guys a comprehensive list of what Calgary has to offer. Also, because ice cream is delicious. I also have a list of some of the great ice cream options in Alberta (in the Southern/central region) outside of Calgary.
The list below doesn't include larger chains although there are some great ones in Calgary including Marble Slab, Dairy Queen and the Rocky Mountain Chocolate Factory.
I've noted which places have special diet options so you don't end up disappointed when you get there. We've managed to go to many of the places on the list so you can get full reviews by clicking on the title link. If you are interested in non-dairy options you should also check out this post.
Soft Serve Ice Cream
110 2nd Avenue S.E. https://www.facebook.com/uzutaiyaki/
Serves Japanese taiyaki, waffle cakes in the shape of a fish, (but you can also get a regular cone or a bowl) with red bean or nutella coating the inside and filled with soft serve in flavours like pandan, matcha or vanilla with tons of topping options.
May have dairy-free flavour depending in what flavours are currently on offer.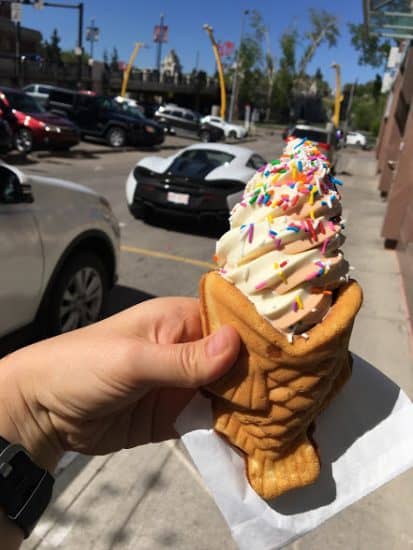 207 13th Ave SE https://www.facebook.com/utcachimneycakes/
At Utca, you can get tubular Hungarian Chimney Cakes filled with soft serve and lots of topping options. You can also get a sundae in a cup instead.
Special diet options: The chocolate soft serve is dairy-free and the chimney cake recipe is vegan.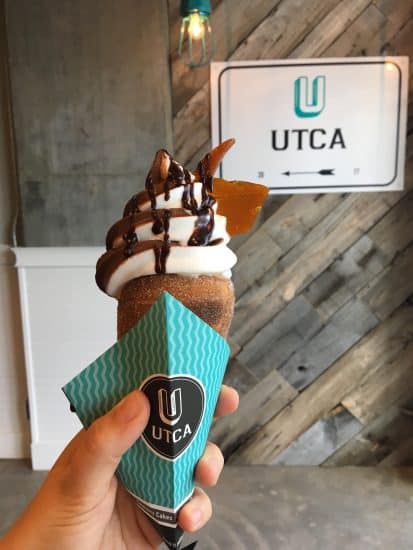 Bridgeland – 112 4 St NE & Killarney 3407 26th Ave SW http://lukesdrugmart.com/
You can also find Lukes ice cream in the internal cafe in the new Central Library.
This drug mart, unlike any other, now offers two flavours of soft serve ice cream at their coffee bar just inside the front door. They plan to create unique seasonal flavours and create their soft serve from scratch using milk from D Dutchmen Dairy in BC. They serve one size and have started with coconut charcoal and vanilla which you can get alone or in a swirl of both.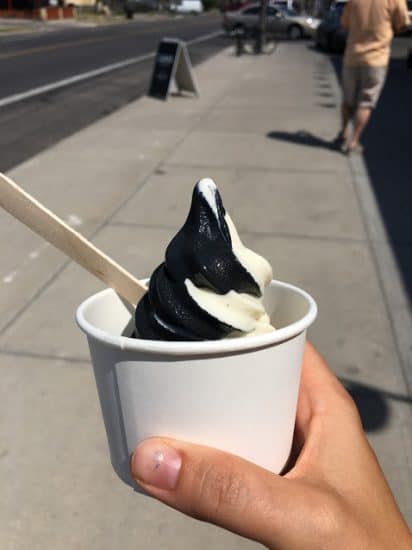 Address: 219 – 16 Avenue NE http://www.petersdrivein.com/
Peter's is better known for their milkshakes but they also offer soft serve ice cream, sundaes and banana splits. They will let you put more than one flavor on your sundae at no extra charge.
Special diet options: None.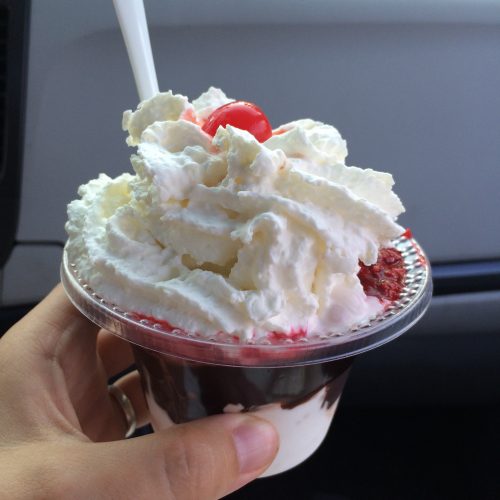 327, 23rd Ave SW https://berlingocalgary.com/
One of Calgary's newest ice cream shops, Berlingo is brought to you by the same people who run Yann Haute Patisserie. They ofer soft serve with flavours like pineapple-lime, mango-passion, cocolate, hazelnut, and raspberry cheery. (swirl combinations also available). Chef designed sundaes such as choco-hazel, vanilla bean-berry, chocolate cheese cake.
Special diet options: vegan soft serve sorbet options (vegan flavors are also nut free).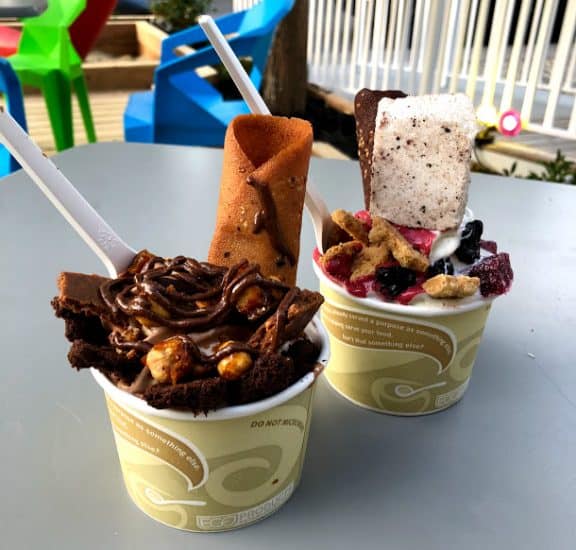 6. La Diperie
500 Country Hills Blvd NW https://www.ladiperie.com/
This Montreal based chain has now expanded into Calgary. They specialize in flavoured Belgian chocolate dipped soft serve ice cream covered in toppings. Vegan options available.
Rolled Ice Cream
1309 Edmonton Trail NE https://www.facebook.com/delloricecream/
Offering 8 options of rolled ice cream with lots of possibly toppings. Flavours include Mango Monsoon, Boom Chocolate, Lychee Berry and Cookies n' Cream. Large and small sizes available.
Special diet options: Nut free. No non-dairy options at this time.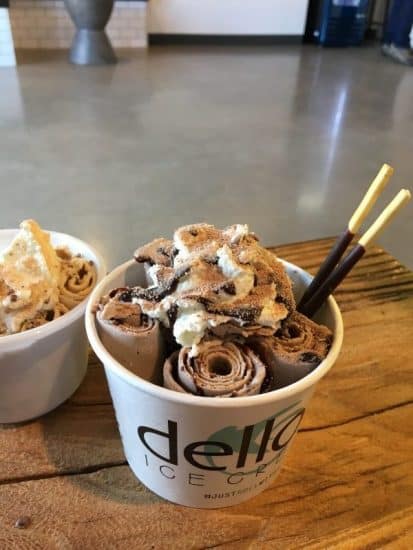 206 Center St SW & 104 17 ave SE http://sticyyc.com/
Sweet Tooth Ice Cream offers Thai style rolled ice cream made right in front of you with liquid nitrogen. They have 7 different flavours with lots of toppings.
Special diet options: dairy-free (vegan) coconut ice cream base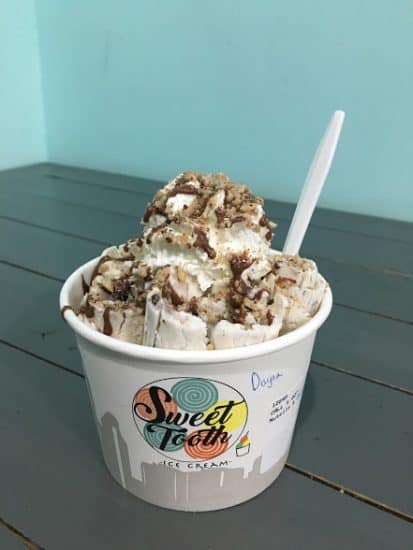 1107 17th Ave SW
Scrollio offers Thai-style rolled ice cream. You can get one of three bases – vanilla, chocolate and a vegan coconut base. Their menu includes different signature combinations, but you are welcome to change them around to make them your own. The ice cream rolls are created right in front of you, which is pretty cool, but not the quickest way to get your ice cream fix.
Special diet options: Coconut vegan base
Gelato
110 221 19th St SE http://www.fiascogelatoshop.com/
Fiasco Gelato's new headquarters serves ice cream by the scoop. They offer creative flavours of Italian gelato and dairy-free sorbetto as well as ice cream sandwiches.
Special diet options: dairy free sorbetto

Bridgeland – 814 First Avenue, NE Kensington – 126 10 Street NW http://www.newfoodorder.com/
Not only does Burger 320 have some of the best burgers in the city, they also make their own gelato. Their flavors change daily and you can get your gelato in a cone, dish or made into a milkshake. They also have a selection of Family Freezed popsicles.
Special diet options: dairy-free sorbetto and dairy free Family Freezed popsicles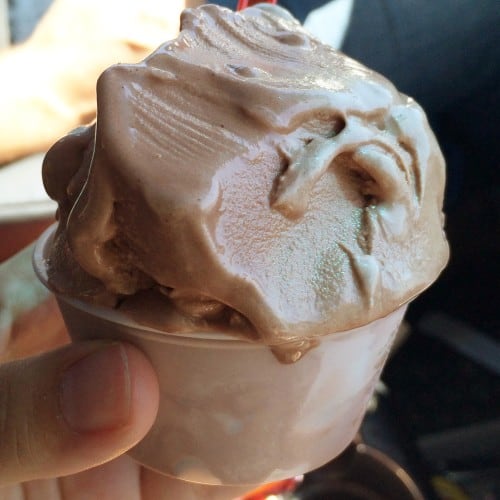 2104 # 7 Kensington Road NW http://www.amatogelato.com/
Amato Gelato specializes in Mario's Gelati traditional Italian ice cream. It is hands down the best place in Calgary for the most dairy free and Italian gelato flavours.
Special diet options: tofulati (made with soy), many non-dariy sorbetto options, no sugar added ice cream.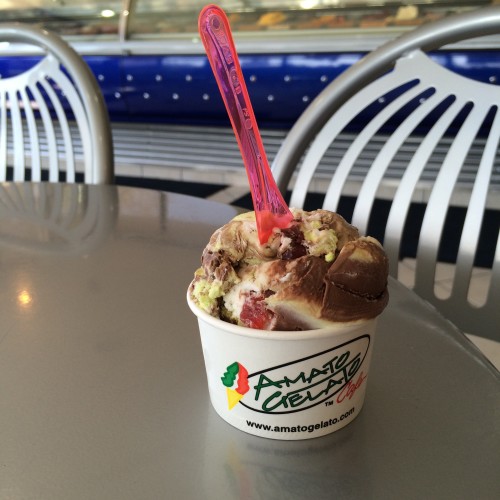 Hard Ice Cream
Britannia Plaza – 820 49th Ave SW, Victoria Park – 431 10 Avenue SE and Garrison Corner – 2406 34th Ave SW http://villageicecream.com/
When I was asking for recommendations for the best ice cream in Calgary, Village Ice Cream was the most frequent and most enthusiastic response. They make their own small batch ice cream with high quality, local, seasonal and often organic ingredients. They have 10 flavors always available plus a few seasonal flavors as well. They have some classic flavours like chocolate, strawberry and vanilla as well as innovative artisanal flavours like salted caramel, earl grey tea and cardamom.
Special diet options: Dairy free sorbet and dairy-free coconut milk ice cream.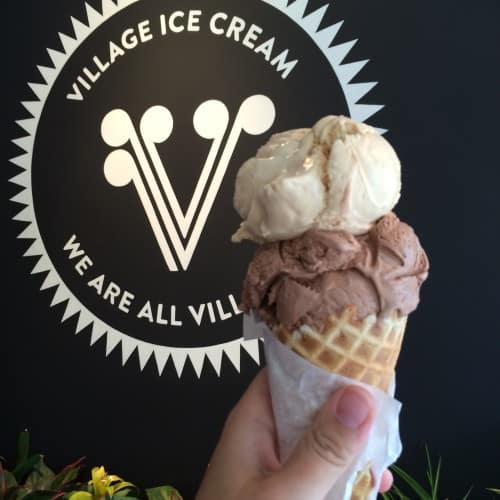 1013 17th ave SW – suite 121
Made By Marcus has been available in specialty grocery stores for a while but now you can find them at their very own location. They offer artisanal small batch hard ice cream flavours as well as soft serve ice cream sundaes.
Special diet options: dairy free sorbet/vegan ice cream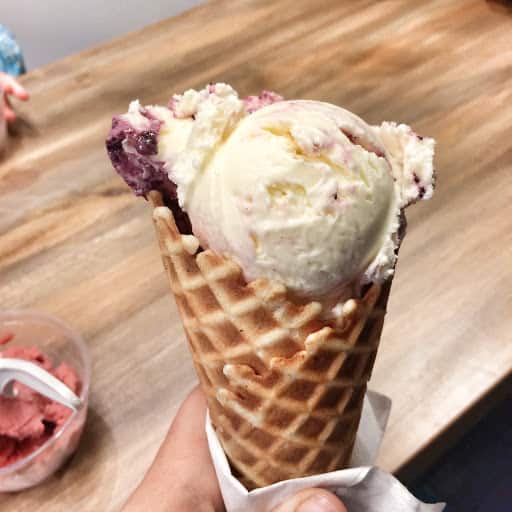 808, 100 Auburn Meadows Drive S.E. https://www.xoicecream.com/
Offers small batch, traditional and seasonal flavours in a modern interpretation of a mom and pop shop.
Special diet options: dairy free sorbet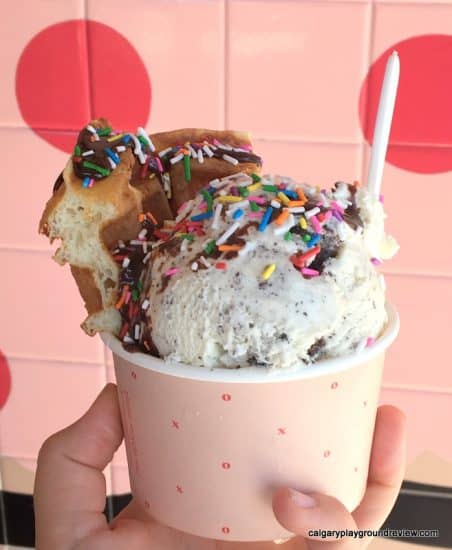 Parkdale – 3410 – 3 Ave NW Calgary, AB http://lics.ca/
Lic's has been serving ice cream in Calgary for 33 years. It's location makes it a perfect place to stop for a cone and a walk along the Bow River. They have lots of flavours and if you order a double, you even get a double cone!
Special diet options: No sugar added, lactose-free and dairy-free sorbet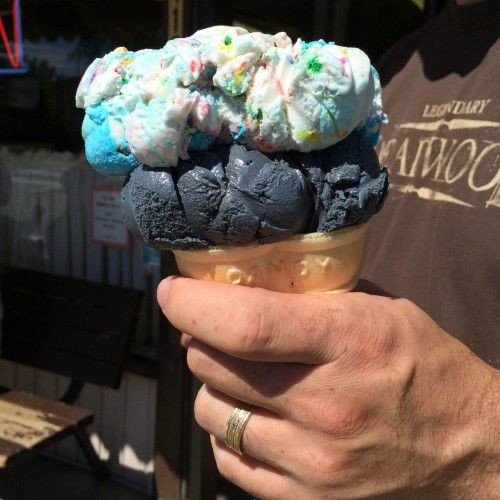 Altadore – 2048 42 Ave. S.W., West Springs – 1114 – 8561 8A Ave. S.W http://www.myfavoriteicecream.com/
My Favourite Ice Cream Shoppe now has two locations – it's orginal Altadore location has been around since 1981. They atmosphere has a retro-dive feel but their selection (primarily Foothills Creamery) is huge.
Special diet options: dairy free sorbet available, No sugar added ice cream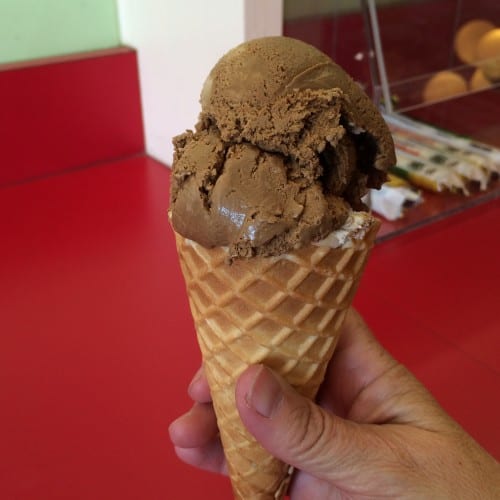 8 locations in Calgary and more elsewhere in Alberta, BC and Ontario http://www.purdys.com/
Purdy's is a regional chain that started in Vancouver. Purdy's typically offers a selection of around 8 of their own flavors as well as sundaes and ice cream bars. Their sundaes are topped with Purdy's melted chocolate and either with sprinkles or toasted nuts. The ice cream bars get dipped right in front of you. If you really want to do it right, get Purdy's Ultimate Ice Cream bar – a vanilla ice cream bar that is first dipped in white chocolate, then dark chocolate and finally covered in toasted almonds or sprinkles right in front of you.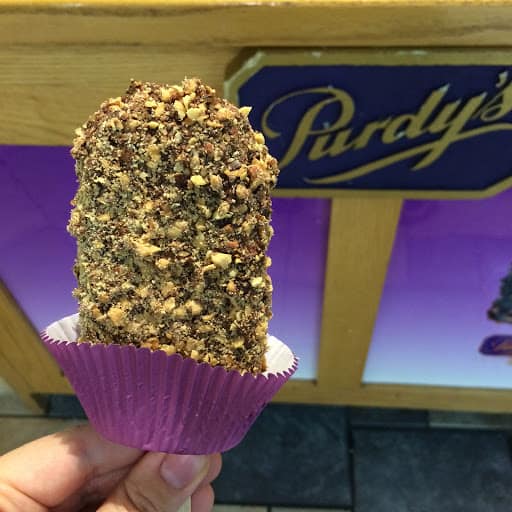 Thinking about a roadtrip? Check out this list of ice cream shops elsewhere in Alberta