Locations                   http://www.burgerking.ca/
Pictured: Country Hills – 800-500 Country Hills Blvd
Crowfoot – 11 Crowfoot Ter NW
Shawnessy – Closed
Cost: Free but it is expected you will purchase something at Burger King
Supervision: None.
Age Range: 4-10.
Footwear: socks. But you can wear shoes while you watch if you don't go into the play space.
Safety Features/Concerns: You may have to fetch smaller children from the top of the play structure as sometimes they can't manage to get down by themselves.
Play Area Features:  Climbing tubes, large twisty tube slide, lookout points, (may differ by location).
Overall Assessment: In an attempt to learn from my experience at the McDonald's play place where Gordie was too little for a really good review, I asked my friend who has a almost 4 year old and a 2 and 1/2 year old to accompany us. Unfortunately, even they were really too little for this play area. It's recommended for ages 4-10 and unless you had older children who could help your kids out, I wouldn't recommend going to any kids under 4.
The play area is completely enclosed and there are no benches or tables inside. Although you can see there is good visibility of the ground level of the play area from the tables outside it, you can't hear what is going on and it is difficult to locate your kids when they are inside the climber even if you are in the play space. Even though our kids were too young, they still wanted to play. Gordie thought it was kind of amusing stepping just inside the tubes and playing with the door and my friends kids climbed up a few levels but were disappointed they couldn't get to the slide. And thank goodness they didn't! The slide is huge and twisty – they would not have enjoyed it at all.
We won't be back for a long time, our kids are just too young. I'd love to hear what people with older kids think.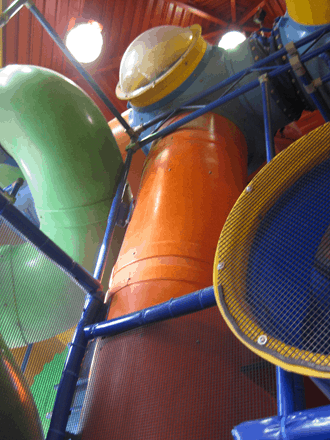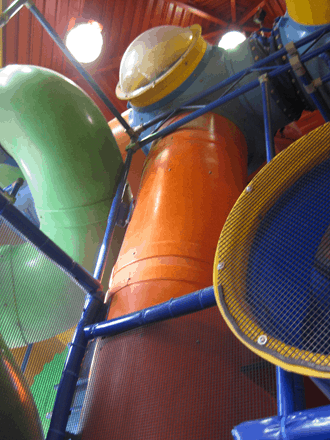 Have you been to this play place? Have a suggestion for a playground review? Would you like to write a guest review? Write your thoughts in the comments.