We visited 3 playgrounds in Stanley Park and the reviews for each are below. Visit the map link to see where each playground is at the park.
Location map
Community: Stanley Park/Elboya 4011 1A St. S.W.
Parking: There is a free parking lot mid-way along the park on 42nd Ave and a larger parking lot at Riverdale Ave and 4th St (by the outdoor pool).
Park Features: Baseball diamond; Tennis courts; Pathways; Toboggan Hill Picnic areas with BBQ stands; Fishing, Canoe/raft access to the Elbow River; Outdoor swimming pool with wading pool and spray park; Stanley Park Lawn Bowling Club. Seasonal washrooms, water fountain and concession.
Princess Oblonsky Park is at the North end of Stanley Park.
Gordie's Review (15 months old) – Bridges and big slides are so fun!
The view of the river. The picnic areas are along the river and right by playground 1 (below).
The outdoor swimming pool is right nearby.
The Washrooms and Calgary Lawn Bowling Club are in the centre of the park near playground 2. Apparently the public is welcome.
There's a lot of grassy area to run around in between playgrounds 2 and 3 and the baseball diamond is right by playground 2.
Playgrounds
Shade: Mature trees provide great shade.
Playground Ground Cover: Recycled tire pebbles.
Playground 1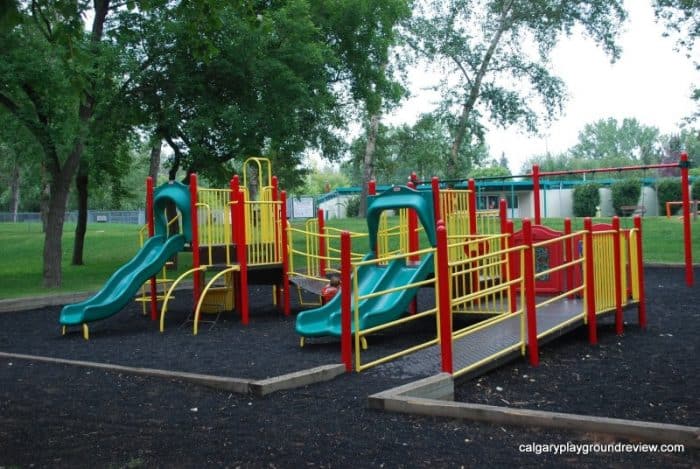 Age Range: Preschool
Seating: A couple of benches and many nearby picnic tables.
Features: A large preschool play structure with three slides; 4 swings (2 baby).
Accessibility: Wheelchair access to one level which allows access to two panels and a steering wheel.
Playground 2
Age Range: preschool
Seating: A couple of benches
Features: Large preschool playstructure with 2 slides; 4 swings (2 baby); whale bouncer; 2 teeter-totters; dinosaur climber; sand box.
Accessibilty: This playground has poor access for anyone it is in the middle of park area with no pathways to the playground. It is very difficult to get to unless you are already at the park for another reason.
Playground 3 – Elboya Community Centre
Age Range: school age
Seating: 2 benches
Features: 3 large climbers and 2 bouncers
Accessibility: Strollers could get to the park but it is otherwise unaccessible.
Overall Assessment: None of these playgrounds are really worth making a special trip for, however, they would be great stops while spending the day at the park. Playground 1 would be a particularly good stop as it is right by a picnic area and the outdoor/wading pool.