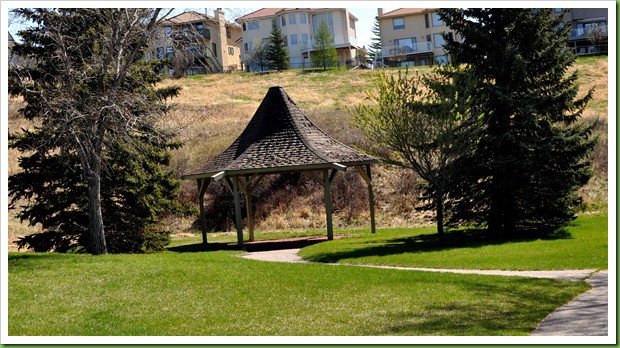 Location    map
Community: Edgemont – Along Edgepark Blvd from Country Hills to Edgemont Blvd
Parking: There is parking along Edgebyne Crescent. There is also parking at the end of Edgepark Rise but there is a fairly decent hill to get down into the ravine.
Note: There are pathway improvement underway through this park this year (2012). The park will remain open but the sections that are actively being worked on will be closed.
Gordie's Review(3 years old) – the bunnies!
Features: Hiking trails, Picnic tables, Pathways, Gazebos, Rabbit Hill Statues, Tennis, Basketball
Playgrounds:  There are 2 older playgrounds towards edgemont blvd – map.
Overall: Gordie, Nicole and I, visited this park for the first time with my friend Tanya's Calgary Outdoor Adventure Playgroup. We started up at the top of the ravine at the end of Edgepark Rise walked over to the rock at Edgemont Blvd and back again, stopping at the playground and the rabbit statues along the way. At this point, Gordie had just turned 3. I found this walk to be pushing the limits of what he could do without a stroller. If you decided to start at Edgemont Blvd instead, (and skipped the hill) the difficultly would be greatly reduced. Due to the geography of the ravine, this is a really safe place to let kids run around without having to worry about cars. Although the playgrounds in this park are nothing special, the park has some great features that make this a really fun walk for kids.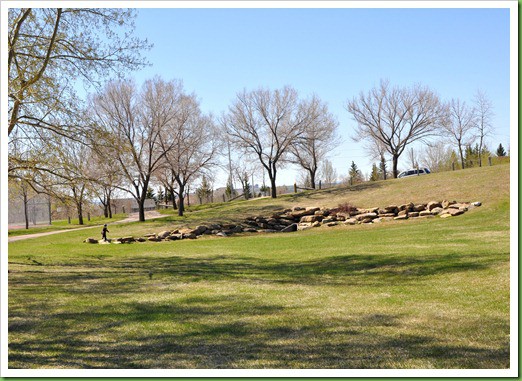 The rocks by Edgemont Blvd are perfect for climbing and were a bit hit with all the kids in our group. There is also a nice grassy hill to the west of the rocks that was perfect for rolling down.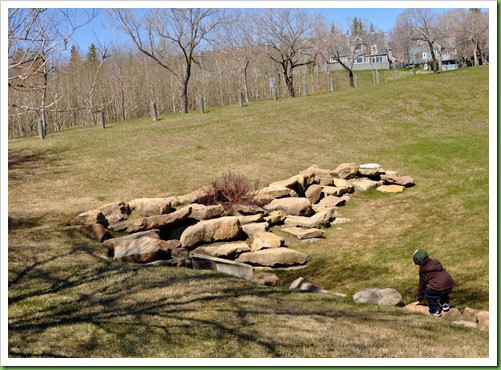 To the East of the rocks, are tennis courts and an small, older wooden playground. You can see the playground if you look carefully in the picture below, I didn't manage to get a good picture of it.
Heading away from Edgemont Blvd, there's a bigger playground and a gazebo.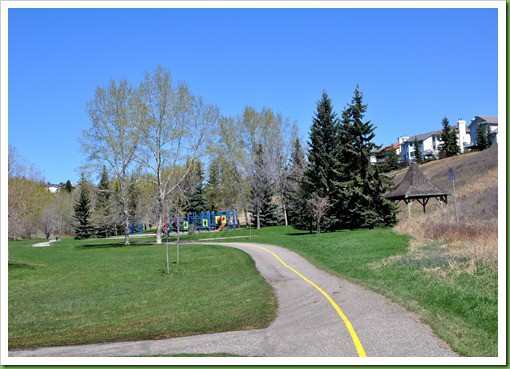 There's also some older wooden equipment, picnic tables and benches.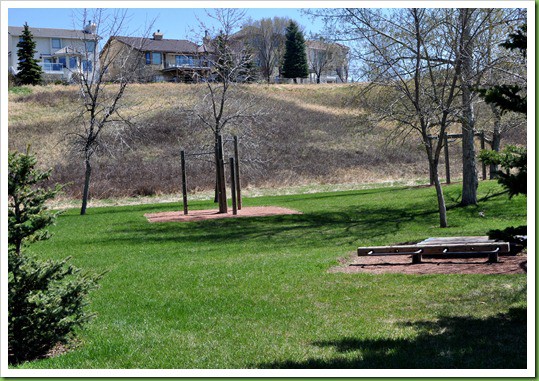 Continuing along the path, you'll find the really unique feature of this park, Rabbit Hill. The rabbits are toddler sized and Gordie (and all the other kids) loved climbing on them.
The last major feature along our route was this gazebo. This one (unlike the other one) has platform flooring.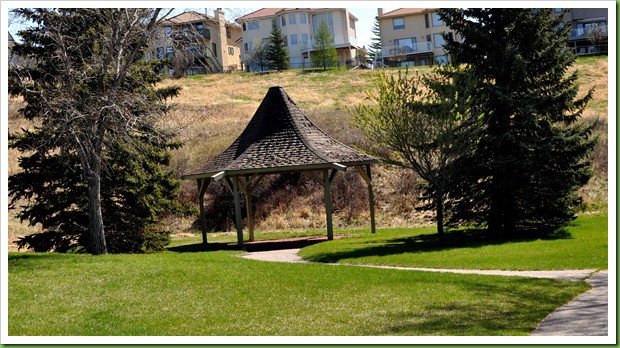 View of the ravine and the gazebo from further up the path.
Have you been to this park? Have a suggestion for a playground review? Would you like to write a guest review? Write your thoughts in the comments.